Relaxing and Romantic Getaways in Northern California
FTC: This page uses affiliate links. More. 

Northern California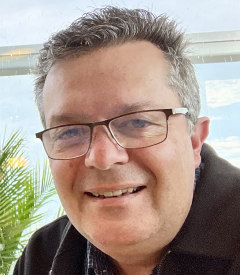 By: Greg Mattson, ERV Editor - Updated: Apr 26, 2021   

For those who only think of California as everything south of the Bay area, you're missing out! Northern California is a great place to plan a getaway or honeymoon. Let's tell you some more about what you'll find as you follow Hwy's 101 and 1 North (and a little bit South) of San Francisco...

Village of Mendocino on the Romantic Northern California Coast
Best Time to Travel in Northern California: almost anytime! Late spring and autumn are our favorites. We traveled through Northern California most recently in mid to late October and had excellent weather: 72F and solid sunshine!

Fog (usually in the mornings) and cooler temps are common along the North Coast. You'll find more people and higher prices in the summer, but not really a huge difference in most places. Summer can bring heat, especially to the more central desert areas (expect mid 90's F in July!) Winters are damp, but temps are mild. As you go east towards the mountains, expect cooler temps and snow of course anytime from November to April. 

Our guide here to the top romantic travel destinations in Northern California includes:
Napa/Sonoma Wine Country
Monterey & Big Sur
Northern Coast
Inland Cities
---
Romantic Getaways in Northern California Wine Country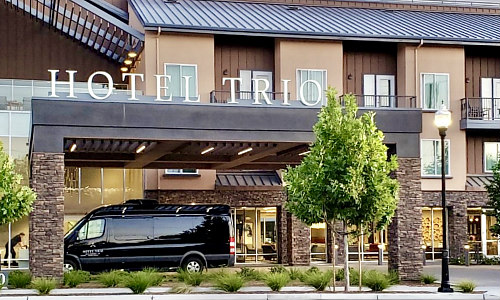 Hotel Trio in Healdsburg, CA
Hotel Trio Healdsburg - brand new hotel in the heart of Sonoma Wine Country. Both studio and one bedroom suites include a full kitchen, and a free breakfast and outdoor pool are just some of the amenities at this Marriott hotel. 2021 ERV Rating* for Northern California Wine Country Hotels: 92% - Excellent. (110 Dry Creek Rd, Healdsburg CA 707-433-4000)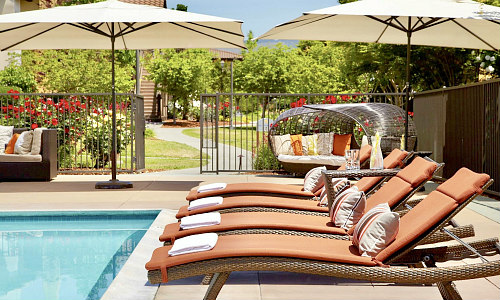 Poolside - The Lodge at Sonoma
The Lodge at Sonoma Renaissance Resort & Spa - great spot for a romantic vacation or anniversary getaway to Northern California. Guest Rooms have private balconies with Wine Country views, while cottage suites include spacious living areas and a gas fireplace. At the lodge you'll find an on-site Bistro and Wine Shop, heated outdoor pool and free shuttle to Sonoma Plaza. 2021 ERV Rating* for Romantic Sonoma, CA Lodges: 82% - Very Good. (1325 Broadway, Sonoma CA  707-935-6600)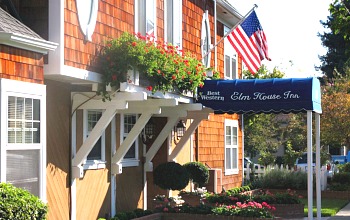 Best Western Plus Elm House Inn - don't be thinking dull chain hotel here. This adorable & affordable romantic inn gets very high ratings from couples for it's cozy rooms (some with fireplace), outdoor pool with hot tub and fire pit, friendly staff, and delicious Belgian waffle breakfasts. Perfect for an inexpensive Wine Country getaway. 2021 ERV Rating* for Napa, CA Inns: 96% - Excellent. (800 California Blvd, Napa CA  707-255-1831)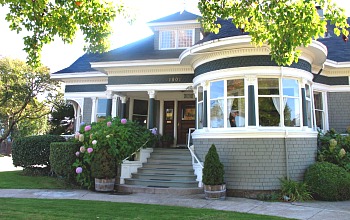 1801 First Luxury Inn - a downtown Napa luxury boutique inn, with suites, cottage and carriage house accommodation. Jetted tubs, spa treatments, plus wine and hors d' oeuvres offering every evening give you an idea of what's in store at this romantic Napa Bed and Breakfast. 2021 ERV Rating* for Romantic Napa Valley B&B's: 98% - Excellent. (1801 First St, Napa CA  707-224-3739)
5 Romantic Attractions in Napa & Sonoma Valley:
1. Sterling Vineyards - ride the gondola up to this Calistoga Winery for some tasting and terrific views of the Valley. 
2. Napa Wine Train - book early! Lunch in the The Vista Dome car while enroute to tastings stops at several valley vineyards is the perfect Wine Country romantic tour.
3. Romantic Picnic Lunch - grab some delectable fixings at Oakville Grocers or Dean & Deluca.  
4. Hot Air Balloon Ride - Up & Away Romantic Sonoma Balloon Tours offers rides over Sonoma Valley (even a combo balloon, bicycle and local craft brewery tour) for an unforgettable experience.
5. Food Tour - book the Sonoma Food Tour for a fun walking tour of Sonoma, filled with food, wines, and local history. 
Romantic Getaways Along the Northern California Coast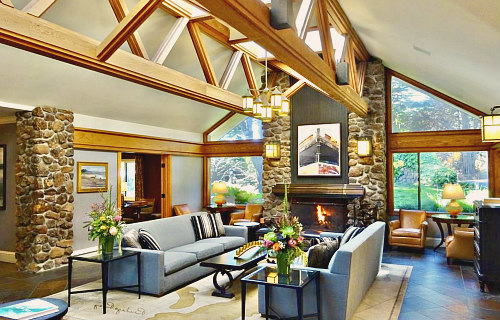 Romantic Bodega Bay Lodge
Bodega Bay Lodge - super-romantic lodge overlooking the Pacific coast, with Whirlpool suites, fireplaces, private balconies, heated pool with infinity-edge hot tub, and a wine & cheese reception each evening. 2021 ERV Rating* for Romantic Bodega Bay Hotels: 90% - Excellent. (103 Coast Highway 1, Bodega Bay CA 707-875-3525)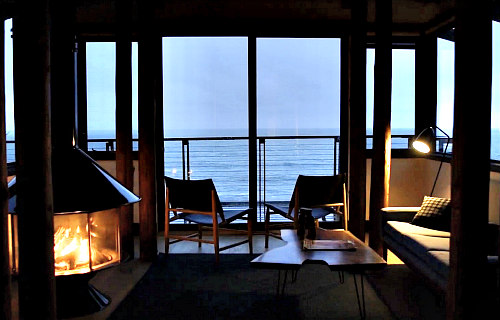 Oceanfront Timber Cove Resort
Timber Cove Resort

- easily one of the best resorts for storm watching on the Northern California coast. Freshly updated suites have great amenities like an LP player with vinyl records, pourover coffee set up and luxury bath products. Plus, there's fire pits, an ocean view restaurant and much more. 2021 ERV Rating* for Romantic Northern California Storm watching Resorts: 86% - Very Good. (21780 Highway 1, Jenner CA 707-847-3231)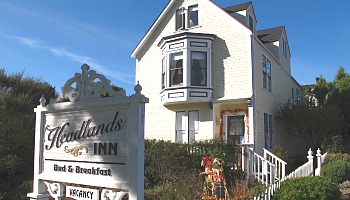 Headland's Inn Romantic Mendocino, CA B&B
Headlands Inn - perfectly romantic choice of inn to match your weekend away in Mendocino. Room amenities include jetted tubs, four poster beds, wood-burning stoves and comfy robes. Best of all, the charm of downtown Mendocino is just a short walk away. 2021 ERV Rating* for Romantic Carmel, CA Inns: 98% - Excellent. (10453 Howard St, Mendocino CA 707-937-4431)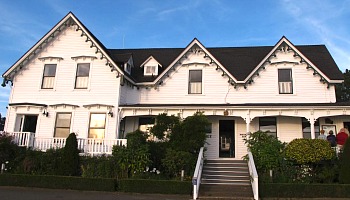 Little River Inn w/ Oceanview Rooms
Little River Inn - we loved our stay at this romantic inn just south of Mendocino. Rooms have ocean views and fireplaces, and their dining room serves up breakfast, dinner and Sunday brunch. Best memory: sipping wine while gazing out at the Pacific from the comfort of rocking chairs on our balcony. 2021 ERV Rating* for Romantic Carmel, CA Inns: 92% - Excellent. (7901 California Hwy 1, Little River CA  707-937-5942)
Mendocino - "lonely and lovely" - that's how Mendocino's been described. Perched on a cliff facing the open Pacific, it's a must-see for romantic travel in California. Wineries, tiny art galleries, and long walks on the sand are the big draw to this colorful little village, part of the National Register of Historic Places.
Bodega Bay - this tiny seaside village on the Sonoma Coast is known for its annual Fisherman's Festival and nearby whale watching (best time: January to April). For a relaxing lunch, try the clam chowder at the Boathouse Restaurant. And the Gourmet au Bay Seaside Wine Tasting Bar is the place for sipping California wine by the open sea.
Sausalito & Marin County - Maureen Says: "Just a short hop north across the Golden gate Bridge, it's a "nautical" place with a nice choice of sidewalk café's, bistros and B&B's. Found some great little shops on the main street, and later we had a home baked muffin and coffee while watching the boats sail by".
More Waterfront Hotels & Inns
Northern, Central & Southern California Beach Hotels - a special new guide on romantic hotels, resorts and inns right on the gorgeous California coast, with a variety of budgets and locations in spots like Mendocino, Fort Bragg, Shelter Cove, Monterey and Del Mar, CA. 
See Also:

---
Monterey & Big Sur Romantic Trips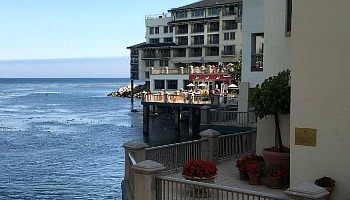 Oceanfront Luxury: Monterey Plaza Hotel
Monterey Plaza Hotel & Spa - you're going to say "Wow" when you behold the panoramic views of Monterey Bay from either the twin rooftop hot tubs, or from one of the Plaza's Ocean View rooms.   There's an on-site spa, plus dining and lounge rooms with water views, as well as complimentary bicycles and Land Rover Shuttle service. If you're making reservations here for a honeymoon or anniversary getaway in Monterey, make sure to let them know, and you just might score a special little gift of chocolate covered strawberries on your arrival. 2021 ERV Rating* for Romantic Monterey, California Hotels: 94%

 - Excellent. 

(400 Cannery Row, Monterey CA  831-920-6710)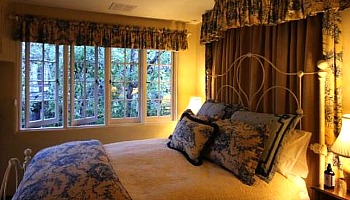 Romantic Room at the Old Monterey Inn
Old Monterey Inn

 - this top-rated romantic Monterey, CA Bed and Breakfast was featured on NBC's 

Today Show!

 Only a few minutes walk to Fisherman's Wharf, you'll love the inn's historic English Tudor decor, gorgeous secluded gardens, as well as the spacious rooms, many with spa tubs and fireplaces. 

The Old Monterey Inn specializes in romance, and can set you up with wine tours, sailing excursions, sunset bonfires on the beach and wedding elopements. 

2021 ERV Rating* for Romantic Northern California Inns: 96%

 - Excellent. 

(500 Martin St, Monterey CA  800-350-2344)
Budget Romantic Inn:

Best Western Plus Victorian Inn - nothing cookie-cutter about this affordable Best Western. This 110 year-old Victorian Inn oozes romance, and selected suites are outfitted with fireplace and Spa tubs. Come down for the local wine & cheese reception each evening, or take it back to your private balcony with views of nearby Cannery Row. 2021 ERV Rating* for Romantic Monterey, California Hotels: 88%

 - Very Good. 

(487 Foam St, Monterey CA  831-373-8000)
Big Sur Coastline:

 C

alifornia Pacific Coast Highway 1 just south of Carmel, CA is a very rewarding seaside journey. 2 lanes full of the wild, crashing Pacific, jagged cliffs, secluded little windswept communities, magnificent sunsets, and one great view after another. I

t has to be one of the most spectacular pieces of Oceanside highway we have ever driven.  
17 Mile Drive: This very romantic and legendary road winds its way past scenic lookouts, rugged coast and thick forest (not to mention Pebble Beach Golf Course!). Whales, sea lions and sea otters make their home in the waters here. It's a toll road, but the nominal fee is well worth it.  
Carmel, CA

After a picnic on the beach in Spectacular Carmel, Northern California
Carmel - one of our very favorite romantic seaside towns in California. It's a super-quaint community just south of the famed Pebble Beach Golf Course. Art Galleries, Cafe's and antique shops line the cobblestone sidewalks, and at the end of the street, the sandy, scenic beach is just right for a "picnic by the Pacific"!
Carmel, ca small romantic inn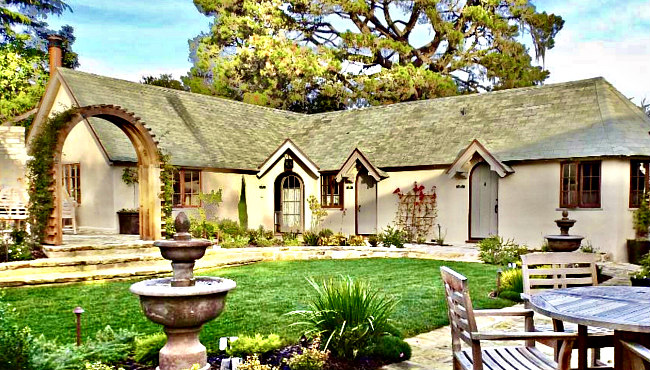 Happy Landing Inn, Romantic Inn, Carmel California
Happy Landing Inn

 - 

Our favorite little B&B is here, because it's the one 

where we spent our honeymoon! And we're glad to tell you that when returning for our 10th anniversary trip, it was just as cozy and cute as ever. There's 7 Gingerbread cottages that were recently completely refreshed inside, breakfast delivered to your room (just pull the shade up), all within an easy walk to shops, galleries and the beach. 

2021 ERV Rating* for Romantic Carmel, CA Inns:

 

94%

 - Excellent. 

(Monte Verde Ave, between 5th and 6th avenue, Carmel CA  831-624-7917)
---
More Romantic California on ERV:
more Romantic Spots in Northern California
The Citizen Hotel Sacramento - quite possibly Sacramento's most romantic hotel. This historic property has updated rooms with flat-screen TV's, Keurig coffee machines and luxury bath amenities. There's romantic dining on-site, and more options within a mile of the hotel in downtown Sacramento. 2021 ERV Rating* for Sacramento CA Boutique Hotels: 82% - Very Good. (926 J St, Sacramento CA  916-447-2700)
Eureka – the restored Old Town is full of history and architecture, and makes a fine afternoon stroll or walking tour. And further north along the Redwood Coast, awe inspiring trees (2000 yrs old, 300+ft!) and hiking trails abound in Redwood National Park.
Sacramento – the political heart of California, with its State Railroad museum and Spirit of Sacramento paddle wheeler tours on the Sacramento River.
Yosemite – waterfalls, glaciers, rugged peaks, lakes and meadows all come together to form this postcard of a national park and World Heritage Site.
*ERV Rating: our unique, non-scientific ratings for romantic accommodation include:
Amenities: including Whirlpool bath or 

JACUZZI

®

Tub

,

scenic view, fireplace, lounge, etc
Location: proximity of hotel to restaurants, pubs, downtown, etc
Clientele: demographic the hotel attracts (couples, families, business travelers, etc)
Popularity: based on social media & crowd-sourced reviews 
Value: product offered compared to room rate 
Please Note: percentage ratings are not absolute but for comparative use only  
top hotels, getaways & packages on ERV
---