Illinois
Really Romantic Getaways in Illinois - hotels, Inns, Cabins, small towns & more 
FTC: This page uses affiliate links. More.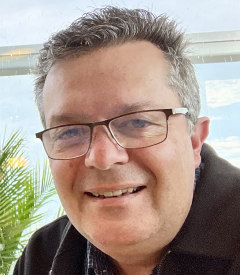 By: Greg Mattson, ERV Editor - Updated: Dec 30, 2022   

---
Welcome to romantic travel in Illinois! We've put together some ideas for getaways and weekends in Illinois, including honeymoon cabins, small inns, and some recommended places to visit. Many of these destinations would make an easy day trip or overnight getaway from Chicago.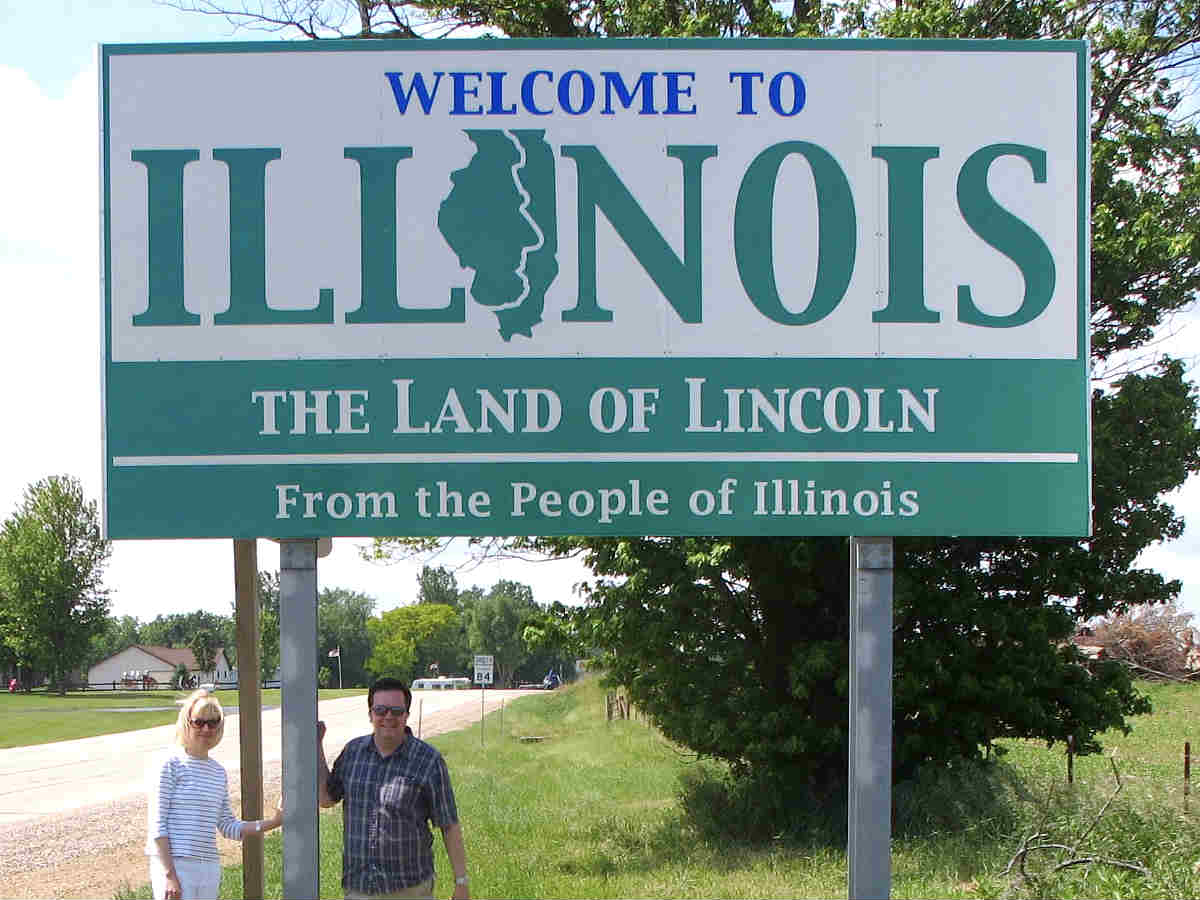 Holding up the Welcome Sign in Western Illinois!
Best Times for Romantic Getaways in Illinois: for comfort outdoors, May to early October is best. Late fall, winter and spring can mean few crowds and great rates at hotels, but be prepared for snaps of cold weather and plenty of snow in the winter. Autumn foliage is often at it's very best in early October, a great time for scenic drives throughout the state. 
Romantic Getaways in Galena, Illinois
This little jewel of a town in the northwest is one of the most popular romantic getaways in Illinois. It's about 175 miles NW of Chicago, an easy 3 hour drive.
romantic galena Hotels: goldmoor inn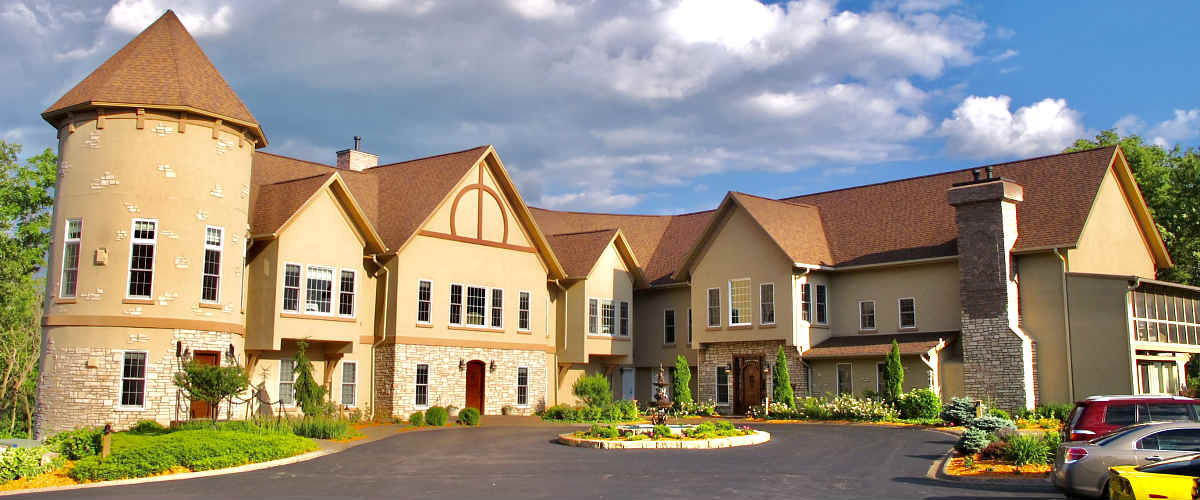 The Goldmoor Inn, one of the Most Romantic Small Hotels in Illinois.
Goldmoor Inn

 - A 10 minute drive from Galena through the country, but well worth it. Luxury rooms, on-site romantic dining, and beautiful landscaped grounds give it an almost European estate feel. Our suite's spa tub had great views of the countryside and Mississippi River.

What We Liked: Sitting back in the Adirondack chairs and soak up the views of the Mississippi River with Iowa on the horizon! Worth Knowing: If you arrive in summer, remember to bring some mosquito spray. 2023 ERV Rating for Romantic Places to Stay near Galena, IL: 94%

 - Excellent.

 (9001 Sand Hill Rd, Galena, IL.  815-777-3925)
Goldmoor Inn, Galena Jetted Hot Tub Suite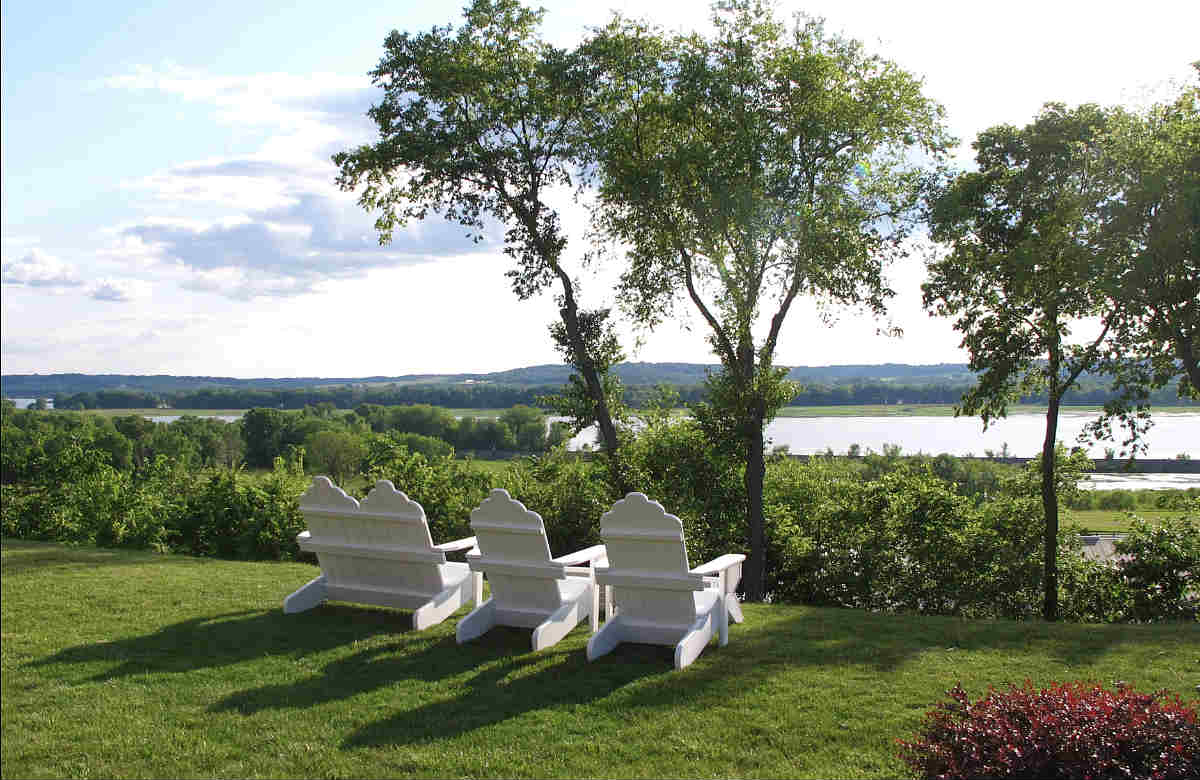 Goldmoor Inn - Views of the Mississippi River
erv Video: Goldmoor Inn, Galena, IL 
This HD video of our stay at the Goldmoor Inn shows a spa tub suite with a great river view, plus the restaurant and some scenes of the beautiful grounds and romantic Illinois countryside outside the inn. 
irish cottage inn & suites
Irish Cottage Inn, Galena IL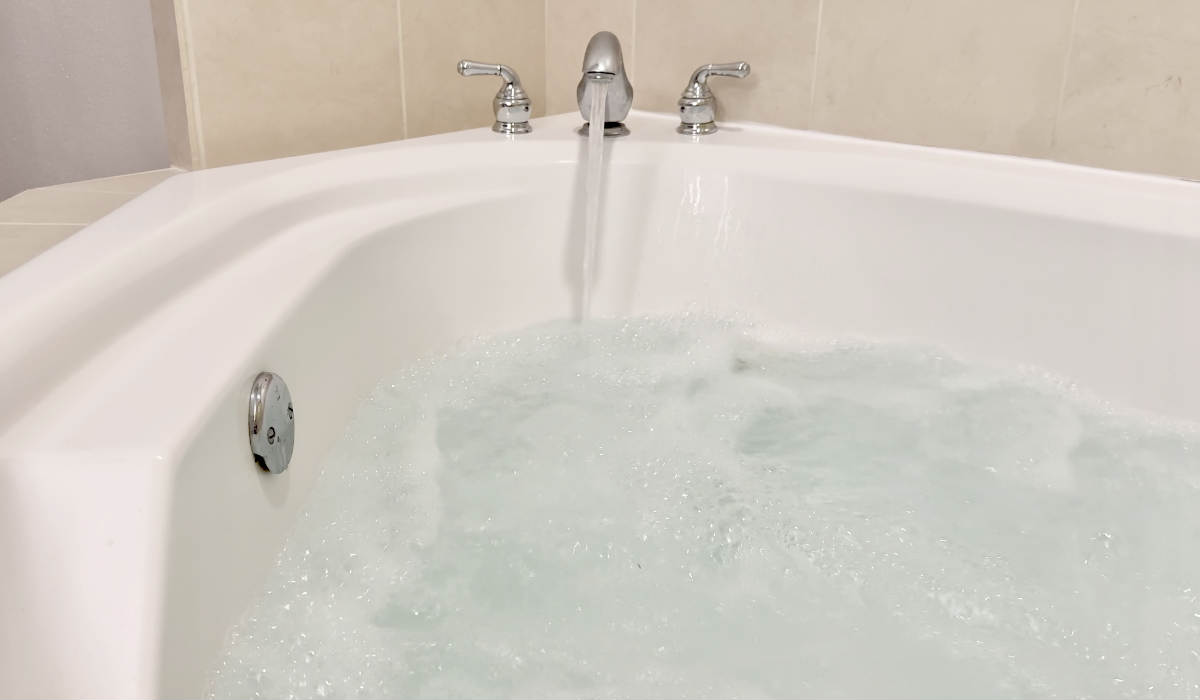 Whirlpool Suite, Irish Cottage Inn
Irish Cottage Inn & Suites

 - With rooms themed according to different Irish counties, this accommodation is a fun and unique alternative for your next romantic getaway in Galena. Washburne House Sate Historic Site and B Belvedere Mansion are both less than a mile away, and Main. Street shops and restaurants are also just a short drive from the hotel. Guest rooms include a microwave, refrigerator and coffee maker, plus complimentary Wi-Fi. Parking and breakfast are also on the house, and there's traditional Irish pub, day spa and indoor pool. Irish afternoon tea is served in the library daily. What Other Guests Liked: Fitness centre, shuttle service to Main Street. 2023 ERV Rating*: 90% - Excellent. Room Price: From $109/night. (9853 W US Highway 20, Galena IL 815-776-0707)
aldrich guest house
Aldrich Guest House
Aldrich Guest House Room
Aldrich Guest House

- An unpretentious B&B serving award-winning food…what more could you ask for? Set in a Greek Revival-style home that dates back to 1845, this accommodation is just off Route 20 and on the same block as the Washburn House Historic Site. The location is also very close to Main Street Galena, with its many opportunities for antiquing and dining. Individually decorated rooms feature Wi-Fi, wood floors and antiques. A candlelight breakfast is served in the formal dining room, and guests will also have access to a screened-in porch and lounge with fireplace. What Other Guests Liked: Cocktail hour on the porch, great view, lush gardens, knowledgeable hosts. 2023 ERV Rating*: 96% - Excellent. Room Price: From $175/night. (900 3rd St, Galena IL 815-777-3323)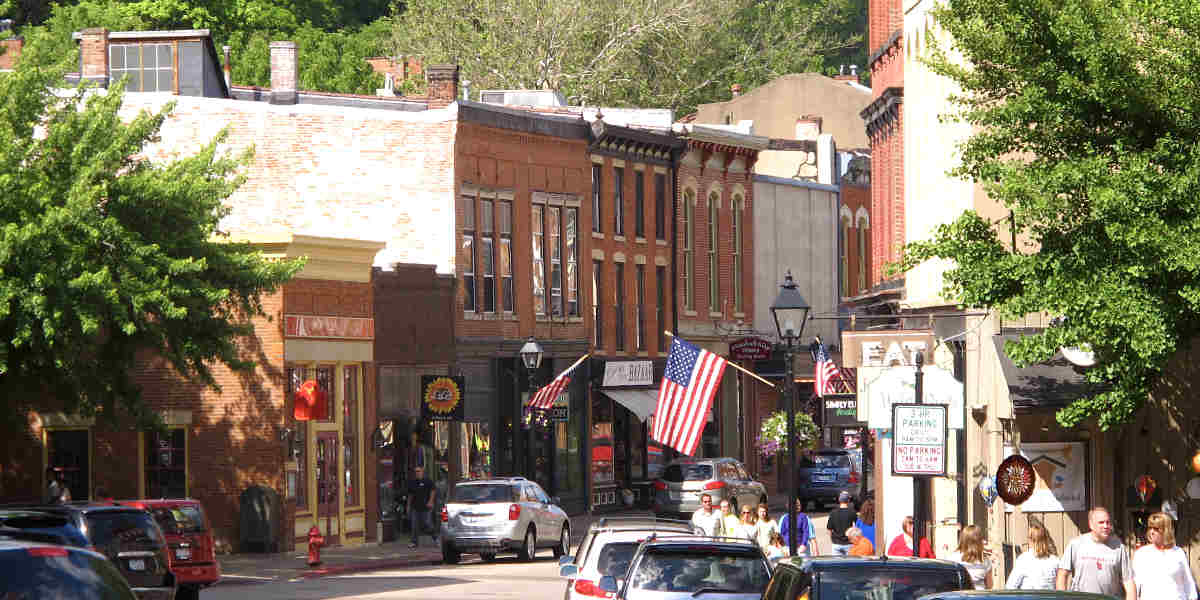 Main Street in Galena, one of Illinois's Most Romantic Small Towns
Galena is packed with some interesting things to do - there's the award-winning Galena Winery, the Galena Art Center, historical sites like the Ulysses S. Grant Home State Historic Site or 1859 Post Office, and many beautiful 19th century historic homes and specialty shops to explore.
Scenic Countryside near Galena, IL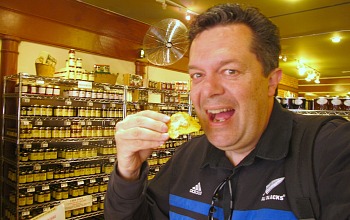 Hot Sauce Sampling at Galena Canning Co!
Don't miss a stroll down main street, or give your feet a rest and a hop onto an authentic Galena Trolley (they have several local trolley tours as well). Stop by to check out some of the specialty shops like Kandy Kitchen and Galena Canning Co. There's wine tasting nearby too: Galena Cellars has their own vineyard & tours a few minutes drive out of town, but you can duck into their Tasting room in Downtown Galena at 515 South Main St. 

more romantic illinois getaways on erv:
---
Illinois Romantic Cabins & Cottages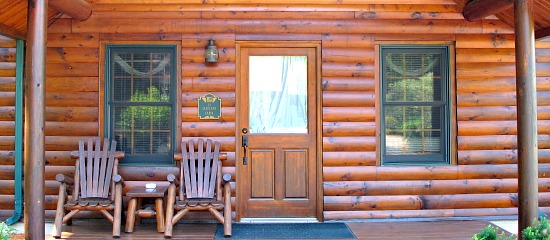 Illinois Lakefront Cabins, Cottages & Rentals - super-romantic cabins and cottages in north-central Illinois, with secluded and lakefront locations, hot tubs, fireplaces, private decks and much more. Easy driving distance from Chicago and Rockford, IL.
Romantic Illinois Mississippi River Cruises
Romantic Mississippi Cruise - Head to Western Illinois for a scenic cruise on the Mississippi River aboard the grand old "Celebration Belle" paddle wheeler. Day, overnight and themed cruises (Oktoberfest, Fall Foliage and Big Band to name a few) are available, and you can even make a special booking and have your wedding on board! (2501 River Drive, Moline, IL  www.celebrationbelle.com)
more illinois getaways: Springfield
The state capital of Illinois has some worthwhile things to see, including the Lincoln Home National Historic Site. Springfield has lots of Lincoln memorabilia and historic sights; check with the visitor center for details.
inn at 835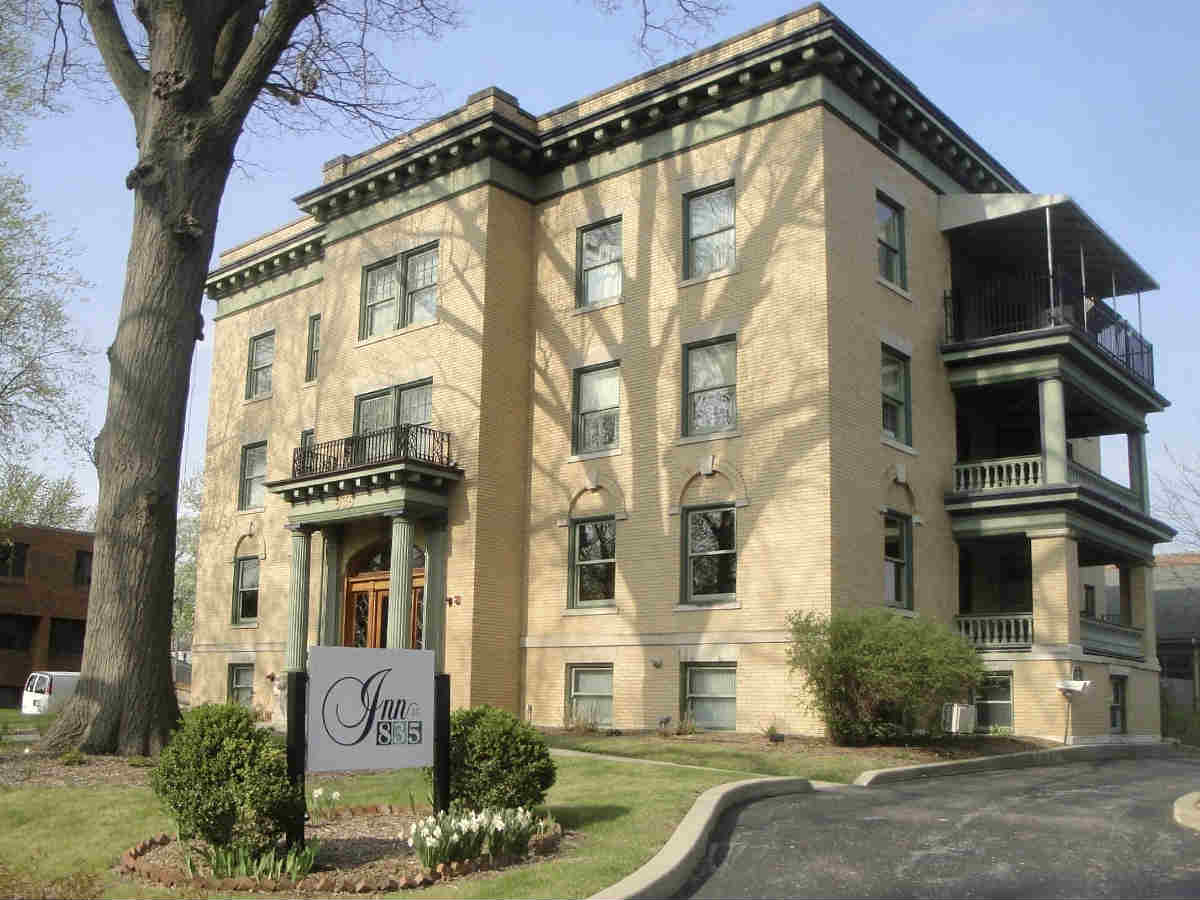 Romantic Inn at 835, Springfield IL
Inn at 835 Master Bath Spa Tub
Inn at 835 Boutique Hotel

- Described as "old world charm with modern conveniences", the Inn at 835 is set in a 1909 Arts-and-Crafts-style building very close to the State Capitol. It's also a short walk from the Lincoln Home National Historic Site, and several restaurants are within easy walking distance. Rooms feature things like fireplaces, whirlpool tubs or balconies, and suites add separate living rooms. Breakfast is cooked-to-order and complimentary, as is a glass of wine each evening. There's a gym and courtyard garden, in addition to free parking and Wi-Fi. What Other Guests Liked: Wine and cheese reception at 5pm, plus cookies in the evening, and plenty of onsite parking. 2023 ERV Rating*: 92% - Excellent. Room Price: From $108/night. (835 S 2nd St, Springfield IL 217-523-4466)
Route 66 Drive In Movie Theater - Springfield's must-see for an Illinois romantic getaway! Open April to October, admission is $5/adult. And for the complete retro-experience, have dinner first at the Cozy Dog Drive-in, the founding fathers of the corn dog!! Distance from Chicago to Springfield: 200 miles, Driving Time: 3.5 hours.
Rockford, IL
Some things to check out in Rockford include the Magic Waters Waterpark, or the perfectly manicured Japanese vegetation at Anderson Gardens. The River District is the place to go for entertainment, brew pubs and historic walks.
embassy suites rockford riverfront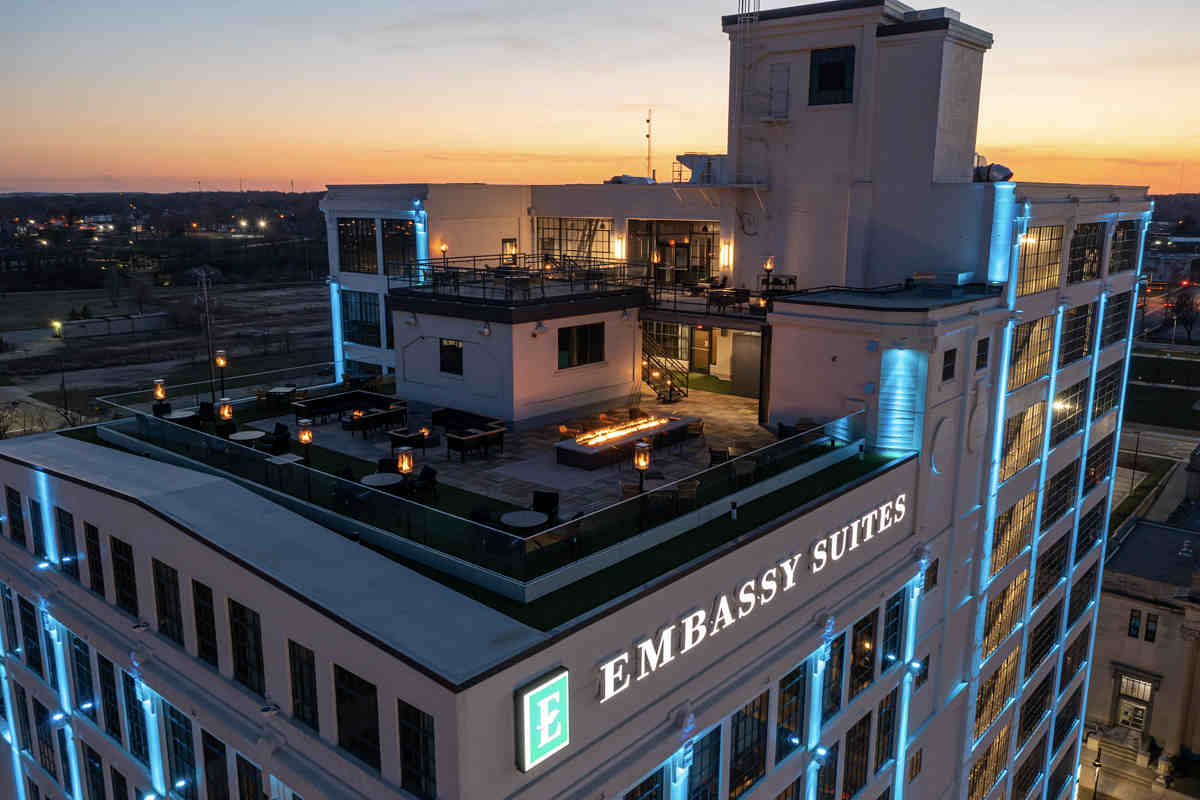 Rooftop Lounge - Embassy Suites Rockford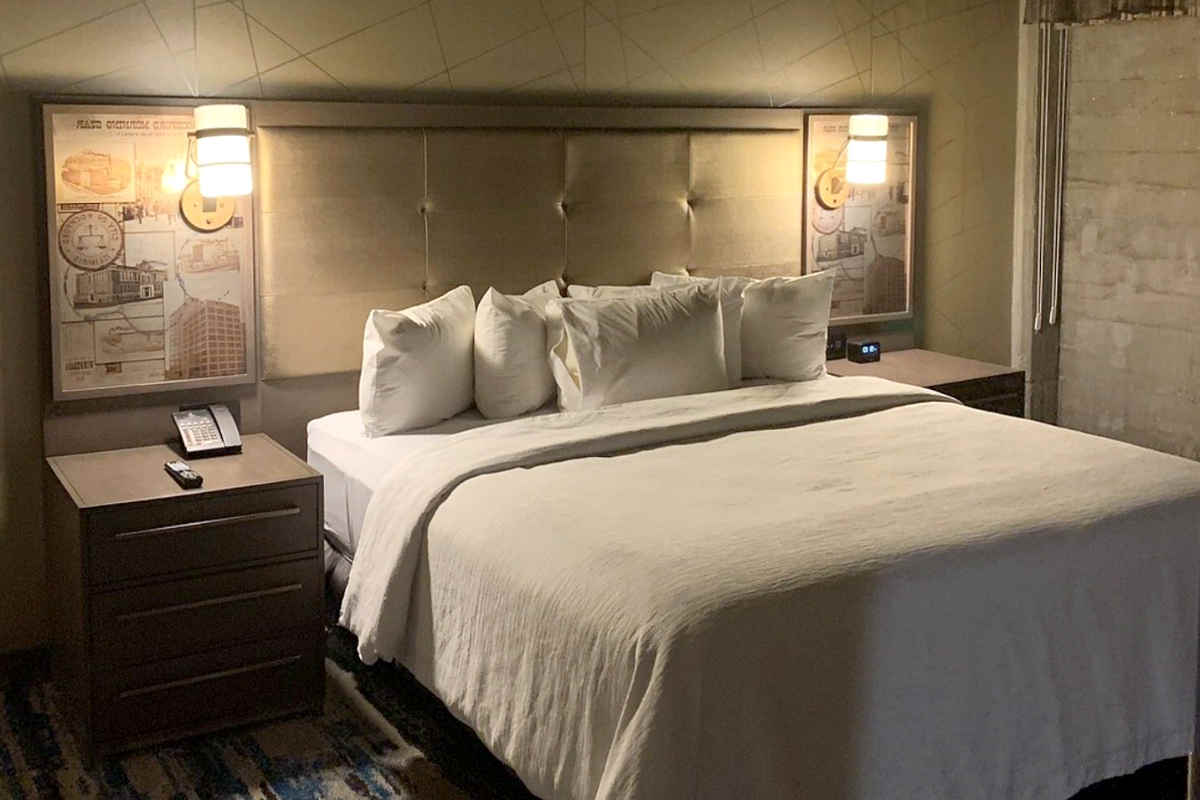 Embassy Suites Rockford Riverfront Room
Embassy Suites Rockford Riverfront

- Not your usual Embassy Suites, this downtown Rockford hotel was an old factory that has been delightfully repurposed into an "industrial chic" riverfront accommodation. It's directly connected to the conference center next door, and close to several other attractions and restaurants. All suites include mini refrigerators and microwaves. Made to order breakfast is free of charge, and there is a complimentary evening reception with drinks and snacks. Indoor pool and hot tub, fitness facility, and pantry market are convenient for guests, and there is a rooftop cocktail lounge, as well as a kitchen and bar overlooking Davis park. What Other Guests Liked: Golf and sports simulator. Some suites have city views. 2023 ERV Rating*: 76% - Good. Suite Price: From $124/night. (416 S. Main Street, Rockford IL 815-668-7878

)
Romantic Restaurants in Rockford, IL:

JMK Nippon (dine outdoor overlooking beautiful

 Japanese gardens, 815-977-8815)

Linos

(tacky but fun Old Italy decor, 815-397-2077)
Distance from Chicago to Rockford: 84 miles, Driving Time: 1.5 hours
moline, IL

If your travels should take you to the Quad Cities of Western Illinois/Eastern Iowa, check out this attractive romantic inn...
axis moline hotel 
Axis Moline Hotel
Honeymoon Suite, Axis Hotel
The Axis Moline Hotel

- A downtown hotel with lots to offer: free parking, free Wi-Fi, airport shuttle, and fitness centre. Rooms include a mini fridge, coffee machine, and blackout curtains. The 1920s art deco-style hotel is listed on the National Register Of Historic Places, and features terrazzo floors, marble and granite, a lobby skylight, and a restaurant and cocktail bar. And it's all located close to shops, restaurants and the Mississippi River. What Other Guests Liked: Modern, but with lots of historic character and charm. Parking is free. 2023 ERV Rating*: 92% - Excellent. Room Price: From $124/night. (1630 5th Avenue, Moline IL 309-640-0060)
*ERV Rating: our unique, non-scientific ratings for romantic accommodation include:
Amenities: including Whirlpool bath or 

JACUZZI

®

Tub

,

scenic view, fireplace, lounge, etc
Location: proximity of hotel to restaurants, pubs, downtown, etc
Clientele: demographic the hotel attracts (couples, families, business travelers, etc)
Popularity: based on social media & crowd-sourced reviews 
Value: product offered compared to room rate 
Please Note: percentage ratings are not absolute but for comparative use only  
top hotels, getaways & packages on ERV
---