Romantic Michigan Jacuzzi® Suites & Hotel In-Room Hot Tubs 
Michigan's Most Romantic Suites with In-Room Spa Tubs for Your Honeymoon or Getaway
Romantic Vacations Home › Jacuzzi® & Hot Tubs Suites › Michigan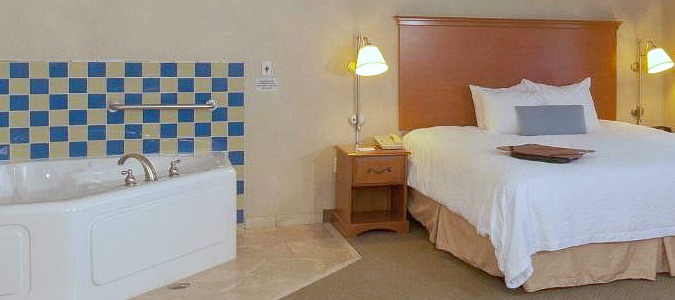 Reserve a Romantic Whirlpool Suite in Michigan, Like This One at The Hampton Inn Detroit Novi
By Greg Mattson, ERV Editor - Updated: Aug 25, 2017
Michigan is a wonderful spot for a weekend away, so here's a review of romantic hotels and inns with Jacuzzi® suites, Whirlpool baths and heart-shaped tubs in all four corners of the state, including Detroit, Grand Rapids, and vacation spots near the Lake Michigan and Huron shore.
Why This Guide to Michigan Jacuzzi® Suites is Different: We list only hotel rooms and B&B's with Jacuzzi® and Whirlpool tubs right in the room for the ultimate in romance and privacy. Have a great getaway! 
(Disclaimer: The use of the Jacuzzi® trademark on this page is for informational purposes only.  No co-promotion, connection or affiliation with the Jacuzzi® companies is inferred or suggested. This page is a general guide only, as hotel rooms and amenities can change at any time, so please re-check all details with the hotel first before making firm travel arrangements)  

Detroit, Michigan Jacuzzi® Suites
---
Luxury Downtown:
Affordable:
Hampton Inn Detroit Novi - spacious King Studio Suites have Whirlpool tubs (see the photo above), and you'll enjoy a great night sleep in the famous Hampton beds and free hot breakfast in the morning. 2017 Rating* for Detroit Hotels with Spa Tub Suites: 95% of Couples Rate It Excellent/Very Good. (169 Loop Rd, Novi MI 248-624-8100) 
Quality Inn 

- 

this inexpensive hotel in suburban Detroit, Michigan has in-room hot tubs, fireplace and complimentary buffet breakfast each morning.

2016 Rating* for Detroit, MI Whirlpool Suites: 90% 

of Couples Rate It Excellent/Very Good.

 (3600 Enterprise Dr, Allen Park, MI  313-323-3500)
---
More Spa Tub Suites in Central Michigan
Flint, MI:
Saginaw, MI:
Grand Rapids Michigan Whirlpool Suites
Luxury B&B Jetted Tub Suites - Prairiside B&B
Affordable Country Inn Hot Tub Suites, Grand Rapids
More Hot Tub Hotel Suites in Western Michigan
Whirlpool Suite at the Kalamazoo Radisson Hotel
Michigan B&B Jacuzzi Suite at Kingsley House
Kalamazoo:
Near Saugatuck MI:
Kingsley House- couples looking for accommodations near Lake Michigan can check in at the award-winning Kingsley House. The Cider Nook and Braeburn Junior Suites are honeymoon ready with heart-shaped Jacuzzi

®

 tubs. 2017 Rating* for Saugatuck MI Jacuzzi

® 

Tub Suites: 96% of Couples Rate It Excellent/Very Good (near Saugatuck, MI at 626 West Main St, Fennville, MI 888-543-4384).
South Haven:
Inn at the Park B&B - selected King Suites at this romantic South Haven, MI B&B are highly recommended for honeymoons or anniversary getaways. There's canopy beds, fireplaces, flat screen TVs and large in-suite 

Jacuzzi

®

tubs for two

.

 

2017 Rating* for South Haven MI Hot Tub Suites:

89% of Couples Rate It Excellent/Very Good (233 Dyckman Ave, South Haven MI 269-639-1776).
---
Northern Michigan Jacuzzi® Suites: Mackinac Island, Mackinaw City, Traverse City
Mackinac Island:
Lilac Tree Suites & Spa -

 if it's a getaway or anniversary you're celebrating, you won't go wrong with this romantic all-suites hotel located in the heart of Michigan's No.1 destination for romance! Rooms are honeymoon ready with Jacuzzi

® 

Suites, plus there's private balconies that have views of Main Street. Nearby you'll find shopping, dining, carriage tours and much more. 2017 Rating* for Hotels with In-Room Jacuzzi in Mackinac Island:

 

94%

 of Couples Rate It Excellent/Very Good. 

(7372 Main Street, Mackinac Island, MI  866-847-6575)
Mackinaw City:

Best Western Dockside Waterfront Inn- romantic Mackinaw City waterfront hotel with Jacuzzi® suites available, plus complimentary hot breakfast, indoor pool and exercise room. 2017 Rating* for Jacuzzi Suites in Mackinaw City:

 

71% of Couples Rate It Excellent/Very Good (505 South Huron Ave, Mackinaw City MI  231-436-5001)
Baymont Inn & Suites - you'll find these Whirlpool suites in Mackinaw City, MI nice & comfortable with indoor pool and free hot breakfast. These rooms are also close to shopping and places to eat in near the downtown. 2017 Rating* for Whirlpool Suites in Mackinaw City MI: 90% of Couples Rate It Excellent/Very Good (109 S. Nicolet St, Mackinaw City MO  231-436-7737)
Traverse City:
Days Inn Traverse City is a Northern Michigan hotel with hot tub rooms and fireplace. This suite accommodation is close to all sorts of summer and winter activities, and there's free airport shuttle and indoor pool.
Marquette, MI: Country Inn & Suites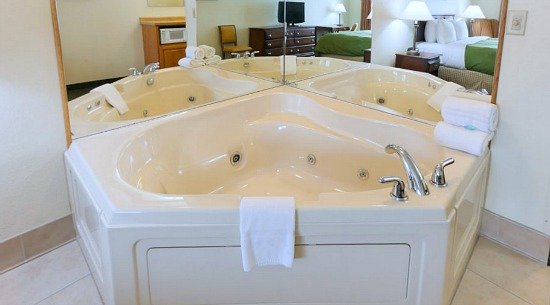 Whirlpool Suite at the Country Inn & Suites, Marquette, MI
More Romantic Spa Tub Suites & Weekend Getaways Near Michigan:
Southern Michigan Spa Tub Rooms
Ann Arbor:
Lansing, MI:
Radisson Hotel Lansing Whirlpool Suites 

- in addition to spacious W

hirlpool suites, the Radisson also offers indoor pool, sauna, fine dining and room service, and is located in downtown Lansing. 2017 Rating* for Lansing Michigan Jetted Tub Suites: 67%

 of Couples Rate It Excellent/Very Good. 

(111 N. Grand Ave, Lansing MI 517-482-0188)
*Based on TripAdvisor.com Ratings from Couples as of Aug 2017.
Excellent Romantic Vacations - Top Pages
---