Romantic Canadian Rockies Getaways near Banff & Lake Louise, AB
Romantic Activities in Banff, Lake Louise, and other Spots for Couples in Canada's Rocky Mountains.
Romantic Vacations Home › Canada › Canadian Rockies

By DaleAnn Shellborn, ERV Contributing Writer – Updated: May 3, 2014
FTC Disclosure: If you make a purchase through a link on this page, we receive a small commission at no cost to you. We only recommend hotels we have used ourselves or researched thoroughly.
With the U.S. Dollar gaining strength again, Western Canada's Rocky Mountains are looking better and better for romantic travellers and honeymooners heading north. Here's our top 10 tips and ideas on things to do for couples in the romantic Canadian Rockies...
1. Ride the Banff Gondola. Cuddle in a cozy cable car for a dizzying 8-minute ride to the top of Sulphur Mountain, then exit to some of the most striking views in the Canadian Rockies. Couples can visit restaurants and gift shops or choose a hike to an observation platform. 
2. Take a sleigh ride around Lake Louise. If skiing isn't your style, try some togetherness in a horse-drawn sleigh departing from the historic Chateau Lake Louise in Banff National Park. Frozen waterfalls and snow-capped mountains are more appealing when you're wrapped in a warm rug with someone special!
3. Stop to smell the wildflowers at Emerald Lake. The glaciers give this lake in Yoho National Park its rich emerald color, but they also leave behind soil perfect for growing rare alpine orchids and other delicate flowers. Hike, bike or canoe around the lake and then check in to the luxurious Emerald Lake Lodge.
4. Indulge in the hottest hot springs. Where the Rockies crack open the continent, hot mineral springs come to the surface and are gathered into soaking pools that heal the body and spirit. The waters at Miette in Jasper National Park flow from the earth at such a high temperature they have to be cooled to 104 degrees before patrons can plunge in.
5. See a glacier before they're gone.  Big, bold Athabasca Glacier retreats 2 or 3 yards a year, but you can still step on this ancient sheet of ice located between the towns of Banff and Jasper. Take a guided tour, because getting lost in an ice crevasse isn't very romantic.  
6. Stay in the Prince of Wales, a Romantic Canadian Rockies Hotel. This 1920s luxury chalet in Waterton Lakes National Park was named for the prince who gave up his crown to marry the woman he loved. Fittingly, it's located in the area known as Crown of the Continent, where prairies and mountains collide and wildlife abounds. 
7. Hike to the Heart. Just east of the mountain town of Canmore, Alberta, is a short hike sure to inspire romance. Take the Heart Creek exit off the Trans Canada Highway and wander along the creek, crossing seven sturdy log bridges along the way. The reward at trail's end is a beautiful view of Heart Mountain.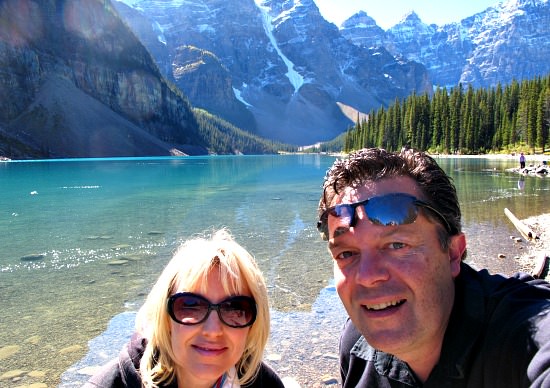 8. Take the scenic route. Bypass the main highway between Banff and Lake Louise and drive the Bow Valley Parkway. With a reduced speed limit and numerous pull-outs, this road is for those who want to see the sights, not rush through the Rockies. Bears, bighorn sheep and elk are often spotted at roadside, and there are plenty of interpretive signs to tell you about the mountains and forests.
9. Canoe the Columbia. River rafting tours abound in the Canadian Rockies region, but for sheer romance nothing beats an evening canoe ride through the Columbia River Wetlands near Radium Hot Springs, BC. You'll hear stories of the fur traders and see ospreys, eagles and herons against a Rocky Mountain backdrop.
10. Get married at I Do Point. Island Lake near Fernie, British Columbia, is a place so serene that visiting it has been called a spiritual experience. No wonder vows are often exchanged at the shoreline spot called I Do Point, with the spires of the Lizard Range of the Rockies as a backdrop.
Video: Romantic Cabins in Canada's Rocky Mountains
Here's our short HD video of 2 romantic Canadian Rockies vacation rental cabins: Paradise Bungalows in Lake Louise, AB, and Castle Mountain Chalets near Lake Louise, Alberta. 
Map: Romantic Canadian Rockies Places & Attractions 
Excellent Romantic Vacations - Top Pages
---