Maine Whirlpool Suites
Maine HOt Tub Suites for a fabulous honeymoon or getaway
FTC: This page uses affiliate links. More. 

---
By: Maureen Mattson, ERV Asst Editor - Posted Jul 15, 2022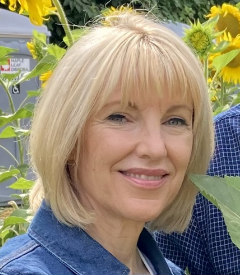 Unwind in a hotel room with your own private Whirlpool Tub after a day of exploring the beaches and charming coastal towns of Maine. Portland, Rockland, Camden, plus Bangor, and many other communities in this gorgeous New England state are included in our list, the most comprehensive guide online of inns B&Bs and hotels in Maine with jetted tub suites. Enjoy! 

Please Note: We only include hotels and inns with jetted spa tubs right inside the room for your relaxation and privacy.
Disclaimer: JACUZZI® is a registered trademark owned by Jacuzzi Inc. The use of the JACUZZI® trademark on this website is for informational purposes only. There is no relationship, connection or affiliation between this website and Jacuzzi Inc. or its related companies. Rates shown are approximate only and subject to change. Hotel rooms, jetted tubs and amenities can change, and may not be exactly as shown, so please contact the hotel or inn before making travel plans.
choose your area of maine, and get ready to soak:
Portland Maine Hot TUb Suites
Romantic Suite - Portland Harbor Hotel
Book a Portland Harbor Hotel Spa Bath Suite
Portland Harbor Hotel - A 4-diamond rated hotel in Old Port that includes a 4-star restaurant and spa. The King Suite With Spa Bath overlooks a garden courtyard and includes a large Whirlpool Tub. 2022 ERV Rating* for Portland Maine Whirlpool Suites: 84% - Very Good. (468 Fore St, Portland ME 207-775-9090)
Inn at St. John

- Built in 1897, this historic Victorian building offers luxury accommodation in the west end of downtown Portland. Superior Queen or Superior King rooms with Spa Bath feature jetted tubs. 2022 ERV Rating*: 84% - Very Good. (939 Congress St, Portland ME 207-773-6481)
Portland Regency Hotel & Spa

- Regency and Governor Suites at this Portland hotel include fireplaces and comfy jetted spa tubs. A great historic environment and proximity to restaurants, shops and attractions. Nightly turndown service and luxury onsite spa, fitness studio and onsite restaurant. 2022 ERV Rating*: 80% - Very Good. (20 Milk St, Portland ME 207-774-4200)
Ramada Plaza by Wyndham Portland

- Located near the Old Port and downtown Portland, guests enjoy a free airport shuttle and parking, plus a pool and lounge. Whirlpool Bathtub rooms feature king beds, private patios and jetted tubs. 2022 ERV Rating*: 68% - Fair. (155 Riverside St, Portland ME 207-774-5861) 
Fireside Inn & Suites Portland

- Central location makes this budget inn convenient to the sights and sounds of Greater Portland. Fireplace rooms and suites as well as a King JACUZZI® Tub Suite available for extra space and romance. 2022 ERV Rating*: 56% - Fair. (81 Riverside St, Portland ME 207-774-5601)
Spa Tub Suites Near portland: Biddeford ME
Holiday Inn Express Biddeford
Holiday Inn Express Biddeford

- Right across from the biggest shopping mall in Maine, and minutes away from the attractions and activities of Portland. Heated indoor pool and complimentary breakfast. Their King Room With Spa Tub is perfect for a romantic getaway. 2022 ERV Rating*: 76% - Good. (45 Barra Rd Exit 4 Business Park, Biddeford ME 207-294-6464)
freeport, ME: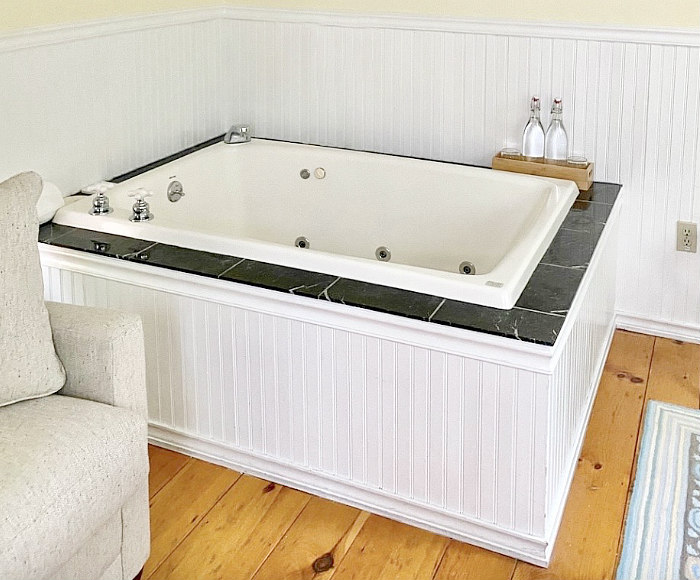 JACUZZI® Tub Suite - James Place Inn, Freeport ME
James Place Inn Bed and Breakfast

- A charming 1890s Victorian inn with 7 guest rooms situated close to all the things you want to see and do. Three of the rooms feature 2-person JACUZZI® Tubs (Queen room with spa tub) and there is a cafe-style deck from which you can enjoy your homemade breakfast. 2022 ERV Rating*: 96% - Excellent. (11 Holbrook St, Freeport ME 207-865-4486)
Comfort Suites Freeport ME

- Just two miles from outlet shopping and offering free breakfast, wifi and parking, as well as an indoor pool, this Comfort Suites is a good choice for your Portland stay. The King Suite with Whirlpool Tub ups the romance factor. 2022 ERV Rating*: 62% - Fair. (500 US Route 1, Freeport ME 207-865-9300)
Harraseeket Inn

- Park your car and walk to everything from this luxury inn and award-winning restaurant. King and Queen rooms with spa baths available. Check out the romantic packages and enhancements too! 2022 ERV Rating*: 90% - Excellent. (162 Main St, Freeport ME 207-865-9377)
---
Bar Harbor ME Suites with Jacuzzi® Tubs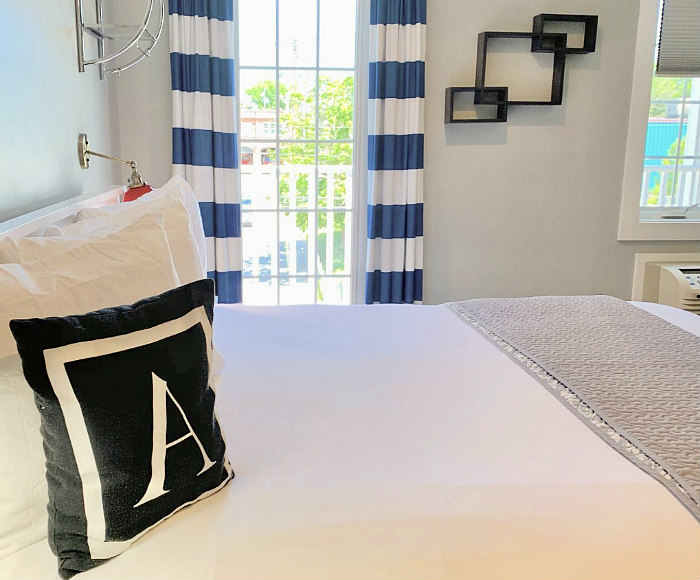 Acadia Hotel Downtown

- Charming location in the Village Green this boutique hotel from the 1880s is full of character. The Cadillac Mountain Suite features a JACUZZI® Tub, mountain views, and private deck. 2022 ERV Rating* for Portland ME Suites with a JACUZZI® Tub: 94% - Very Good. (20 Mount Desert St, Bar Harbor, Mount Desert Island ME 207-288-5721)
Ivy Manor Inn Village Center

- A Tudor style home built on Main Street in 1939 is now a comfortable inn with 18 gracious suites. The Weymouth King Suite has a large bathroom with JACUZZI® Tub and private deck. 2022 ERV Rating*: 94% - Very Good. (194 Main St, Bar Harbor, Mount Desert Island ME 207-288-2138)
Heathwood Inn

- 1890's farmhouse turned 5-bedroom inn with full, hot breakfast, kayak and canoe rentals and a garden. Deluxe Suite with Spa Bath (Eden Room) offers spa tub and stained glass windows. 2022 ERV Rating*: 90% - Excellent. (6 Long and Winding Rd Route #3, Bar Harbor, Mount Desert Island ME 207-263-0691)
Saltair Inn Waterfront B&B - Luxurious waterfront suites just 3 blocks from the centre of town. King Suites with Spa Bath include features like gas fireplaces, heated bathroom floors, and panoramic views. 2022 ERV Rating*: 96% - Excellent. (121 West St, Bar Harbor, Mount Desert Island ME 207-288-2882)
Hearthside Inn - Classic 1907 property located just 1 mile from Acadia National Park. Complimentary full breakfast. Some rooms have fireplaces, porches or balconies. The Classic King Room with Spa Tub is very romantic. 2022 ERV Rating*: 94% - Very Good. (7 High St, Bar Harbor, Mount Desert Island ME 207-288-4533)
---
Bangor ME Spa tUb Suites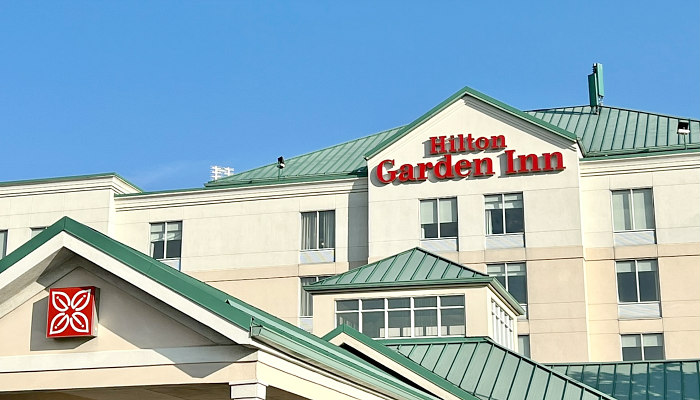 Hilton Garden Inn Bangor

- Unique setting on a peaceful road within 5 miles of downtown Bangor. Bright and airy with indoor pool. The 1 Bedroom Deluxe Suite With King Bed comes with full kitchen and jetted tub. 2022 ERV Rating*: 92% - Excellent. (250 Haskell Rd, Bangor ME 207-262-0099)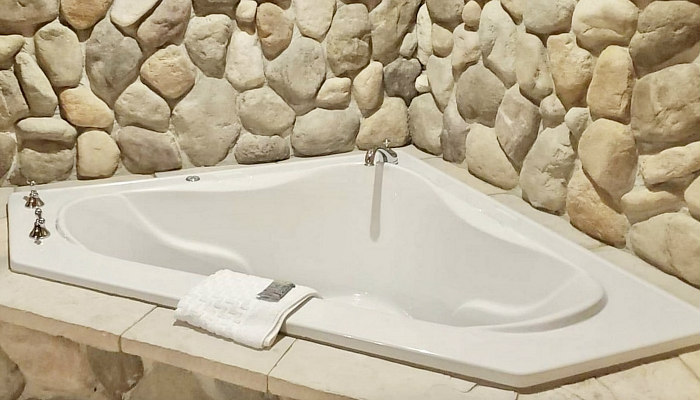 Best Western White House Inn

- Colonial-style 3-story Motor Inn with complimentary continental breakfast. King and themed suites with spa tubs available. 2022 ERV Rating* for Bar Harbor ME Whirlpool Suites: 84% - Very Good. (155 Littlefield Ave, Bangor ME 207-862-3737) 
Black Bear Inn And Conference Center

- Award-winning hotel near U of Maine, and just 8 miles from Bangor. The unique Honeymoon Suite offers a Whirlpool tub and king bed. 2022 ERV Rating*: 86% - Very Good. (4 Godfrey Dr, Orono ME 207-805-7950)
The Lucerne Inn

- Six room/suite options in historic building with scenic views. Most feature antique furnishings, fireplaces and Whirlpool Tubs. Located 10 miles from Bangor in Dedham ME. 2022 ERV Rating*: 72% - Very Good. (2517 Main Rd, Dedham ME 207-843-5123)
check erv for More Hot Tub suite getaways in:
---
camden, maine whirlpool suites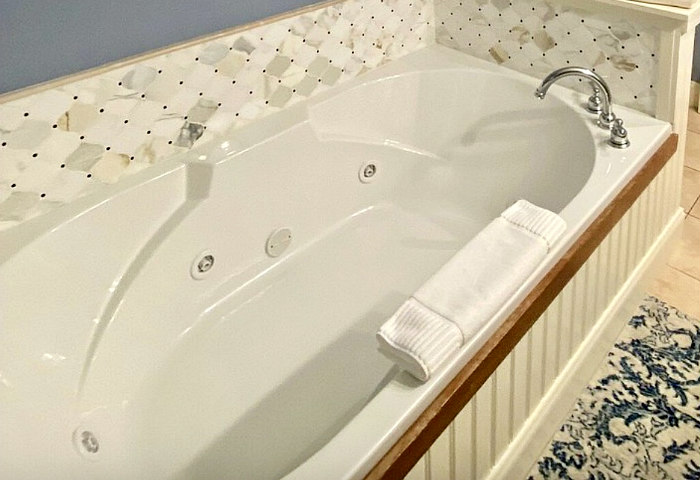 Captain Swift Inn

- Ideally located just a 4-minute walk from the harbour, shops and restaurants. Nine rooms and suites, a romantic dining room, buffet breakfast, and outside decks with fire pits. Most room shave gas fireplaces and select King and Queen Suites have over-sized Whirlpool Tubs. 2022 ERV Rating*: 96% - Excellent. (72 Elm St, Camden ME 207-358-3418)
Abigail's Inn

- Built in 1849, Abigail's has just 4 well appointed guest rooms, a charming front porch, stone patio, and beautiful grounds. The Mount Battie Room (Deluxe King) has a 2-person jetted tub. 2022 ERV Rating*: 98% - Excellent. (8 High St, Camden ME 207-236-2501)
Grand Harbor Inn

- A luxury, waterfront boutique inn overlooking the marina. Inspired by the villas of Tuscany, each of the 10 rooms has a private balcony, gas fireplace, JACUZZI® Tub, rain shower and more! 2022 ERV Rating*: 96% - Excellent. (14 Bay View St, Camden ME 207-230-7177)
Elms of Camden

- A boutique B&B in a restored 1806 Colonial home. All rooms include gas fireplaces and a guest pantry is available. Two-course breakfast every morning. The Dahlia (king) and Daisy (Queen) suites have jetted tubs. 2022 ERV Rating*: 96% - Excellent. (84 Elm St, Camden ME 207-203-6860)
Norumbega Inn

- A "graciously distinguished" stone castle on 4 acres of lawn and gardens with amazing views of Penobscot Bay. Breakfast is included and dinner is an option. Queen room with balcony (AKA the Arundel Suite) includes JACUZZI® Tub and spacious patio. 2022 ERV Rating*: 96% - Excellent. (63 High St, Camden ME 207-223-7603)  
Hawthorn Inn

-  A Queen Anne-style Victorian mansion just steps from the harbour. Three of the rooms in the Carriage House have Whirlpool Tubs, and they are also found in Norfolk, Watney, Brougham, and Cabriolet suites. 2022 ERV Rating*: 96% - Excellent. (9 High St, Camden ME 207-236-8842)
Camden Windward House

- Charming and historic B&B just 1 block from the harbour and walking distance to hiking trails and boat tours. The King Studio and King Suite with Spa Tub both come with JACUZZI® Tubs. 2022 ERV Rating*: 96% - Excellent. (6 High St, Camden ME 207-706-4045)
Blackberry Inn

- An 1849 classic home set on an acre of perennial and herb gardens. 11 guest rooms include romantic touches like fireplaces, soaking and Whirlpool Tubs, and private entrances. Queen Room, Birch Retreat, Hidden Garden and King Room Garden Gate feature jetted tubs. 2022 ERV Rating*: 96% - Excellent. (82 Elm St, Camden ME 207-236-6060)
Hartstone Inn & Hideaway

- A boutique hotel with fine dining with gas fireplaces, garden terrace and a fire pit. Three of the 22 rooms feature jetted tubs. 2022 ERV Rating*: 92% - Excellent. (41 Elm St, Camden ME 207-236-4259)
Camden Harbour Inn

- A luxurious boutique hotel with panoramic views of the mountains and. Harbour. Award-winning restaurant, complimentary Prosecco, cooking classes, and Mimosas with breakfast! Grand Suites include jetted tubs. 2022 ERV Rating*: 90% - Excellent. (83 Bayview St, Camden ME 207-236-4200)
near camden: Rockport ME
The Country Inn at Camden Rockport

- A cozy, modern inn on wooded grounds between Camden and Rockport. Country-style breakfast buffet daily. Deluxe Suite with Spa Bath (Camden King or Rockport King) and King Cottage with JACUZZI® Tubs. 2022 ERV Rating*: 92% - Excellent. (8 Country Way, Rockport ME 207-236-2725)
lincolnville, me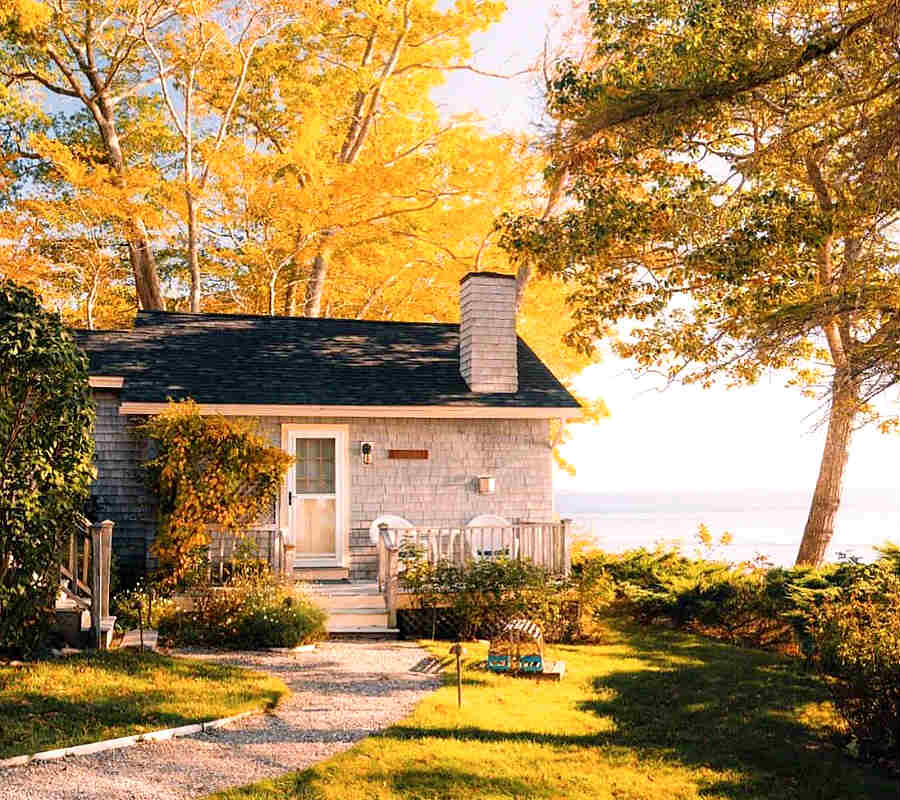 Inn at Sunrise Point Waterfront Cottage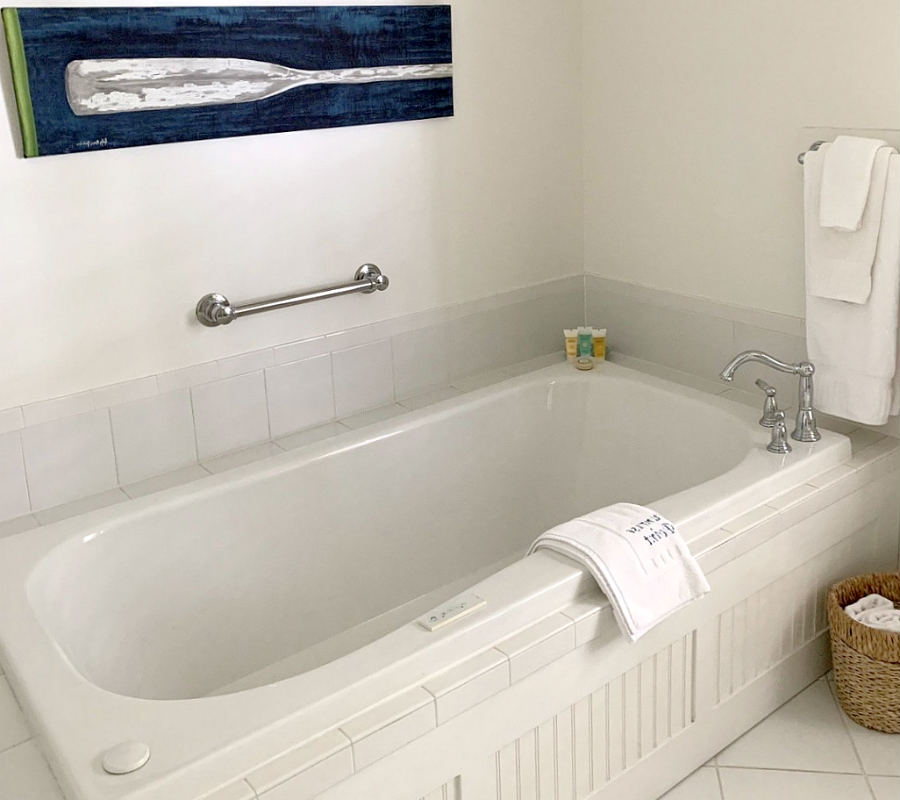 Jetted Tub at the Inn at Sunrise Point
Inn at Sunrise Point

- Romantic and secluded with rooms and cottages, private decks, fireplaces, gourmet breakfast and wonderful water views. Book a romance package or in-room massage. Jetted tubs can be found in three of the five cottages. 2022 ERV Rating*: 96% - Excellent. (55 Sunrise Point Road P.O. Box 21, Lincolnville ME 207-223-7806)
Inn at Ocean's Edge

- Complete with spa and infinity pool overlooking the ocean, rocky beaches and quaint nearby coastal towns. The two Poolhouse Studio Suites feature gas fireplaces, private balconies and two-person JACUZZI® Tubs. 2022 ERV Rating*: 90% - Excellent. (

24 Stonecoast Road, Lincolnville ME 207-236-0945)
---
ogunquit me spa tub suites
Sea View Motel, Ogunquit ME ©TripAdvisor
Sea View Motel JACUZZI® Tub ©TripAdvisor
Sea View Motel

- Upscale Resort Style motel located just a short walk from the beach. The romantic Deluxe Queen Suite features kitchen, gas fireplace and 2-person JACUZZI® Tub. 2022 ERV Rating*: 88% - Very Good. (417 Main St, Ogunquit ME 207-646-7064)
Meadowmere Resort

- Gourmet getaways, spa packages, an indoor Roman bath, pool and health club. King Room with Spa Bath or King Room with Spa Bath and Fireplace are perfect for honeymoons or special occasions. 2022 ERV Rating*: 84% - Very Good. (74 Main St, Ogunquit ME 207-646-9661)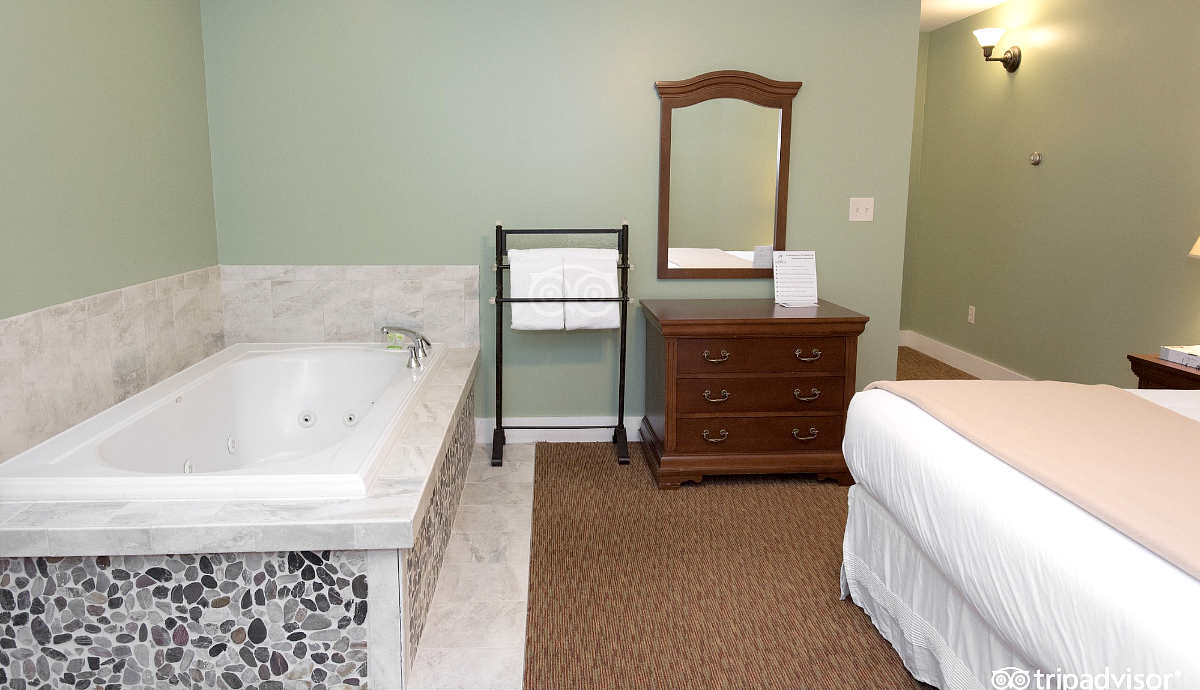 Admiral's Inn King Suite with JACUZZI® Tub ©TripAdvisor
The Admiral's Inn

- Pool-side patio bar, on-site spa, fitness centre and sauna. 61 rooms across 4 buildings, all just a 5-minute walk from the centre of town. The White Rose building features boutique hotel-style rooms including King Suites with JACUZZI® Tubs and fireplaces. 2022 ERV Rating*: 92% - Excellent. (95 Main Street, Ogunquit ME 207-222-7243)
---
Rockland
Romantic Limerock Inn, Rockland ME
LimeRock Inn

- A turreted Victorian mansion with wraparound porch and landscaped gardens. Three of the eight guest rooms feature jetted tubs. In-room spa services available. 2022 ERV Rating*: 96% - Excellent. (96 Limerock St, Rockland ME 207-594-2257)
---
york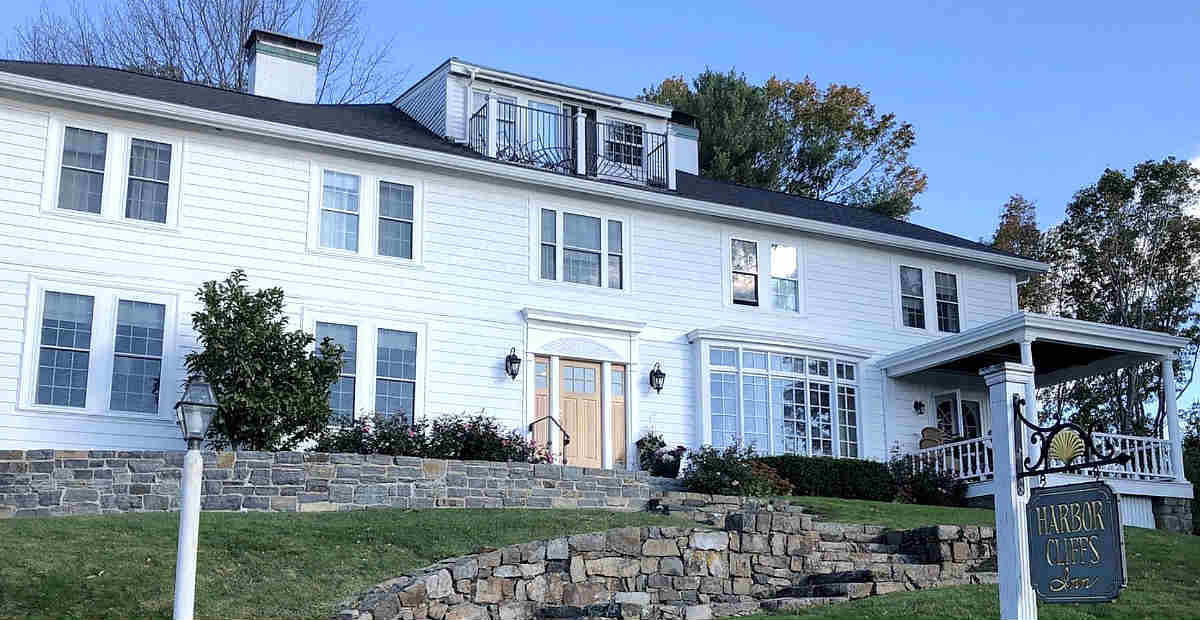 York Harbor Inn, Maine
York Harbor Inn

- A luxurious historic oceanfront inn with award-winning dining. Consisting of 5 separate buildings, select rooms feature fireplaces, spa tubs, decks, heated floors, and/or ocean views. The two second floor rooms in Chapman Cottage feature JACUZZI® Tubs for 2 persons. 2022 ERV Rating*: 80% - Very Good. (480 York Street, York Harbor, York ME 207-223-7483)
Anchorage Inn

- Located on Long Sands Beach, and boasting over 200 rooms and 4 swimming pools as well as oceanfront dining. The Spa suites in the Main building feature Jacuzzi tub and fireplace as well as a full kitchen. 2022 ERV Rating*: 60% - Fair. (Route 1A, 265 Long Beach Avenue, York Beach, York ME 207-363-5112)
---
kennebunk & kennebunkport me
kings port inn 
Kings Port Inn 2-Person In-Room JACUZZI® Tub in Kennebunk, Maine
King's Port Inn

- A comfortable stay within walking distance of shops and beaches. Upgrade to a room with 2-person JACUZZI® Tub, romantic 4-poster bed and gas fireplace. 2022 ERV Rating*: 80% - Very Good. (18 Western Ave P.O. Box 1070, Kennebunk ME 207-967-4340)
1802 HOuse B&B kennebunkport Spa Tub Suite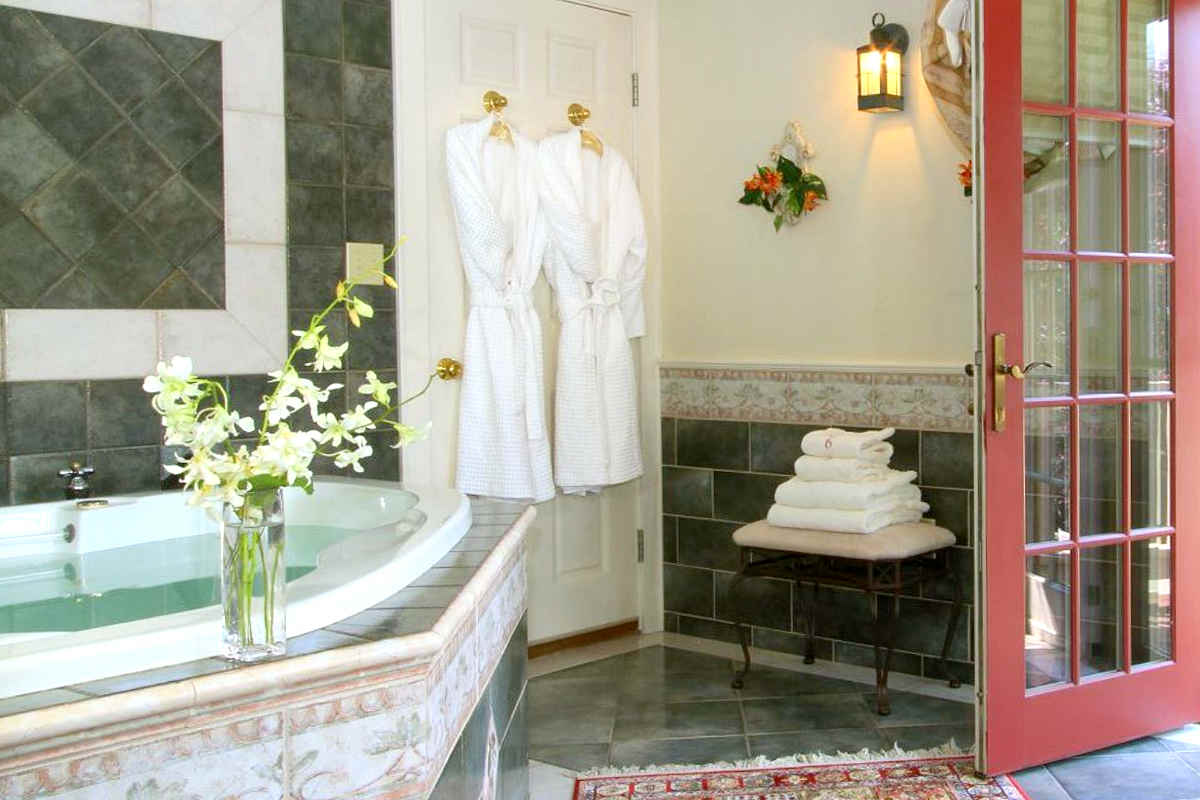 Romantic Spa Tub Suite at the 1802 House B&B in Kennebunkport, Maine
1802 House Bed and Breakfast

- A colonial inn next to the golf course, and a short stroll from shops, restaurants and galleries. The Deluxe Queen Room with Spa Bath is very romantic. 2022 ERV Rating*: 96% - Excellent. (15 Locke St, Kennebunkport ME 207-967-8992)
white barn inn
White Barn Inn

- Ideal luxury and comfort, including the full spa experience, all in two uniquely restored barns from the 1820's. Steps away from the beach. The Junior Suite in the Main House boasts a granite bathroom with jetted tub. 2022 ERV Rating*: 82% - Very Good. (37 Beach Ave, Kennebunk, ME 207-967-2321)
---
augusta me & Area
Quality Inn Hotel with Hot Tub Suites in Augusta, Maine
Quality Inn & Suites Maine Evergreen Hotel

- Conveniently close to several points of interest, both outdoors and in. Free hot breakfast and healthy "Evergreen Rooms." The King Bed 1 Room Suite with Whirlpool Bath is what the romantics are after. 2022 ERV Rating*: 90% - Excellent. (65 Whitten Rd, Augusta ME 207-622-3776)
Senator Inn & Spa

- Close to several popular landmarks and including pool and free breakfast and parking. Choose The Spa King Suite or Spa Suite with 2 Queen Beds for luxury suites with fireplaces and JACUZZI® Tubs. 2022 ERV Rating*: 74% - Good. (284 Western Ave Route 202, Augusta ME 207-622-5804)
Noble House Inn

- A quaint B&B (that used to be a senator's estate) overlooking Highland Lake in the foothills of the Majestic White Mountains. Queen Room With Spa Bath and Deluxe King Suite equipped with Whirlpool tubs. 2022 ERV Rating*: 96% - Excellent. (81 Highland Rd, Bridgton ME  207-647-3733)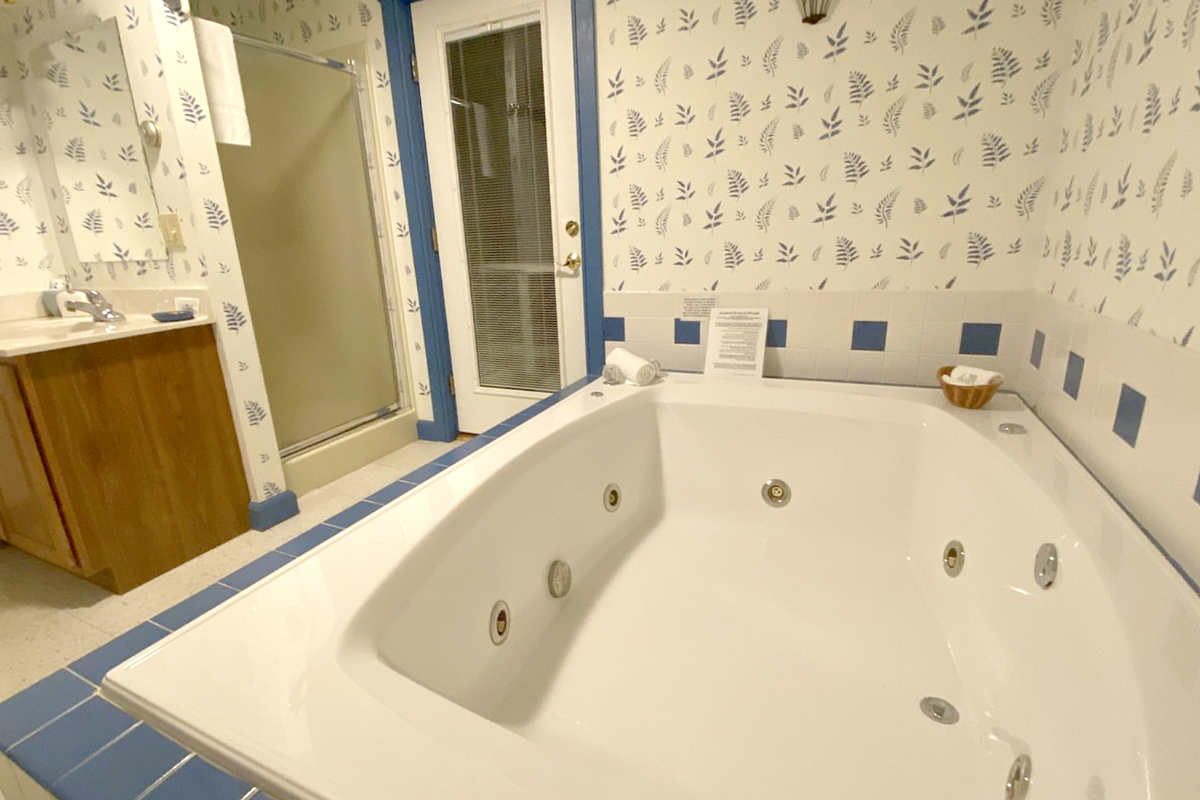 Spacious Spa Tub Suite at the Maple Hill Farm Inn, Maine
Maple Hill Farm Inn and Conference Center

- A small boutique hotel surrounded by rolling hills and woods. Plus a barn full of chickens and llamas! Some King Rooms and Queen Rooms come with huge (6'X4') Whirlpool spa tubs (rooms 1,2,6 & 8). 2022 ERV Rating*: 96% - Excellent. (11 Inn Rd, Hallowell ME 207-560-4388)
Blueberry Fields Bed & Breakfast

- Set among tranquil blueberry fields and rolling hills and hiking trails, this B&B is just minutes from Camden, Rockland and Augusta. There are 5 guest rooms, one of which (Eustis Suite) has a Whirlpool tub and private exit. 2022 ERV Rating*: 96% - Excellent. (673 Razorville Rd, Washington ME 207-446-2407)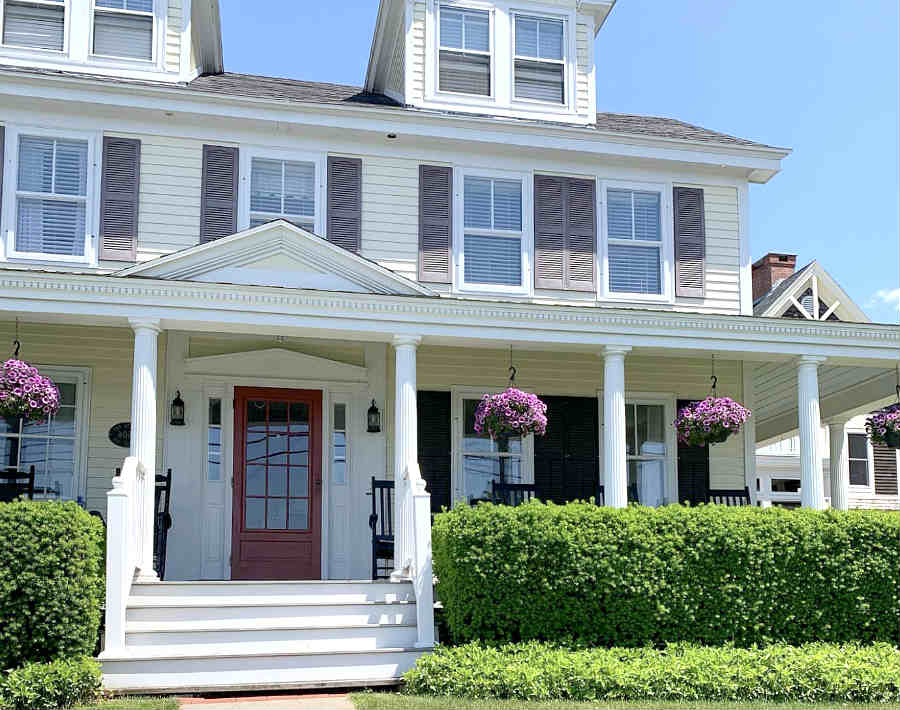 Spouter Inn B&B, Lincolnville Maine
Spouter Inn Bed and Breakfast

- Stay at this Colonial-style home built in 1832 and directly across from Lincolnville Beach. Eight romantic rooms with ocean views. Whirlpool tubs found in Deluxe King with Balcony and Sea View Suite, King Room With Sea View Suite, and Deluxe Queen Room With Sea View Suite. 2022 ERV Rating*: 94% - Excellent. (2506 Atlantic Hwy, Lincolnville ME 207-705-5186)
---
more whirlpool suites - south & west maine
auburn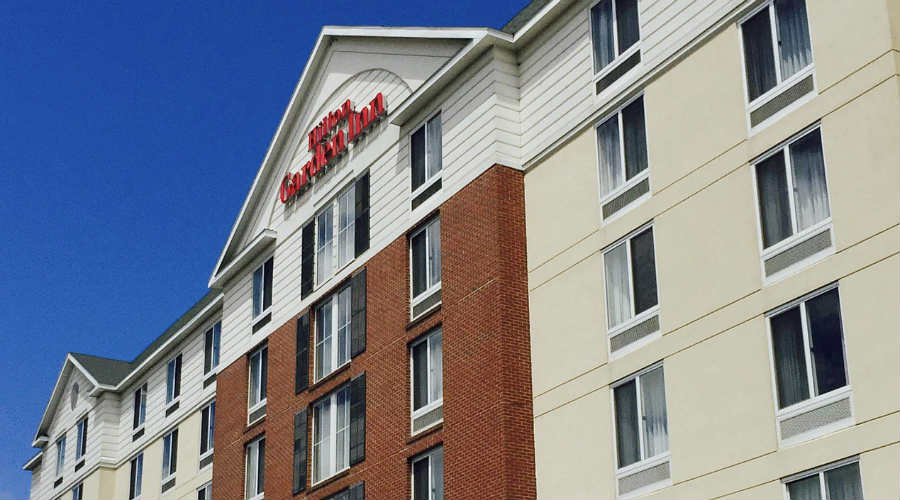 Hilton Garden Inn Hotel with Spa Tub Suites in Auburn, ME
Hilton Garden Inn Auburn Riverwatch

- Located next to the Androscoggin River, some rooms here have a view of the Great Falls. Downtown Auburn is a quick walk away. The One Bedroom King Whirlpool Suite with Riverview is very romantic indeed! 2022 ERV Rating*: 88% - Very Good. (14 Great Falls Plaza, Auburn ME 207-784-4433)
bath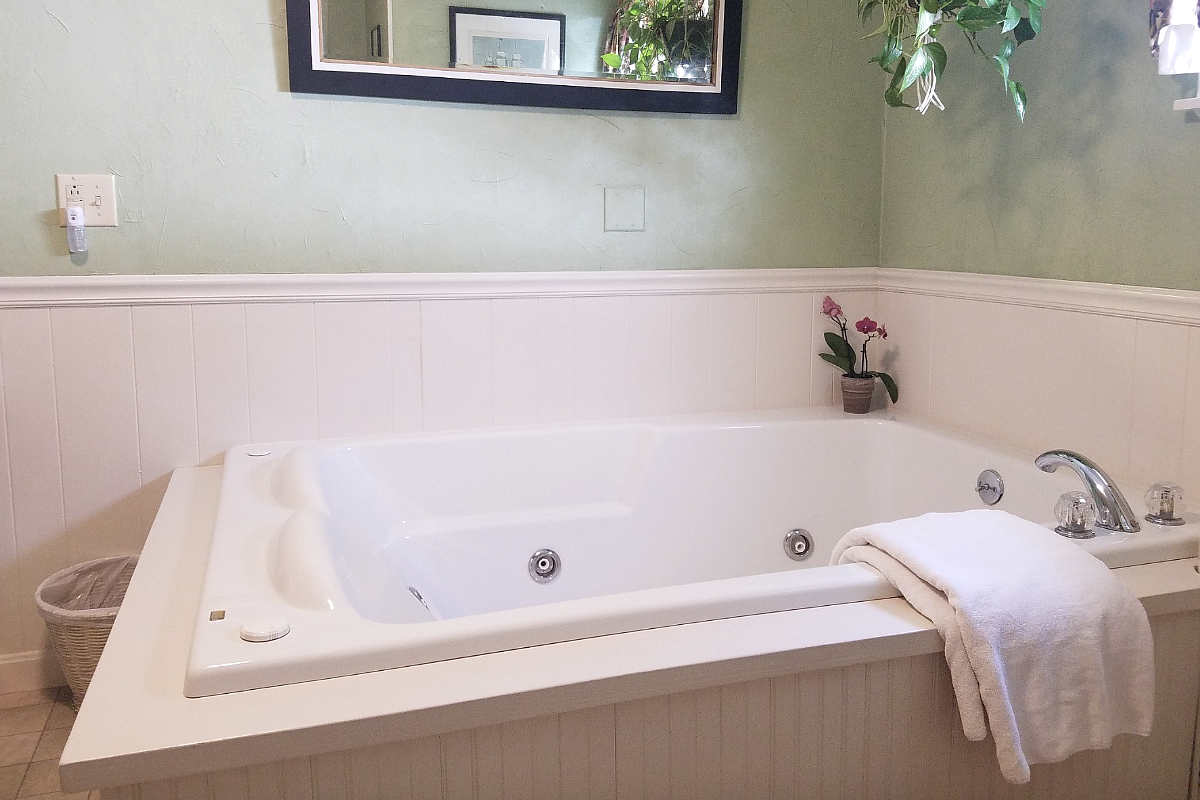 JACUZZI® Tub Suite at the Pryor House B&B in Bath, ME
Pryor House Bed and Breakfast

- A Federal-style home from the 1820's overlooking the Kennebec River. Elegant double staircase, parlour, dining area and fireplaces as well as 3 guest rooms. The Queen Room with Spa Bath (Tall Chimney Room) has a 2-person JACUZZI® Tub. 2022 ERV Rating*: 94% - Excellent. (360 Front St, Bath ME 207-443-1146)
Bethel
Holiday House Bed & Breakfast

- Charm, character and elegance…Built in 1906, the Holiday House has lots to offer. Room #5 (White Pine) and #6 (Blueberry) feature Jacuzzi tubs and romantic furnishings. 2022 ERV Rating*: 94% - Excellent. (85 Main St PO Box 475, Bethel ME 207-223-7570)
biddeford
Holiday Inn Express Biddeford

- Right across from the biggest shopping mall in Maine, and minutes away from the attractions and activities of Portland. Heated indoor pool and complimentary breakfast. The King Room With Spa Tub is perfect for a romantic getaway. 2022 ERV Rating*: 76% - Good. (45 Barra Rd Exit 4 Business Park, Biddeford ME 207-294-6464)
boothbay harbor, me
Spruce Point Inn Resort and Spa

- An ocean-front resort on 55-acres of woodland, gardens and trails that has attracted travellers for over a century. Oceanfront, Oceanview and Partial Oceanview rooms offer hydrotherapy tubs. 2022 ERV Rating*: 84% - Very Good. (88 Grandview Ave, Boothbay Harbor ME 207-633-4152)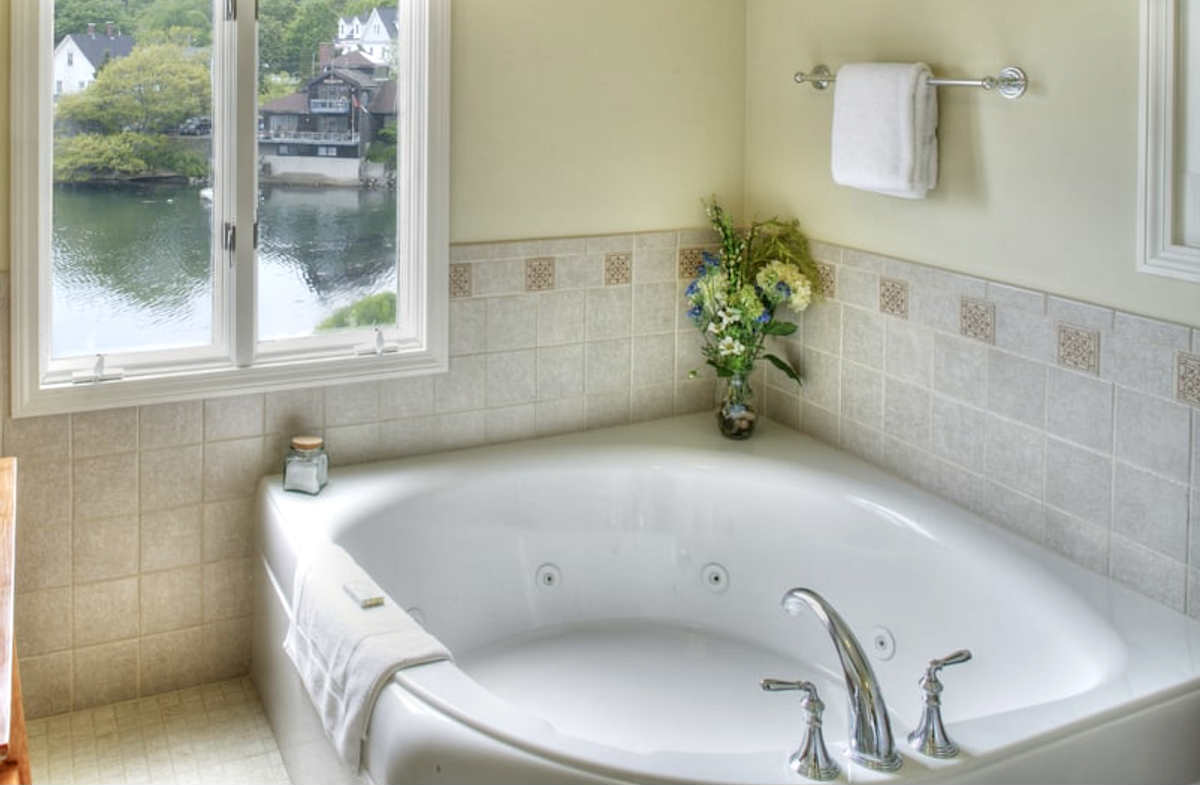 Suite with JACUZZI® Tub - Harborage Inn, Boothbay Harbor ME
Harborage Inn on the Oceanfront

- Secluded ocean-front boutique inn meets charming B&B. Panoramic harbor views and gourmet breakfasts. Suite 1 and 11 feature JACUZZI® Tubs and breathtaking views. 2022 ERV Rating*: 94% - Excellent. (75 Townsend Ave, Boothbay Harbor ME 207-633-4640)
brunswick
Best Western Plus Brunswick Bath

-  "The Crown Jewel of Brunswick," featuring an indoor salt water pool with waterfall and romantic getaway rooms. Queen Suite with Fireplace and Spa Bath is ideal for a special couple's getaway. 2022 ERV Rating*: 74% - Very Good. (71 Gurnet Rd Route 24, Brunswick ME 207-725-5251)
georgetown, ME
Coveside Bed and Breakfast

- A secluded and serene inn set on a rocky cove. Borrow bikes, kayaks and canoes to explore. The Deluxe Double Room with Sea View (Georgetown Suite) has views to Sheepscot Bay, gas fireplace, cathedral ceiling and spa tub. 2022 ERV Rating*: 96% - Excellent. (6 Gotts Cove Ln, Georgetown ME 207-405-0027)
poland, ME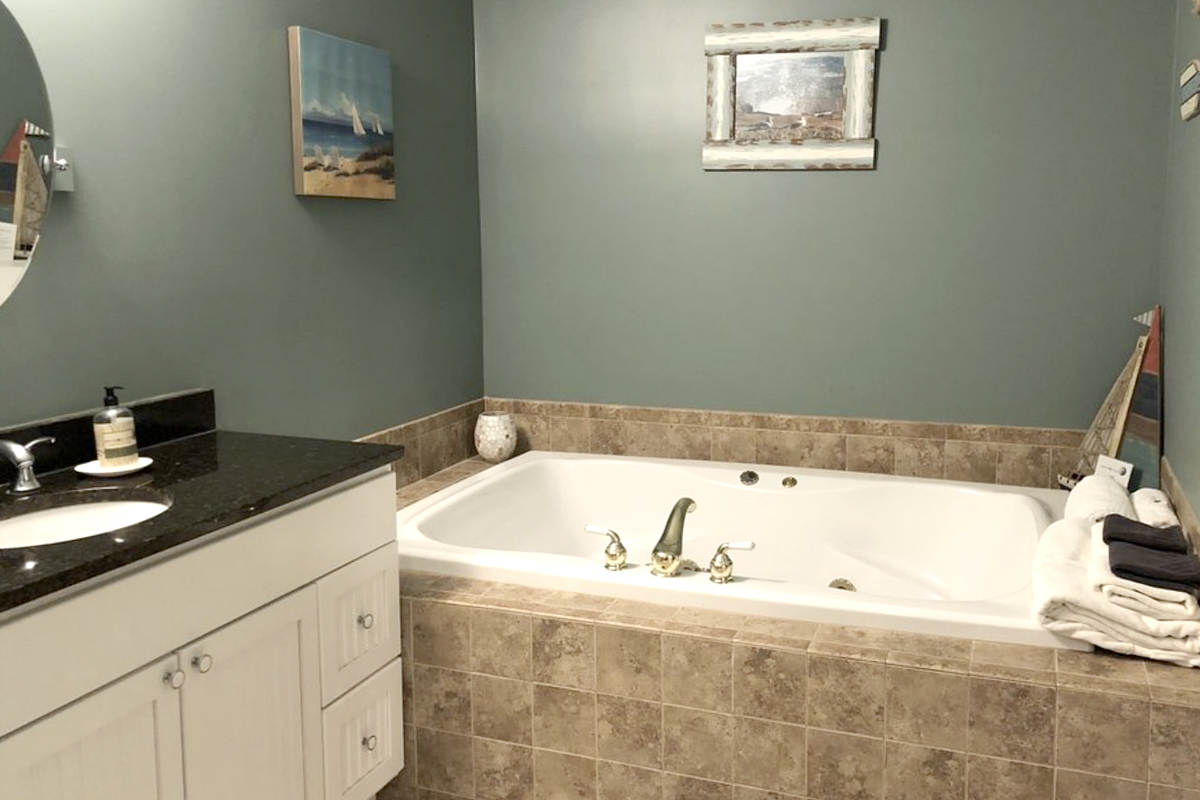 Spa Tub Suite at the Wolf Cove Inn
Wolf Cove Inn

- Romantic lakeside setting for a romantic B&B! 11 guest rooms, (several of which have spa tubs), and one cabin. 2022 ERV Rating*: 96% - Excellent. (5 Jordan Shore Dr, Poland ME 207-998-4976)
*ERV Rating: our unique, non-scientific ratings for romantic accommodation include:
Amenities: including Whirlpool bath or 

JACUZZI

®

Tub

,

scenic view, fireplace, lounge, etc
Location: proximity of hotel to restaurants, pubs, downtown, etc
Clientele: demographic the hotel attracts (couples, families, business travelers, etc)
Popularity: based on social media & crowd-sourced reviews 
Value: product offered compared to room rate 
Please Note: percentage ratings are not absolute but for comparative use only  
top hotels, getaways & packages on ERV
---