Romantic Ft Lauderdale Weekend Getaway Ideas & Accommodation
Romantic Vacations Home › Florida › Ft Lauderdale
Lovin' it on the Weekend at the Beach in Romantic Ft.lauderdale, FL
By Greg Mattson, ERV Editor - Updated: Jun 22, 2015
Fantastic Ft. Lauderdale has moved on from the spring-break days of old, and is now an excellent year-round romantic vacation or weekend getaway destination for couples in South Florida. It's all here: great beaches, sunny warm weather, nice places to shop and dine, and other romantic spots in South Florida at your doorstep.
Best Time for a Ft. Lauderdale Getaway or Honeymoon - although it's not the cheapest time of year, November to the end of April generally brings the best weather to Ft Lauderdale and South Florida, with mostly dry and warm days, and very comfortable evenings. Summers: the months of May to September are warmer and wetter, with higher humidity. 

Romantic Hotels in Ft Lauderdale
Here's some suggestions for romantic places to stay in Ft Lauderdale for a nice honeymoon, anniversary trip, or weekend away is South Florida:
Our Video: Sheraton Plantation Suites Romantic Ft Lauderdale Hotel
Sheraton Plantation Suites Ft Lauderdale West - we've been to many Sheraton Hotels, and have yet to meet friendlier check-inn staff than this Sheraton near Ft. Lauderdale. The room was spotless, we loved the lobby and bar area downstairs, and parking is free and just steps from the hotel. The only downside: it's attached to a seemingly abandoned convention center, which was rather depressing.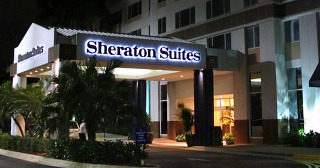 Sheraton Plantation Suites - Ft Lauderdale West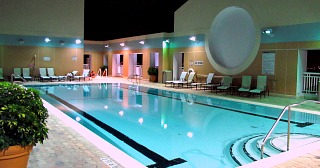 Pool at the Sheraton Plantation Suites
Romantic Touch: Rooftop pool has panoramic views of the area. What Other Couples Said: "3 Star"..."Excellent Customer Service"..."A Little Past it's Prime"..."A Great All-Suites Hotel." 2015 Rating* for Romantic Plantation FL Hotels: 80% of Couples Rated it Excellent/Very Good. (311 North University Dr, Plantation, FL  954-424-3300)
More Romantic Ft Lauderdale Accommodation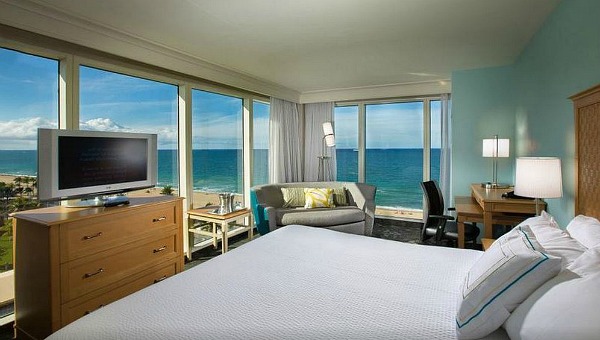 Ocean View Room at the Marriott Courtyard Fort Lauderdale Beach
Courtyard Fort Lauderdale Beach - rated as one of the best hotels on the beach in Ft Lauderdale. Popular with couples on anniversary and honeymoon vacations, the Courtyard offers outdoor pool & bar, sun deck, ocean view rooms & suites, and romantic on-site dining. 2015 Rating* for Romantic Ft. Lauderdale Beach Hotels: 80% of Couples Rated it Excellent/Very Good. (440 Seabreeze Blvd, Fort Lauderdale FL  954-524-8733)
Alhambra Beach Resort - for couples interested in a romantic and affordable Ft. Lauderdale hotel, the Alhambra gets great reviews for excellent accommodation, friendly staff, and superb location just a ½ block from the beach. Continental breakfast, beach towels and heated pool are some of the amenities offered. 2015 Rating* for Romantic Ft. Lauderdale Beach Hotels: 98% of Couples Rated it Excellent/Very Good. (3012 Alhambra St, Fort Lauderdale FL  954-525-7601)
Ft Lauderdale Weekend Getaway Hotels from $49/night - great deals for the most affordable Ft. Lauderdale weekend vacation.
Ft Lauderdale Weekend Getaway & Honeymoon Packages

Hotels, Condos and Resorts along the Beach in Ft Lauderdale, Florida
Pelican Grand Beach Resort Romance Package - special offer on romantic weekend or honeymoon in Ft Lauderdale. With champagne and strawberries, a gourmet dinner, evening turn-down and breakfast the next morning, it'll almost feel like you're in an all-inclusive beach resort...in Ft Lauderdale!   
Romantic Things to Do in Ft Lauderdale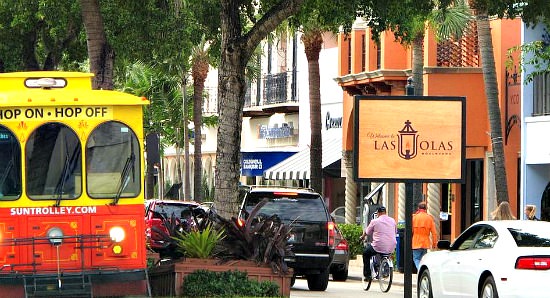 Las Olas Blvd in Downtown Ft. Lauderdale
Las Olas Boulevard – go for a stroll down this trendy avenue of shops, galleries and restaurants. We love Pan'e Dolci Italian Bakery for their Cappuccino and almond cookies...

Water Taxi - Great for exploring Ft. Lauderdale's canals and waterways, sightseeing (see the cruise ships!), or hopping off to shop or dine at one of the 14 stops. www.watertaxi.com
Ft Lauderdale Beach – we always enjoy visiting Ft Lauderdale beach whenever we are in South Florida. After fun in the sun & sand, go for a walk on the promenade where there's numerous lunchtime eateries and beachfront bars great for enjoying a drink and even some live music.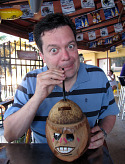 Romantic Ft Lauderdale Dinner Cruise – the Jungle Queen Riverboat departs from the Bahia Mar Beach resort for dinner cruises every night at 6 PM. (954) 462–5596.
Day Trip to Bahamas – Discovery Cruise Lines departs Port Everglades 6 days a week for day cruises to Grand Bahama Island with all-inclusive meals and drinks on your way to a relaxing day on Grand Bahama island. www.daycruisebahamas.com.
Elope in Ft Lauderdale – for elopements and small weddings in Ft Lauderdale, Laid Back Boat charters offers custom-made luxury and romance cruises perfect in their hot tub boat! (954-298–7507)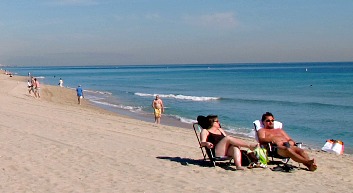 *Based on TripAdvisor.com Ratings & Reviews from Couples as of Jun 2015.
Excellent Romantic Vacations - Top Pages
---