Fun & Romantic Getaway Spots Across the USA
Inspiration for a Romantic Getaway in the U.S. - Cities, States, Resort Areas & more
Romantic Vacations Home › Romantic Getaways
Fantastic Rocky Mountain Scenery in Vail, CO
By Greg Mattson, ERV Editor - Updated: Aug 15, 2017
Need a few nights away just for 2, but not an expensive vacation with a long flight?
Excellent Romantic Vacations is happy to present our guide to romantic getaways in the USA, loaded with tips on attractions and things for couples to see & do in the America's most romantic cities.  
ERV's Top 3 Most Romantic Escapes in America
1. New York City - when you boil it right down, no other place on the continent has quite what the Big Apple has in terms of great travel experiences. 

There's a never-ending supply of things to do, the variety of food (both cheap eats and fine dining) is always amazing, and the people have a vibrancy unique in the U.S.
2. San Francisco - travelling to San Francisco for a weekend and loving it just never gets old. While other cities seem to struggle and age, there's just more fascinating angles to the Bay Area than ever before. And 100 miles both north and south gives you the gift of awe-inspiring coastlines.
3. New England - picture-perfect villages, scenic roadways, and some of the best B&B accommodation in the country are waiting in Vermont, New Hampshire, Maine and Massachusetts. And can there be anywhere better to experience the Autumn foliage season?
---
Romantic Getaway Ideas: State By State
Things to see and do for couples in Sedona and Tucson AZ, luxury ranch stays, resorts and train trips.
Romantic Route 66 Culture is Alive & Well in Mesa, Arizona
---
Hot Springs cabins, cottages and B&B's, weekends for two in Little Rock and Eureka  Springs AR.
---
Scenic spots for couples in Napa & Sonoma, Northern & Southern California, Coastal Areas & much more.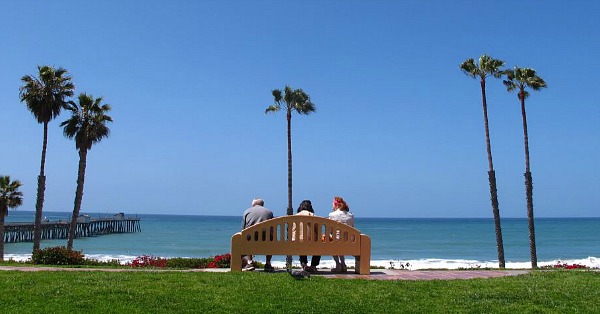 Spectacular Sunshine & Surf, San Clemente, CA
---
The incredible Rockies! Telluride, Estes Park CO, ranch resort getaways and cabin rentals.
Enjoying the Scenic Views from the Top of Vail, Colorado
---
Suites & romance packages, Mystic CT oceanfront inns, plus Hartford dining options.
---
Cheap weekends near Rehoboth Beach, spa packages & DE anniversary trip ideas.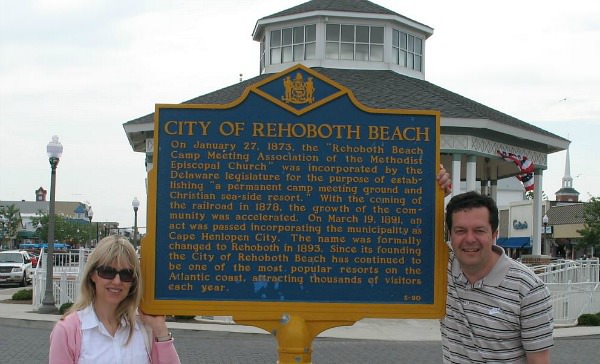 Holding up the City Sign at Rehoboth Beach, Delaware
---
Beaches & Boutique hotels, Savannah's sights, North Georgia Mountain cabins & more.
About to Enter the World of Coca-Cola in Atlanta, Georgia
---
North Idaho getaways in the Selkirk Mountains and Lake Coeur d'Alene provide the perfect outdoor playground for romance & activity.  

---
Galena, IL accommodation, day trips from Chicago, and a restored drive-in movie theatre you will love!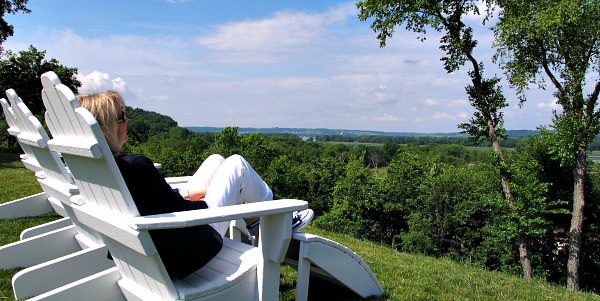 Scenic & Secluded Viewpoint Near Galena, IL
---
Romance hotel packages and perfect places to stay in Northern and South Central Indiana.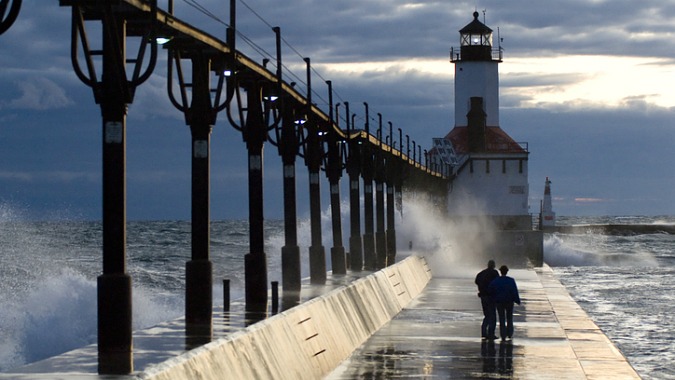 ---
Grab a crab cake lunch in Annapolis, ride an oceanfront Ferris wheel & overnight in a honeymoon B&B.
---
Unique Boston offers travelling couples beautiful parks, cobblestone streets, and a pub or two to explore.

---
Romantic lodges, cabins and bed and breakfast inns for couples, including Mackinac Island and Detroit attractions.
---
Things to do for 2 on weekend travel to the Twin Cities, places to dine, scenic outings and Duluth vacations.
---
Affordable weekend getaways in Branson and St. Louis, secluded cabins, Missouri Wine Country and historic St. Charles, MO.
---
Las Vegas is loud and bright, but there's a refined side to it too. We list 5 Romantic things to do, plus survey which resorts on the Strip rate the best for honeymoons and couples getaways.
Las Vegas NV Hotels and Resorts on the World-Famous Strip at Night
---
People Watching on the New Jersey Boardwalk near Cape May, NJ
Weekend vacation tips on New Jersey's best oceanfront destinations for couples, as well as some very quaint Cape May and Frenchtown B&B's.
---
We look at Upstate NY excursions to the Adirondacks and Hudson Valley, and discover some Catskills covered bridges near a cozy little inn.
---
Romantic hotels and cabins close to the Blue Ridge Mountains, plus all kinds of ideas for romantic weekends in cities like Charlotte, Raleigh-Durham and Chapel Hill, NC.
Plan a romantic getaway in Cincinnati, Cleveland or Hocking Hills, OH, plus explore other couples reviews of Ohio inns and cottages.
---
Check out some fun things for 2 to do in OK City, Tulsa and more, plus romantic accommodation in hotels, inns and cabins for a getaway to remember.   
---
The crashing Pacific is at it's very best in Cannon Beach and Astoria! Or you can relax for the weekend in Oregon's Willamette Valley Wine Country.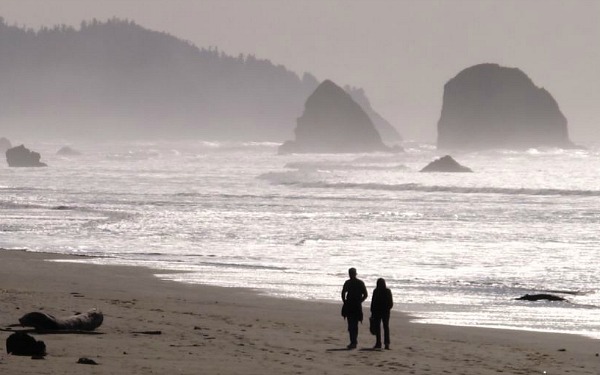 The Oregon Coast - One of the Best Coastal Romantic Getaways in the U.S.
---
Our guide to PA's attractions includes Covered Bridges, Wine Country, Amish Country, New Hope, and Philadelphia.
---
Get away to Myrtle Beach for a relaxing and quiet(er) couples holiday in this super-popular strip of the South Carolina Coast.

---
Explore some romantic getaways here in Tennessee's great cities and romantic Smoky Mountains, with ideas for hotels, inns, cabins and cottages.
---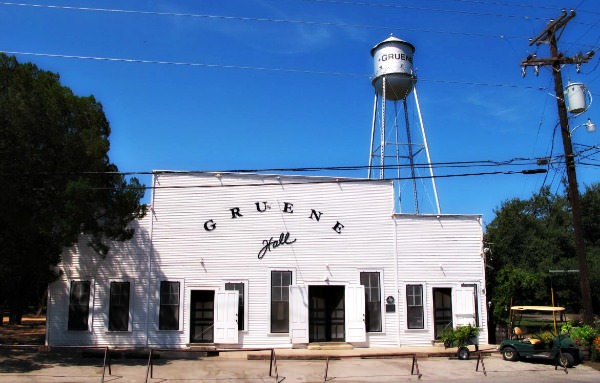 The Dance Hall at Gruene in Romantic Texas Hill Country
Travel & reconnect in destinations like San Antonio, Dallas TX and Texas Hill Country. Place to eat, sights & overnight packages.
---
Unforgettable autumn foliage, great mountain getaway resorts, the coziest B&B', and incredibly romantic small towns and villages all over VT. 
---
Honeymoon cabins, Shenandoah scenic drives, cozy B&B's, and oceanfront resorts along the Virginia Beach Boardwalk.
---
Destinations for two in the Capital, including Potomac River cruises, honeymoon and boutique hotels in Alexandria, VA.
---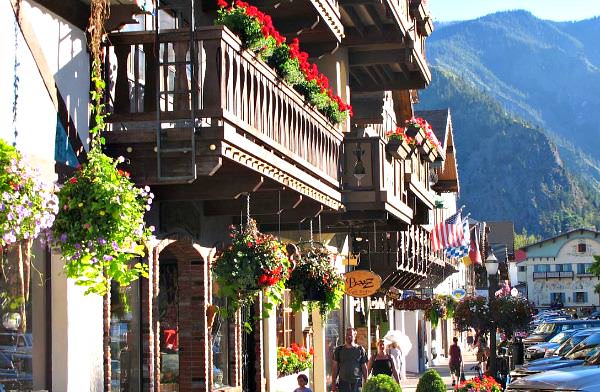 Colorful Alpine Town of Leavenworth, Washington
Choice spots & places to stay for any getaway or honeymoon in this rainy & romantic corner of the Pacific Northwest.
---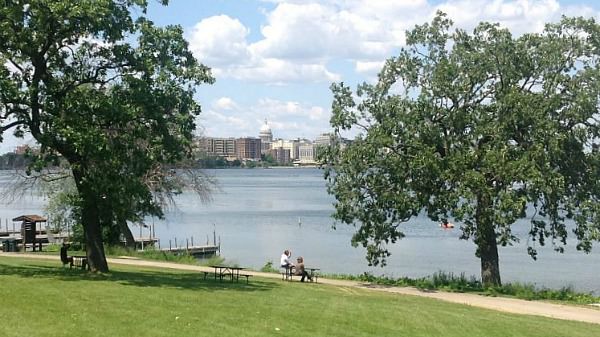 Quiet Afternoon Getaway on the Grass in Madison, Wisconsin
Out and about in wonderful Door Country, plus weekend getaways and places to stay for couples in Milwaukee and Madison.
---
ERV's Tips for Better Travel
Excellent Romantic Vacations - Top Pages
---