USA Getaways
Fun & Romantic Getaway Spots Across the USA
FTC: This page uses affiliate links. More. 

Fantastic Rocky Mountain Scenery in Vail, CO
---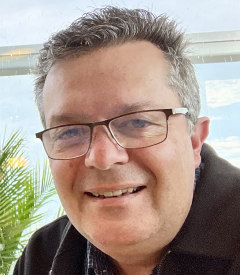 By: Greg Mattson, ERV Editor - Updated: Nov 27, 2020   

Here's our comprehensive state-by-state guide to romantic getaways in the USA. It's loaded with hotels, attractions and things for couples to see & do in America's most romantic places.  

quick guide to this page:
---
Our Top 3 Romantic Escapes in America
1. New York City - when you boil it right down, no other place on the continent has quite what the Big Apple has in terms of great travel experiences. There's a never-ending supply of things to do, the variety of food (both cheap eats and fine dining) is always amazing, and the people have a vibrancy unique in the U.S.

2. San Francisco - travelling to San Francisco for a weekend and loving it just never gets old. While other cities seem to struggle and age, there's just more fascinating angles to the Bay Area than ever before. And 100 miles both north and south gives you the gift of awe-inspiring coastlines.
3. New England - picture-perfect villages, scenic roadways, and some of the best B&B accommodation in the country are waiting in Vermont, New Hampshire, Maine and Massachusetts. And can there be anywhere better to experience the Autumn foliage season?
---
Romantic Getaways By State:
Romantic Route 66 Culture - Mesa, Arizona
Arizona's Most Romantic Getaways - Things to see and do for couples in Phoenix

, Scottsdale, Tucson, Sedona, Lake Havasu, Grand Canyon and more, including 

luxury ranch, resort and cabin stays, resorts and train trips.
---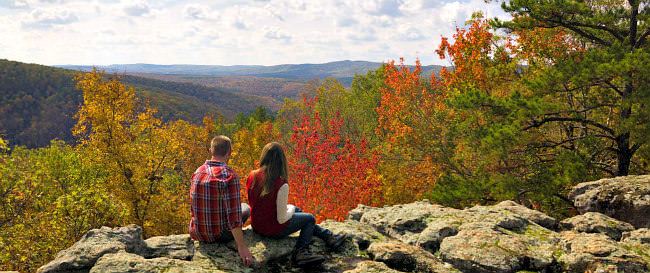 Autumn is the Romantic Arkansas Outdoors
Arkansas Romantic Package Deals - Spa nights, show tickets, all-inclusive wedding & honeymoon packages, secluded lodges and much more, from Arkansas Tourism.
---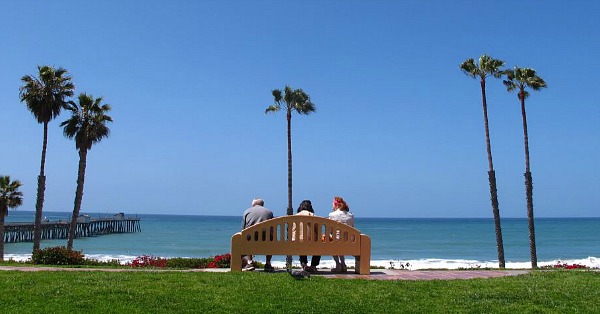 Spectacular Sunshine & Surf, San Clemente, CA
California's Best Romantic Destinations - comprehensive reports on great spots for couples in Northern, Central and Southern California, with trip ideas and great overnights in beach hotels, resorts, romantic and boutique inns along the coast, in Wine Country, downtowns and much more.
---
Scenic Views - Vail, Colorado
Romantic Denver CO Getaways

 - Before you head west to the fabulous Rockies, spend a weekend or more in the fun Mile-High capital of Colorado. Find out what to do, where to say, and a place high up where you can sip a cocktail and enjoy a great view. 



---

Connecticut Coast - One of the Most Romantic Shorelines in America.
---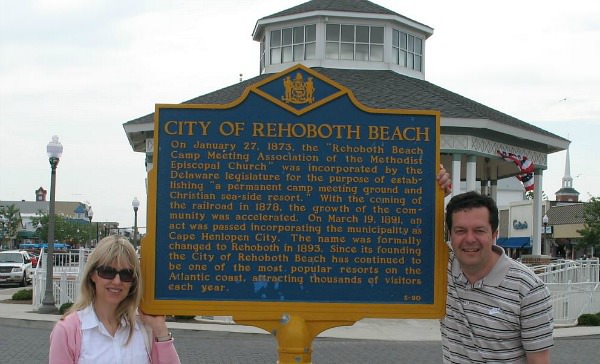 Holding up the City Sign at Rehoboth Beach, Delaware
---
About to Enter the World of Coca-Cola in Atlanta, Georgia
Atlanta, GA for Couples

 - capital of the New South, Atlanta is home to big names like CNN and Coke, as well as gorgeous parks and top restaurants. We include tips on weekend itineraries and B&B's you'll love.



---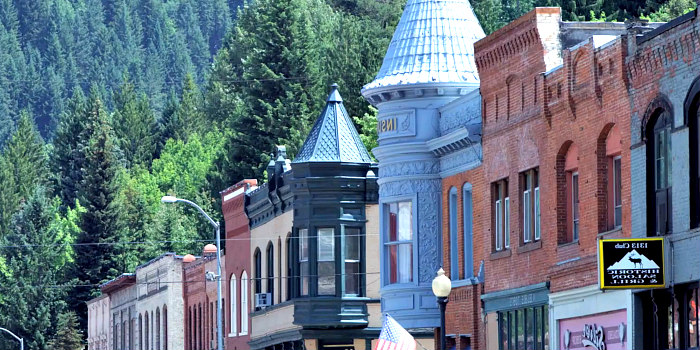 Mountains and Small Towns Make North Idaho a Great Destination.
---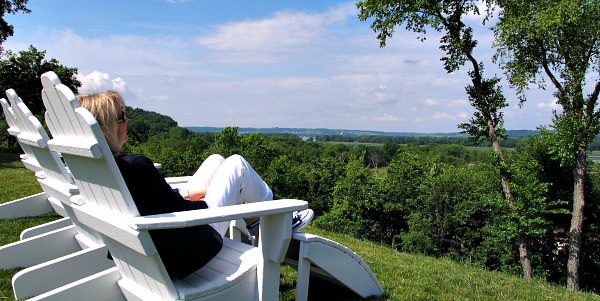 Scenic & Secluded Viewpoint Near Galena, IL
Romantic Illinois Getaways - Galena, IL accommodation, day trips from Chicago, and a restored drive-in movie theatre you will love!
---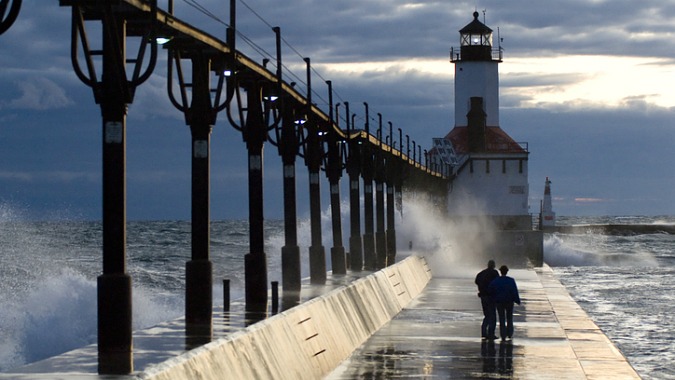 Indiana's Romantic & Fabulous Lake Michigan Shoreline
Indiana Romantic Getaways - Romance hotel packages and perfect places to stay in Northern and South Central Indiana, including Indianapolis, Fort Wayne, French Lick and Indiana Dunes.
Indiana Romantic B&B's and Inns - lovely bed and breakfast inns custom-made for romantic getaways in Indianapolis, Bloomington, and more.
---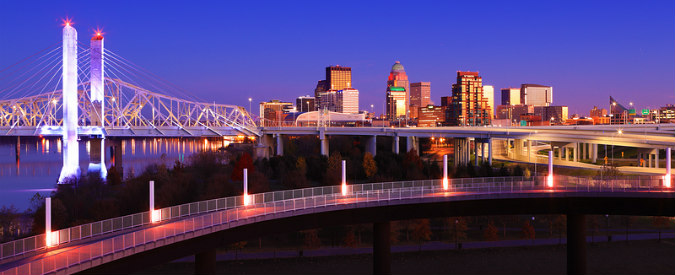 Romantic Sunset in Louisville, KY
Romantic Getaways in Kentucky - all kinds of hotel deals and ideas for couples on a weekend (or longer) mini-vacation in Louisville, Lexington and Bowling Green, Kentucky.
Louisville KY Hotels

- getaway and weekend discounts on accommodation for couples in Louisville, KY.
---
Waterfront in Annapolis - one of Maryland's Most Romantic Places
Maryland Romantic Vacations - Grab a crab cake lunch by the water in Annapolis, ride an oceanfront Ferris Wheel in Ocean City, and overnight in a romantic hotel or honeymoon B&B.
Budget Maryland Romantic Hotels - inexpensive but great for couples getaways, check out the savings on stays at the Crown Plaza Annapolis and Admiral fell Inn. 
---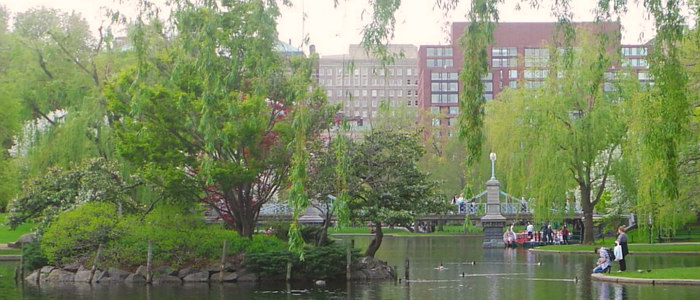 Explore Boston's 2000+ Acres of Parks and Green Areas
Romantic Boston Getaways  - this most attractive New England city offers travelling couples beautiful parks, cobblestone streets, and a pub or two to explore.
---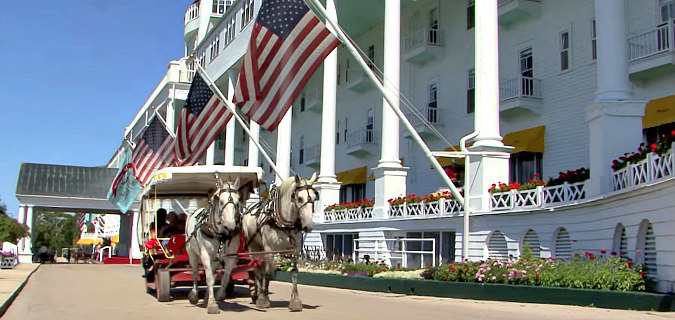 Mackinac Island is a Must-See in Michigan
---

Romantic Lake Calhoun is a Great Spot in Minneapolis, MN
---
Lots for Couples to See & Explore in St. Louis, MO
Romantic Getaway in Missouri - affordable weekend getaways in Branson and St. Louis, secluded cabins, Missouri Wine Country and historic St. Charles, MO.
Romantic St.Louis Hotel Deals - inexpensive getaways in romantic hotels and inns like the Four Seasons St. Louis, Moonrise Hotel, and Napolean's Retreat B&B.
---
Las Vegas NV Hotels and Resorts on the World-Famous Strip at Night
Romantic Las Vegas Vacations - Las Vegas is loud and bright, but there's a refined side to it too. We list 5 Romantic things to do, plus survey which resorts on the Strip rate the best for honeymoons and couples getaways.
---
New Jersey Boardwalk near Cape May, NJ
New Jersey Romantic Getaways - weekend vacation tips on New Jersey's best oceanfront destinations for couples, as well as some very quaint Cape May and Frenchtown B&B's.
---
Beautiful Autumn Colors in Upstate New York
New York State Romantic Getaways - we look at Upstate NY excursions to the Adirondacks and Hudson Valley, and discover some Catskills covered bridges near a cozy little inn.
---
Take Your Romantic Escape to the Great Outdoors in North Carolina
Best Romantic North Carolina Getaways - hotels and cabins close to the Blue Ridge Mountains, plus all kinds of ideas for romantic weekends in cities like Charlotte, Raleigh-Durham and Chapel Hill, NC.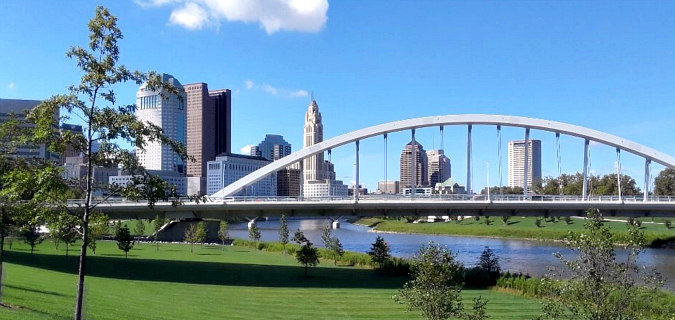 Columbus is a Great Destination for a Weekend Getaway in Ohio
Ohio's Best Romantic Getaways - Plan a romantic getaway in Cincinnati, Columbus, Cleveland or Hocking Hills, OH, plus explore Ohio inns, cabins and cottages perfect for a couples midwest getaway.
---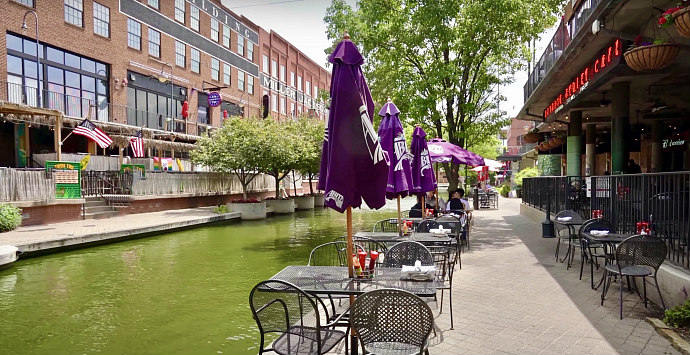 Tables Alongside Bricktown Canal, Oklahoma City
Oklahoma Romantic Getaways - check out some fun things for 2 to do in OK City, Tulsa and more, plus romantic accommodation in hotels, inns and cabins for a getaway to remember. 
---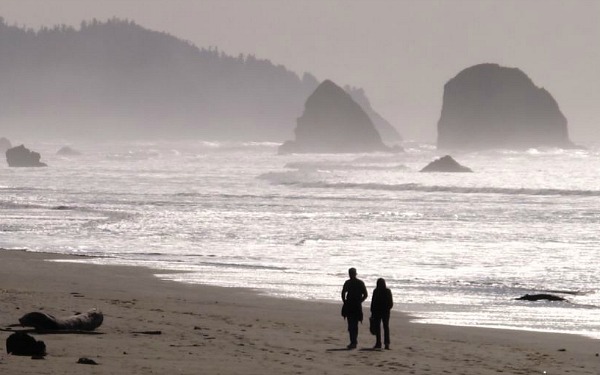 The Oregon Coast - Romantic & Secluded
Oregon Romantic Vacations - the crashing Pacific is at it's very best in Cannon Beach and Astoria! Or you can relax for the weekend in Oregon's Willamette Valley Wine Country.
Oregon Coast Inns

- grab a hot deal on a romantic place to stay in Cannon Beach, Seaside, Astoria OR and more.
---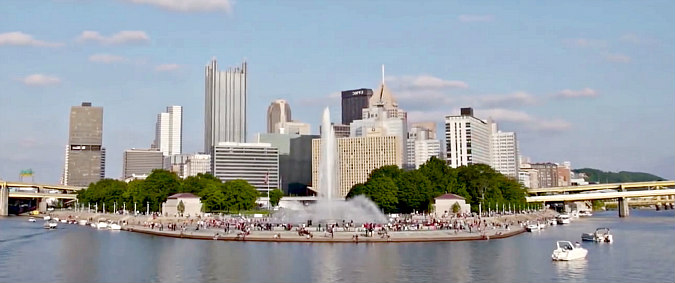 Go for a Pennsylvania Getaway in Pittsburgh
Pennsylvania Getaways for Couples - our guide to Pennsylvania's things to do for couples includes covered bridges, Pennsylvania Wine Country, Amish Country and New Hope, PA.
---
South Carolina-Myrtle Beach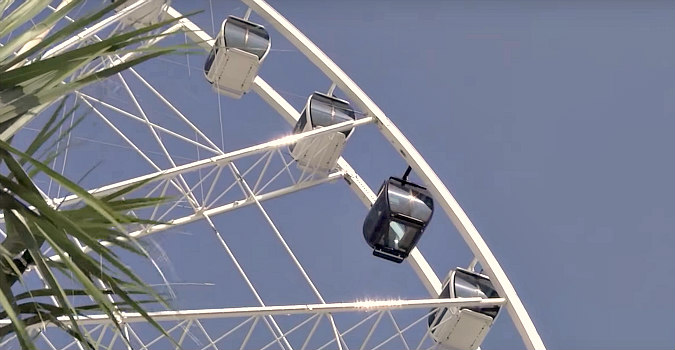 Myrtle Beach's SkyWheel - A Great View of the Coast
---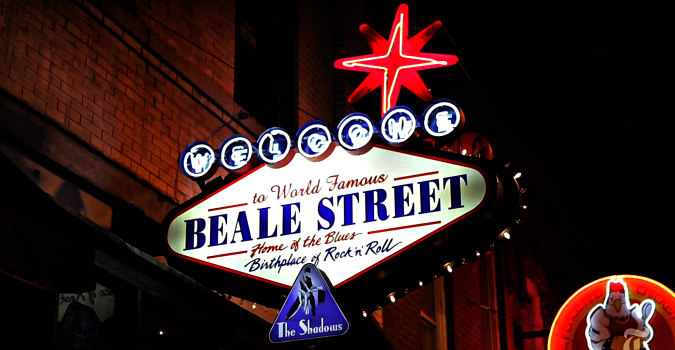 Restaurants, Nightlife & The Blues - Beale Street in Memphis
Tennessee's Best Romantic Getaways - explore some great getaways for couples in Tennessee's great cities and romantic Smoky Mountains, with ideas for hotels, inns, cabins and cottages.
---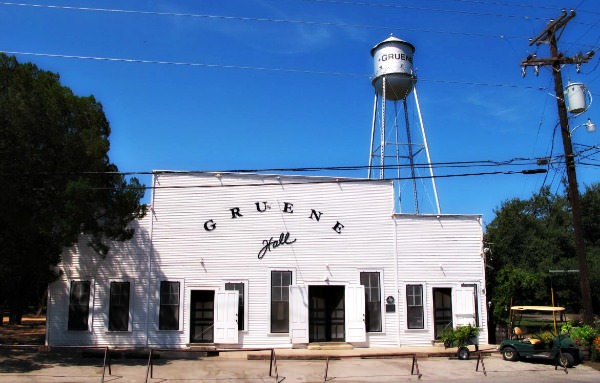 The Dance Hall at Gruene in Romantic Texas Hill Country
Texas Romantic Getaways & Vacations - Travel & reconnect in destinations like San Antonio, Dallas TX and Texas Hill Country. Romantic Hotels & Inns, plus places to eat, sights & overnight packages.
---
Terrific Mountain Scenery in Vermont
Vermont Romantic Getaways - Unforgettable autumn foliage, great mountain getaway resorts, the coziest B&B', and incredibly romantic small towns and villages all over VT. 
---
Virginia Scenic Byway Showing It's Autumn Colors
---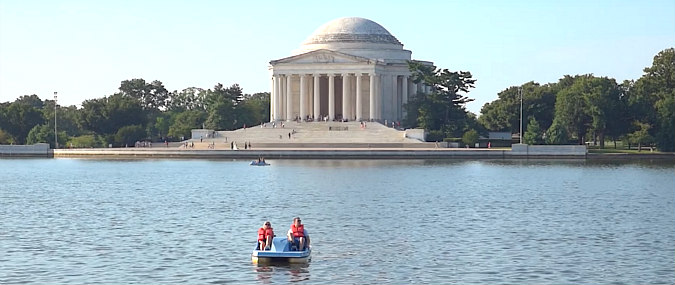 Washington DC Has a Great Mix of Activities, Modern History and Dining
---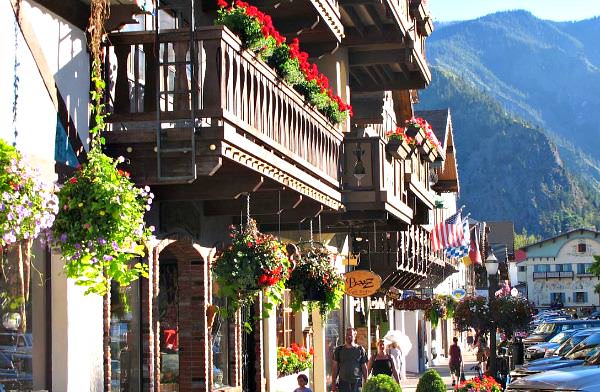 Colorful Alpine Town of Leavenworth, Washington
Seattle, WA

 - wander through Pike Place Market, or spend the day relaxing on Bainbridge Island. If you love coffee, make time for a sip or two at a local cafe.
Spokane, WA - heritage hotels, beautiful waterfalls and good dining await in this mid-size Eastern Washington State city. 

---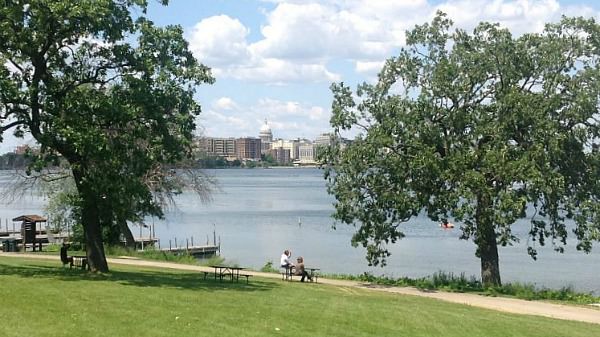 Quiet Afternoon Getaway on the Grass in Madison, Wisconsin
Milwaukee, WI

 - more than just brewery tours, Milwaukee's got a great Riverwalk, scenic Lakefront spots and top-rated dining waiting to be explored.  



---
ERV Tips for Better Travel
top hotels, getaways & packages on ERV
---