Missouri Romantic Getaways & Ideas for Couples Vacations 
Missouri
FTC: This page uses affiliate links. More.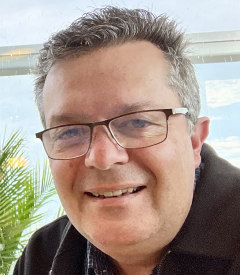 By: Greg Mattson, ERV Editor - Updated: May 7, 2021   

Missouri is a fun romantic destination! The "Show Me" state is close to the heartland of America and for 2021 offers affordable activities and places to stay for couples on weekend getaways, romantic vacations and honeymoons.

St. Louis, MO - Starting Point for Missouri Romantic Getaways & Honeymoons
Many sites on romantic Missouri focus just on Branson MO vacations, but we include more romantic destinations in the state - in particular, couples getaways in St.Louis, Kansas City and Springfield, MO.

Best Time for a Romantic Getaway in Missouri - many avoid the cold winter months of December to March, and try for better weather closer to summer. A couple of suggestions: Autumn foliage season (early to mid October) is spectacular, and Spring weather (late May and June) is very pleasant.

---
St Louis MO Romantic Places to Stay 
Boutique Hotel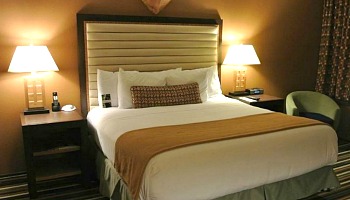 Moonrise Hotel in St.Louis, MO
Moonrise Romantic Hotel in St.Louis - you'll love the extra touches of this luxury boutique hotel located close to shopping and dining in The Loop. Theme rooms and hot tub suites make this a perfect honeymoon inn. 2021 ERV Rating* for St. Louis Boutique Hotels: 90% - Excellent. (6177 Delmar in the Loop, St. Louis MO 314-721-1111)
Luxury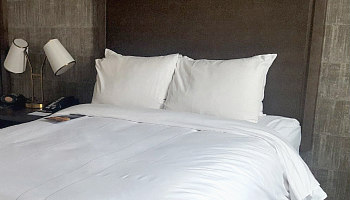 Room at the Marriott St. Louis Grand
Marriott St. Louis Grand Hotel - one of the most romantic place to stay in St. Louis, MO with luxury rooms and suites, city views and romantic hotel packages. 2021 ERV Rating* for Romantic St. Louis Hotels: 88% - Very Good. (800 Washington Ave, St. Louis MO  314-621-9600)
Bed and Breakfast:

Fleur de Lys Mansion - this romantic inn gets top grades by guests for it's gourmet breakfasts, gracious hosts, and comfy bath robes. The Forrest Park room here looks honeymoon-ready with an in-room Whirlpool tub big enough for two persons. 2021 ERV Rating* for St. Louis Missouri Romantic B&B's:

 

96%

 - Excellent. 

(3500 Russell Blvd, St. Louis MO 314-773-3500)
Things for Couples To Do in St. Louis MO: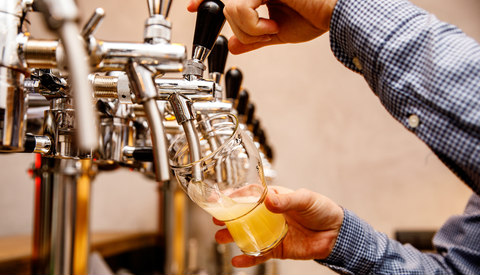 Local Ale on Tap in St. Louis
St.Louis Brewery Tour

- see (and taste!) some awesome drinks and food on a great sampling tour of St. Louis brew pubs. 
Delmar Loop - THE place to be in downtown St. Louis for all sorts of dining options, plus shops and theaters. 
Forest Park - go for a romantic walk around the Grand Basin.
St Louis Zoo - it's free, believe it or not, so make sure you don't miss it!
---
Kansas City Mo Romantic Hotels
luxury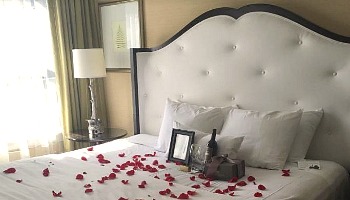 Raphael Hotel in KC - Perfect for Honeymoons
The Raphael Hotel - highly recommended as one of Missouri's most romantic hotels for honeymoons and anniversaries. In fact, their Presidential Suite with Whirlpool tub would be our pick for a bridal suite in Western Missouri. Full of history, with a quiet and luxurious ambiance. 2021 ERV Rating* for Kansas City MO Luxury Romantic Hotels:

 

90%

 - Excellent. 

(325 Ward Pkwy, Kansas City MO 816-756-3800)
boutique & Affordable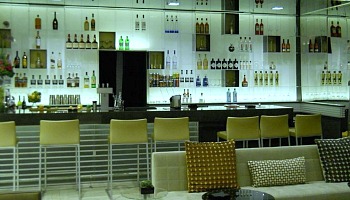 Cocktail Lounge at the AC Hotel, Kansas City
AC Hotel Kansas City Westport - a little more European but still high on the romance scale is this boutique hotel in Kansas City's Westport District. Italian Marble Rain Showers, cocktail lounge and breakfast buffet are just some of the amenities here. 2021 ERV Rating* for Kansas City MO Romantic Boutique Hotels: 82%

 - Very Good. 

(560 Westport Rd, Kansas City MO 816-931-0001)
B&B:

Southmoreland on the Plaza - fondly loved by many return guests. Amenities include a welcome glass of sherry, rooms with spa tub baths and fireplace, and a delicious breakfast in the morning. 2021 ERV Rating* for Kansas City MO Romantic Inns: 90%

 - Excellent. 

(116 E. 46 St, Kansas City MO  816-531-7979) 
Romantic Attractions in Kansas City MO:
Loose Park - go for a romantic afternoon stroll around 75 acres of Kansas City's most beautiful park. Autumn is an especially nice time to take in the vibrant fall colors. (5200 Wornell Rd, Kansas City, MO)
Starlight Theater - catch a Broadway Series show or concert at this attractive outdoor venue. (4600 Starlight Rd, Kansas City MO)
Tannin Wine Bar & Kitchen - match up a Pinot Noir or a Riesling with something delicious from their menu. Great atmosphere, reservations recommended. (1526 Walnut St, Kansas City MO 816-842-2660)  
---
For Your Romantic Missouri Weekend:
---
Romantic Cabins & Rentals in Missouri
Romantic Vacation Rental Cabin in Branson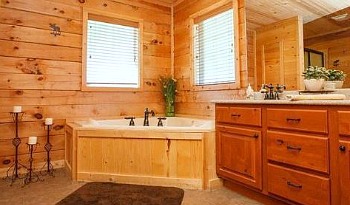 Hot Tub Cabin in Missouri
Eagles Nest Couples Estate- a gorgeous romantic vacation rental in Missouri's Lake of the Ozarks. The master suites has a hot tub for two and "6-mile views" of the Lake, along with an outdoor breakfast deck.
Missouri Honeymoon & Romantic Packages
Kansas City Mo Honeymoon Packages -

the Raphael Hotel 

has romance and special occasion packages that can be easily customized for honeymoons, with suite accommodation, bath and body kit, bottle of wine, 2 deserts, rose petal evening turn-down service, breakfast in bed and valet parking. (325 Ward Pkwy, Kansas City MO 816-756-3800)
Missouri Romantic Getaways at the Plain & Fancy B&B - perfect for anniversaries and honeymoons, they've packaged up short vacation getaways to include include wine & cheese, hot tub for two, with spa and trail riding add-ons. (11178 Hwy 72, Ironton MO  573-546-1182)
---
Springfield, Mo Romantic Hotels & Inns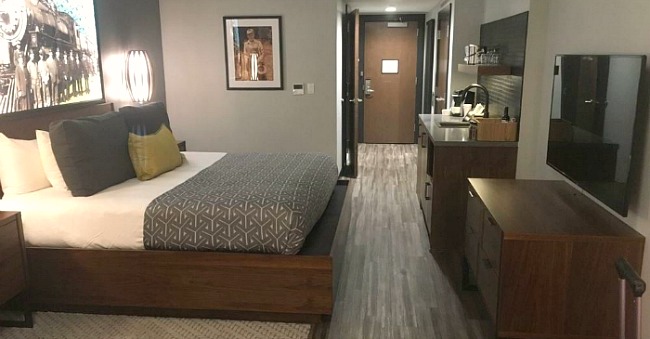 One of the Romantic Suites at the Vandivort Hotel in Downtown Springfield, MO
Hotel Vandivort - it may be soaked in romance and history, but this gorgeous Springfield boutique hotel is all up-to-date with the latest high-tech room amenities, luxury bedding, twin shower heads, and themed suites with floor-to-ceiling views of the city. Craft cocktails and local beer are available downstairs at The Order (on site dining), and the location is superb for enjoying the downtown. 2021 ERV Rating* for Springfield MO Romantic Hotels: 92%

 - Excellent. 

(305 E. Walnut, Springfield MO 417-832-1515)
Walnut Street Inn Romantic Springfield MO Cottage - romantic travellers in Southern Missouri will love the cottages "cuddling chair", gas fireplace and Whirlpool tub for two. 2021 ERV Rating* for Springfield MO Romantic B&B's: 96%

 - Excellent.

 (900 E. Walnut, Springfield MO  417-864-6346)
Romantic Things to Do in Springfield, MO
Drive-in Movie Theaters - Southwestern Missouri has several of these romantic relics. The 2 closest to Springfield are Sunset Drive-In Theater (1601 E. Church St, Aurora MO) and Owen Drive-In (1 Owen Dr, Seymour MO).
Smallin Cave - take an unusual excursion after dark in with their Civil War Lantern Tour, complete with a story-telling guide, campfire dinner, and Civil War Cave tour.(3575 N. Smalin Rd, Ozark MO)
---
More Things to Do on Missouri Romantic Getaways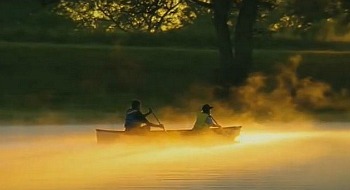 Missouri is a Great Outdoors State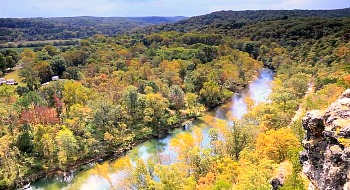 Brilliant Autumn Scenery in Missouri
Here's more highlights of the best activities for couples on a romantic getaway in Missouri:
Scenic Missouri Wine Country - spend a day wandering the romantic Missouri Weinstrasse on Hwy 94 west of St.Louis along the Missouri River. The vineyards and lush valleys are an especially scenic route in MO during fall foliage season.
Romantic Things to Do in Branson, MO - one of the most popular Missouri destinations for romance and honeymoons. Experience the fun of the strip, stroll down Branson Landing in the evening, or hop on the Scenic Railway Tour.
Route 66 Drive in Theatre - some drive-in movie theatres are still around! This romantic place for couples in southwest Missouri is a nostalgic way to spend an evening (17231 Old 66 Blvd, Carthage, MO, approx 1 hr drive west of Springfield, MO)
Historic St. Charles, MO - the relaxing and quaint Old Town with its cobblestone street is a wonderful place for you and your partner to experience Missouri from the 1800's.
Best Place to Propose in Missouri - if you're planning on an engagement for your romantic Missouri getaway and need ideas for a proposals, the top of the St.Louis Arch is an obvious choice. Powell Gardens is another great place for proposing in Kansas City, MO.
more getaways near missouri:
Planning: An online visit to the VisitMO website will provide you with even more trip ideas, discounts and coupons for your romantic vacations in Missouri.
*ERV Rating: our unique, non-scientific ratings for romantic accommodation include:
Amenities: including Whirlpool bath or 

JACUZZI

®

Tub

,

scenic view, fireplace, lounge, etc
Location: proximity of hotel to restaurants, pubs, downtown, etc
Clientele: demographic the hotel attracts (couples, families, business travelers, etc)
Popularity: based on social media & crowd-sourced reviews 
Value: product offered compared to room rate 
Please Note: percentage ratings are not absolute but for comparative use only  
top hotels, getaways & packages on ERV
---