A Romantic Hawaii Vacation Guide for a Paradise Getaway 
Hawaii

Couple on Hapuna Beach, on the Island of Hawaii.
FTC: This page uses affiliate links. More. 

By Greg Mattson, ERV Editor - Updated: Mar 18, 2015

Whether you've vacationed in Hawaii once or 10 times, there are always new destinations, beaches and romantic spots waiting to be discovered...
Our Top 3 Romantic Hawaii Vacation Spots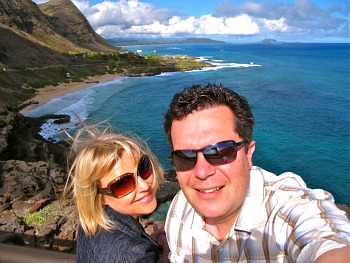 Kauai's North Shore - with one of the most dramatic coastlines in the world, Kauai is, in our opinion, Hawaii's most romantic place to holiday. The resorts around Princeville and Hanalei Bay are laid back, there's not much traffic on the roads, and the beaches, coastline and scenery are 100% f-a-n-t-a-s-t-i-c!
Lahaina, Maui - the western side of Maui has a great mix of excellent beaches, romantic restaurants (including the Old Lahaina Luau), activities on & off the water for couples, and quiet places to enjoy the great sunsets.
Big Island of Hawaii - some of the darkest night skies in the world provide the perfect setting for a honeymoon or romantic trip to the biggest of Hawaii's islands. Natural attractions like Hawaii Volcanoes National Park and Mauna Kea make the Big Island an ideal vacation or honeymoon choice.
Romantic Hawaii Hotel Hot Tub Suites - looking to book a hot tub suite in Hawaii? Here's our reviews of honeymoon suites with whirlpool tubs in Waikiki & Oahu, Maui, the Big Island & more.
Engagements & Weddings in Hawaii
Hawaii Elopements - affordable and very romantic elope weddings in paradise. Pick from tropical garden, beach and waterfall wedding locations.
Video: Romantic Oahu Highlights
This HD Video shows some highlights of a romantic vacation or honeymoon on Oahu, including:
Fireworks at the 

Hilton Hawaiian Village

Fiery Red

Waikiki Sunset

on the Beach

Romantic

Waimanalo Beach

on Oahu's SE Coast
Hawaii All-Inclusive Resort Packages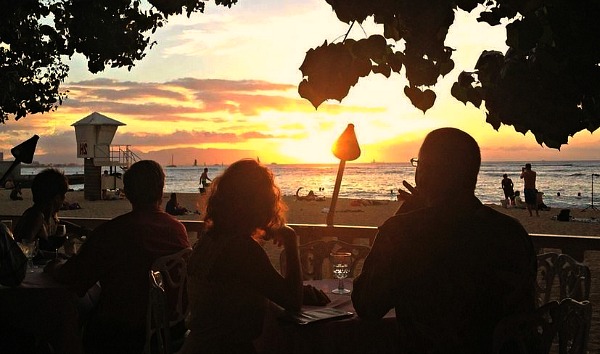 Add an All-Inclusive Package to Your Honeymoon or Vacation in Hawaii
Although you won't find the Caribbean-style all-inclusive resorts in the Hawaiian Islands, that doesn't mean you need to miss out out on the all-inclusive holiday experience for your vacation or honeymoon! Here's 3 suppliers/resorts that are offering all-inclusive packages and hotel add-ons:
Aloha Hawaiian Vacations All-Inclusive Packages - a wide selection of vacations, from short 4 day getaways right up to an 11 day all-inclusive luxury package. Choose from romantic destinations and resorts in Waikiki, Maui, the Big Island and Kauai. They feature wedding and honeymoon packages as well.
Royal Lahaina Resort, Maui - going all-inclusive on the Valley Isle is easy at this super-romantic resort in Lahaina. The Paradise Plus Package is priced at just $99 per person, per night, and it includes full breakfast, lunch and dinner daily at the resort, as well as a beverage credit of $40 each day for use at their restaurant and beach bar, and self-parking at the resort for the length of your stay.
More Deals on Romantic Hawaii Vacations 
Hawaii Cruise Deals - 7, 11 and 15 day cruise itineraries with stops at the most romantic ports in the Hawaiian Islands. Cruising is a great way to sample several islands on one trip, and can help you decide on which one to spend the most time on for your next trip.
5 Islands - 5 Romantic Hawaii Beaches
1. Tunnels Beach, Kauai - as Hwy 560 dead ends on the North Shore, you're left with a beach framed by a thundering turquoise surf, mountains covered in a lush rain forest, palm trees almost dipping right into the Pacific, and jaw-dropping sunsets.  
2. Makapu'u Beach, Oahu - those who think Oahu is Waikiki only miss out on some of the island's most beautifully romantic spots by the waves, including this secluded long strip of fine sand next to towering Makapu'u Point.
3. Ka'anapali Beach, Maui - gorgeous 3 miles of golden sand bordered by the Pacific Ocean on the west, and resorts, oceanfront dining and the enticing Ka'anapali Beach Walk to the east.
4. Hapuna Beach, Big Island - this huge white-sand Kohala Coast beach is one of the best places for couples to swim & have fun in the water on the Big Island.
5. Papohaku Beach, Molokai - not a great swimming beach, but a fine spot for a romantic picnic. And being on the west side Molokai, perfect for sunsets.
Excellent Romantic Vacations - Top Pages
---