Hawaii
your next Romantic Hawaii Vacation - resorts & inns, packages and more 
---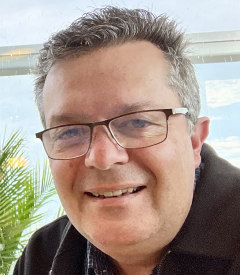 By Greg Mattson, ERV Editor - Updated: Nov 17, 2022

---

Couple on Hapuna Beach, on the Island of Hawaii.
FTC: This page uses affiliate links. More. 

Whether you've vacationed in Hawaii once or 10 times, there are always new destinations, hotels, beaches and romantic spots waiting to be discovered...
Our Top 3 Romantic Hawaii Vacation Spots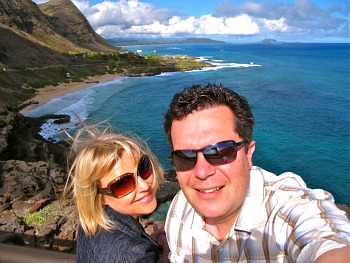 Kauai's North Shore - with one of the most dramatic coastlines in the world, Kauai is, in our opinion, Hawaii's most romantic place to holiday. The resorts around Princeville and Hanalei Bay are laid back, there's not much traffic on the roads, and the beaches, coastline and scenery are 100% f-a-n-t-a-s-t-i-c!
Lahaina, Maui - the western side of Maui has a great mix of excellent beaches, romantic restaurants (including the Old Lahaina Luau), activities on & off the water for couples, and quiet places to enjoy the great sunsets.
Big Island of Hawaii - some of the darkest night skies in the world provide the perfect setting for a honeymoon or romantic trip to the biggest of Hawaii's islands. Natural attractions like Hawaii Volcanoes National Park and Mauna Kea make the Big Island an ideal vacation or honeymoon choice.
---
3 romantic boutique hotels in hawaii
vive hotel waikiki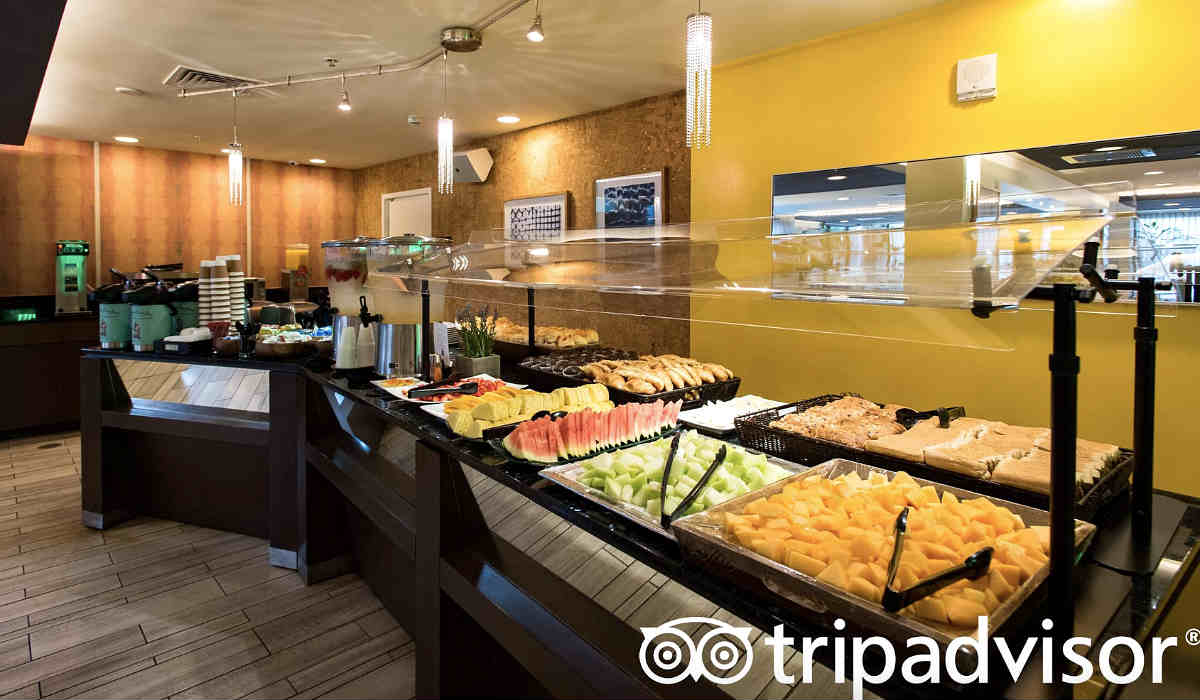 Vive Hotel Breakfast ©TripAdvisor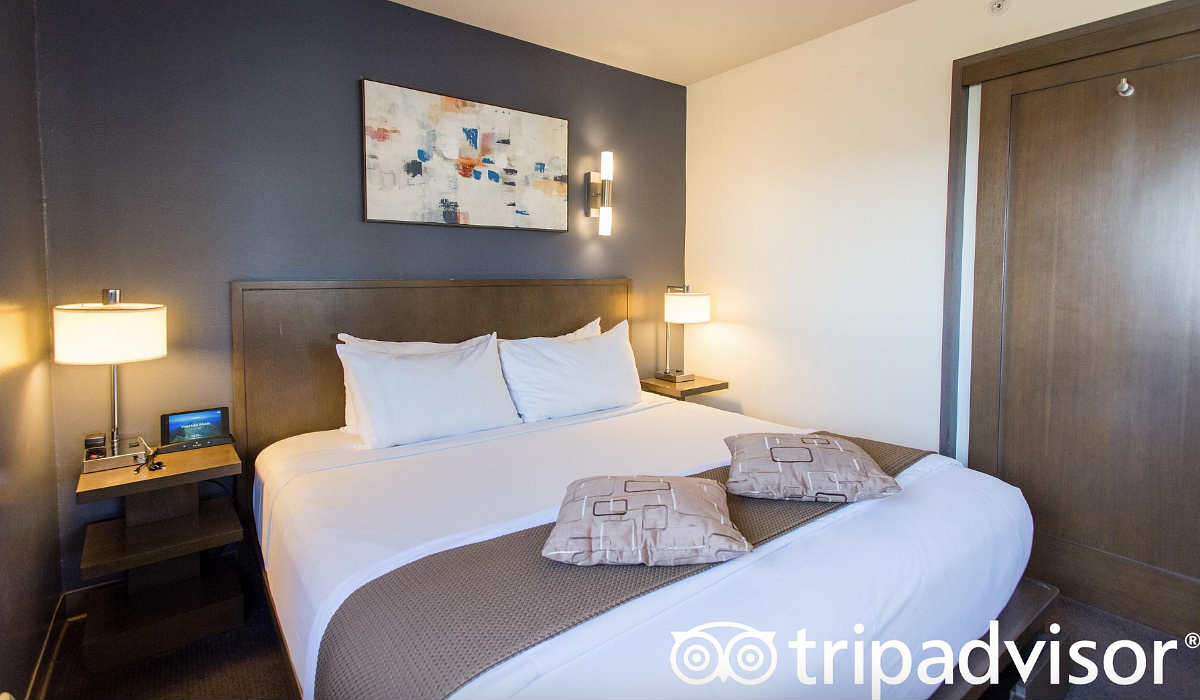 Vive Hotel Room ©TripAdvisor
Vive Hotel Waikiki

- Lots of reasons why this small Waikiki hotel is the perfect fit for a budget-friendly romantic Oahu getaway: cozy & clean rooms with beach and mountain views, Wi-Fi, robes, complimentary continental breakfast, free beach gear rentals, and you're 2 minutes walk away from the beach, as well as a plethora of shops and restaurants. 2022 ERV Rating*: 90% - Excellent. (2426 Kuhio Ave, Honolulu HI 808-687-2000)
Ko`a Kea Resort Poipu Beach kauai
Ko'a Kea Deep Soaking Tub ©TripAdvisor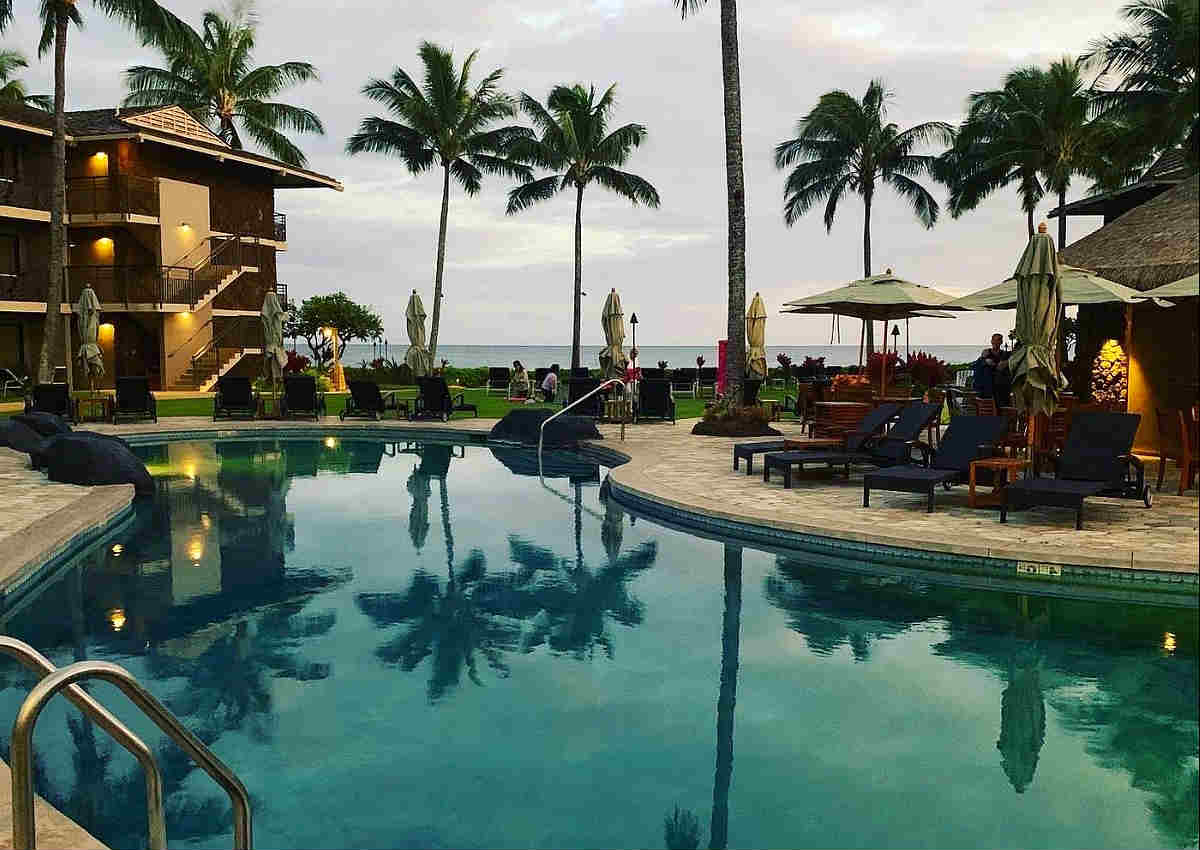 Pool at the Ko'a Kea Resort
Ko`a Kea Resort Poipu Beach

- Superb, sunny Poipu Beach is the home of this small boutique-style resort, a quiet and relaxing getaway for 2 on Kauai's south shore. The resort is a short walk from the beach, and you're going to love the suites with walk-in showers, soaker tubs, and the resort's Tiki pool, Whirlpool and pool bar. There's some nice amenities too like plush robes, flip flops, Nespresso® coffee machines, and private lanai's with palms swaying in the ocean breeze. 2022 ERV Rating*: 92% - Excellent. (2251 Poipu Rd, Koloa HI 844-236-3817)
paia inn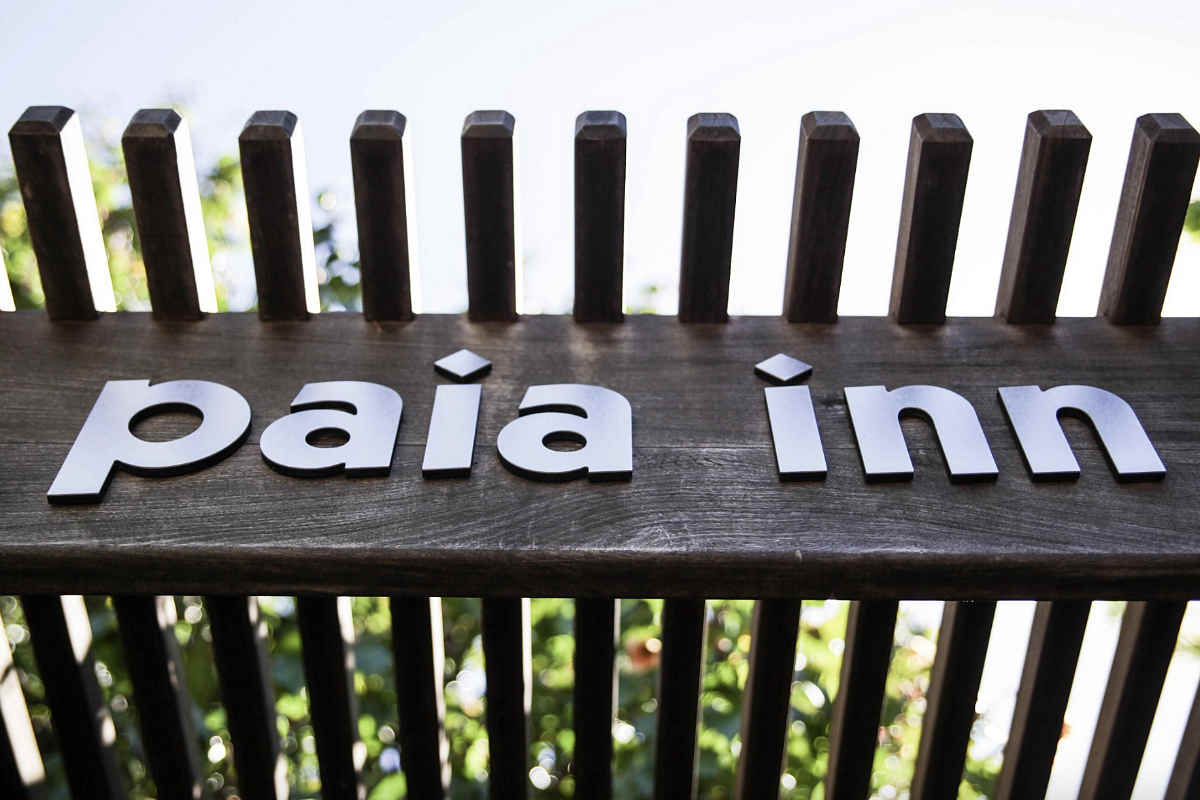 Pai Inn, Maui
Room at the Paia Inn, Maui
Paia Inn

- For a romantic Maui escape, check out this small rustic inn located in the heart of Paia, a, attractive beach town on Maui's North Coast. Rooms are done in Bali-themed decor, and come with luxury bedding and A/C. Out the front door, it's easy to explore Paia's shops, galleries and cafes, or access the inn's small private beach just a short walk away. 2022 ERV Rating*: 94%

- Excellent

. (93 Hana Highway, Paia HI 808-579-6000) 
Romantic Hawaii Hotel Hot Tub Suites - looking to book a hot tub suite in Hawaii? Here's our reviews of honeymoon suites with whirlpool tubs in Waikiki & Oahu, Maui, the Big Island & more.
---
Engagements & Weddings in Hawaii
Hawaii All-Inclusive vacation Packages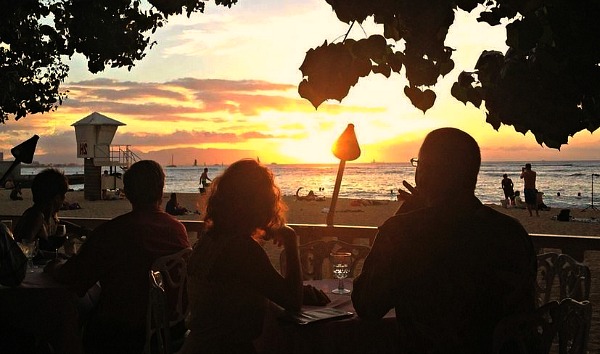 Add an All-Inclusive Package to Your Honeymoon or Vacation in Hawaii
Although you won't find the Caribbean-style all-inclusive resorts in the Hawaiian Islands, that doesn't mean you need to miss out out on the all-inclusive holiday experience for your vacation or honeymoon! Here's 3 suppliers/resorts that are offering all-inclusive packages and hotel add-ons:
Aloha Hawaiian Vacations All-Inclusive Packages - a wide selection of vacations, from short 4 day getaways right up to an 11 day all-inclusive luxury package. Choose from romantic destinations and resorts in Waikiki, Maui, the Big Island and Kauai. They feature wedding and honeymoon packages as well.
Royal Lahaina Resort, Maui - Going all-inclusive on the Valley Isle is easy at this super-romantic resort in Lahaina. Check out their Royal Experience which offers daily breakfasts and daily luaus for 2, $200 resort credit and more.
TripMasters All-Inclusive Hawaii Vacation Packages

- Fully customizable holidays where you can select from tailor-made packages or build your own itinerary. There's 2 and 3 island combos, Honeymoon in Hawaii packages, plus excursions themed on road trips, beaches, volcanoes and more.
More Deals on Romantic Hawaii Vacations 
Hawaii Cruise Deals - 7, 11 and 15 day cruise itineraries with stops at the most romantic ports in the Hawaiian Islands. Cruising is a great way to sample several islands on one trip, and can help you decide on which one to spend the most time on for your next trip.
5 Islands - 5 Romantic Hawaii Beaches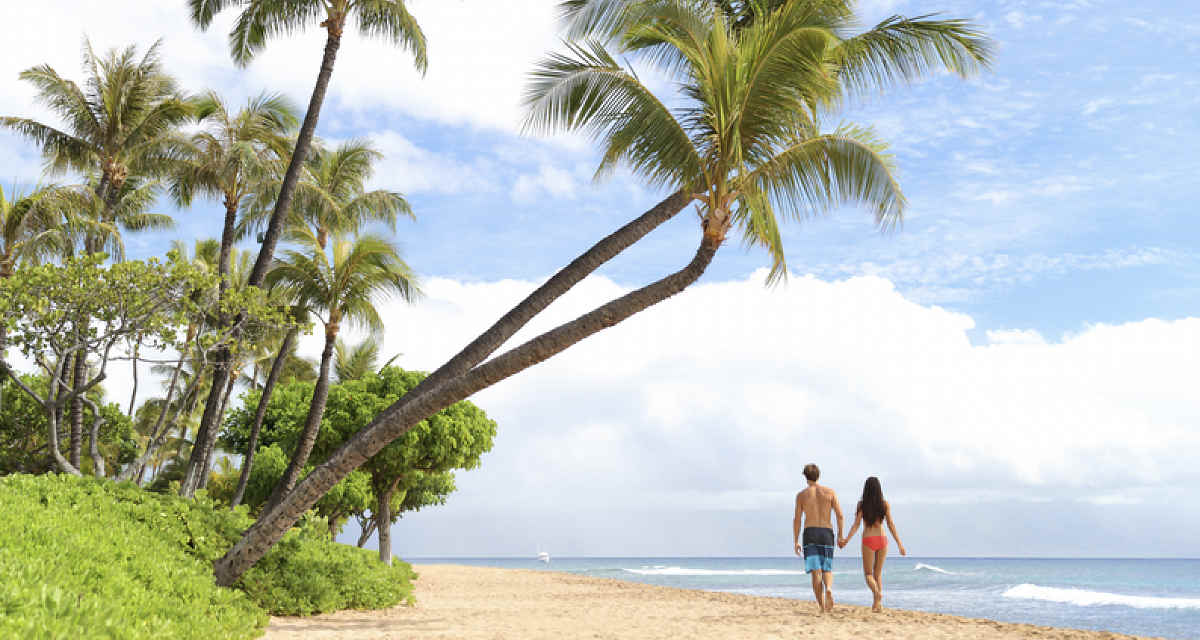 Ka'anapali Beach on Maui is a Fantastic Spot for Romantic Getaways
1. Tunnels Beach, Kauai - as Hwy 560 dead ends on the North Shore, you're left with a beach framed by a thundering turquoise surf, mountains covered in a lush rain forest, palm trees almost dipping right into the Pacific, and jaw-dropping sunsets.  
2. Makapu'u Beach, Oahu - those who think Oahu is Waikiki only miss out on some of the island's most beautifully romantic spots by the waves, including this secluded long strip of fine sand next to towering Makapu'u Point.
3. Ka'anapali Beach, Maui - gorgeous 3 miles of golden sand bordered by the Pacific Ocean on the west, and resorts, oceanfront dining and the enticing Ka'anapali Beach Walk to the east.
4. Hapuna Beach, Island of Hawaii - this huge white-sand Kohala Coast beach is one of the best places for couples to swim & have fun in the water on the Big Island.
5. Papohaku Beach, Molokai - not a great swimming beach, but a fine spot for a romantic picnic. And being on the west side Molokai, perfect for sunsets.
3 romantic hawaiian resort pools
four seasons resort oahu at ko olina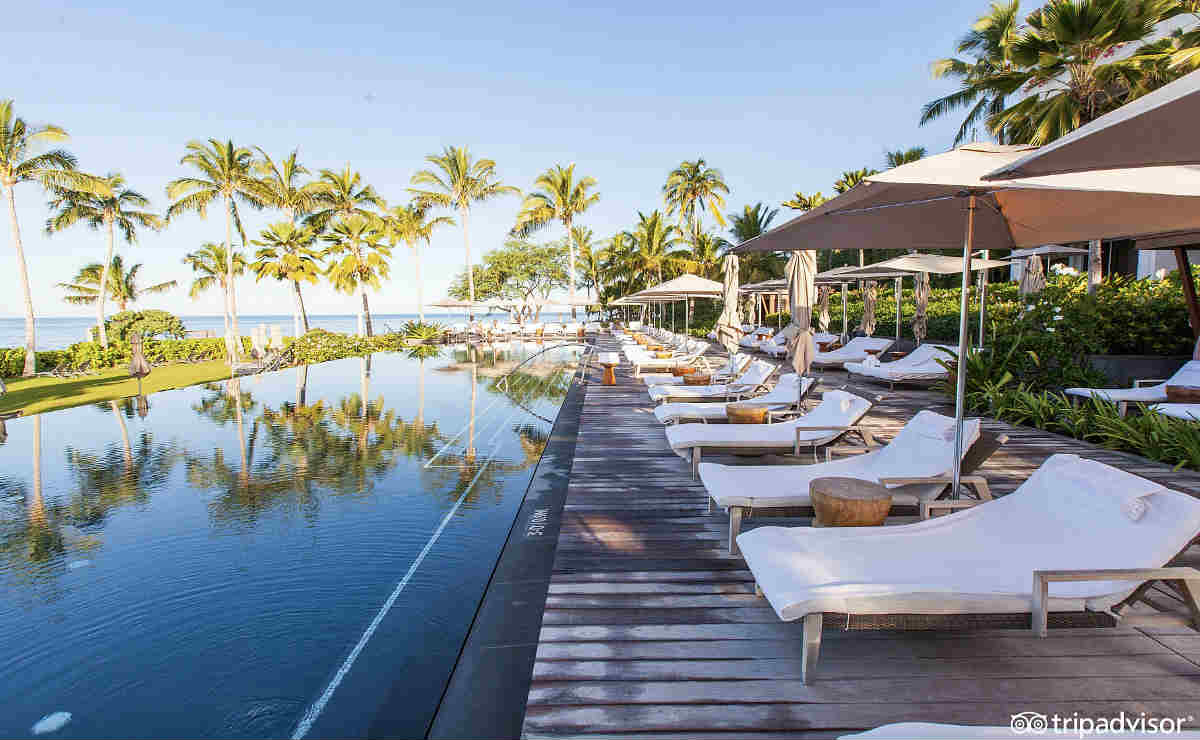 Infinity Pool at the Four Seasons oahu Ko Olina ©TripAdvisor
Four Seasons Resort Oahu at Ko Olina

- Sipping a cocktail at the adults-only infinity pool any time around sunset here is an incredible experience, and well-worth the splurge at this romantic resort on Oahu's western coast. 2022 ERV Rating*: 92% - Excellent. (92-1001 Olani St, Kapolei HI 808-679-0079)   
grand wailea resort maui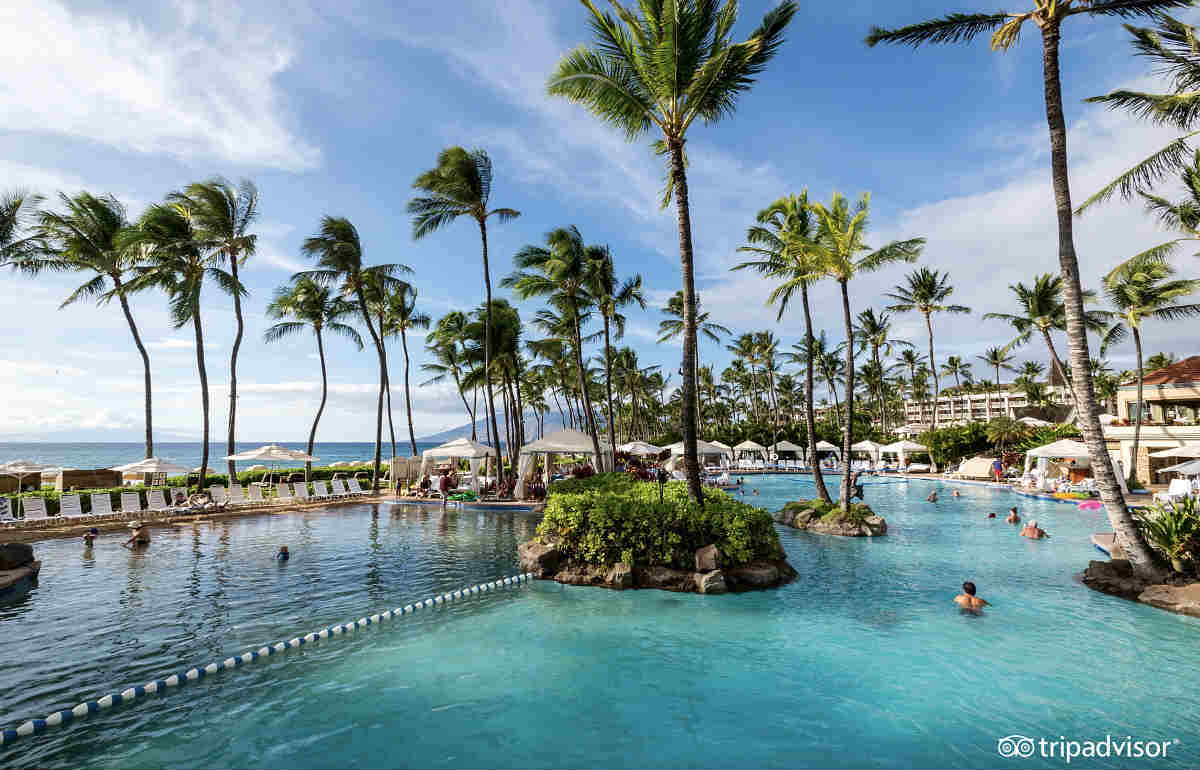 Grand Wailea Resort Maui ©TripAdvisor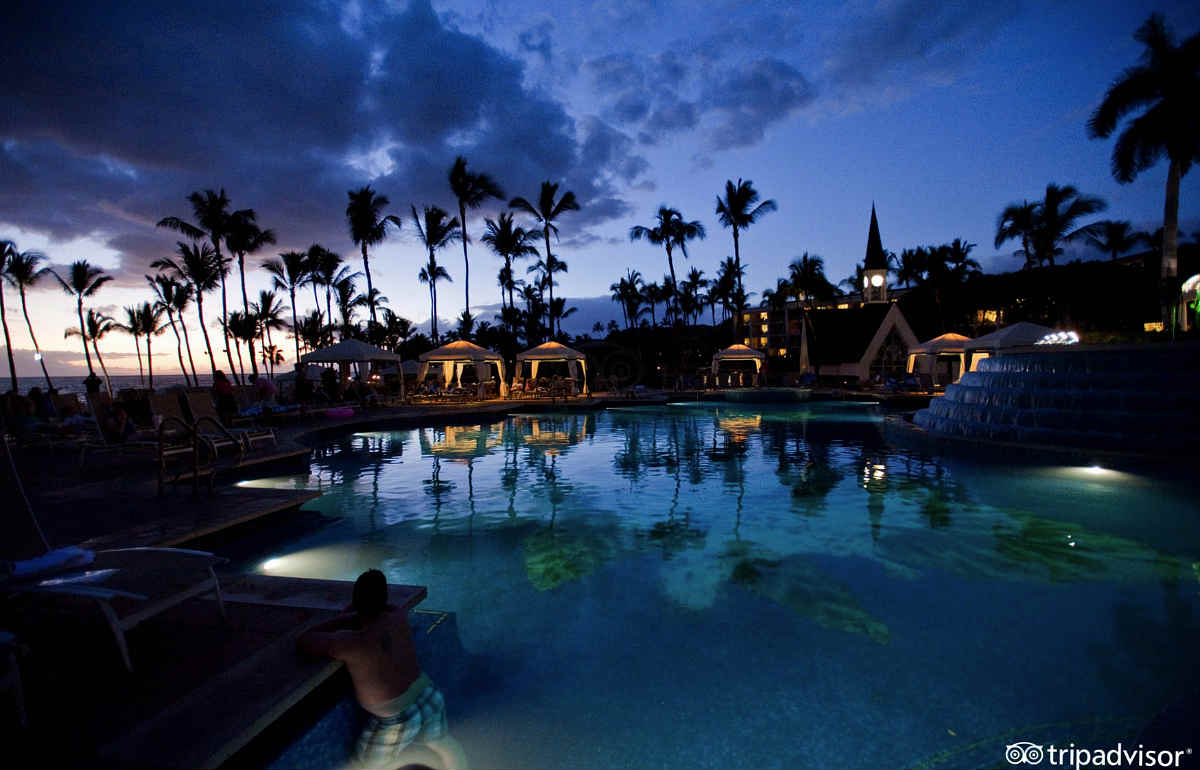 Grand Wailea Adults-Only Pool ©TripAdvisor
Grand Wailea Maui

- An amazing assortment of no less than 9 different pools, including an activity pool, a lazy river and the adults-only Hibiscus Pool. You can rent a cabana too, and the beach is just a few steps away. 2022 ERV Rating*: 80% - Very Good. (3850 Wailea Alanui Drive, Wailea HI 808-875-1234)  
royal sonesta kauai resort lihue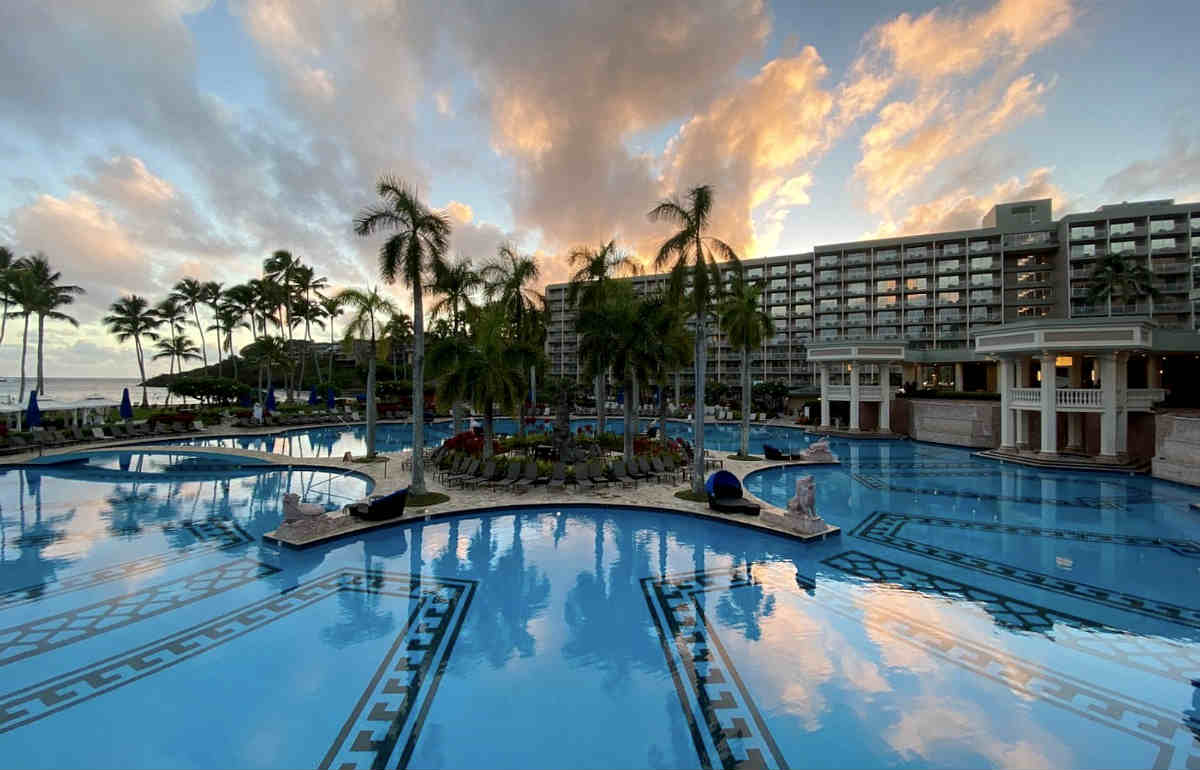 Beautiful Pool at the Royal Sonesta Kauai Resort, Lihue Kauai
Royal Sonesta Kaua'i Resort Lihue

 - combine an ultra-romantic island like Kauai with a jaw-droppingly gorgeous pool like the one at this Royal Sonesta, and you have a winning combo. It's also the largest pool on one-level in all of Hawaii! 2022 ERV Rating*: 82% - Very Good. (3610 Rice St, Lihue HI 808-245-5050)
*ERV Rating: our unique, non-scientific ratings for romantic accommodation include:
Amenities: including Whirlpool bath or 

JACUZZI

®

Tub

,

scenic view, fireplace, lounge, etc
Location: proximity of hotel to restaurants, pubs, downtown, etc
Clientele: demographic the hotel attracts (couples, families, business travelers, etc)
Popularity: based on social media & crowd-sourced reviews 
Value: product offered compared to room rate 
Please Note: percentage ratings are not absolute but for comparative use only  
top hotels, getaways & packages on ERV
---