Ideas for the Best Places to Propose in Hawaii 
FTC: This page uses affiliate links. More. 

Proposals
 By Greg Mattson, ERV Editor - Updated: Nov 19, 2019
Planning on a way to "Pop The Question" in Paradise? We've put together a list of best places to propose in Hawaii for those who would like to get engaged during their romantic vacation in the Hawaiian Islands.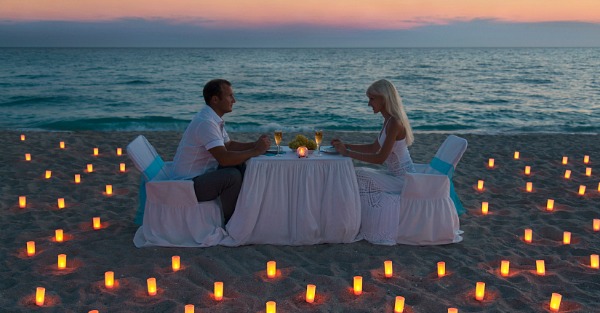 A Candlelight Dinner on the Beach is Just One Idea for a Romantic Proposal in Hawaii
Of course, there's no shortage of romantic ways to get engaged in Hawaii. To start with, here's just a few ideas for proposals that you could arrange fairly easily for that moment of a lifetime:

On a Hike: Hawaii has some fantastic cliff and valley hikes, like Oahu's east coast, the bamboo and rain forests around Hana in east Maui, or the Na Pali Coast Trail or Hanakapiai Valley on Kauai.

A Walk on a Secluded Beach: A stroll through the sand and waves at sunset could be a 9 or 10 on the romantic meter! Or, a mid-day picnic lunch at the waters edge with a bottle of wine and a blanket.
You need the perfect beach for this - we suggest:
Big Island: Honomalino Bay, Kua Bay
Maui: On the south shore, Sugar Beach and Kamaole II Beach
Oahu: North Shore between Waimea Bay and Turtle Bay
Kauai: Spectacular remote beaches on the north shore, including Haena, Lumahai and Ke'e.
Sunrise Proposal: If you'd like to get engaged at 6AM instead of 6PM, Haleakala National Park in Maui is the place. On Oahu, try Lanikai Beach.
Sunset Engagement:
Sunset Engagement Locations: Head to the west coast of any of the Hawaiian Islands. Our top picks of the most romantic sunsets in Hawaii:
Maui: Kapalua & Kaanapaili beaches in the west, Makena and Wailea on the south shore.
Kauai: The Na Pali Coast.
Oahu: Up high at the lookout from the top of Puu Ualakaa State Park.
Hawaii Hotel Packages Ideal for proposals
Sunset, Dinner & The Ocean Make Hawaii Proposals Unforgettable
Fairmont Hotels Hawaii Proposal Packages - imagine booking a romantic canoe ride for 2, and having your hand written marriage proposal appear inside a bottle for your special someone to discover! Fairmont Hotels Engaging Proposals program can work with you to help put together your dream proposal (and wedding & honeymoon too) in Hawaii, including ideas built around their romantic resorts in Maui and on the Big Island of Hawaii. See the link above or call 866-662-6060.  
More Ideas on the Best Places to Propose in Hawaii:
Kauai: Almost anywhere! The Garden Isle is a paradise from coast to coast. Luscious tropical gardens and rainforests, valleys, beaches. Kauai is certainly one of the best places to propose in Hawaii.
Kohala Coast on the Big Island: Long, white sandy beaches, rolling surf, secluded coves, volcanic and most importantly, few people! The perfect spot, and one of the best engagement proposal spots in Hawaii.  
In a Romantic Restaurant in Hawaii: Just imagine: sunset, warm breeze, tiki torches, delicious seafood, and some island music gently playing in the background.
Propose on a High Mountain on Hawaii: OK, we only recommend this proposal idea for those who are reasonably physically fit and have a sense of adventure. Head on up, way way up, to the top of Mauna Kea on the Big Island, the highest point in all the Hawaiian Islands. If you time it right and arrive close to sunset, you can have one of the most amazingly romantic settings to propose anywhere in Hawaii! To do this, you'll need a reliable 4WD vehicle, parkas (it's cold up there!), good driving skills, and a stop on the way up to adjust to the oxygen level at the top, which is 40% less than seal level. If you're still interested, you need to read more about the requirements for Visiting the Summit of Mauna Kea before embarking on this romantic proposal.  
top hotels, getaways & packages on ERV
---