Arkansas Romantic Getaway & Honeymoon Guide 
FTC: This ERV page uses affiliate links. More. 

Romantic Vacations Home › Romantic Getaway › Arkansas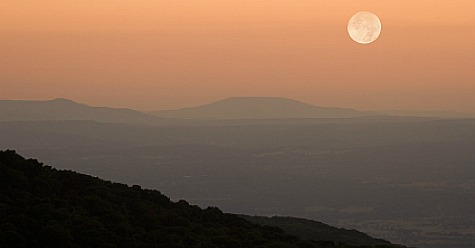 Sunset Over the Romantic Arkansas Ozark Mountains
By: Greg Mattson, ERV Editor - Updated: May 4, 2015   

Here's some fun and affordable Arkansas romantic getaway ideas. It's called the Natural State, and you'll discover some of the most beautiful mountains and valleys in the South.
Romantic things to do in Arkansas? There's State Parks with peacefully beautiful forests and rivers. Fun activities on over 600,000 acres of lakes. Or a romantic dinner while watching the moon rise above the Ozarks from the porch of a romantic B&B or secluded lakefront cabin.

Best Time to Visit Arkansas: spring and autumn seasons are great times to be here, with comfortable temperatures and great colors. You might find summer in Arkansas a bit too warm and humid if you're not from the South. 

Romantic Places in Arkansas
Hot Springs, AR – welcome to Spa City! The 140+ degree natural hot springs are a big attraction here, and you can sample the soothing water at various spa & mineral baths, including Buckstaff Bathhouse Co. on Bathhouse Row.
Other romantic things to do in Hot Springs, AR:
Have fun like kids at Magic Springs & Crystal Falls Theme Park.
Ride a horse-drawn carriage through the historic downtown.
Enjoy a romantic sunset dinner cruise on the Belle of Hot Springs Riverboat.
Lookout Point Lakeside Inn Romantic B&B Getaway - a wonderful spot for a Hot Springs, AR romantic vacation. Explore beautiful and serene Lake Hamilton, laze away the afternoon on a hammock, or rediscover your romance with one of their couples packages. 
Nestled in the Ouachita Mountains overlooking the lake, this luxury bed and breakfast is perfect for your romantic getaway.There's captivating views from the spacious whirlpool tub guest rooms, and each morning a gourmet breakfast is served at your private table or outdoors by the waterfalls. You and partner will experience will experience the ultimate in luxury, R&R and Southern hospitality during your stay here.

2015 Rating* for Romantic Hot Springs AR B&B's: 99% of Couples Rate It Excellent/Very Good. (104 Lookout Circle, Hot Springs, AR  1-866-525-6155)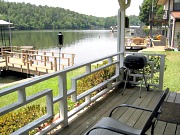 Romantic Cabin Getaways in Hot Springs, AR from $55/Night - enjoy a lakefront secluded spot in the wilderness beauty of Lake Hamilton. This romantic one-bedroom couple's cottage is perfect for a inexpensive and relaxing honeymoon or getaway, and gets top marks for cleanliness, location and friendly owners. 
Crater of Diamonds - if diamonds are a girl's best friend, she just might love this State Park, the only public diamond mine in the world. You can spend an afternoon digging for treasure here, and keep whatever you find! Located just over 2 miles southwest of Murfreesboro in Western Arkansas.
Romantic Vacations in the Ozarks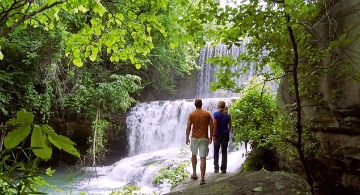 Ozark Mountains Romantic Waterfalls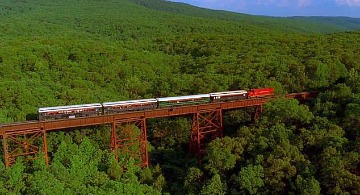 Arkansas & Missouri Railroad Journey 
The Ozark Mountains are Arkansas' outdoor playground full of wildlife, sparkling clear rivers and lakes, interesting villages & resorts, and romantic sunsets followed by brilliant night skies.
Ozarks & Eureka Springs Cheap Getaways - romantic Lodging, Lakefront Cabins, B&B's & vacation package deals for Northwest Arkansas.
Eureka Springs - Tucked away in the mountains of Northwest Arkansas, historic Eureka Springs has some attractions for romantics, including horse-drawn carriage rides, country music dinner shows, and a charming downtown of candy shops, art galleries and cafes.
Arkansas & Missouri Railway – take this historic and romantic rail journey on weekends through the Ozark Mountains. For details on routes, excursions and prices, see www.amrailroad.com 
Eureka Springs Accommodation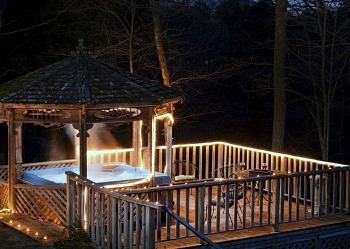 Outdoor Hot Tub at the 5 Ojo Inn
Cinnamon Valley Cottage in Eureka Springs
Some places to stay for that Arkansas romantic getaway or anniversary in Eureka Springs, AR:

5 Ojo Inn is a romantic B&B resort in Eureka Springs, AR. Their all-inclusive Arkansas honeymoon package offers 2 nights in a romantic honeymoon suite with in-room hot tub, gourmet breakfasts and dinner, and his and hers spa massage treatments. 2015 Rating* for Romantic Eureka Springs B&B's: 100% of Couples Rate It Excellent/Very Good. (5 Ojo St, Eureka Springs, AR  800-656-6734)
Cinnamon Valley Hideaway Romantic Cottage - this secluded Ozark Mountains cottage is the prefect romantic retreat for couples in Eureka Springs, with loft bedroom, private deck & barbecue and jetted spa tub.
The New Orleans Hotel & Spa will pamper your romantic weekend with stylish and spotlessly clean rooms, on site spa services, and a location close to downtown shops and restaurants. 2015 Rating* for Romantic Eureka Springs Hotels: 90% of Couples Rate It Excellent/Very Good. (63 Spring St, Eureka Springs, AR  800-243-8630)
Arkansas Romantic Getaway Scenic Routes - driving through the Ozark Mountains is one of the most scenic drives anywhere in the southern US States. And especially in autumn (mid to late October), here are two foliage routes not to miss:
Arkansas Highway 7 Scenic Byway through the Boston Mountains from Buffalo, AR to Russellville, AR.
Highway 14 through the Ozark National Forest between Mountainview, AR and Yellville, AR.
More Romantic Small Towns of Arkansas
Hardy - small but extremely attractive Ozarks community with historic buildings and downtown, a vintage car museum, numerous places for hiking and kayaking, and some good eateries.  
Van Buren - check out their gorgeous and historic main street, or wander around the Farmer's Market (Every Wednesday and Saturday from April to December) for a taste of area produce, baked goods and local arts.
Mountain View - surrounded by rivers and lakes, and home to some excellent folk music, as the town is a hot bed of artists and performances during their Folk Festival (held annually in April) and throughout the year.
Altus - there's tasting at any of the 4 wineries here in the "Wine Capital of Arkansas". 
Enjoying a Hot Tub Soak, Arkansas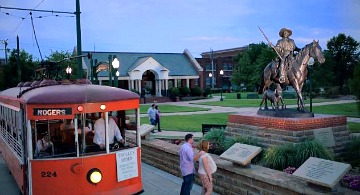 Trolley Stop in Little Rock, AR
Little Rock, Arkansas Romantic Getaway
Old Mill Park - One of the most romantic spots in Little Rock has to be Old Mill Park. Made famous in the movie Gone With the Wind, the quiet and picture perfect garden and setting is a great spot for a romantic picnic.
River Market – lots of activity in this fun indoor market in Little Rock. A great place to shop for crafts and collectables, and try different foods and ethnic dishes too.
Romantic Restaurants in Little Rock, AR:
Try Camp David (600 Interstate 30, Little Rock, AR 501-975-2267) for their attractive atmosphere and custom sauces made table side.
Or enjoy romantic dining and one of the best river views in Little Rock at the Brave New Restaurant (2300 Cottondale Lane, Suite 105 501-663-2677) with their fine wine list and chocolate crème brulee.
Romantic Little Rock, Arkansas Hotels & Inns
Residence Inn Little Rock Downtown - romantic with that fresh "new hotel" smell (opened in 2013). King Rooms are air conditioned, there's a nice outdoor pool and fire pit, and you can walk to the River Market, Clinton Presidential Library & more. 2015 Rating* for Romantic Little Rock, AR Hotels: 98% of Couples Rate It Excellent/Very Good. (219 River Market Ave, Little Rock, AR  501-376-7200)
Rosemont Luxury Bed & Breakfast - this romantic B&B is located in the historic downtown Little Rock River Market area, and has a romance package in a spa suite with wine, candles and chocolates. 2015 Rating* for Romantic Little Rock B&B's: 93% of Couples Rate It Excellent/Very Good. (515 W 15 St, Little Rock, AR  501-374-7456)

Arkansas Romantic Getaway & Anniversary Packages
Here's 2 Arkansas romantic getaway hotel & inn packages perfect for your honeymoon or anniversary in Arkansas. We try to bring you inns that offer a little more than just the standard "roses and box of chocolates"...
Lookout Point Romance Packages - featured above, they have a very nice 3-night package which would suit any romantic weekend, anniversary or honeymoon escape. Included is whirlpool suite accommodation, wine chocolates & appetizers, a couples massage, admission for 2 to Garvan Woodland Gardens in Hot Springs National Park and a $50 romantic dining credit.
More...
Need a getaway from Arkansas? Straight north, Missouri offers wine country touring and some great fine accommodation options, and heading southwest gets you to fun getaways in Texas. Or, travel straight west and discover the mix of outdoors and history that is unique to Oklahoma getaways.
Air Travel: Many airlines have non-stop flights to Little Rock, Arkansas. They include:
Delta
Southwest
American Eagle
US Airways
United
Official Arkansas Tourism Site: Arkansas.com
*ERV Rating: our unique, non-scientific rating formula for romantic hotels which includes:
Romantic Amenities: such as an in-room 

JACUZZI

®,

suites with a Whirlpool bath, scenic view, lounge, etc
Location: proximity of hotel to restaurants, pubs, downtown, etc
Clientele: demographic the hotel attracts (couples, families with kids, business travelers, etc)
Popularity with Couples & Honeymooners: based on variety of social media & crowd-sourced reviews.   
Excellent Romantic Vacations - Top Pages
---