Romantic Getaways in Texas - Love Your Travel in the Lone Star State
Fun Romantic Getaways in Texas – Beaches, B&B's, and Travel Ideas for Couples.
Romantic Vacations Home › Romantic Getaway › Texas
The San Antonio Riverwalk is a Must-See Highlight of Any Romantic Getaway in Texas
By Greg Mattson, ERV Editor - Updated: Jul 20, 2018
By: Greg Mattson, ERV Editor - Updated: Jun 20, 2018   

Here's our guide to travel in Texas for two! The Lone Star State is huge (800 miles across each way), so we'll just cover a few of the highlights here for a romantic getaway or weekend. 

Planning Your Romantic Getaways in Texas – The best time to visit Texas would be either the spring (wildflowers blooming!) or fall, when temps are moderate. The summers can get very hot, with high humidity.

Romantic San Antonio, TX
The San Antonio River Walk - it's like a small slice of Venice, Italy in downtown San Antonio! 

Shops and restaurants crowd along the tree-lined canal and promenade, with historical sites like the Alamo and La Villita just a short walk away. You can pile on with the tourist crowds for a river barge tour, but just being here is the best part.

Tip: From May to early September, it can feel like 1/2 of Texas is "Walking the Walk" with you! Try late afternoon or later in the evening (after 9 PM) for a romantic stroll along the canal.

Romantic Restaurants on the San Antonio River Walk: try to land a water-side table for two along the River Walk. 2 options we like on the quieter west side: Southern cuisine with a flair is nearby at Biga on the Banks (203 S. St. Mary's St, 210-225-0722), one of the best restaurants in the San Antonio River Walk. Or just a little further east along the Walk fronting the Westin Riverwalk Hotel is Zocca (420 W. Market St, 210-444-6070) with their mouthwatering shrimp pesto pizza.
Hotel Contessa - Romantic River Walk Hotel in San Antonio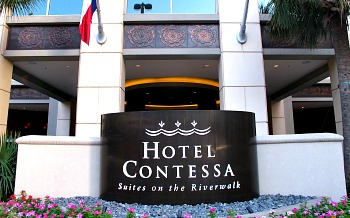 Hotel Contessa, on the San Antonio RiverWalk
King Bed Suite at the Hotel Contessa
Hotel Contessa - we loved our stay here at this romantic River Walk hotel in San Antonio. It's located on the quieter side of the walk, and a stroll around the hotel by the water at night is just beautiful. Rooms are spacious and fully up to date with flat-screens and Starbucks coffee, and the rooftop pool has some great views of the city. The on-site Las Ramblas restaurant is the only Spanish restaurant on the RiverWalk, and has romantic outdoor seating by the water.  What Other Couples Said:

"Wonderful Anniversary on the River Walk"..."Six Stars!"..."Spacious, Comfortable Suites with Unique Art".

2017 Rating* for Romantic San Antonio TX Hotels: 89%

of Couples Rate It Excellent/Very Good.

(306 W Market St, San Antonio, TX  210-229-9222)
---
Romantic Getaways in Texas Hill Country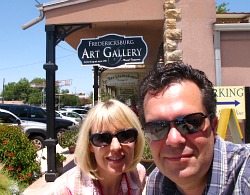 If you think the rural part of the state is just one big dry desert, think again. Texas Hill Country stands out as one of the prettiest areas of the Southwest. Where is it? Imagine a triangle of sorts between Austin, Fredericksburg and San Antonio filled with meadows and streams, rolling hills and interesting towns.
Some romantic places & things to do on a Hill Country vacation or honeymoon:
Fredericksburg, TX Romantic B&B's - spend a night or two at a great B&B in this attractive, Bavarian-style town, "deep in the heart of Texas". There's a number of day spas in the area if you'd like to really relax, or just do what we did and explore main street, checking out the shops (really friendly folks here!), sampling German sausage and tasting some local wines. 
New Braunfels Vacation Rentals -

affordable and romantic accommodation in condos, hotels and cabins, perfect for exploring the area. See 

restored and terrific Gruene Hall (America's oldest dance hall), plus check out wine tasting and antiques. 

Just park your car near the corner of Hunter & Gruene Rds and walk to everything. 
Texas Hill Country Wine Trail - a collection of 16 wineries that have special events, tastings, etc. If you've got a car, this makes a nice road trip.
Bandera, TX - this little town northwest of San Antonio calls itself the Cowboy Capital of the world, and they're not kidding! You gotta see it! Saddle shops, saloons, horses parked alongside trucks, and some wild-west diners.
Wine Tasting at The Grapevine, Gruene, TX
Cowboy Parking Only in Bandera, TX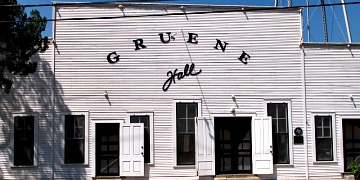 Romantic Gruene Hall in TX Hill Country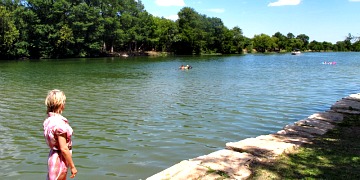 Guadalupe River, Kerrville Schreiner Park
Texas Swimming Holes
If you're on the road in Texas during late spring & summer, nothing beats the heat like an old-fashioned dip in one of the states great swimming holes. Here's 2 we jumped into… 
Barton Springs Pool: get relief from Austin's city heat with this springs at 2102 Barton Springs Rd. We came down for a plunge on a hot Saturday afternoon in July, and it was just crawling with people. So we recommend try this location on a quieter weekday afternoon during summer. Cost was $3 per adult.
Kerrville-Schreiner Park: enroute from Austin to San Antonio on our tour of Texas Hill Country, we stopped for a fantastic ½ hr swim in refreshing water of the Guadalupe River. Peaceful and shady, with easy access off the Hwy. 2012 park entry rates: $4 per person. The staff were great, they even gave us a 30 min pass for free to try it out! Located on Hwy 173 just south of Kerrville, TX.
Romantic Ranch R&R in Texas
Blisswood Bed and Breakfast Guest Ranch is a place for couples to enjoy peace, relaxation, and reconnect with someone special. 

The property features private houses, cabins and suites, including the often-requested Enchanted Cabin. Enjoy

 moonlit lakeside strolls, horseback rides, and romance packages that include spa treatments, champagne, and chocolate-covered strawberries. 

2017 Rating* for Romantic Texas B&B's: 92%

of Couples Rate it Excellent/Very Good.

(13251 Newberg Rd, Catspring,TX  713-301-3235)
---
Texas Honeymoon Planner:
Texas Honeymoon Hotel Suites & Packages - more than just a weekend getaway in the Lone Star State? If you're planning a vacation together here right after your wedding day, check out our brand new 2016 guide to the most romantic honeymoon hotels and packages in great spots like San Antonio, Houston, Dallas, Austin and the Texas Gulf Coast. 
Romantic Getaways Close to Texas: 
Oklahoma's Most Romantic Getaways - Hotels, inns and romantic travel destinations
Romantic Travel in Arkansas - what to see and where to stay for getaways in Arkansas.
---
Dallas, TX Romantic Getaways
Dallas/Ft. Worth might be the first stop on your Texas romantic getaway if you fly here. Avant garde Deep Ellum is a cool collection of cafes, dance clubs, coffee houses and one-of-a-kind shops. 
The Sixth Floor Museum at Dealey Plaza, the site of the Kennedy Assassination, is a must-see Dallas attraction, as is the Fort Worth Stockyards, for a good dose of cowboy culture and the romantic west!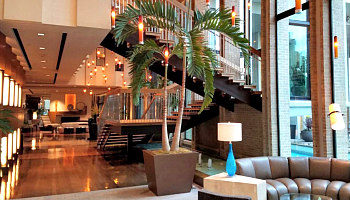 Lobby of the Romantic Highland Hotel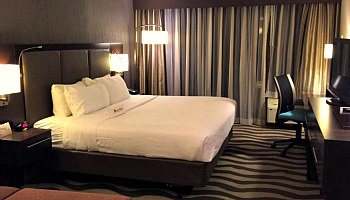 Room at the Magnolia Hotel, Dallas
Magnolia Hotel - a romantic but relatively inexpensive boutique hotel in downtown Dallas that's close to lots of attractions and dining. In addition to updated rooms with deep soaking tubs, you'll enjoy a free breakfast, plus complimentary beer & wine in the evenings as well as well as bedtime cookies. What Other Couples Liked:

 Free Breakfast & Evening Cookies...Cocktail Hour...Large & Comfortable Queen Suites. 

2017 Rating* for Romantic Dallas TX Hotels: 86%

of Couples Rate It Excellent/Very Good.

(1401 Commerce Street, Dallas TX  888-915-1110)
Highland Hotel - affordable luxury at this boutique hotel in Dallas' Lakewood neighborhood, with fitness center, heated outdoor infinity pool and much more. What Other Couples Liked:

 Very Comfortable Beds...Boutique Hotel Hilton-Style...Gorgeous Hotel Lobby. 

2017 Rating* for Romantic Dallas TX Hotels: 84%

 of Couples Rate It Excellent/Very Good.

 (5300 E. Mockingbird Ln, Dallas, TX  888-915-1110)
Romantic Restaurants in Dallas/Fort Worth: Looking for a quieter place to enjoy some tasty ribs? TryThe Grape

 (2808 Greenville Ave). If you're in the mood for something more Parisian, the 

French Room

 inside the Adolphus Hotel has been rated as perhaps Dallas most romantic dining.
Romantic Inn Near Dallas/Fort Worth: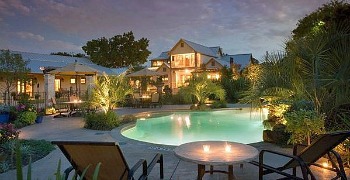 Inn on Lake Granbury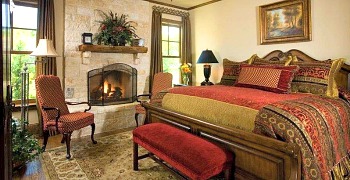 Deluxe Room, Inn on Lake Granbury
Inn on Lake Granbury - set in the historic town of Granbury, TX, this award-winning lake front inn offers the perfect romantic getaway, honeymoon or anniversary in Texas, just 1 hrs drive from the Dallas/Ft.Worth area. 

Luxury rooms feature steam showers and jetted tubs, and among the beautiful acres of lush gardens you'll find a beautiful salt water pool and romantic waterfall. Fabulous dining and shopping is just a short walk away in historic Granbury Square.

What Other Couples Said:

 "Fantastic as Usual"..."Magical Couple's Escape That's Worth Every Penny"..."Incredible Breakfast, Peaceful Weekend". 

2017 Rating* for Romantic Texas Inns:98%

 of Couples Rate It Excellent/Very Good. 

(205 West Doyle Street, Granbury TX  877-573-0046)
---
Austin, TX for Couples
South Congress: there's a saying down here: "Keep Austin Weird." And South Congress does it in a fun way!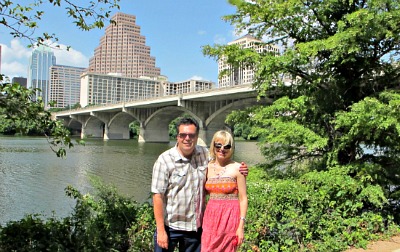 If you're from out of state (like us), this entertaining strip just south of the city center will dispel a lot of myths you might have about Texas and Texans. You can eat in (big choice of restaurants) or out (food trucks), and snoop around some very eclectic stores, art retailers, pubs and clubs with promotions like "Hippie hour"!
Romantic Austin TX Accommodation: Heywood Hotel - this small boutique inn gets top marks for it's bright, immaculate rooms, 2 outdoor lounges, luxury tubs and private patios. It's close to the eclectic part of Austin with all it's bars and dining, and also all the wonderful trails along the lake. 2017 Rating* for Romantic Austin TX Hotels: 97% of Couples Rate It Excellent/Very Good. (1609 E. Cesar Chavez St., Austin, TX  512-271-5522)
Romantic Walk in Austin: if you want a nice stroll along the water, Lady Bird Lake Trail is an obvious choice. There's great views of the city, and if you'd rather be on the water instead of beside it, you can get on a boat tour or even rent water bikes just in front of the Hyatt Hotel. 

Marker 10 at the Hyatt Hotel: Superb patio bar on the edge of Lady Bird Lake – great place to wind down under the shady trees after a long day.
Driving from Houston to Austin, TX:
If Austin is your weekend getaway destination, an interesting stop along Hwy 290 is Brenham, TX (about ½ way).
The historic downtown is good for a quick explore (Maureen found a great second-hand book store), and we ducked into Must Be Heaven (107 W Alamo) for some of their delicious Dutch apple pie with ice cream!
---
Romantic Spots in Houston, Texas 
A Quiet Spot by the Water in Hermann Park, Houston TX
Hermann Park - a nice patch of green near downtown Houston. Couples can spend time by the Reflection Pool, see the Houston Zoo, or rent a paddle boat for two on McGovern Lake.
Galveston Island – Gulf coast beaches plus a whole range of amusements, activities, restaurants and accommodation. 
Other romantic places in Houston include the Montrose District and it's eclectic assortment of eateries, galleries, shop and nightclubs. There's also shopping and entertainment at Bayou Place. Art lovers will appreciate the Museum of Fine Arts and the Menil Collection. 
Dining for Two: For Romantic Restaurants in Houston, just around the corner from Montrose District is Westheimer Rd, where a very romantic "fondue for two" awaits in the booths of the Melting Pot (6100 Westheimer Rd). Mark's American Cuisine (1658 Westheimer Rd) with its gorgeous dining hall has been voted the most romantic restaurant in Houston.
Romantic Houston Hotels - what's the best place to stay for your romantic getaways in Texas' largest city, Houston? Find out here in our Guide to Romantic Houston TX Hotels. You'll see 3 terrific boutique hotels in downtown Houston, plus an affordable inn a little further out that's got a great pool and an awesome mid-week deal!      
---
Anniversary Packages in Texas
The Blisswood Romantic Texas B&B (see above) has your anniversary all looked after with a romantic package that is only a $159 add-on to your room rate at this honeymoon B&B just an hour west of Houston. For your special getaway, they will provide: 
Flowers
Champagne
Chocolates & appetizers
Picnic for 2 in a romantic gazebo by the lake
Texas Beaches
Two of the best romantic getaways in Texas beach resorts would include:
South Padre Island – gets swamped during spring break, but otherwise is one of Texas' top beaches for sand, warm water and swimming. Lots for dining and entertainment too.
Galveston Island – Gulf coast beaches plus a whole range of amusements, activities, restaurants and accommodation.
More Info: www.traveltex.com

*ERV Rating: our unique, non-scientific rating formula for romantic hotels which includes:
Romantic Amenities: such as an in-room 

JACUZZI

®,

suites with a Whirlpool bath, scenic view, lounge, etc
Location: proximity of hotel to restaurants, pubs, downtown, etc
Clientele: demographic the hotel attracts (couples, families with kids, business travelers, etc)
Popularity with Couples & Honeymooners: based on variety of social media & crowd-sourced reviews.   
Excellent Romantic Vacations - Top Pages
---