Michigan Romantic Getaways & Weekend Escapes  
Michigan
FTC: This page uses affiliate links. More. 


In Michigan, You're Never Far from a Romantic Spot on a Great Lake Shore
By: Greg Mattson, ERV Editor - Updated: Jan 1, 2017   

Michigan's motto is "If you Seek a Pleasant Peninsula, Look About You". With 4 Great Lakes on it's doorstep, romantic travel is easy here. 
All along the shore of Lake Michigan and inland, you'll find lots of attractions in the cities and great outdoors for romantic weekend getaways. Travel both the Upper and Lower Peninsulas, explore white sand beaches, lighthouses, Mackinac Island, Tahquamenon Falls, and of course, Detroit.
The Best Time to Visit Michigan - probably early spring to autumn. If you're planning any romantic getaways here in late September to late October, the Fall foliage will make it a spectacular getaway. 
5 Ideas for Detroit, Michigan Romantic Getaways 
1. Motown Historical Museum - see memorabilia from the Supremes, Jackson Five, The Temptations and many others.
2. Do a Pub Tour - Detroit is home to some excellent local beer, and The Handle Bar (734-277-2181) offers several pedal-powered "pub on wheels" tours of downtown bars (must be 21+).  
3. Greek Town - food and fun at one of Detroit's best shopping, entertainment and dining districts. 
4. Detroit River Walk - this wide lakeside promenade is THE place for a romantic stroll along the water in the Motor City. 
5. Eastern Market - if your travel in Michigan getaway finds you in Detroit on a Tuesday or Saturday, don't miss this excellent market.
6. *BONUS: Book a Romantic Detroit Hotel Spa Tub Suite Getaway
Romantic Detroit Hotels & Inns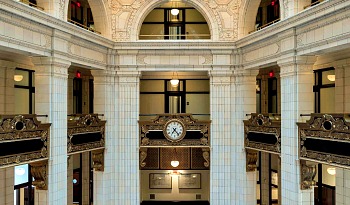 Gorgeous Interior of the Aloft Detroit Hotel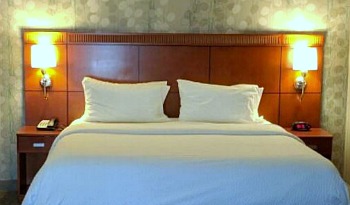 Bedroom at the Courtyard Detroit Downtown
Mid-Range:
Aloft Detroit Hotel  - What Other Couples Said: "Gorgeous Boutique Hotel in Awesome Location"..."Unexpected Gem in Downtown Detroit"..."Cool Hotel Close to Everything". 2017 Rating* for Romantic Detroit Hotels: 93% of Couples Rate It Excellent/Very Good. (1 Park Ave, Detroit MI  313-237-1700)
Affordable:
Courtyard Detroit Downtown -  What Other Couples Said: "Anniversary Stay"..."Cozy and Convenient"..."Close to the People Mover". 2017 Rating* for Romantic Detroit Hotels: 89% of Couples Rate It Excellent/Very Good. (333 E. Jefferson Ave, Detroit MI  313-222-7700)
---
More Romantic Spots & Places to Stay in Michigan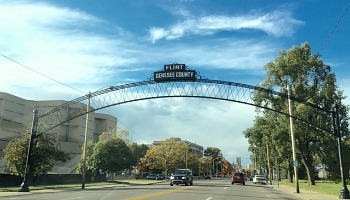 Driving in to Flint, Michigan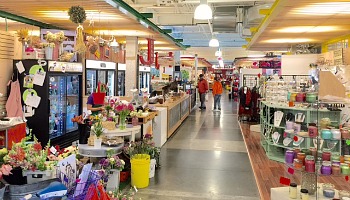 Lots to Explore at the Flint Farmer's Market
Flint - unassuming Flint, MI is actually more famous than you might think. It's the home of filmmaker Michael Moore and his award-winning documentary Roger & Me. For romantic getaways here, there's the Flint Farmers Market (300 E. First St, Flint MI) which is full of local crafts, arts, produce and delicious eats (don't miss the delicious Bread Cheese). It's easy to put together your picnic lunch here, so why not take it to go and head out together to Stepping Stone Falls (5161 Branch Rd, Flint MI) for a scenic lunch by the water.
Ann Arbor - "South Main" is the place to be here, with it's lively assortment of shops and cafes. After you've sampled a local craft beer at one of the pubs or experienced the awesome "Truffle Fries" at the Jolly Pumpkin (311 S. Main St), it's time to head out. Gallup Park Canoe Livery (boat and kayak rentals) or the Crazy Wisdom Tea Room are a couple of the spots romantics seek out in Ann Arbor.

The Hilton Garden Inn Ann Arbor - this romantic place to stay is easy on the budget, and has spacious King suites, evening cocktails in the lounge and a outdoor patio & fire pit. 2017 Rating* for Romantic Ann Arbor Hotels: 94% of Couples Rate* it Excellent/Very Good (1401 Briarwood Circle, Ann Arbor MI  734-327-6400)
Wine & Chocolate Weekends in Michigan - if you're looking for an afternoon of wine tasting, head down to the southern Michigan wineries (southwest of Kalamazoo around Coloma and Baroda, MI). Tastings and exploring the small art galleries and antique shops make for a fun day trip, and at the Chocolate Garden in Coloma (2691 Friday Rd) you can sample their incredible handmade chocolate truffles.

---
Romantic Michigan Waterfront Hotels & Inns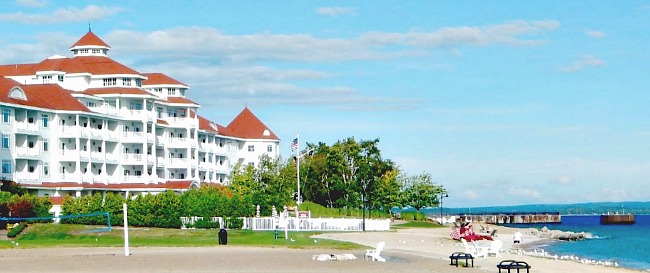 The Romantic Inn at Bay Harbor on the Waterfront of Lake Michigan
Bay Harbor:  

Inn at Bay Harbor - this romantic waterfront resort in Bay Harbor, Michigan has everything for a romantic weekend or vacation, including Whirlpool

 s

uites, spa, private beach, and gorgeous views of Lake Michigan. 2017 Rating* for Romantic Petoskey, MI Hotels: 86% of Couples Rate* it Excellent/Very Good (3600 Village Harbor Dr, Bay Harbor MI  855-351-4295)
Mackinac Island:
Hotel Iroquois - award-winning small hotel with waterfront suites, fine dining (including legendary

 home made fudge!) and repeat guests who book months in advance. 

2017 Rating* for Romantic Mackinac Island, MI Hotels: 94%

 of Couples Rate* it Excellent/Very Good 

(7485 Main St, Mackinac Island MI  844-246-0650)
Mackinaw City:
Traverse City:

Muskegon:
Michigan Hot Tub Getaways:
Romantic Great Lakes Getaways in Michigan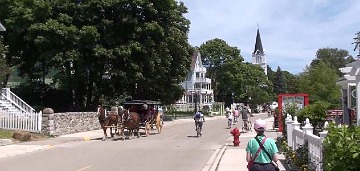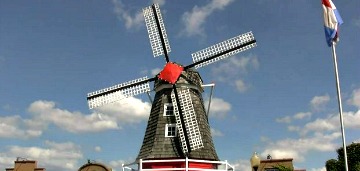 The shores of the Great Lakes are where scenic lighthouses and resort towns abound in Michigan. You can board the ferry from Mackinaw City to Mackinac Island and it's lovely Victorian village. Harbor Springs is a great spot to enjoy a cappuccino or picnic lunch for 2 on a park bench looking out on a scenic view of Lake Michigan. And the route on hwy M-119 (know as Tunnel of Trees) is a great reason to get back in the car. South Haven and St. Joseph are active little places with attractive galleries, B&B's and great places to eat. Holland MI has got it's picturesque canals, specialty shops and dining. For scenic drives, the Lake Michigan Shoreline between Pentwater and Montague is very attractive. 

---
Romantic Michigan B&B's, Cabins & Cottages
Castle in the Country Bed and Breakfast - this romantic SW Michigan bed and breakfast is located on 65 enchanted acres, where you can picnic beside a private lake, go kayaking, hike through the woods or enjoy a couples treatment in the on-site spa. Spacious rooms and suites include Whirlpool tubs, cozy fireplaces and a delicious full breakfast. 2017 Rating* for Romantic Michigan B&B's: 95% of Couples Rate* it Excellent/Very Good (340 M-40 South, Allegan, MI  269-673-8054

)  
Waterfront &

Romantic:

Michigan Vacation Rentals
Romantic Cottages in Saugatuk, Michigan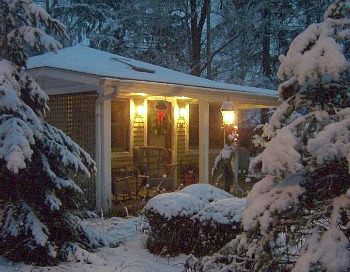 Hidden Garden Cottages & Suites - If your Michigan getaway equation is "romantic cottage + fireplace + whirlpool tub", we have the answer here for you. Saugatuck's most romantic small inn enjoys a perfect downtown location, four poster beds and in-room breakfast.
What Other Couples Said: "Perfect honeymoon cottage with hot tub"..."Awesome home made muffins and amazing hosts"..."Unforgettable 20th Anniversary retreat in Saugatuk". 2017 Rating for Romantic Michigan B&B's: 97% of Couples Rate* it  Excellent/Very Good (247 Butler St, Saugatuck, MI 888-857-8109)
A Luxurious Michigan Anniversary Package
The Grand Hotel on Mackinac Island in Michigan was named by the National Trust for Historic Preservation as one of twelve Distinctive Destinations.  It has 385 rooms, no two of which are alike.  There are several unique themed rooms, as well as suites and cottage rooms. Over the years, it has been the centerpiece of many Michigan romantic getaways and honeymoons.
The anniversary package at the Grand Hotel starts at $1949 for non-lake views and $2395 for lake views (2013 Rates). You get a three-night stay, full breakfast and five-course dinner each day, fresh flowers, champagne and fudge.  You also receive afternoon tea for two on one of the days of your stay and a one-hour private horse and carriage tour. A 10% discount on any future anniversary package stays is also included. Call 1-800-33-GRAND.
 Michigan Romantic Getaways by Boat & Train:
Baysail - Appledore Tall Ships: Sail along in the comfort of a two-masted Schooner on Saginaw Bay and enjoy the sights along with a 3 course dinner.
Detroit Princess Riverboat - weddings, moonlight cruises, Motown dinners and more, all on board Detroit's only romantic Riverboat. 
Tahquamenon Falls Wilderness Excursion - full days tour that starts with a ride through the Upper Peninsula forest on a narrow-guage railroad, then a 20 mile riverboat cruise to the spectacular upper Falls. 
*ERV Rating: our unique, non-scientific rating formula for romantic hotels which includes:
Romantic Amenities: suites with an in-room Whirlpool bath or 

JACUZZI

®

Tub

,

scenic view, fireplace, lounge, etc
Location: proximity of hotel to restaurants, pubs, downtown, etc
Clientele: demographic the hotel attracts (couples, families with kids, business travelers, etc)
Popularity with Couples & Honeymooners: based on variety of social media & crowd-sourced reviews.   
Excellent Romantic Vacations - Top Pages
---