Plan a perfect Pennsylvania Romantic Getaway  
FTC: This page uses affiliate links. More. 

Pennsylvania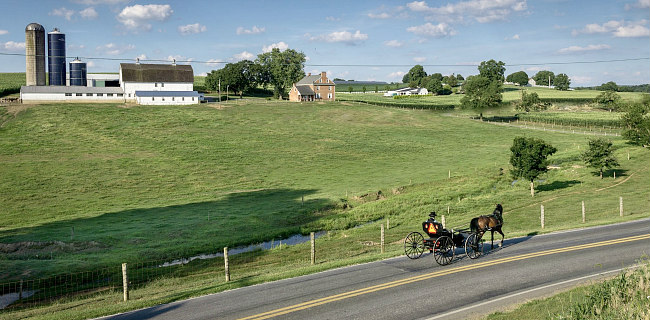 Pennsylvania's Romantic & Scenic Amish Country
By: Maureen Mattson, ERV Editor - Updated: Jul 6, 2020

The state of Pennsylvania is one of the most romantic destinations for couples in the Eastern USA. 
There's a wide range of scenic spots, wine trails, attractive towns and villages, and a big selection of romantic B&B's and inns near great places to stay like New Hope, Amish Country and Lancaster, PA.

Best Time for a Pennsylvania Romantic Getaway: October and November are autumn foliage season in Pennsylvania, and the fiery forests add to the romance of the land. Winter brings cold temps and some snow, usually more in the western side of the state. You can enjoy a getaway any time of the year, although summer brings the usual crowds of tourists to Dutch Country.
---
Brandywine Valley
Whirlpool Tub - Brandywine River Hotel
Brandywine River Hotel

- Conveniently close to all the local attractions, the Brandywine River Hotel is a great choice for your romantic stay in historic Chadds Ford. Breakfast is included in your stay, as is Wi-Fi, fitness center and parking. Upgrade to the King room with fireplace and Whirlpool tub. 2020 ERV Rating*: 76% - Good. (1609 Baltimore Pike, Chadds Ford  PA 610-388-1200)
Fairville Inn, Chadds Ford, PA
Fairville Inn

- Once an 1820's-era farmhouse on the National Register of Historic Places, now a super-romantic B&B in the bucolic landscape of Chadds Ford. Enjoy the Chef-prepared breakfast, afternoon, high end linens, robes, and toiletries. Fresh flowers in your room along with free Wi-FI are added perks. 2020 ERV Rating*: 88% - Very Good. (506 Kennett Pike Route 52, Chadds Ford PA  610-379-3707)
Romantic Things to Do in Brandywine Valley, PA:
1. Experience Longwood Gardens botanical garden in Kennett Square. Stay until dark to see the fountains set to music. 
2. Discover the history and cuisine of Kennett Square on a 3-hour Sunday walking food tour.
---
Romantic New Hope, PA
Quaint New Hope, PA is one of the top vacation spots in Pennsylvania for couples. It's perfectly situated on the banks of the Delaware River, with lots to see and do, and you can pretty much walk everywhere!

Golden Plough Inn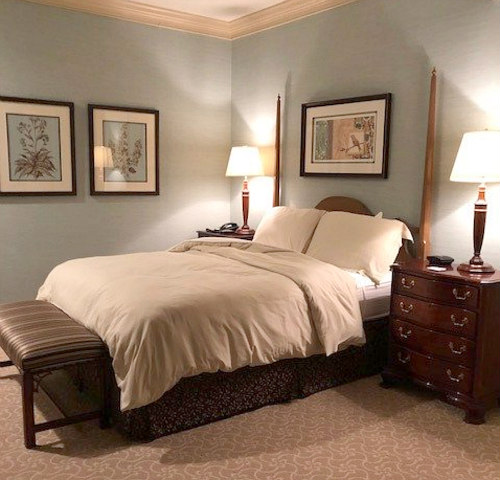 Room at the Golden Plough Inn
Golden Plough Inn at Peddler's Village

- In the heart of Buck's County's Peddler's Village, the Golden Plough is a fine destination for a Pennsylvania getaway. Rooms & suites offer colonial stylings with amenities like Whirlpool tubs, gas fireplaces and Wi-Fi. Spa services are available, and there's beer & wine available for purchase in the lobby area. 2020 ERV Rating*: 82% - Very Good. (5883 Lower York Rd, New Hope PA  215-794-4004)
The Inn at Bowman's Hill - one of New Hope, Pennsylvania's most romantic Bed and Breakfasts. Selected by Forbes Traveler's Ten Most Romantic B&B's in the USA, Europe and Mexico. 

Located in the beautiful Delaware Valley, this romantic PA inn offers luxury jetted tub suites, as well as engagement, honeymoon and anniversary packages. It's the only AAA 4-Diamond lodging in Bucks County, and is just 90 minutes from New York City and 40 minutes from Philadelphia. 

2020 ERV Rating*: 96%

 - Excellent. 

(518 Lurgan Rd, New Hope, PA 215-862-8090)

  
Romantic Things to Do in New Hope, PA:
1. Climb aboard the Mule barge on the Delaware River, or opt instead for a tranquil canoe ride.

2. Enjoy the autumn foliage on the New Hope & Ivyland Steam Train
3. Browse through the galleries, craft shops and markets along the canal and on Main St.
4. Go for a romantic horse-drawn carriage ride
5. In the evening, dine in one of the many romantic restaurants in New Hope, PA such as Odette's (romantic dining on the riverbank of the Delaware River, 215-862-2432) or at La Terraza (cozy Italian eatery by the canal, 215-862-6121).
Romantic Spots in Lancaster County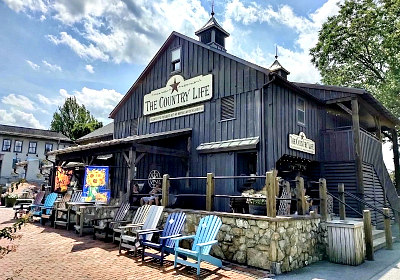 The farmland and rolling hills of Lancaster County's Amish Country offer some of the best and most romantic scenic drives in Pennsylvania. You'll pass farmers in their fields, covered bridges, and small, romantic towns like Bird-in-Hand and Intercourse, PA.
King's Cottage B&B - several rooms here with Whirlpool tubs and a fireplace. You'll love this turn-of-the-century Spanish mansion's Sun Room with a jet spa tub! (1049 East King St, Lancaster, PA  717-397-1017)
After Eight Bed and Breakfast - in Amish Country PA, has been gathering up some pretty loyal clientele (one couple called it the "creme del la creme" of romantic inns!) Close to area attractions, this inn has Whirlpool tubs and free Wi-Fi. (2942 Lincoln Hwy East, Gordonville, PA  888-314-3664) 
things to do in Lancaster county
1. Check out a farmer's market for tasty produce, some Shoofly Pie or local Dutch Country wine.
2. Go for a  romantic ride in an Amish buggy! (we can suggest Abe's Buggy Rides, 2596 Old Philadelphia Pike, Bird-in-Hand, PA  717-392-1794)

Lake Erie PA
Courtyard by Marriott Erie Bayfront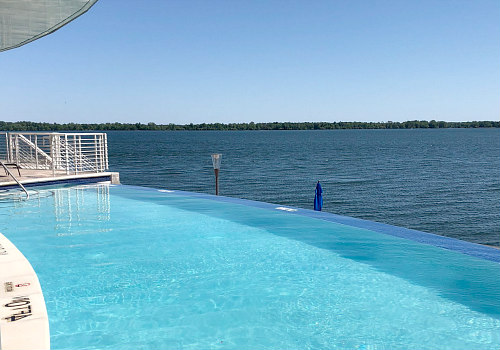 Infinity Pool - Courtyard Erie Bayfront
Courtyard by Marriott Erie Bayfront - A waterfront retreat located on Sassafras Pier overlooking The Presque Isle Bay. In addition to breathtaking views, the hotel offers free Wi-Fi, fitness center, hot tub, and a gorgeous waterfront infinity pool. The Shoreline Bar and Grille is great for watching sunsets over the Bay. 2020 ERV Rating*: 90% - Excellent. (2 Sassafras Pier, Erie PA 855-821-4553)
Spencer House Bed and Breakfast - Originally built in 1876, the restored Victorian mansion is located on Historic Millionaire's Row. It's conveniently close to downtown restaurants and attractions. A full hot breakfast is served each morning, and little extras, such as chocolates, rose petals strewn across the bed or a bottle of wine can be arranged in advance. The Captain's Room on the third floor includes a 2-person Whirlpool Tub. 2020 ERV Rating*: 96% - Excellent. (519 W 6th St, Erie, PA 16507-1128)
Lake Erie PA Romantic Things to Do: 
1. Relax on the seashore at Preque Isle State Park, a huge sandy peninsula jutting out into Lake Erie. Visit the historic lighthouse or take a sunset boat tour. 
2. Drive the Lake Erie Wine Trail and tour over 20 award-winning vineyards. 
Hershey, PA
Red Umbrella B&B

  - Just 7 miles from Hershey, and a short drive to Lancaster, Gettysburg and other PA attractions, the historic brick home was originally built in 1845. Just three rooms (the largest features a spacious Whirlpool tub), full breakfast, and plenty of serenity. 2020 ERV Rating*: 96% - Excellent. (9866 Jonestown Road, Grantville PA 717-315-6276)
The Londonderry Inn - Beautifully restored 1840's era home with stately bedrooms, 10 foot ceilings and beautifully manicured grounds. There are five themed rooms (check out the Whirlpool tub in the Africa Room!) and breakfast is served in either the parlour or outdoor patio. 2020 ERV Rating*: 96% - Very Good. (2764 Horseshoe Pike, Palmyra PA 717-838-7500 - Approx 7 min drive from Hershey. )
romantic Things to do in hershey, pa:
(It's not ALL about the chocolate!)

1. Take a romantic stroll through Hershey Gardens. Open year 'round since 1937, it's got amazing butterfly and tropical plant displays. 
2. Pack a picnic lunch and visit Cullary Vineyards and Winery. Be sure to try the Coco Nostra chocolate wine!
---
valley forge, pa
Pool at the Best Western Plus Inn at King of Prussia
Best Western Plus The Inn at King of Prussia

- Easily accessible from a major gateway into King of Prussia, the Best Western Plus is newly renovated in all public areas, and boasts a new state-of-the-art fitness centre. Your stay includes hot breakfast buffet, Wi-Fi and parking. Select King Suites include Whirlpool Tubs, and there's an outdoor pool, hot tub and fire pit in the large landscaped courtyard. 2020 ERV Rating*: 82% - Very Good. (27 S Gulph Rd, King of Prussia PA 866-237-636)
Alpenhof B&B

- The Alpenhof is a luxuriously renovated inn that was once a stone barn. Choose from 6 themed rooms and a private cottage. Parking, Wi-Fi, use of bicycles and gourmet breakfast are all included. The grounds and flower gardens surrounding the pool are stunning,  and the inn is just 10 miles from Philadelphia International Airport in beautiful Upper Providence Township. 2020 ERV Rating*: 98% - Excellent. (2001 N Ridley Creek Rd, Media, PA 610-891-8222)
Valley Forge, Pa Romantic Things to Do: 
1. Visit Valley Forge National Park and tour Washington's Headquarters at the historic Isaac Potts House. 
2. Take the quirky American Treasure Tour just west of the park in Montgomery County. Experience every variety of pop culture as you take the tram ride through this fun collection. 
harrisburg, pa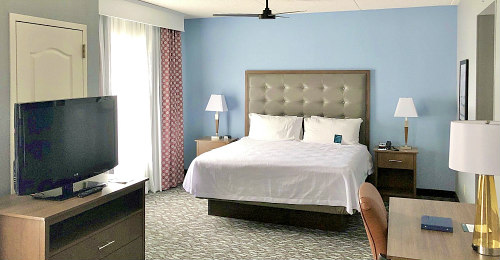 Room - Homewood Suites Harrisburg
Homewood Suites Harrisburg East-Hershey Area

- You'll love Homewood Suites free hot breakfast, and the chain also offers weekday evening socials featuring  complimentary beer, wine and a selection of food. Comfortable rooms include a refrigerator, Wi-Fi and parking, and there's an indoor pool and outdoor recreation area as well. 2020 ERV Rating*: 94% - Excellent. (3990 TecPort Dr, Harrisburg, PA 717-909-4663 )
Romantic Manor on Front B&B
The Manor on Front Bed and Breakfast

- Six smoke-free guest rooms await you at this riverfront B&B, along with library and fireplace, living room, courtyard and garden full of mature trees. Free Wi-Fi, parking, and a full breakfast each morning with coffee and tea are provided. Unbeatable views of the Susquehanna river and sunset included! 2020 ERV Rating*: 96% - Excellent. (2917 N. Front St, Harrisburg PA 717-884-9596)
Romantic Things to See & Do In Harrisburg PA:
1. Visit the State Capital Complex with its grand staircase designed after the Paris Opera House, and giant dome a scale replica of St. Peter's Basilica in Rome.
2. Learn some area history at Fort Hunter Mansion and Park and/or John Harris and Simon Cameron Mansion. Both sit on the Susquehanna River and give a glimpse of life in the 1700s. 
3. Book a Pride of the Susquehanna Riverboat Cruise. One of the only remaining paddle-wheel riverboats in the US, you'll get a great view of the Harrisburg skyline along with a narrated tour. 
---
Pennsylvania Romantic Getaway Hotels and B&B's
Here's four more options for romance & honeymoon hotels and inns in Eastern Pennsylvania:
1. Pennsylvania Honeymoon Suites - a luxury honeymoon in Pennsylvania doesn't have to be expensive: check out these romantic Pennsylvania honeymoon hot tub suites in many of the states best spots, including Philadelphia, Pittsburgh, the Poconos and more. 
3. Romantic Cabins in Pennsylvania - for a getaway in central Pennsylvania, Wapiti Woods Guest Cabin Rentals have private cabins in secluded Elk County, PA. The luxury Honeymoon cabins include a fireplace and spa tub for two. (5186 River Rd, Weedville, PA 814-787-7525)
4. PA Cottages - the Olde Stone Cottage certainly rates as one of the most romantic cottages in Pennsylvania. Opened new in 2006, it features a fireplace and whirlpool tub. And from the side porch you can watch the Amish carriages travel down main street in Lancaster County, PA. (117 East Main St, Terre Hill, PA  888-999-4479)
More Getaways Near Pennsylvania:
Pennsylvania Anniversary, Romance & Elope Packages
Celebrate you next anniversary at the Berry Patch Bed and Breakfast near Hershey, Pennsylvania.  There are six guest suites, or you may want to splurge on a private cottage with whirlpool tub for two. Their romantic Pennsylvania Anniversary Package is $99 (in addition to your room rate), and includes a bottle of wine or sparkling cider, cheese and cracker platter, dozen roses, and a romantic "sprinkling" of rose petals on the bed. (Update: No longer available as a package, but can be purchased separately for the same price - 115 Moore Road, Lebanon, PA  888-246-8826)
The historic Yorktowne Hotel has a fun Pennsylvania romantic getaway package in Yorke, PA starting at just $183/night and includes champagne, chocolate covered strawberries, and breakfast for two. (48 E. Market St, Yorke, PA  800-233-9324)
In lovely Bucks County is the Golden Pheasant Inn, a nice little B&B right on the Pennsylvania canal, with a package that includes fireplace, in-room hot tub, and dinner for 2. (763 River Rd, Erwinna, PA  610-294-9882)
More Romantic Places in PA
Covered Bridges - you'll still find over 200 covered bridges scattered throughout the rich farmland. Make the "Kissing Bridges" a part of your Pennsylvania anniversary or honeymoon!
Doylestown, PA - just one of several attractive small towns in Bucks County, PA. Outdoor activities abound here, and there's plenty of small country inns for a fun weekend getaway from Philadelphia.
Pennsylvania Wine Country - southeastern Pennsylvania has the largest number of wineries and tasting tours in the state. Scenic wine trails in PA are particularly attractive during the autumn foliage season.
*ERV Rating: our unique, non-scientific rating formula for romantic hotels which includes:
Romantic Amenities: suites with an in-room Whirlpool bath or 

JACUZZI

®

Tub

,

scenic view, fireplace, lounge, etc
Location: proximity of hotel to restaurants, pubs, downtown, etc
Clientele: demographic the hotel attracts (couples, families with kids, business travelers, etc)
Popularity with Couples & Honeymooners: based on variety of social media & crowd-sourced reviews.   
Excellent Romantic Vacations - Top Pages
---