A New Jersey Weekend Getaway Guide for Romantic Travel in the Garden State
FTC: This page uses affiliate links. More. 

New Jersey

Romance and the New Jersey Shore Are Made for Each Other
By: Greg Mattson, ERV Editor - Updated: Oct 2, 2014   

Despite Superstorm Sandy and the recent economic challenges in Atlantic City, a New Jersey weekend getaway remains one of the top retreats for couples in the Northeast USA. Up and down the famed Jersey Shore, you'll still find miles and miles of clean beaches, boardwalks, resort towns and summer retreats.
And inland to the north and in Western New Jersey, historic small towns are ready to offer you a peaceful & secluded escape from the stress of city life.
The Best Time to Visit New Jersey: July and August can be crowded in many resort towns, especially on weekends. That makes May - June and September as the best time to see Cape May, the coast and the rest of New Jersey's top attractions.
For affordability, in high season, weekday travel is probably slightly better for a cheap New Jersey getaway or vacation. You'll find less traffic on the Turnpike as well.   
Romantic Getaways in Cape May, NJ
Historic Cape May has long been regarded as one of the most romantic beach resorts in New Jersey. For honeymoon and weekend getaways, Cape May has many great B&B's, hotels and romantic restaurants to choose from.
Things for couples to do in Cape May, NJ include:
carriage rides
boating
vineyard tours
picnics by the Cape May Lighthouse
May to October is probably best time to visit Cape May, NJ, but keep in mind that during summer weekends, this place is packed. So you'll need to book well ahead for the best choice of romantic Cape May B&B's, like the Queen Victoria Bed & Breakfast. 
The scenic drive from Atlantic City to Cape May is a collection of beaches, boardwalks, and places for hikes and romantic picnics (you'll find a few "quirky" attractions along the way too!) On a nice summer day, a scenic way to travel to Cape May is the ferry from Lewes, Delaware to North Cape May, NJ.
---
More Romantic Places in New Jersey
Frenchtown, NJ - relax in this romantic New Jersey river town full of fun recreation, shopping, galleries, and romantic dining (including some great ethnic restaurants.)
Widow McCrea House Bed & Breakfast - spend a romantic & restful evening at this B&B in the Historic riverside village of Frenchtown, New Jersey.
This charming Italianate Victorian Inn features a private cottage, spacious suites & three elegant guest rooms. Beautifully appointed with Fine Period antiques, fireplaces, Jacuzzi tubs, queen size feather bed & private baths throughout. Extras include gourmet candlelight breakfast & a complimentary bottle of wine.
Only minutes from New Hope PA, Lambertville & Flemington, NJ. One night stays are available.
Lambertville, NJ - nestled in the scenic country between NJ and Pennsylvania, Lambertville is a peaceful place for a romantic afternoon. You can explore antique shops, check out the flea market on Saturdays, or rent a bike and ride the trails along the Delaware River.
The short distance from Lambertville, NJ to New York City (70 miles) and Philadelphia (40 miles) makes it a great destination for a romantic daytrip to New Jersey.
Northern New Jersey Weekend Getaway - For a B&B getaway, the Inn at Millrace Pond has a romantic stone cottage with whirlpool tub in the quiet town of Hope, NJ.
New Jersey Weekend Getaway Spots on "the Shore"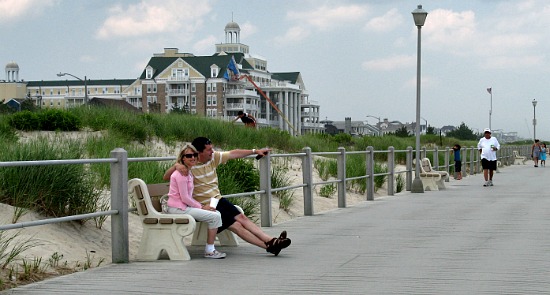 Nice Spot on the Boardwalk, Spring Lake, New Jersey
For romantic getaways in New Jersey, there's "more on the shore"! Here's our ideas some of the most romantic New Jersey resort towns on the coast:
Spring Lake, NJ – less "touristy" than other NJ beach towns, Spring Lake is one of the best places on the Jersey coast for peace & quiet (and romance!). Attractions here include unique shops, a great boardwalk, and a pristine stretch of beach just east of the village.
Best Place for a Romantic Winter Escape in New Jersey - The two of you can bundle up for fun beachcombing on the shore in Spring Lake. Then warm up with your private fireplace and hot tub in one of the suites at the Breakers Hotel. And in the evening, Harrigan's Pub (703 Baltimore Blvd, Sea Girt, NJ) is the perfect place for a warm and hearty romantic dinner.
More Romantic Spots on the New Jersey Shore:
Manasquan - great for young romantics, with good surfing and a thriving nightclub scene.
Ocean Grove - take a stroll on the pier to admire the excellent beach and classic Victorian buildings.
Ship Bottom - a great New Jersey weekend getaway on Long Beach Island.
More Romantic NJ & NE USA on Our Site:
New Jersey Romantic Hotels & Inns
Romantic Inns Along the New Jersey Shore:
The Sandpiper Inn - a very romantic New Jersey oceanfront bed and breakfast in Spring Lake, NJ. After relaxing in your hot tub suite, try out the indoor heated pool, or escape to the beach for a moonlight champagne picnic.
Another romantic place to stay in New Jersey along the east coast is the Atlantis Inn, a luxury B&B in Ocean City, NJ. Very romantic rooms with body spa showers for two, fireplace, and your own rooftop deck with ocean views.(601 Atlantic Ave, Ocean City, NJ 609-399-9871) 
Romantic Spa Resorts in New Jersey:
Ocean Place Resort, Long Branch, NJ - this romantic NJ oceanfront resort takes in a nice stretch of private beach on the New Jersey shore between NYC and Atlantic City. Stroll along the oceanfront promenade, enjoy the pools and whirlpool, or indulge in the European spa.
Crystal Springs Resort - situated in Northern New Jersey in Vernon, NJ. The luxury rooms and suites include fireplaces, and resort amenities include indoor & outdoor heated pools, mineral spa, sports & fitness facilities, and six Golf courses. (Route 94, Vernon, NJ 973-827-5996)
Romantic New Jersey Theme Rooms: Stay at the Summer Nites B&B in North Wildwood, NJ where you both can relive yesteryear in these exotic rooms from the 50's, 60's and 70's.
For More info on a New Jersey Weekend Getaway:
Excellent Romantic Vacations - Top Pages
---