Arizona
Arizona Romantic Getaways - Hotels & attractions 
FTC: This page uses affiliate links. More. 

---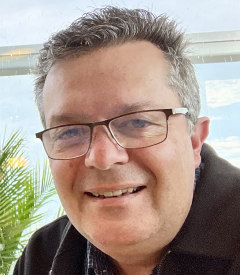 By: Greg Mattson, ERV Editor - Updated: Jan 15, 2023 

Wild West flavor, the rugged outdoors, romantic places to stay, and sunny skies all combine to make Arizona a terrific destination for romantic vacations and honeymoons in the Southwest USA.
Hangin' Out Downtown in Old Scottsdale, AZ
And the night skies in Southern Arizona are some of the clearest in all of continental USA – perfect for star gazing!

Best Time for Romantic Travel to Arizona - Arizona can get oppressively hot from June to August, but if you don't mind staying in the shade close to the pool, there's some great deals to be had at hotels and resorts during these summer months.

Autumn and Spring are excellent times to go. Northern Arizona & the Grand Canyon can be inaccessible during winter months (snow & ice) so plan accordingly.

Phoenix Area Romantic Hotels & resorts
kimpton hotel palomar phoenix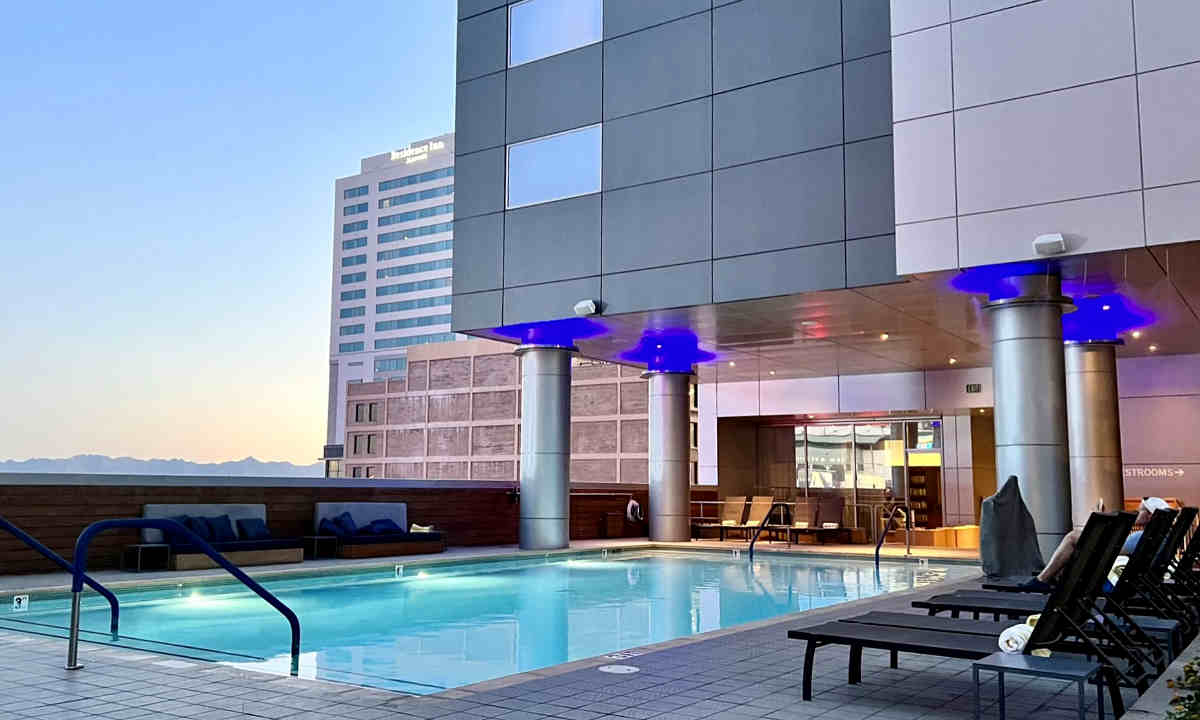 Rooftop Pool & Lounge - Hotel Palomar
Hotel Palomar Phoenix Romantic Suite
Kimpton Hotel Palomar Phoenix

- Award winning and stylish, this Kimpton is a serene oasis right in the middle of the action in downtown Phoenix. We booked a short getaway stay here recently and loved it. The rooftop pool and bar were awesome, and was the 1-2 combo of their complimentary wine hour followed by dinner at their Blue Hound Restaurant. Rooms are spacious and tastefully decorated with Southwest themes, and out the front door, dining and shops are just a few minutes walk away. What We Liked: Friendly and helpful front desk staff, top-notch valet service, sipping cocktails up top by the pool. Worth Knowing: Some construction nearby can make access to the hotel a bit challenging. 2023 ERV Rating: 90% - Excellent. Rates from $177/night. (2 East Jefferson St, Phoenix AZ 602-253-6633)
The scott resort & Spa
Poolside at the Scott Resort & Spa in Scottsdale
The Scott Resort & Spa

- Perfect spot to escape northern winters (or Arizonan summer heat!). Just a 3 minute drive to Old Town shopping an restaurants, with spacious rooms & suites, on-site restaurant, poolside bar, and spa. What We Liked: Pool especially beautiful when lit by Tiki torches at night. 2023 ERV Rating*: 74% - Good. Prices from $249/night. (4925 N. Scottsdale Rd, Scottsdale AZ 800-528-7867) 
Sheraton Desert Oasis Villas

- relax by the pool in Scottsdale, AZ at these spacious villas with 1 & 2 bedroom suites, Whirlpool tubs, full kitchen & more.   
Romantic Things to Do in Phoenix & Scottsdale
Visit Old Town Scottsdale - arts and crafts, souvenirs, restaurants and saloons are just a few of the attractions you'll find in this re-created piece of the Wild West. (4101 N. Scottsdale Rd, Scottsdale AZ)
Sample Some Wine at Su Vino Winery - a date night favorite in the Valley, with a good variety of wines to taste along with desert platters and pairings. (16099 North 82 St, Suite B9, 

Scottsdale AZ  480-994-8466)
Enjoy a View with your Romantic Dinner

 - how about a nice dinner with drinks 

and

 scenic views of the Valley? A couple possibilities are the 

Alchemy Restaurant at CopperWynd Resort and Club

 (13225 N Eagle Ridge Dr, 

Fountain Hills AZ  480-333-1880) and the Different Pointe of View at the 

Pointe Hilton Tapatio Cliffs 

(11111 North 7th St, Phoenix AZ  602-866-6350).
sedona, Arizona Romantic Getaways
No mention of Arizona romantic getaways would be complete without Sedona. If you're sick of crowds, crave some solace, and don't mind spending a bit more to get here, this romantic destination in North-Central Arizona is for you. It's also become known as a real spa destination, and Red Rock State Park (just a 10 minute drive from town) with it's unforgettable sunsets gets our vote as one of the best places to propose in Arizona.
adobe grand villas
Pool at Adobe Grand Villas ©TripAdvisor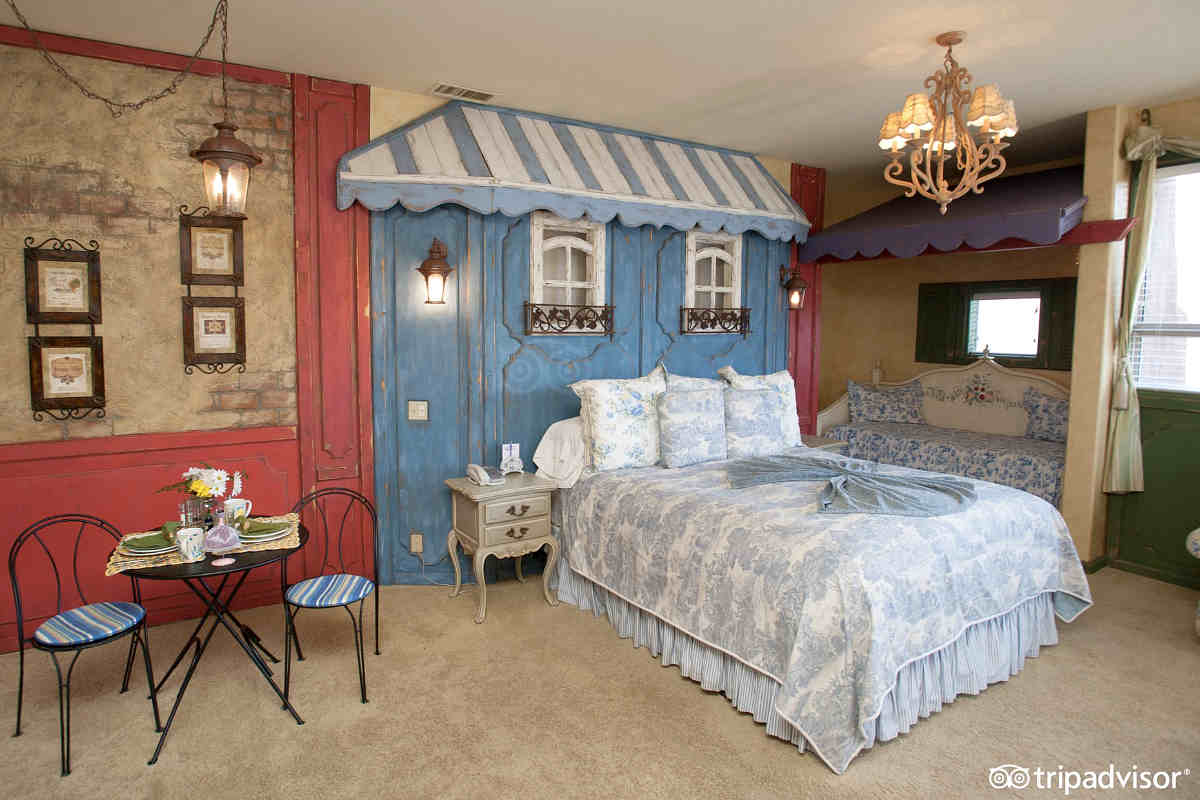 Adobe Grand Villas Suite ©TripAdvisor
Adobe Grand Villas

- At a convenient location close to downtown Sedona, these romantic private villas provide luxuries such as walk-in waterfall showers, Whirlpool tubs, fireplaces and patio/balconies. A gourmet breakfast and afternoon snacks are complimentary, and everyone loves the freshly baked bread provided in your room. There's a pool and outdoor hot tub, plus spa services are available in your room. What Other Guests Liked: Villas are all 900 square feet or larger and uniquely decorated in different styles. 2023 ERV Rating*: 96% - Excellent. Villa prices: From $458/night. (35 Hozoni Drive, Sedona AZ 866-900-7616)
the inn above oak creek
Beautiful Creekside Suite at the Inn Above Oak Creek ©TripAdvisor
The Inn Above Oak Creek

 – romantic Creek side rooms at this quiet and relaxing Sedona Inn are honeymoon and anniversary-ready with gas fireplaces, Whirlpool tubs and private balconies. What Other Guests Liked: Easy walk to shops and restaurants, sipping wine on your private balcony overlooking the creek. 2023 ERV Rating* for Romantic Sedona AZ Hotels: 96% - Excellent. Prices from $265/night. (556 Hwy 179, Sedona AZ  928-282-7896)
Romantic Sedona AZ Cabins

 - for an affordable B&B getaway in Arizona, these cabins and luxury rentals come already to enjoy with a variety of amenities, including Whirlpool spa tubs, hammocks, private decks and wood-burning fireplaces. 
romantic things to do in sedona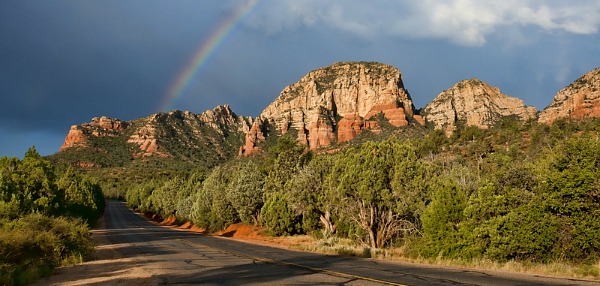 Brilliant Colors of Red Rock State Park Near Sedona, AZ
To Do in Sedona, AZ:

 Day in the West Tours (

800-973-3662

) feature cowboy tours, 

chuck wagon

 dinners, jeep rides and more. There's trolley and stagecoach tours in downtown Sedona, plus shopping galore. For a thirst-quenching break, sample a local beer (and the great views of Sedona) at the Oak Creek Brewery

(336 Rte 179, Sedona AZ).

Later in the evening, you'll love romantic dining creek side at L'Auberge Restaurant on Oak Creek with it's French-American specialties and Sunday Champagne brunch. (

301 L'Auberge La, Sedona AZ  928-282-1661)
more central arizona getaways
prescott, az:
Prescott Pines Inn
Prescott Pines Inn

- Prescott Pines consists of 11 rooms in 3 romantic guest houses nestled in the pines near Courthouse Plaza and Whiskey Row. Each room has a private porch entry, and some feature fireplaces and kitchenettes. The main house has a lobby, patio and guest lounge, and the grounds include fire pits and barbecues, swing and a gazebo. This accommodation makes a perfect home base for hiking, fishing, mountain biking or visiting the Grand Canyon and Sedona. What Other Guests Liked: Breakfast is delivered to your door in a picnic basket each morning. Bikes and board games are available. 2023 ERV Rating*: 96% - Excellent. Room Prices: From $119/night. (901 White Spar Rd, Prescott AZ 928-445-7270)
cottonwood, az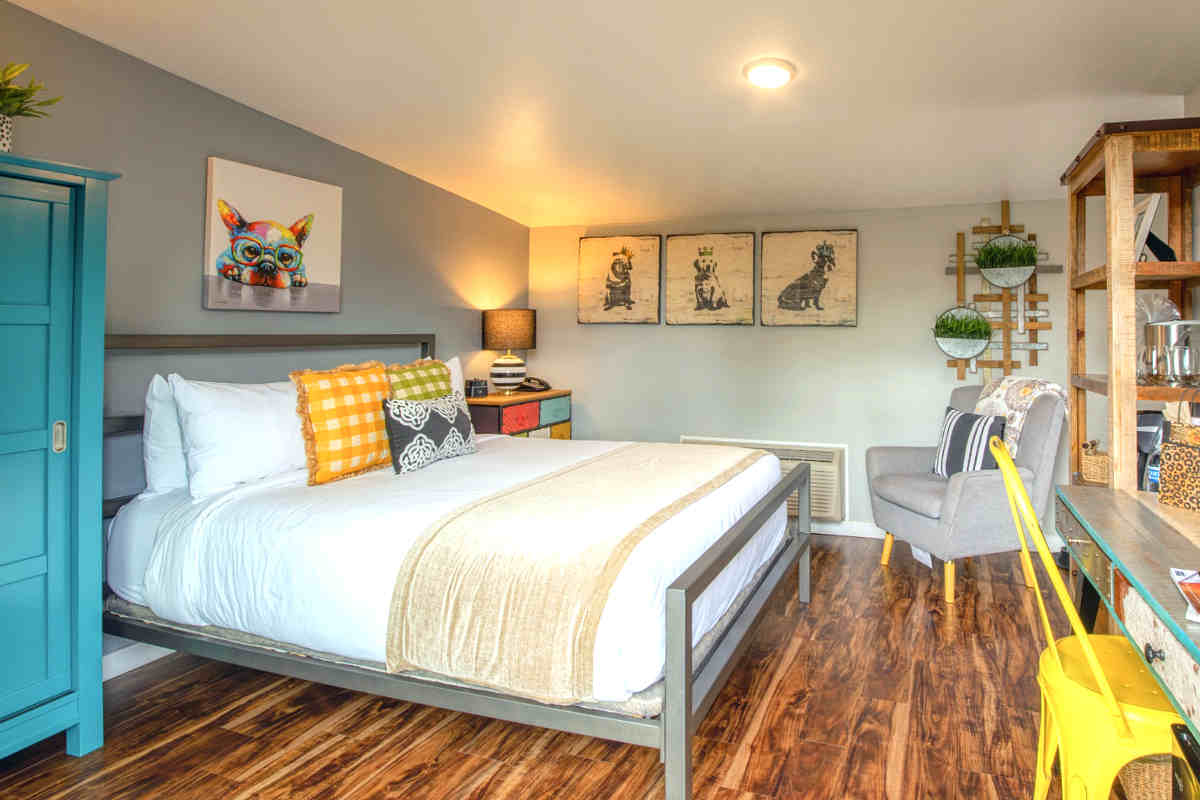 Tavern Hotel, Cottonwood AZ
The Tavern Hotel

- In the heart of Old Town Cottonwood, next to dining, shopping and entertainment, this luxury boutique hotel is just the ticket for a romantic vacation. Modern "Euro-Style" rooms in this historic building feature mini fridges and coffee makers, as well as high-end toiletries. Enjoy a complimentary daily breakfast at the cafe across the street, and a free cocktail at the bar next door. Choose from guest rooms, 2 penthouse suites or a cottage. What Other Guests Liked: Room amenities like white noise machine and black out curtains, convenient parking. 2023 ERV Rating: 96% - Excellent. Room Prices: From $219/night. (904 N Main St, Cottonwood AZ 928-639-1669)
To Do in cottonwood az:
Historic Old Town Cottonwood

- A must-see part of Verde Valley Wine Country. Vibrant Main Street offers tasting rooms, unique cafes, antique stores, art galleries, boutique stores, and an arts centre. 
Romantic Cabins in Arizona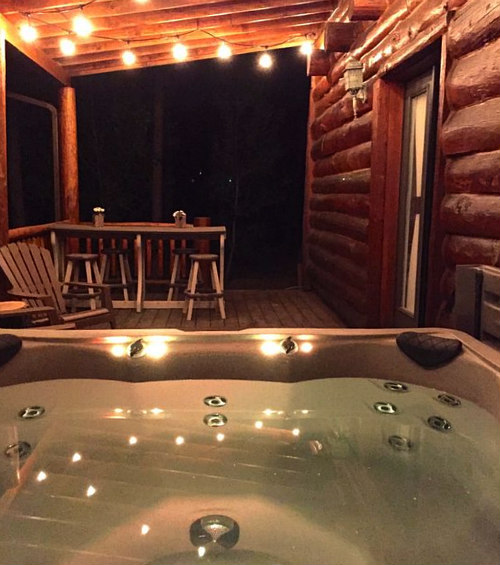 Hot Tub at the White Mountain Chalet
White Mountain Chalet

- Romantic and affordable log cabin getaway tucked away in the Apache-Sitgreaves National Forest in Arizona's White Mountains. Chalet features a master suite with King bed, and includes Wi-Fi, gas fireplace, barbecue, and spacious bubbly hot tub on the private back deck. (Pinetop-Lakeside, AZ)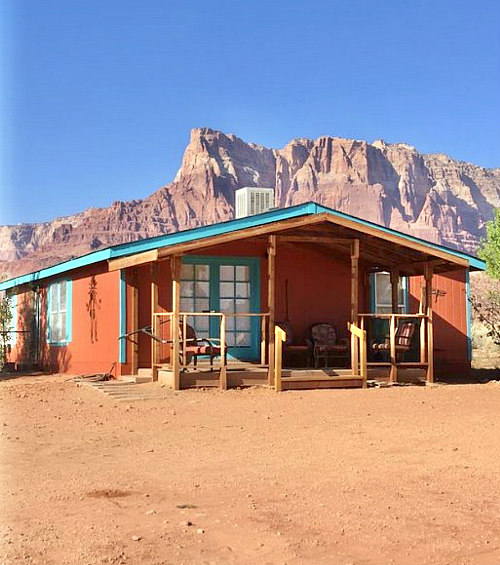 Marble Canyon, AZ Vacation Home
Grand Canyon Vacation Rentals – romantic rentals in North Central Arizona close to the Grand Canyon National Park, offering luxury amenities like fireplace, Wi-Fi, private decks, hot tub and more. Rates are affordable, and you can enjoy the seclusion while being close to hiking & biking trails, and scenic views.
arizona Spa Resorts & Ranch Stays
enchantment resort & spa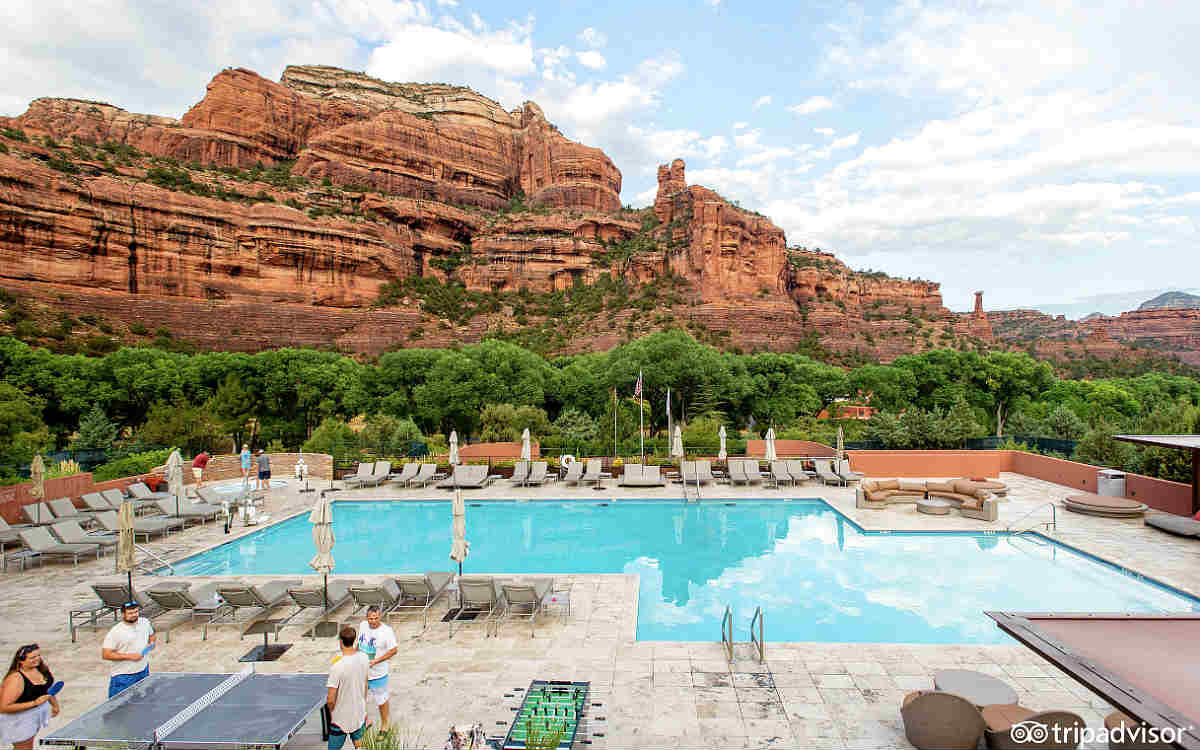 Enchantment Resort & Spa in Beautiful Red Rock Country, Sedona AZ ©TripAdvisor
Enchantment Resort And Spa, Sedona, AZ – this romantic Sedona resort hotel with spa is tucked away in Red Rock country and offers luxury Southwest-style accommodations, on-site fitness, tennis, hiking and all-inclusive packages. 2023 ERV Rating*: 86% - Very Good. (525 Boynton Canyon Road, Sedona, AZ 86336 800-826-4180)
grand canyon ranch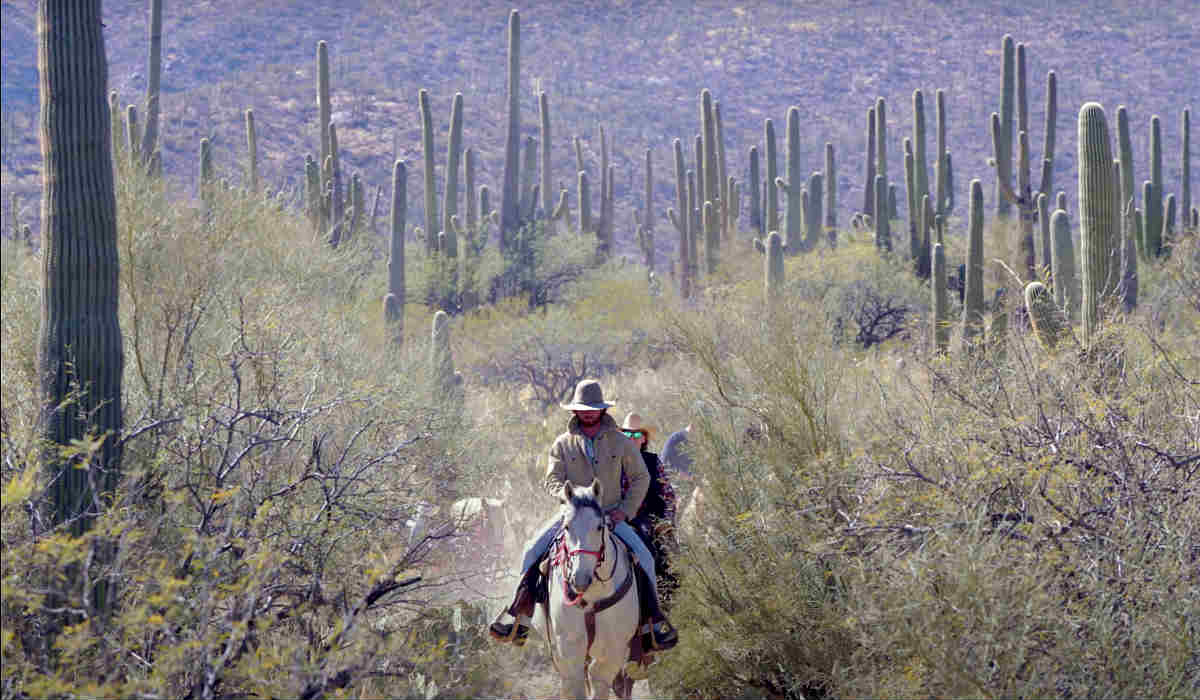 Horseback Riding, Arizona Dude Ranch
Romantic Cabins at Grand Canyon Ranch
Grand Canyon Ranch – this romantic ranch stay near Northern Arizona's Grand Canyon is a great alternative to hotel accommodation. In addition to horeseback rides and nightly campfires, they can arrange romantic Arizona tour packages and day trips perfect for your Grand Canyon honeymoon. 2023 ERV Rating*: 92% - Excellent. (3750 E. Diamond Bar Ranch Rd, Meadview, AZ (800) 359-8727)
romantic arizona train trips
Book a Romantic Escape on the Rails in Arizona ©Verde Canyon Railroad
The Verde Canyon Railroad

- An unforgettable 4-hour ride from Clarkdale to Perkinsville, AZ, in what has been called Arizona's "Other Grand Canyon". Excursions feature champagne, appetizers and panoramic views of the Arizona Red Rock backcountry. (Clarkdale, AZ 800-582-7245)
Tucson, AZ Romantic Getaways
Tucson is one of the most interesting Southern Arizona romantic getaways. You can feel the "Old Southwest" a lot closer to the surface here than other destinations in Arizona, and just a few miles out of town are horseback riding, wilderness hikes and one of the best re-created Wild West towns in the West. 
graduate tuscon hotel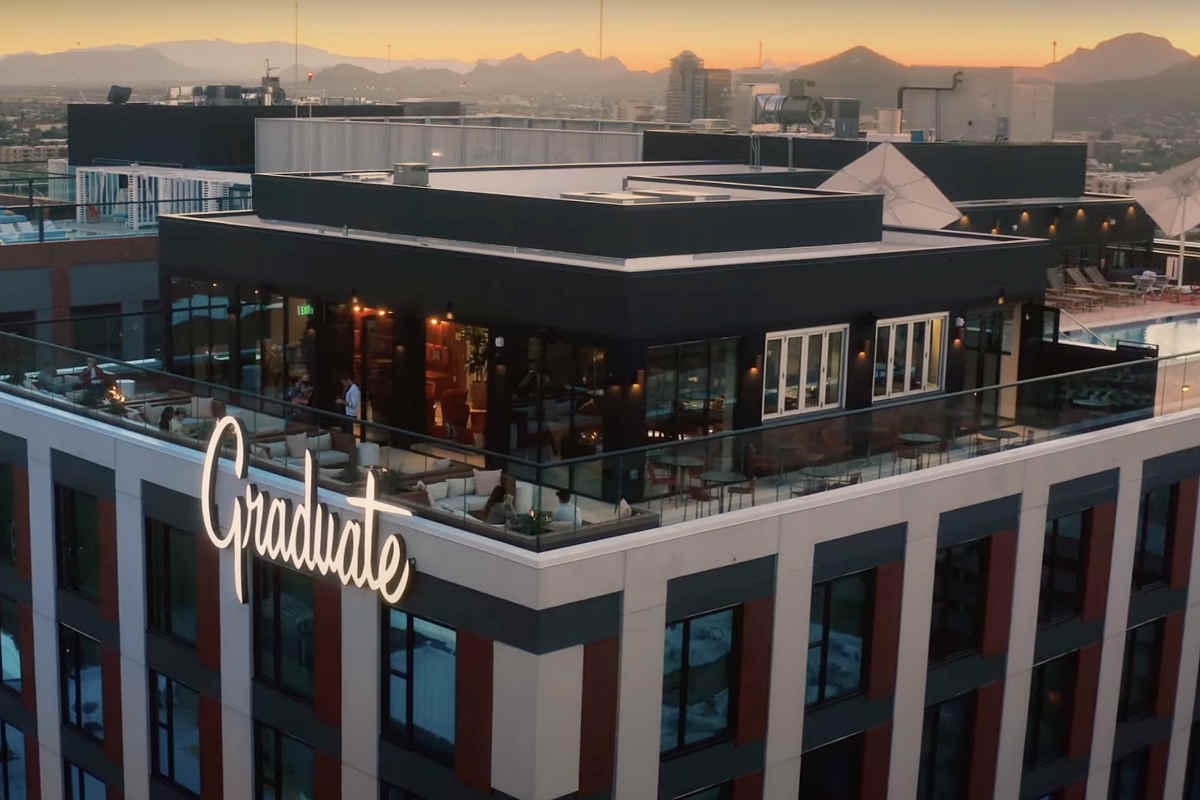 Graduate Hotel Rooftop Lounge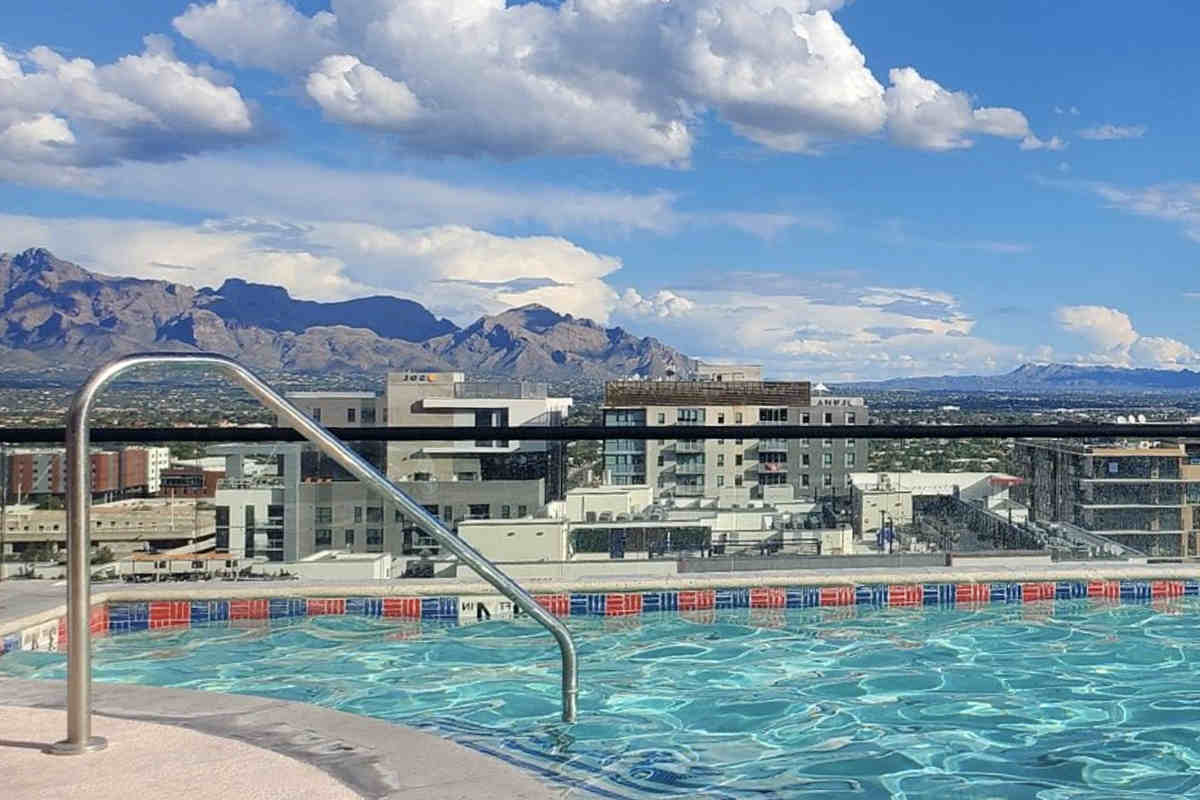 View of Tucson from Graduate Hotel Pool
Graduate Tucson

- Welcome to a fun southwestern-style hotel within the University of Arizona campus close to a tram stop. There's a very cool onsite cafe, and the views of Mount Lemmon from the rooftop pool and bar are second-to-none. Trendy rooms with quirky furnishings and high-end toiletries make this a popular place to stay, and you'll also appreciate the mini fridges and complimentary Wi-Fi in each room. Borrow a bike to tour around town, or work out in the 24-hour gym. What Other Guests Liked: Early evening around the rooftop fire pits, desert sunset scene at the front desk. 2023 ERV Rating*: 92% - Excellent. Room/Suite Prices: From $165/night. (930 E 2nd St, Tucson AZ 520-467-5900)
embassy suites tucson paloma village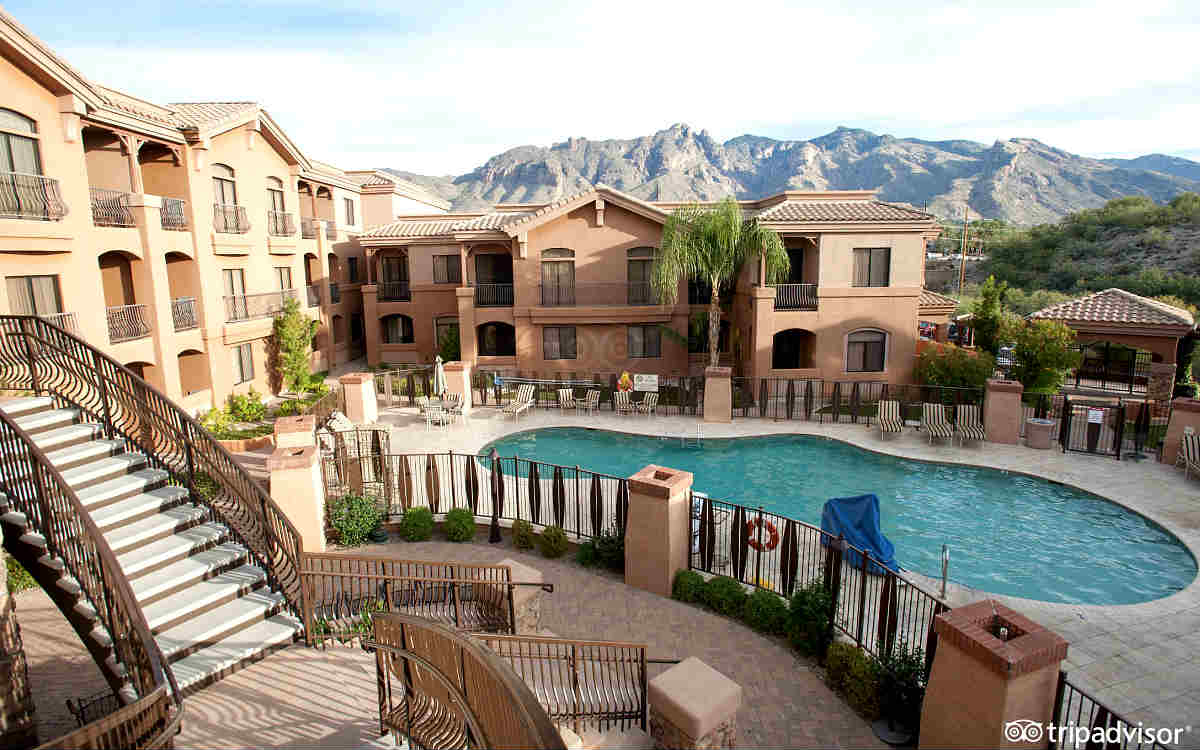 Relaxing Pool Area at the Embassy Suites Tucson Paloma Village ©TripAdvisor
Embassy Suites Tucson Paloma Village - we've stayed at several Embassy Suites before, but this newer low-rise "mini-resort" in Tucson's Northern hills is certainly tops. Our spacious corner suite came with separate living area and a nice large balcony, and both the cooked to order hot breakfast and evening reception with free drinks and snacks can make your romantic escape in Tucson both memorable and inexpensive! What We Liked:

Beautiful Setting...Hotel & Pool Clean, Quiet & Relaxing...Resort Vibe at a Budget-Friendly Price

. 2023 ERV Rating* for Romantic Tucson Hotels: 90% - Excellent. Room Prices from $149/night. (3110 East Skyline Dr, Tucson AZ  520-352-4000) 
tucson to do: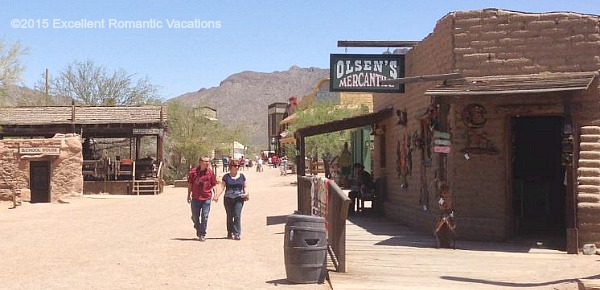 Couple Exploring the Streets of Old Tucson, AZ.
Romantic Things to Do in Tucson AZ:

 

You can go star gazing at Kitt Peak National Observatory (call 520-318-8726 for reservations), explore the wild west at Old Tucson (201 S. Kinney Rd), or ride the Old Pueblo Trolley past the shops of historic 4th Avenue. At the romantic Café Poca Cosa restaurant in Tucson you can enjoy award-winning Southern Mexican cuisine and atmosphere. (110 E. Pennington, 520-622-6400)
---
Lake Havasu City, AZ Getaways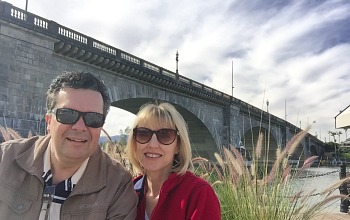 Checking Out London Bridge, Lake Havasu City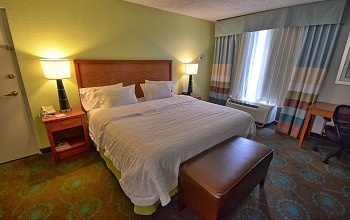 Suite at the Hampton Inn, Lake Havasu City AZ
Lake Havasu City - A worthwhile stop while vacationing in Southern Arizona. The lake here is home to all kinds of outdoor activities on and beside the water, and the city has some good dining spots as well. Make sure to include some time around the waterfront area underneath London Bridge, with it's shops and attractions. Good to Remember: Spring Break brings many people to Lake Havasu each year in March, so for a quiet getaway, choose another month (like February, which we did). 
More Getaways near Arizona:
Las Vegas Romantic Vacation Ideas

- discover Vegas beyond the casinos, including the most romantic hotels and resorts on the Strip as well as fun things to see and do.
Romantic grand canyon holidays
Grand Canyon, AZ - a top attraction for Arizona romantic getaways! Stops of interest for couples include the North Rim's Vista Encontada (nice picnic spot) and Lipan Point on the South Rim for it's great views and gorgeous sunsets.
williams az: sheridan house
Luxury Inn Close to Grand Canyon: Sheridan House Inn
Sheridan House Inn

 - This romantic, adults-only B&B is a real oasis! Located an hour from the Grand Canyon, it's set at the base of Bill Williams Mountain and just 3 minutes from the Grand Canyon Railway departure point. Eight unique, nature-themed rooms include mini fridges, refreshment trays, 2-person rain showers, and complimentary Wi-Fi. A delightful breakfast is served daily in the dining room, on the porch, or in the privacy of your suite. What Other Guests Liked: "Stay In the Inn" dinners offered 4 nights a week. Several porches and a deck with comfortable patio furnishings. 2023 ERV Rating*: 96% - Excellent. Room Prices: From $350/night. (460 E Sheridan Ave, Williams AZ 928-635-8991)
things to do in williams az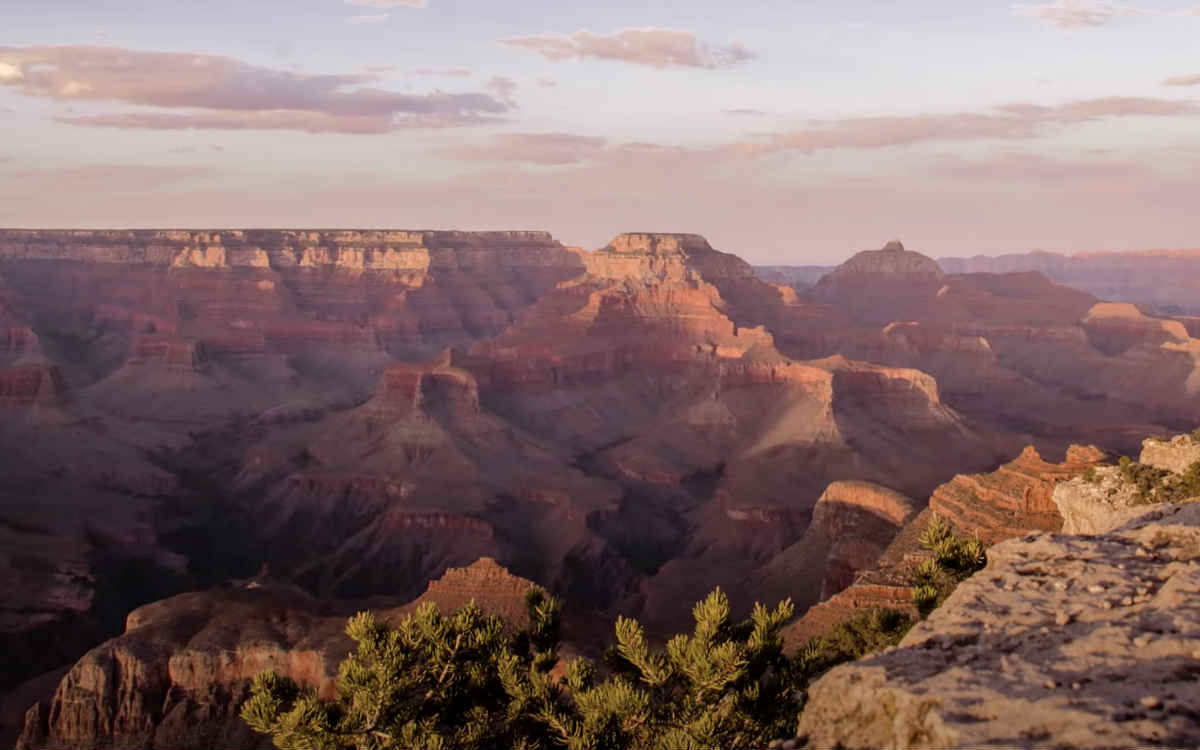 Grand Canyon at Sunset
Williams AZ
Grand Canyon Railway to the South Rim - Enjoy spectacular views from a rail car with observation dome. You'll travel 65 scenic miles from desert to prairie before arriving at the South Rim of the Grand Canyon. Entertainment along the way includes western-style musicians and cowboy characters. Take some time to explore the canyon and its historic buildings before returning to Williams the same day. 
Explore Route 66 - 

This stretch of Route 66 includes shopping, dining, and cowboy action that showcases what it was like in the mid-20th century. Don't miss the Route 66 Zipline and the Gas Station Museum. 
bisbee, az
eldorado Suites hotel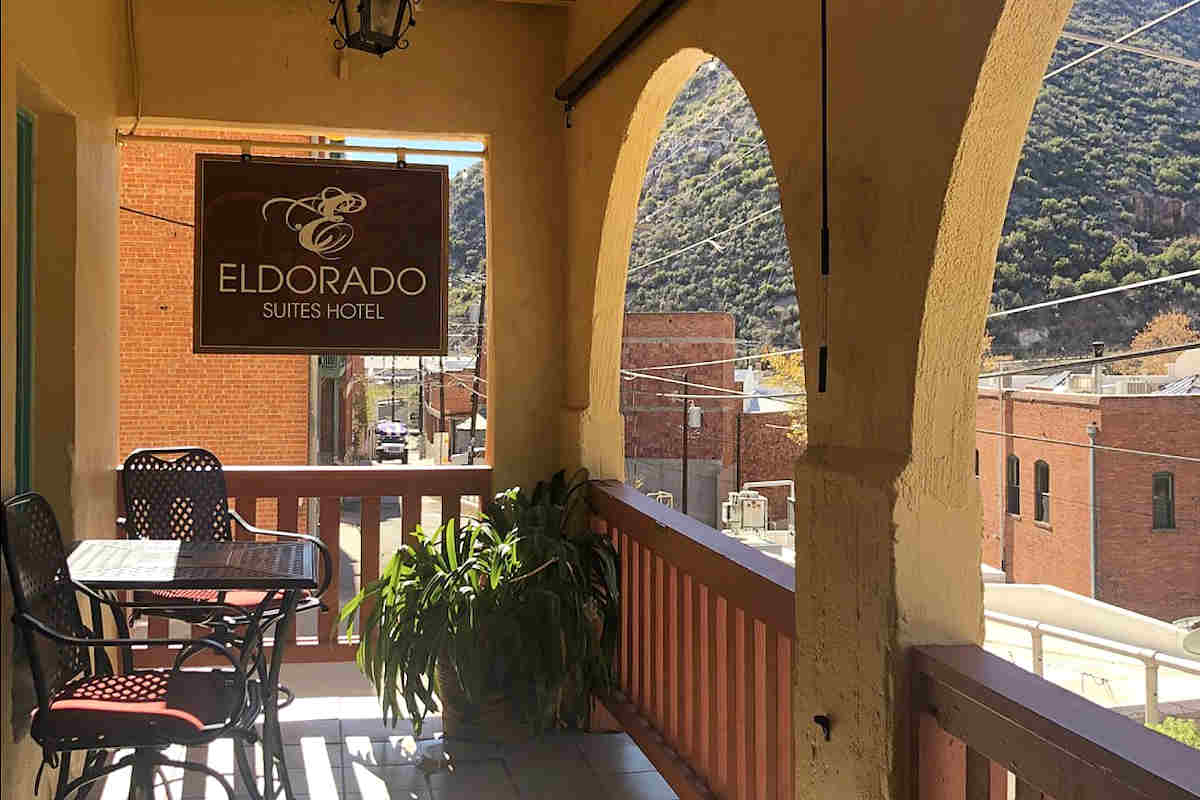 Sunny Afternoon on a Private Balcony at the Eldorado Suites Hotel in Bisbee, AZ
Eldorado Suites Hotel

- This circa 1914 building is on the National Historic District Register, but has all the modern conveniences you need to enjoy a great stay. And it's just a 3-minute walk to the things you want to see on lively Brewery Avenue in the heart of Bisbee. Check out the restored original claw-foot tubs, private kitchens and 4-poster beds that are found in some of the suites. The courtyard behind the building has barbecue pits and patio furniture. What Other Guests Liked: Bright and colourful decor, complimentary tea and coffee. Guest laundry facilities. 2023 ERV Rating*: 94% - Excellent. Suite/apartment Prices: From $140/night. (55 OK Street, Bisbee AZ 520-432-6679)
bisbee AZ attractions:
Bisbee, AZ – a romantic destination in southeastern Arizona, Bisbee offers a step back in time with it's narrow lanes, Victorian-style galleries and cafes, as well as the Brewery Gulch saloon.
Old Bisbee Brewing Company - 

A boutique brewery offering award-winning beers, root beer, grilled brats, and even vegan chili!  They also offer tours of the brewhouse.  
Belleza Fine Art Gallery - Located on the Main Street of Old Bisbee, this gallery features the work of over 20 talented artists from all over the world, and gives visitors a fresh chocolate chip cookie. 
*ERV Rating: our unique, non-scientific ratings for romantic accommodation include:
Amenities: including Whirlpool bath or 

JACUZZI

®

Tub

,

scenic view, fireplace, lounge, etc
Location: proximity of hotel to restaurants, pubs, downtown, etc
Clientele: demographic the hotel attracts (couples, families, business travelers, etc)
Popularity: based on social media & crowd-sourced reviews 
Value: product offered compared to room rate 
Please Note: percentage ratings are not absolute but for comparative use only  
top hotels, getaways & packages on ERV
---