Romantic Seattle Vacation Fun in the Pacific NW 
FTC: This page uses affiliate links. More. 

Seattle, WA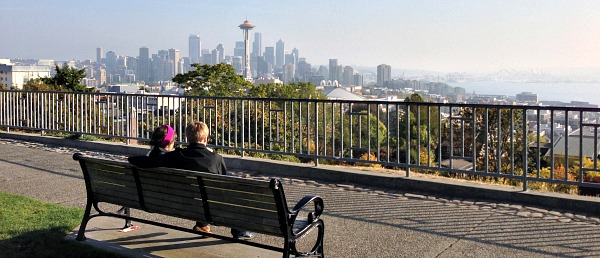 Kerry Park, a Romantic Seattle Spot with Great Views of the City and Waterfront
By: Greg Mattson, ERV Editor - Updated: April 4, 2018   

When people think of Seattle, usually what comes to mind are 747's, grunge music, Microsoft and Frasier. But this Pacific Northwest city of over 3 million (greater Sea-Tac area) people also happens to be a fun destination for romantic travel! 
We love to getaway to Seattle even for the day, as the distance from our home base in Vancouver BC is an easy 3 hour drive down on Interstate 5. Although Seattle traffic can get heavy at times, with a little planning you can get around just fine.
Best Time to Visit Seattle - being in the Pacific Northwest, Seattle weather, like Vancouver, includes a fair share of drizzle and low cloud from late fall thru to spring. But the temperatures are quite mild through the winter, and summer brings generally sunny and warm but rarely hot days. Overall, the best weather for your Seattle vacation would be between May and October.      

Seattle Vacation Spots

Sign Above the Famous Pike Place Public Market in Seattle, WA
Pike Place Market – home of the famous Pike Place Fish Market, and a must-see on your romantic Seattle vacation or honeymoon. The noise, crowds and parking hassles are worth enduring to witness the spectacle of cold, wet heavy salmon flying through the air! You might have to wait a few minutes for someone to actually buy a fish before they throw it (check our video below to see what it's all about). The rest of the market is a collection of shops and open-air stalls with every sort of seafood you can imagine, and some excellent produce stands and bakeries.
If you're hungry, don't eat at the first place you see (although that might be tempting). Keep exploring the whole market area, and you'll find all kinds of great little places to eat, with everything from seafood and sandwiches to ethnic dishes and baked treats.
Just across the Street: If you love Starbucks, check out the location just across from Pike Place Market – it's the first and original Starbucks!
Just Around the Corner Downstairs - while it's hard to call this attraction romantic, Seattle's only Gum Wall is just a few feet away from the main entrance to the market (actually underneath the Market on Post Alley). We're telling you this in advance so you can remember to pack some gum with you and leave your mark on Seattle in this disgusting but uniquely gummy way. 
Romantic Restaurant in Seattle Pike Place Market - Maximilien (206-682-7270) gets good ratings for it's great location, Pacific Northwest dishes with a French flair, and water views from the patio.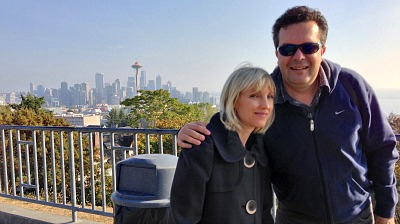 Kerry Park: Us, the Space Needle and a Garbage Can!
Pioneer Square – the heart and soul of the downtown. Historic buildings, shops and galleries, and numerous options for dining in every price range. Later at night there's live music and dancing, and if you and your partner are catching a Mariner's game at Safecio Field, it's an easy walk of just under a mile from Pioneer Square. 
International District – where Chinatown is, and a mix of Asian grocers, restaurants and the Wing Luke Asian Museum. Some fine and inexpensive Chinese, Thai and Vietnamese eateries here. 
---
Romantic Seattle Accommodation:
Chelsea Station B&B
Chelsea Station Inn, a Top-Rated Romantic B&B in Seattle's Fremont Neighborhood
Chelsea Station Inn - if you love bed and breakfasts but prefer the spaciousness of a large hotel suite or vacation rental, Chelsea Station is custom-made for you. All four of the romantic rooms here over 900 sq ft, and each has a kitchen, living room and rain shower big enough for two. You'll get a bit more alone time at breakfast too as it's delivered hot to your room each morning. With a private hot tub for guests as well as wine & cheese evenings, Chelsea Station really does combine the convenience of an all-suites style hotel with the luxury and romance of an upscale B&B. What Other Couples Liked: intimate hideaway...phenomenal service...quiet neighborhood. 2020 ERV Rating* for Romantic B&B's in Seattle: 98% - Excellent. (4915 Linden Ave N, Seattle, WA  206-547-6077)
Seattle Cottages & Rental Homes
Seattle Vacation Rental Condos & Cottages - why not enjoy your NW getaway even more by living like a real Seattle couple in a condo or cottage (some are even waterfront)! Great selection of properties offering perks like hot tubs, rooftop decks, fireplace and Wi-Fi.   
Courtyard Seattle Downtown/Lake Union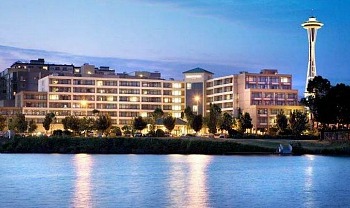 Courtyard Seattle Downtown/Lake Union - book an inexpensive waterfront room at this Marriott for a great weekend in Seattle! 

2016 Rating* for Romantic Seattle Hotels:

93% of Couples Rate It Excellent/Very Good. (925 Westlake Ave North, Seattle WA  206-213-0100) 
---
Video: Seattle's Romantic Places
This brief video shows some romantic spots around Seattle (including Kerry Park and Green Lake), plus a look inside at a Whirlpool tub and King bed honeymoon suite at the Hampton Inn & Suites in Lynwood, WA. 
Seattle Vacation Hotels & Romantic Inns: Deals This Week - deeply discounted rates on the no.1 choices by couples for romance accommodation, including the Inn at the Market, Alexis Hotel, The Edgewater Hotel and the Kimpton Hotel Monaco.
---
More Things to Do in Seattle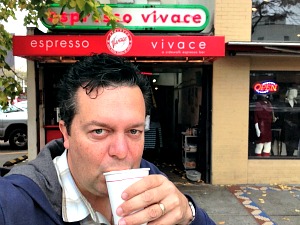 Sippin' at Espresso Vivace, Capitol Hill
Coffee Shops and More: a couple of the neighborhoods where you can experience Seattle's coffee culture and the antique shops and book stores that go along with it are Queen Anne and Capitol Hill. Since you can drink Starbucks anywhere these days, it's really worth trying some smaller, local cafes and coffee houses that Seattle is famous for.
Three that come to our mind are Caffe Vita, TNT Espresso and Espresso Vivace. Some are just tiny hole-in-the-walls and/or sidewalk vendors, but they certainly brew some creamy cappuccinos. 
Scenic View of Seattle – Kerry Park in the Queen Anne district is free and is a great little spot for relaxing has a great view of downtown Seattle and the waterfront.
Seattle Waterfront – there's lots of worthwhile activities along the Seattle waterfront, including street vendors and performers, summertime outdoor music, horse-drawn carriages and harbor tours. It's also the place you go to catch the ferry from Seattle to Bremerton or Bainbridge Island (there's a great little walk from the dock into town on Bainbridge), or further on to the San Juan Islands and Victoria, B.C.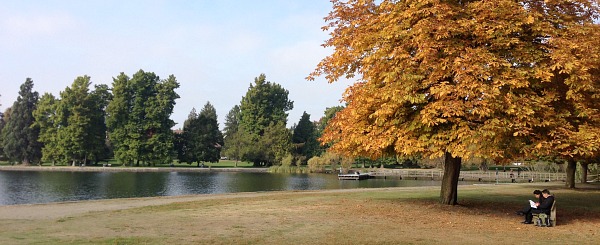 Couple Enjoying the October Colors in Green Lake Park, Seattle, WA
Green Lake Park - here's a wonderfully relaxing spot just north of downtown between the University District and Ballard. It's even beautiful on cloudy, drizzly days (Seattle gets a few...), but when the sun comes out, it's the urban park for sitting by the water, renting a boat, rollerblading, biking or going for a romantic walk.
---
Traveling to Seattle, WA
Alaska Airlines has a major hub here in Seattle, and there is scheduled service from others including American, United, Southwest, JetBlue and Delta Air Lines.
Internationally, there are non-stops to Seattle from several cities including:
London
Amsterdam
Copenhagen
Tokyo
For flights from Canada to Seattle, Air Canada has direct service from Toronto and Vancouver, and Horizon Air flys from Victoria (YYJ) and Kelowna (YLW) to Seattle.
Seattle-Tacoma International Airport, or SeaTac as it's known, is 13 miles south of downtown Seattle. You can take the new LINK light rail train from SeaTac Airport to downtown Seattle for a very cheap $2.75. Trip time is just under 40 minutes. See More about the SeaTac - Downtown Seattle Light Rail Train here.
Alternatively, you can catch a shuttle bus to most major downtown hotels for around $15 one way. A taxi would be about $45. Drive time from Sea-Tac to downtown is about 40 minutes.
Driving around Seattle can be a challenge at times. The traffic is at its worst from 7 to 9 in the morn, and again after 3 in the afternoon. Try to stay off the major arteries (I-5, I-405, I-90 and Wash. 520) during these rush periods. Also, you'll need to keep a map close as the city is an interesting collection of bays, bridges, hills and curves.
If you're driving to Seattle, here are some distances:
Distance from Seattle to Vancouver, BC: 143 miles (230 KM)
Distance from Seattle to Portland, OR: 174 miles (280 KM)
top hotels, getaways & packages on ERV
---