Vermont
Romantic Getaways in Vermont - Cozy Inns, packages, things to do & more
FTC: This page uses affiliate links. More. 

---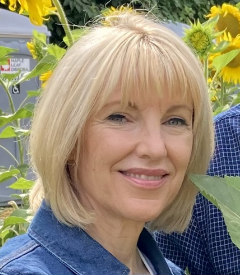 By: Maureen Mattson, ERV Asst Editor - Updated Jun 19, 2022
---
Stowe is a Terrific Spot in Vermont for a Romantic Getaway
Vermont would have to rate as one of our favorite places in the whole USA! 
best time of year for a romantic vermont getaway:
It may be a cliché, but as you may have heard, autumn here is especially fantastic. During our last trip here in early October, we hit the very best fall colors and enjoyed great weather (it can vary slightly from year-to-year depending on weather, but October is usually a safe bet).
As you might expect, autumn accommodation is less affordable than at other times of year, but we would have to say the extra price is certainly worth it. 
On this page, you'll find some of the most picturesque towns and romantic inns in all of the USA, as well as things to do, places to eat, honeymoon packages and more.  

Romantic Places in southern Vermont
grafton, vt
A wonderfully restored Colonial village with a main street that will steal your heart! This pretty town is located right in the Green Mountains and is a great spot for outdoor activities.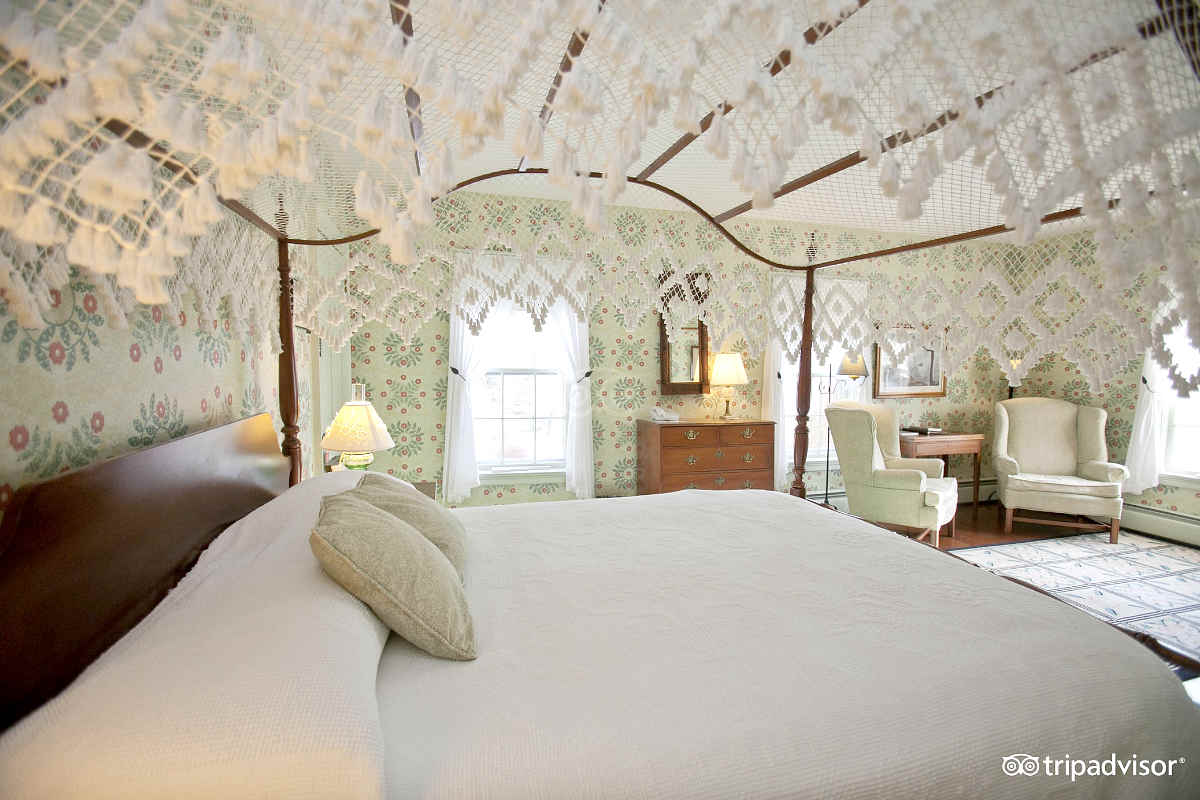 Beautiful & Romantic Grafton Inn ©TripAdvisor
Grafton Inn

- 

An historic inn from 1801 consisting of 42 unique rooms, suites and guest houses. Farm-to-table restaurant and tavern provide a casual dining atmosphere, and hiking trails, swimming ponds and streams lay just beyond the front door. Antique furnishings, canopy beds, soaking tubs, and whitewashed balconies keep things charming, and you'll also find loaner bikes, seasonal pool, free snacks and a buffet breakfast. 

2022 ERV Rating*: 94% - Excellent. (92 Main St, Grafton VT 802-843-2248)
romantic things to do in grafton
Plummer's Sugar House - Get your organic Vermont maple syrup and tour the sugarhouse at this family-run farm. (2866 Townshend Road Grafton, VT)
Drive a few miles north towards the small village of Chester and visit The Kissing Bridge and Vermont Country Store. (1292 Rockingham Rd, Bellows Falls VT)
Where to Eat: Phelps Barn Pub: attached to the Grafton Inn (see above), this building was one a carriage house for the horses of overnight guests. Cozy and laid-back. 
---
brattleboro, vt
A real oasis of arts, good food and shopping located in the foothills of Vermont. The historic downtown area includes a community of independent merchants along 3 blocks of the Connecticut River. Lots of quirky festivals and farmer's markets go on here, and you'll find romantic covered bridges, cool book shops, and antique stores.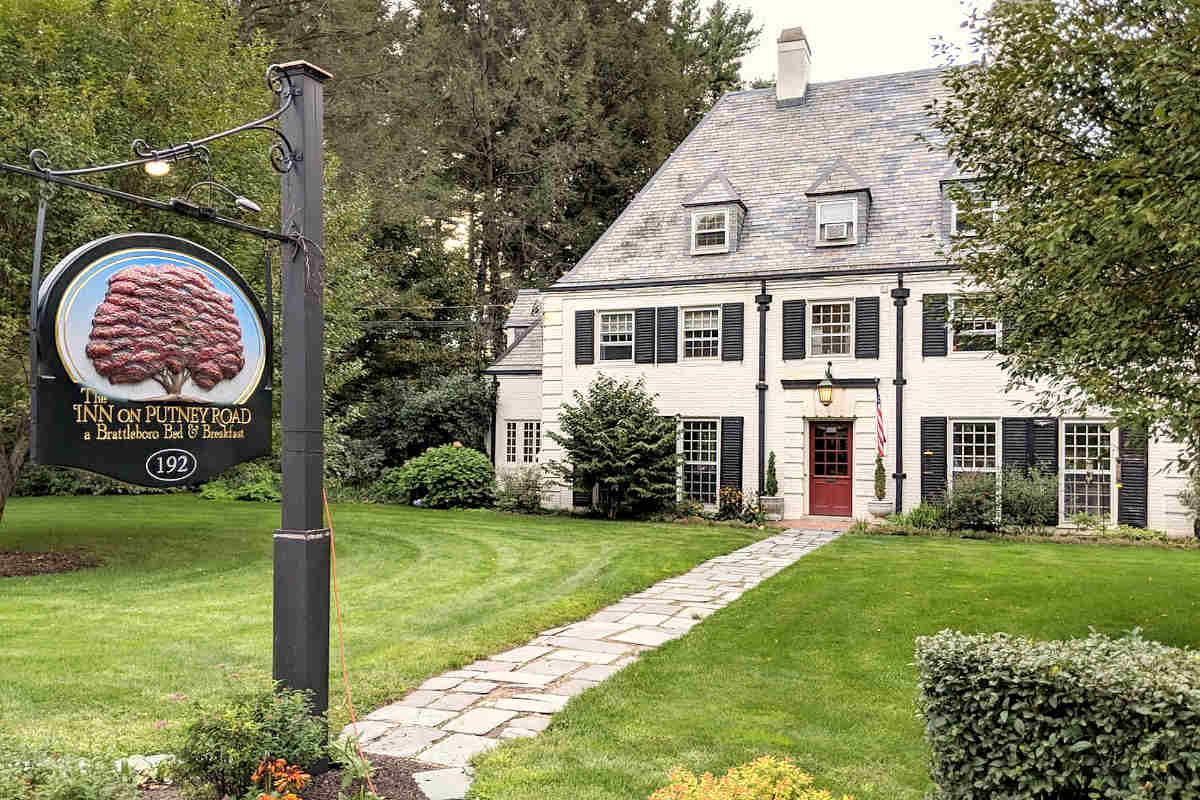 The Inn on Putney Rd in Brattleboro, VT
Inn on Putney Road Bed and Breakfast

- 

A romantic waterside retreat within walking distance of downtown Brattleboro. We stayed in the spacious Ripley Suite which features original 1920s tile work in the bathroom. The Red Maple Room features a 2-person jetted tub and gas log fireplace in the bedroom. Daily 2 or 3- course gourmet breakfast is included, and romance, picnic, and massage packages are available. Award-winning gardens, sunroom, billiards table and library… 2022 ERV Rating*: 96% - Excellent. (192 Putney Rd, Brattleboro, VT 802-456-4498)
romantic places in Brattleboro VT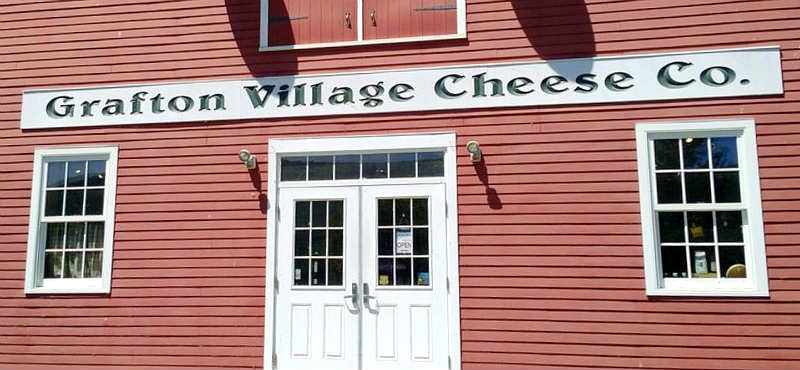 Grafton Village Cheese Company, Brattleboro VT
Grafton Village Cheese Company (located in Brattleboro!) - take a tour and sample the goods. (400 Linden St, Brattleboro VT)
Creamery Covered Bridge - built in 1879 and is not listed on the National Register of Historic Places. Take a look around; it's closed to traffic. (500 Western Ave, Brattleboro VT)
Where to Eat: Peter Havens Restaurant (32 Elliot St, Brattleboro VT) has a lovely romantic atmosphere, or TJ Buckley's (132 Elliot St, Brattleboro VT), located inside an old dining railcar dating from the 1920s.
---
bennington, VT
Silk Road Covered Bridge Near Bennington, Vermont.
A great choice for a quick getaway from New York City, Boston or Albany, Bennington is full of historic buildings, and vibrant downtown. Surrounded by the Green Mountains, farms and hills, it's a beautiful place to visit year 'round.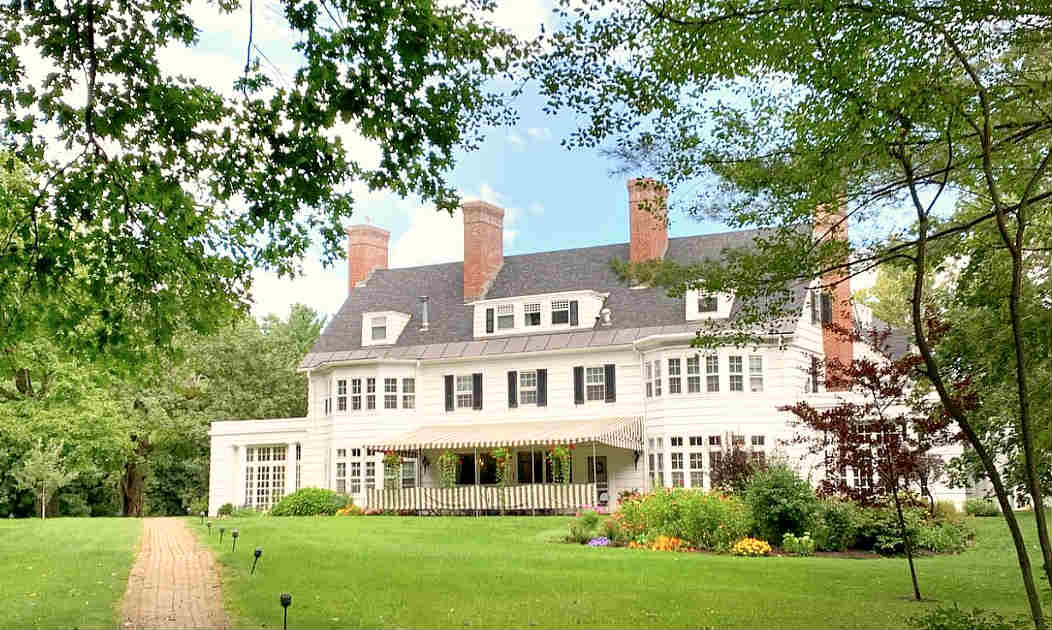 Four Chimneys Inn, Bennington VT
Four Chimneys Inn

- The quintessential charming Vermont B&B housed in a restored 1913 mansion. Located on 11 acres in historic Old Bennington, the inn is walking distance to several attractions. Eleven cozy rooms feature romantic touches like 4-poster beds, chandeliers, private porches, dormer windows and jetted spa tubs. Gourmet breakfast is served daily in the dining room, and there is an onsite bar. 2022 ERV Rating*: 92% - Excellent (21 West Rd, Bennington VT 802-447-3500)
Bennington VT Romantic things to See
American poet Robert Frost lived in a little town just down the way (Shaftesbury) and his grave is in Bennington. Visit the Robert Frost Stone House Museum, and walk the nature trail from there towards Lake Paran. (121 Vermont Route 7a, Shaftsbury VT)
Tour Park McCullough House, a Victorian mansion built in 1864. Bring a picnic lunch and stroll the Sunday farmers market held here every summer. (1 Park St, North Bennington VT)
Where to eat: Try lunch at the iconic Blue Benn Diner. (314 North St, Bennington VT)
---
manchester, vt
Beautiful Manchester, VT
A classic Vermont small town with lots to offer for a romantic getaway. You'll find plenty of great restaurants, breweries and art galleries, a well-kept Main Street, and several historic sites to explore. Plus you can get a bit of retail therapy at the Manchester Designer Outlets. 

Inn at Manchester
Romantic Suite, Inn at Manchester
The Inn at Manchester

-

This country-chic inn dates from the late 1800s and consists of 21 rooms and suites in 2 buildings on a large landscaped property. Amenities include full breakfast, hot and cold drinks, an onsite pub, outdoor pool, and front porch with rocking chairs and hammocks. Some suites have fireplaces or 4-poster beds and the Sage Suite features a jetted tub. Close to several attractions but secluded and laid back. Perfect….

2022 ERV Rating*: 96% - Excellent (3967 Main St, Manchester VT 802-273-4149)
what to do in manchester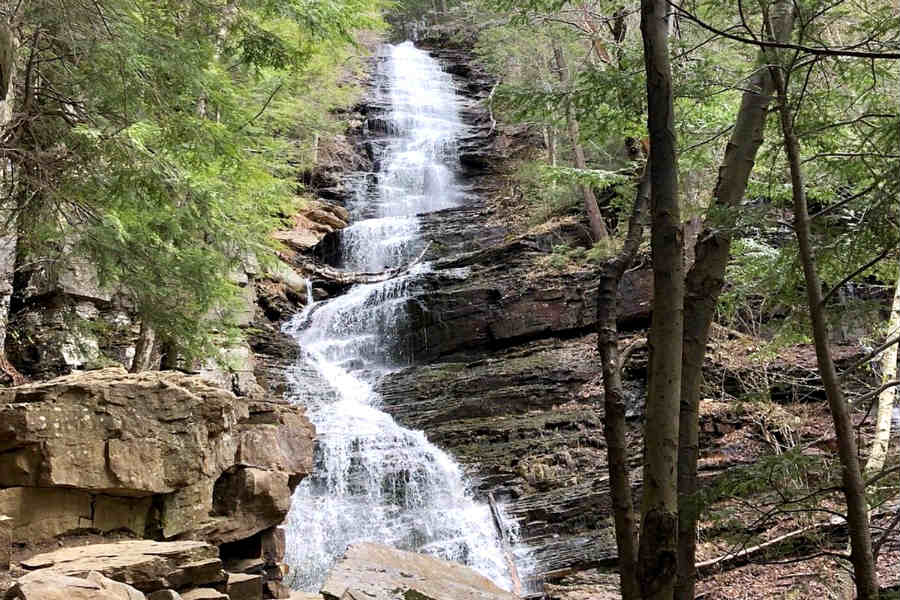 Lye Brook Falls, Manchester VT
Visit Hildene, the former summer home, and formal gardens of Robert and Mary Lincoln. (1005 Hildene Rd, Manchester VT)
---
central vermont romantic getaways
woodstock, vt Inn & Packages
Restored Greek Revival and Georgian-style homes, old country farms, museums, historic sites, and picturesque surroundings all year 'round. Woodstock is considered one of the most beautiful small towns in America.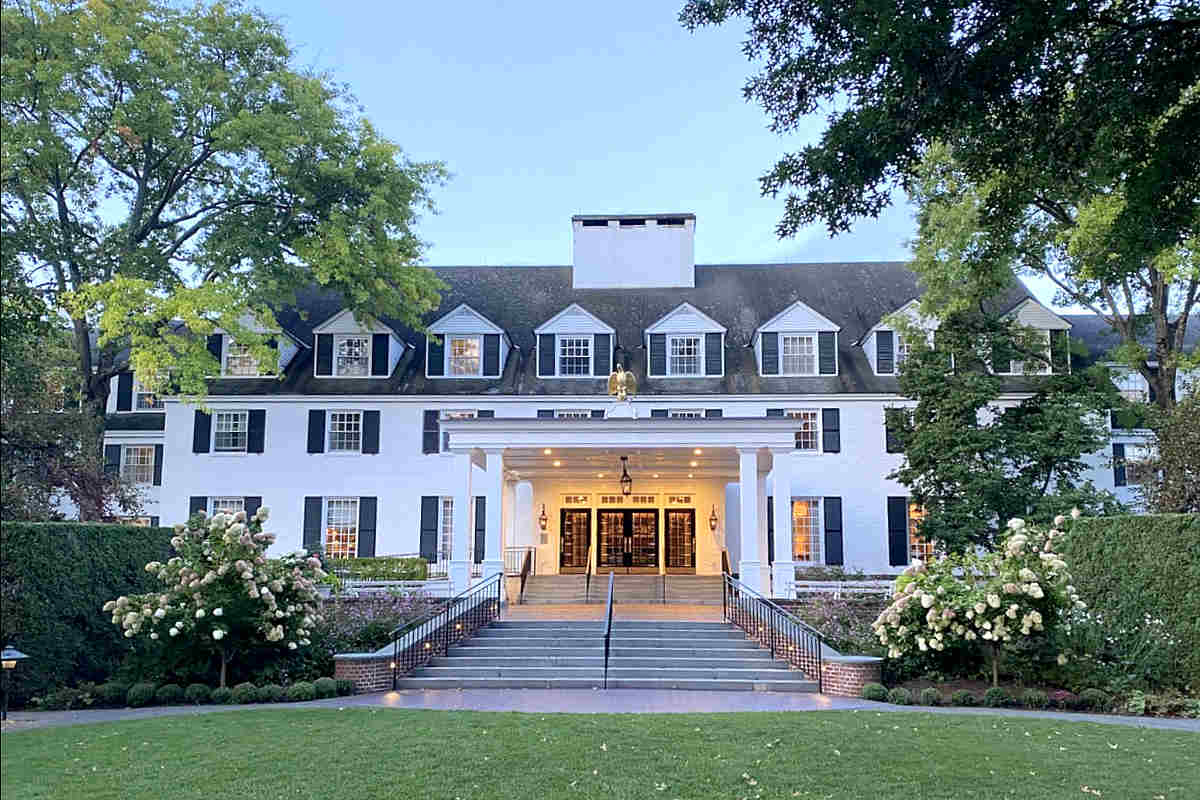 Woodstock Inn & Resort
Romantic Woodstock Inn Suite
Woodstock Inn & Resort

- A welcoming 19th century mansion with white pillars - perfect for a luxurious romantic getaway in Vermont. The award-winning spa provides treatments 7 days a week, and there are 4 gourmet restaurants onsite. For a real splurge, book one of the suites that are modelled after Laurence S. Rockefeller's personal rooms. Or how about a private wine tasting paired with Vermont cheeses? 2022 ERV Rating*: 86% - Very Good. (14 The Green, Woodstock VT 802-688-1153)
romantic things to do near woodstock, vt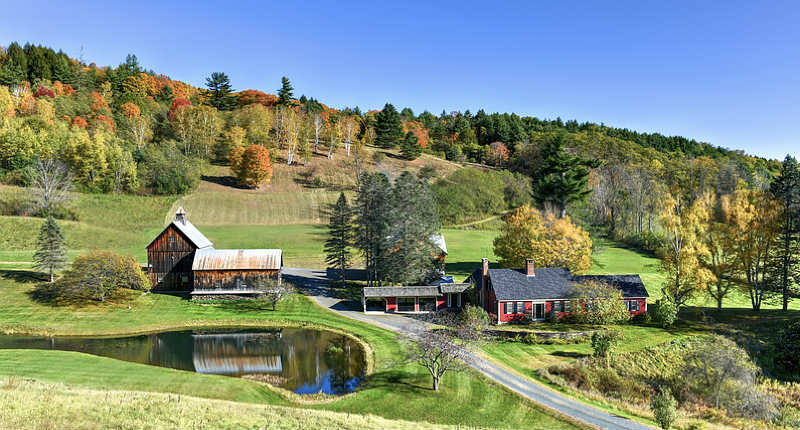 Countryside Near Woodstock, VT
Sugarbush Farm - Visit this working farm and sample different cheeses and maple syrup. Take a maple walk in the woods outside and learn how trees are tapped. (591 Sugarbush Farm Rd, Woodstock VT)
Billings Farm and Museum - A fascinating outdoor history museum that includes a working dairy farm. Learn about 19th century life in New England with interactive programs and fun events. (69 Old River Rd, Woodstock VT) 
---
cavendish VT: castle Hill Resort Inn & Spa Packages
A thriving little town with a growing artist community and a place to enjoy nature and history.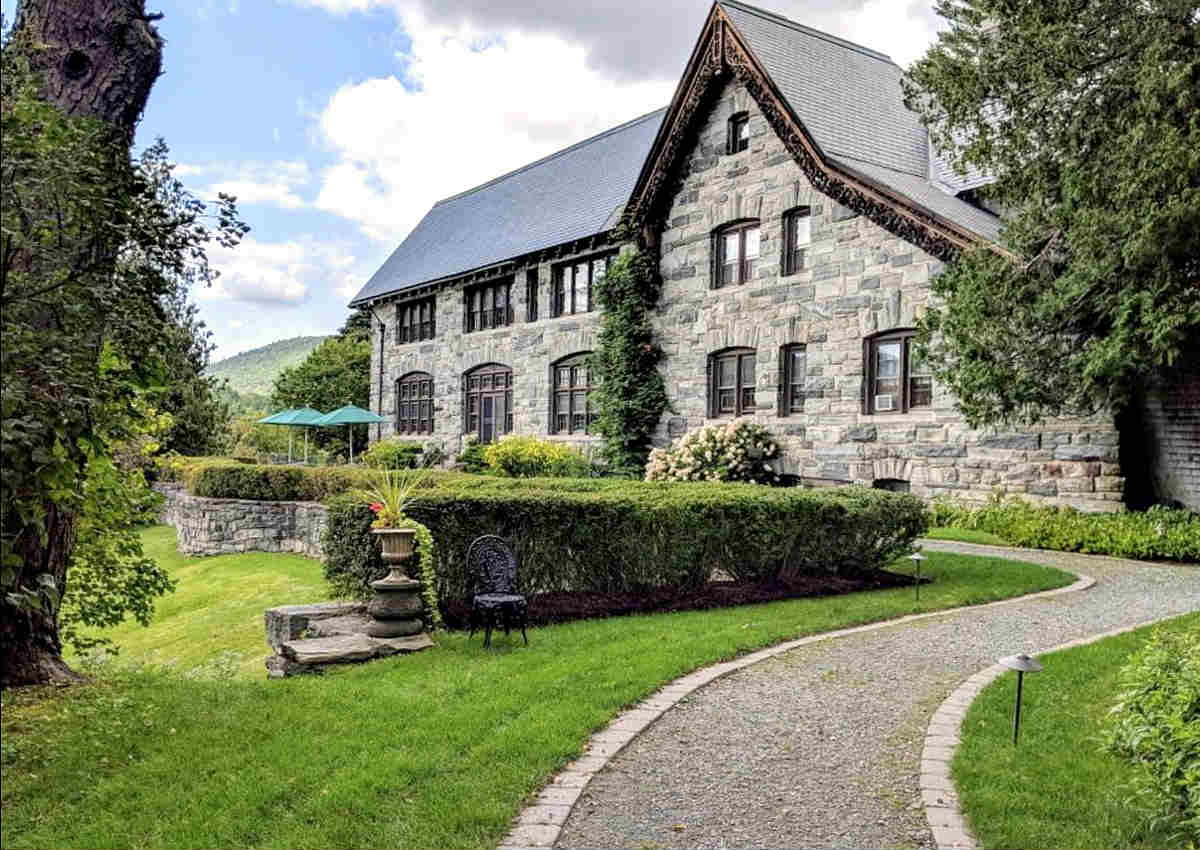 Castle Hill Resort & Spa, Vermont
Romantic Suite in Central Vermont
Castle Hill Resort and Spa

- This elegant resort is an old ivy-covered castle surrounded by stunning gardens and Green Mountain forests. It's on the National Register of Historic Places and features cozy rooms with wood floors, great dining, a pool, and award-winning spa. The library which includes a piano and roaring fire is open to guests. French-inspired gourmet dishes are served by candlelight in the dining room. There are 10 guest rooms in addition to spacious condos with gourmet kitchens and gas fireplaces. 2022 ERV Rating*: 78% - Good. (152 Castle Hill Drive, Proctorsville VT 802-226-7361) 
what to Do near cavendish, VT
The nearby town of Ludlow is home to picturesque Buttermilk Falls, one of the top waterfall locations in Vermont. Hike less than a mile on a warm summer day and swim under the falls. 
---
middlebury, vt
This classic New England town is the perfect destination for those wanting a mix of culture, shopping and recreation. It's home to Middlebury College and Robert Frost, and offers plenty to the outdoor enthusiast. There's a twenty-foot waterfall on Otter Creek right in the center of town. Beautiful!
Historic Middlebury Inn, VT ©TripAdvisor
Middlebury Inn

- Open for business since 1827, this historic inn is convenient to many attractions and surrounded by the Green Mountain National Forest. Comprised of 4 brick buildings the Victorian-style rooms feature comfortable furnishings and some have romantic 4-poster beds. Parking, afternoon tea and morning coffee are included, and there is an onsite restaurant and day spa, as well as nearby gym. The front porch offers beautiful views of Middlebury's town green. ERV 2022 Rating*: 80% - Very Good. (14 Courthouse Square, Middlebury VT 802-388-4961)
middlebury, vt romantic things to do:
Explore the local brew, wine and spirit makers in this area at Otter Creek Brewery, Lincoln Peak Vineyard, Stone Cutter Spirits Distillery and Whistle Pig Whiskey tasting rooms. 
Visit UVM Morgan Horse Farm (offering tours May-October) and learn about Vermont's state animal. 
---
romantic getaways in northern vermont
stowe VT Romantic Inns & Packages
Although it's considered one of the best ski towns in America, (right next to Mount Mansfield, the highest peak in Vermont) picturesque Stowe has much to offer in any season. Resorts and spas, gourmet restaurants, Smuggler's Notch State park, and all kinds of outdoor adventures await your visit! 
Field Guide Lodge ©TripAdvisor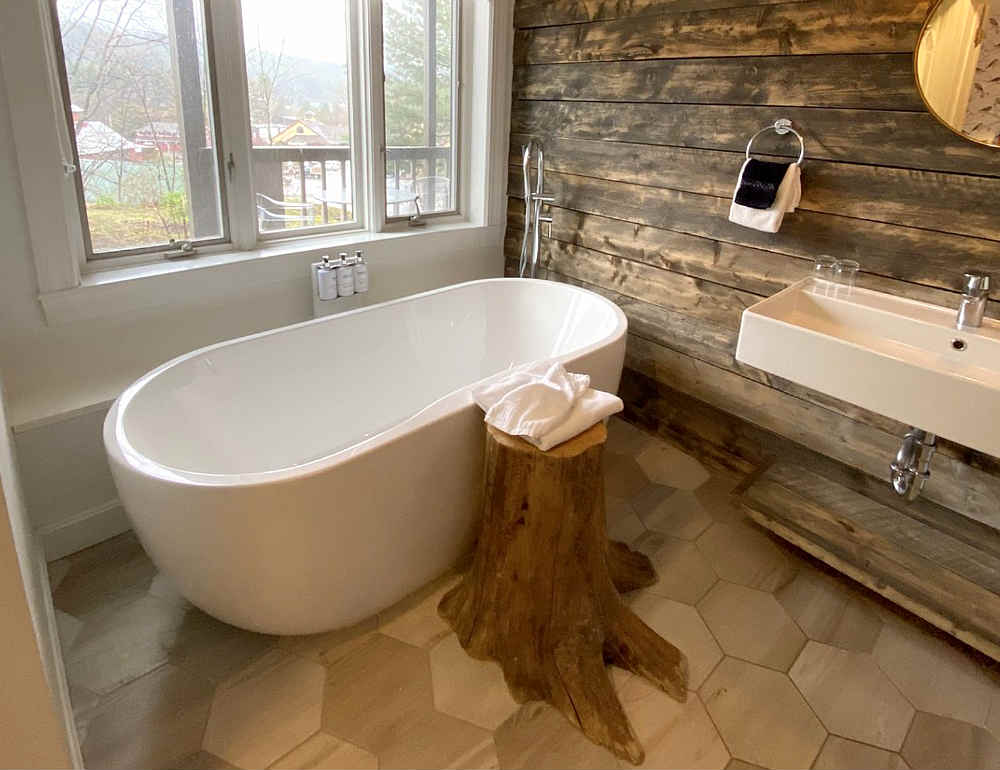 Northern VT Soaker Tub Suite ©TripAdvisor
Field Guide Lodge

- 

The feel of the outdoors in a luxurious lodge! There are 33 mountain-chic accommodations just 2 miles from Stowe Golf Course and 7 miles from the ski hill. Some suites feature gas fireplaces and freestanding tubs and breakfast and parking are complimentary for all. There is a seasonal outdoor pool, restaurant and bar and free Wi-Fi. Rooms also include iPads and smart TVs. 

2022 ERV Rating*: 86% - Very Good. (433 Mountain Rd, Stowe VT 802-589-4013)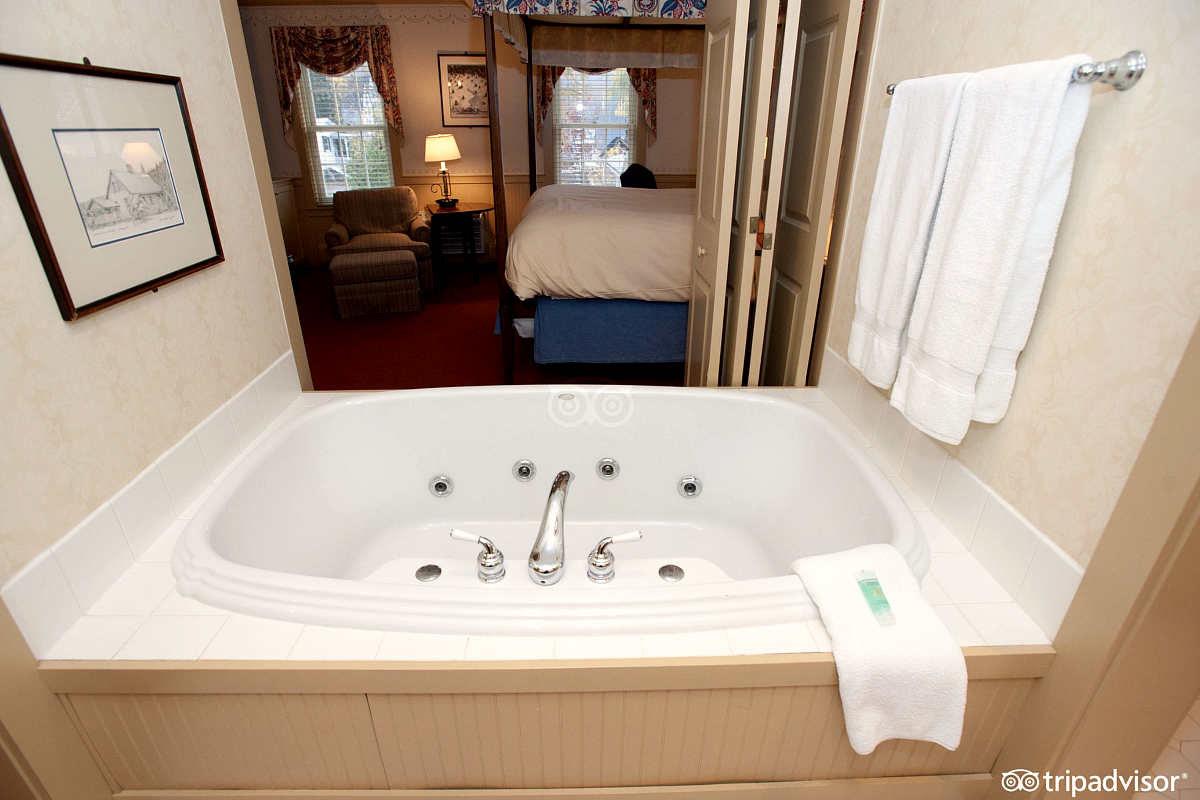 Green Mountain Inn ©TripAdvisor
Green Mountain Inn

- Since 1833, this elegant resort in the heart of Stowe has provided romantic getaways for couples. Eight buildings house different types of accommodation, some of which include gas fireplaces, whirlpool tubs, and 4-poster beds. There is also a year-'round pool, game room, fire pits and a massage center in addition to 2 restaurants. Plus, right outside the door is Main Street with unique restaurants and shops. 2022 ERV Rating*: 92% - Excellent. (18 Main Street, Stowe VT 802-253-7301)
Lodge at Spruce Peak ©TripAdvisor
The Lodge at Spruce Peak

-  A luxury ski-in/ski-out four season resort at the base of Mount Mansfield and just 6 miles from downtown Stowe. Indulge in spa services and refined dining, play golf, or take a gondola ride. There is even a performing arts center and outdoor pool, village green and ice rink. Rooms feature amazing mountain views, balconies, floor-to-ceiling windows, stone fireplaces and spacious marble bathrooms. 2022 ERV Rating*: 84% - Very Good. (7412 Mountain Road, Stowe VT 802-282-4625)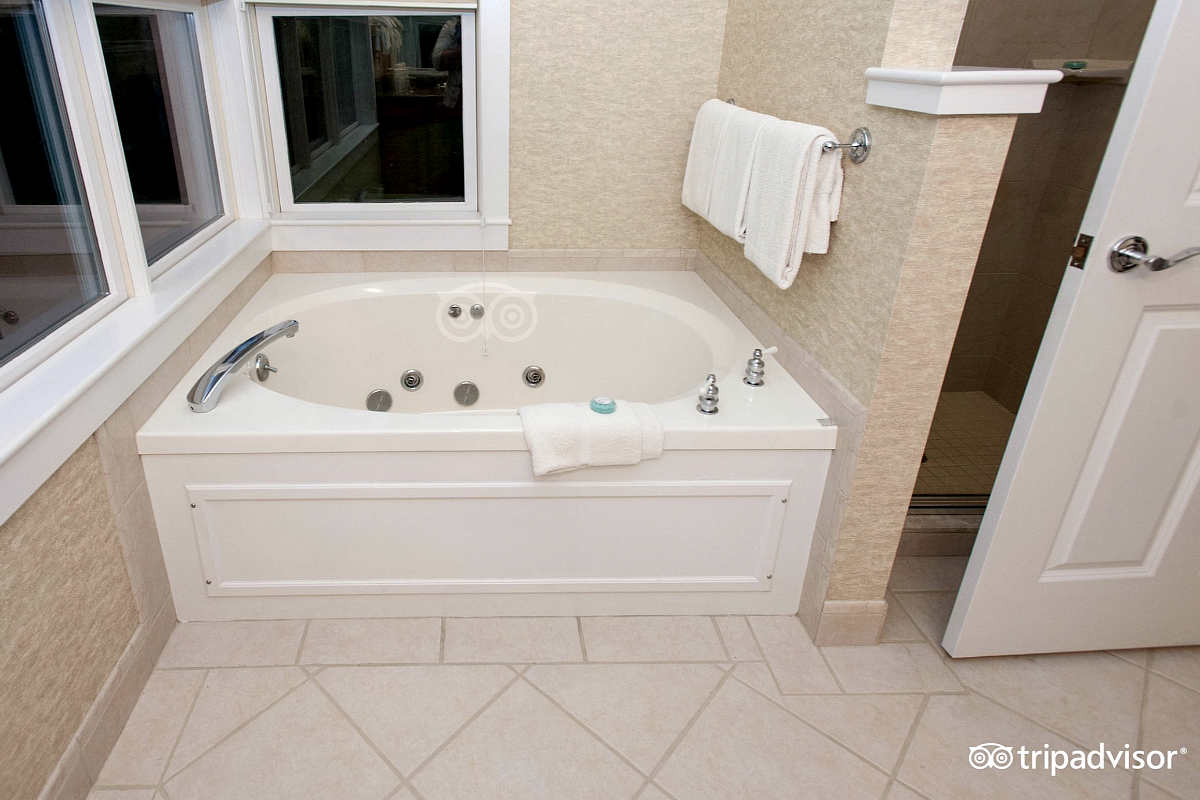 Stoweflake Mountain Resort ©TripAdvisor
Stoweflake Mountain Resort & Spa

- Located right in the heart of Stowe, this is a full-service resort on 60 acres of land. Cozy suites include living area, dining tables, balconies, and Whirlpool tubs. Many feature fireplaces as well. The award-winning restaurant and pub has an outdoor deck, and there is a tennis court and golf course for guest use. The onsite spa boasts an indoor waterfall and mineral soaking pool. Indoor and outdoor pools mean you can swim year 'round. Popular restaurants, pubs, breweries and shops are within walking distance. 2022 ERV Rating*: 76% - Good. (1746 Mountain Rd, Stowe VT 802-253-7355)
Top Notch Resort ©TripAdvisor
Top Notch Resort

- Just 4 miles from Stowe Mountain skiing, this high end resort is set on 120-acres and includes a restaurant and lobby bar, indoor and outdoor pools, and luxurious spa. Organized activities such as kayaking, canoeing, hot-air ballooning, zip lining and golf are available. Resort home have kitchens, whirlpool tubs, gas fireplaces and mountain views. The Gold Brook Suite is perfect for honeymoons! 2022 ERV Rating*: 82% - Good. (4000 Mountain Road, Stowe VT 802-253-8585)
romantic things to do around stowe
Stop by Stowe Mercantile and get supplies for a picnic at Smuggler's Notch State Park.
Where to Eat: 

Dining Room at Von Trapp Family Lodge - Yes, the famous family from The Sound of Music. The restaurant serves great Austrian food for breakfast and dinner, and the beerhall is open for lunch. Make a reservation to take an historic tour of the property. 
burlington, VT
Vermont's most populous city is known for its unique culture. Vibrant and fun, this town is known across New England for its thriving arts scene. It's located on the eastern shore of Lake Champlain.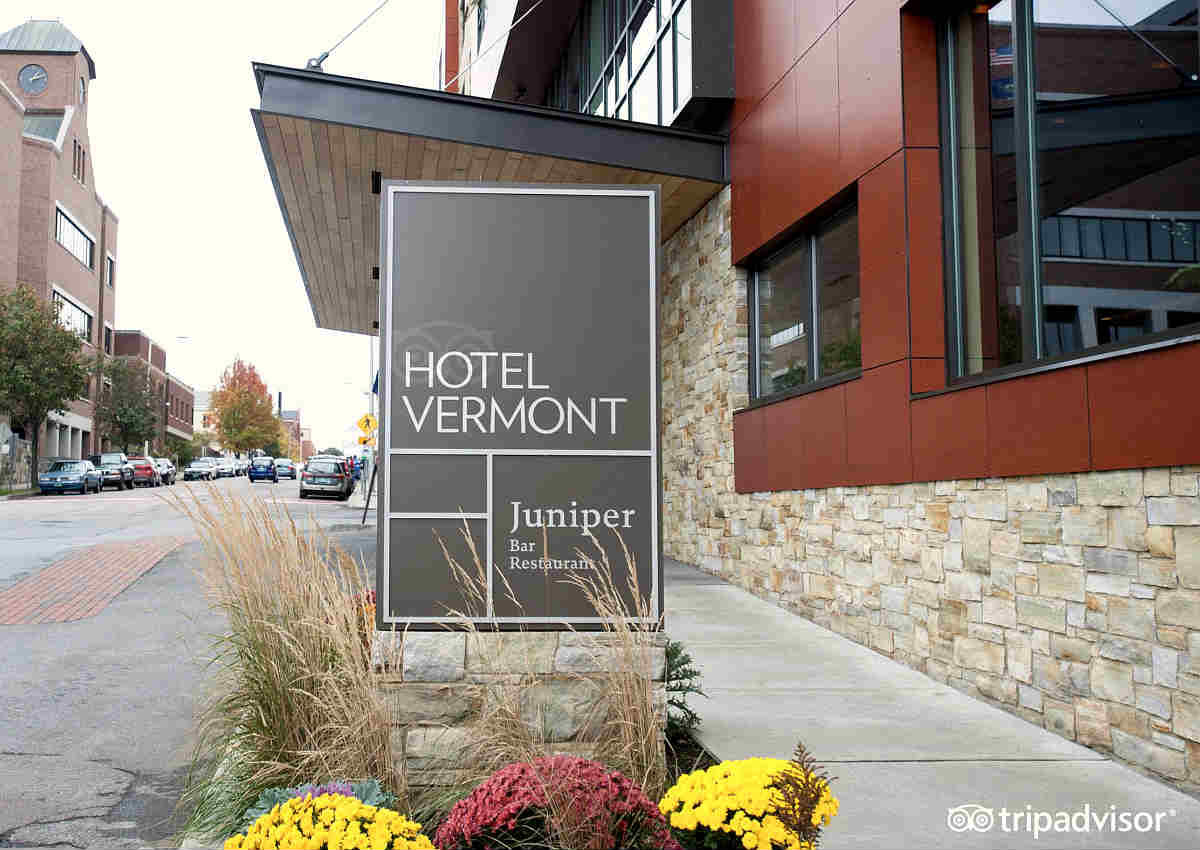 Hotel Vermont, Burlington VT ©TripAdvisor
Hotel Vermont Suite ©TripAdvisor
Hotel Vermont

- 

This is the spot for gazing at beautiful Lake Champlain from two outdoor terraces or from the comfort of your Corner King Bedroom suite. Great location in downtown Burlington means you're a short walk from the Echo Lake Aquarium and famous Church Street pedestrian mall. Upgraded top-floor rooms offer whirlpool Tubs and gas fireplaces. Cocktail bar, restaurants, gym, and spa treatments round your perfect romantic getaway. Check out the Romance Package here too!  

2022 ERV Rating*: 90% - Excellent. (41 Cherry St, Burlington VT 802-651-0080)
burlington vt romantic things to do
Get a scoop or two from Ben and Jerry's ice cream shop, which is just up the street from the original location. (36 Church St, Burlington VT)
Travel about 30 minutes to Wilmington and see the great weekend Antique and Flea Market (from mid-May to mid-October) 
Where to Eat: Have a romantic lunch or dinner at Bistro De Margot, and enjoy some classic French food in a casual setting. (126 College St, Burlington VT)
---
saint johnsbury, VT
A vibrant town close to the New Hampshire border, with lots to offer: A public planetarium, unique art galleries, and the largest weekly farmers market in this area. 

Jetted Tub Suite, Rabbit Hill Inn, VT ©TripAdvisor
Rabbit Hill Inn

- 

An award-winning B&B with 19 luxurious rooms and suites, each with a unique decor style. Most have gas fireplaces and may have 2-person Whirlpool / hydromassage tubs, covered, private porches or sundecks, and amazing mountain views. There is an onsite restaurant and cozy Irish pub, and it's all set on 15 acres of gardens and forest trails to explore. 

2022 ERV Rating*: 96% - Excellent. (48 Lower Waterford Rd PO Box 55, Saint Johnsbury VT 802-748-5168)
what to do in saint Johnsbury, VT
Visit the Fairbanks Museum and Planetarium. (1302 Main St, St Johnsbury VT)
Where to Eat near Saint Johnsbury: Try the small plates and pub food, along with a fancy cocktail at Kingdom Taproom. (397 Railroad St, St Johnsbury VT)
Scenic Vermont Drives
During our Autumn tour of Vermont, we found the most scenic routes and best roads for viewing the landscapes and foliage to be:
US Route 4 from White River Junction west to Rutland.
Route 100 between Rochester and Stowe.
State Route 108 through Smugglers Notch State Park.
Route 9, also known as The Molly Stark Trail, between Brattleboro and Bennington is a gorgeous area in the fall. 
Route 2 between Burlington and St. Johnsbury also offers some of the best fall colours available in the state. 
Vermont Weddings & Honeymoons
Stonehill Luxury Vermont Wedding & Honeymoon Packages - specializes in romantic Vermont destination weddings and honeymoons. They have an elopement package for 2, plus can arrange canoe trips, wine tours and snowshoeing (they even have a package designed to help you propose in Vermont!) A great place for anniversary getaways too. 2022 ERV Rating*: 96% - Excellent. (89 Houston Farm Rd, Stowe VT 802-253-6282)
*ERV Rating: our unique, non-scientific ratings for romantic accommodation include:
Amenities: including Whirlpool bath or 

JACUZZI

®

Tub

,

scenic view, fireplace, lounge, etc
Location: proximity of hotel to restaurants, pubs, downtown, etc
Clientele: demographic the hotel attracts (couples, families, business travelers, etc)
Popularity: based on social media & crowd-sourced reviews 
Value: product offered compared to room rate 
Please Note: percentage ratings are not absolute but for comparative use only  
top hotels, getaways & packages on ERV
---