The Best Romantic Getaways in Minnesota - Where to Find Them 
Romantic Vacations Home › Romantic Getaway › Minnesota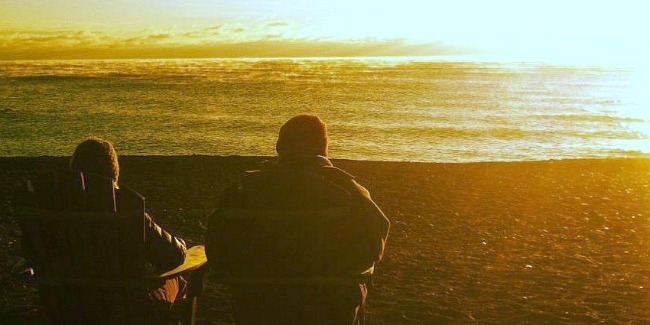 Minnesota's Lake Superior Shoreline Offers Many Romantic & Secluded Vacation Spots
FTC Disclosure: If you make a purchase through a link on this page, we receive a small commission at no cost to you. We only recommend hotels we have used ourselves or researched thoroughly.
By Greg Mattson, ERV Editor - Updated: Jun 2, 2015
Minnesota is a great getaway spot for couples, with a mix of natural and man-made attractions to explore, as well as some excellent lodges and B&B accommodation.
Here's a look at some fun romantic spots in the Twin Cities, plus some other locations in MN for honeymoons and getaways.

Minneapolis/St.Paul Getaways
Many romantic getaways in Minnesota begin in Minneapolis/St.Paul, home to historic neighborhoods, parks, over 20 lakes, and a vibrant theater and art scene. A must-do walk is the St. Anthony Falls Heritage Trail, a 2 mile path accessible from downtown Minneapolis with scenic views of the falls and the Mississippi River.
Other Minneapolis/St. Paul attractions include:
Lake Calhoun - great place to bike, rollerblade, canoe or just stroll around the lakefront for some fresh air, an ice-cream cone and views of the city.
Fort Snelling State Park - a 15-minute drive to swimming, picnicing, hiking, boating and canoeing adventures.
Nicollet Island - attractive 1800's-era village. Horse-drawn carriage tours are a fun way to explore the brick streets and lanes.
Romantic Winter Activities in Minneapolis-St.Paul - get out of the cold and inside the gigantic Mall of America, and catch a movie or ride the roller coaster. In the afternoon or evening, lace up some blades and take to the ice hand-in-hand at The Depot, a renovated train depot now complete with a skating rink, indoor water park and 2 hotels. (225 Third Ave South, Minneapolis) 
Minneapolis MN Romantic Hotels & Dining
The Marquette Hotel - gorgeous rooms here have sweeping panoramic views of downtown Minneapolis, there's on-site dining, and rates start at just $159/night. 2015 Rating* for Romantic Minneapolis Hotels: 80% of Couples Rate it Excellent/Very Good. (710 Marquette Ave, Minneapolis, MN  612-333-4545)
Saint Paul Hotel - elegant and historic, and perfect for a Minneapolis honeymoon, where the perks include "Minnesota's best sleep and shower experience". 2015 Rating* for Romantic St Paul MN Hotels: 87% of Couples Rate it Excellent/Very Good (350 Market St, St. Paul, MN  800-292-9292) 
The Westin Minneapolis - offers luxury lodging, one of the best hotel beds in Minneapolis, and a level of service that keeps couples coming back. 2015 Rating* for Romantic St Paul MN Hotels: 84% of Couples Rate it Excellent/Very Good (88 South 6th St, Minneapolis, MN  612-333-4006) 
Dining for 2:
Moscow on the Hill - start with a vodka martini, and then delve into the hearty, delicious Russian offerings of lamb and beef kabobs, borscht and beet salad. The outdoor patio and accordion player add to the wonderful atmosphere. (371 Selby Ave, St Paul MN 651-291-1236)
Barbette - French cuisine by candlelight here, although you'll find the ambience here romantic but relaxed. Gluten-free and vegetarian items are available. (1600 W Lake St, Minneapolis MN  612-827-5710)
Minnesota Romantic Lodge - Lutsen Resort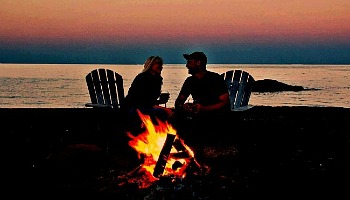 Lutsen Resort Romantic Getaway on Lake Superior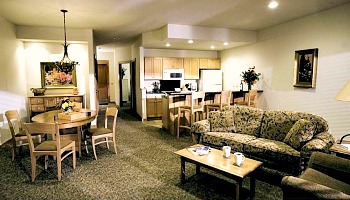 Lutsen Resort Accommodations
Lutsen Resort on Lake Superior - talk about romantic! Immerse yourselves in peaceful seclusion at this Northeastern Minnesota romantic lodge on the shores of Lake Superior. The Lutsen Resort gives you the choice of lodge, cabin and villa accommodations, with hot tubs, fireplaces and private decks. 

For activities, there's the resort's pool and games room, bike rentals nearby, guided hikes, golf and spa treatments. A fantastic wilderness honeymoon or couples getaway in Northeastern Minnesota! 

2018 ERV Rating* for Romantic Minnesota Lodging: 80% - Very Good (5700 West Hwy 61, Lutsen MN  800-258-8736)
Minnesota Romance & Anniversary Packages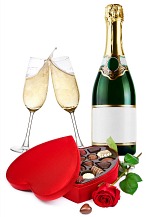 AG Thompson House in Duluth, Minnesota is a Dutch Colonial Bed and Breakfast that dates back to 1909.  It's located in a beautiful, quiet neighborhood close to many attractions, and only seven blocks from the shores of Lake Superior. 
The main house has four unique rooms, with another three more in the carriage home. Each has a fireplace, soaker tub or claw foot bath with rain shower, and many have spectacular lake views.
Several romantic packages are available, but the anniversary package adds only $80 to the cost of your room and allows you to celebrate in style.  You get a bouquet of fresh, seasonal flowers, gourmet dessert truffles, keep-sake wine glasses and a bottle of white wine or non-alcoholic beverage.  Have breakfast delivered to your room if you prefer your privacy to the dining area. (1-877-807-8077)
Honeymoon & Romantic Packages in Minnesota - for honeymoons, anniversaries and special romantic getaways in Minnesota that call for a celebration, the Gunflint Lodge has luxury cabins in a secluded Northern Minnesota lakefront setting. Their honeymoon and romance packages comes complete with wine & appetizers, gourmet meals, and a wide selection of adventure activities and tours to choose from.
More Fun Romantic Getaways in Minnesota

Couple Enjoying a Romantic Autumn Afternoon at Lake Calhoun, Minneapolis MN
Duluth - set in a prime location on the Lake Superior shore, Duluth is a fine place for ship spotting, taking a lake cruise, or enjoying the shops and eateries along the Canal Park waterfront. And it's just 3 hrs from Minneapolis, perfect for a weekend getaway in a romantic Duluth hotel or B&B.
Romantic Getaways in Minnesota: Scenic Drives - Northeast of Duluth, follow Hwy 61 for waterfalls, scenic outlooks and state parks. It's also a great route for spectacular fall foliage in Minnesota.
Southeast of the Twin Cities, U.S. 61 is part of the Great River Road National Scenic Byway. Between historic Red Wing, MN and La Crosse, WI, you'll find wonderful river valley landscapes and small towns all along the Mississippi.
The Best Time to Visit Minnesota is usually from May to October. Autumn brings out some incredible fall colors, and winter, while cold, means great outdoor activities and discounts on hotels and weekend packages. 

Romantic Trip Ideas from ExploreMinnesota.com:
*ERV Rating for Couples: our unique, non-scientific rating formula for romantic hotels which includes:
Romantic Amenities: such as an in-suite 

JACUZZI

®

tub or Whirlpool bath, scenic view, lounge, etc
Location: proximity of hotel to restaurants, pubs, downtown, etc
Clientele: demographic the hotel attracts (couples, families with kids, business travelers, etc)
Popularity with Couples & Honeymooners: based on variety of social media & crowd-sourced reviews.   
Excellent Romantic Vacations - Top Pages
---