Cheap Romantic Weekend Getaways - Destinations, Hotels and Deals
Cheap Weekend Trips
FTC: This page uses affiliate links. More. 

By: Greg Mattson, ERV Editor - Updated: Aug 6, 2019  

On a tight budget, but want to holiday anyway? These cheap romantic weekend getaway destinations and packages could be exactly what you're looking for. Here we focus more on accommodation and ideas for shorter 1, 2 and 3 night affordable stays in cities and resort areas in the USA and Canada.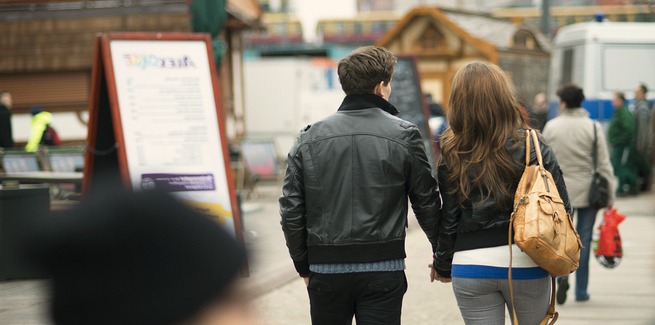 Our Guide to Inexpensive Hotels & Weekend Getaways in NY, Florida, Texas, California and more
Cheap, Warm & Romantic Weekend Getaway Spots
Looking for a cheap vacation to a warm place in 2019?
South Padre Island, TX - travel to this Gulf Coast resort any time other than Spring Break, and you'll find a relaxing and romantic cheap Texas weekend getaway. Check out South Padre Island vacation packages for an affordable mini-holiday.
Amelia Island, FL – a great small town for a cheap and romantic beach getaway in Florida. Nice and quiet, with good swimming and romantic seaside restaurants. And the Residence Inn Marriott Amelia Island has romantic weekend deals with carriage rides, walking tours, wine tasting and more.
Myrtle Beach, SC - the place for sun, mild winter temperatures (60+ F) and romantic, affordable vacations in South Carolina. Some of the cheapest accommodation on the Southeast coast of the U.S. is here, with Hotels in Myrtle Beach starting at $89/night.
---
5 Cheap and Romantic Big City Hotel Getaways
NEw york city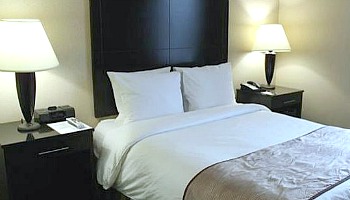 Hotel Le Jolie - Romantic NYC Weekends
Hotel Le Jolie - how to do a hotel getaway in the Big Apple that's both cheap & romantic? Stay in a nearby borough that's a short subway trip away from all the weekend fun in Manhattan. Perfect for that is the Jolie, with boutique rooms, free breakfast, limited free parking, and views of the NYC skyline. Low-season weekend Rates start at around $215/night, and it's only a 6 minute walk to Lorimer Street Subway Station. 2019 ERV Rating* for Romantic Brooklyn, NY Hotels: 90% of Couples Rate It Excellent/Very Good. (235 Meeker Ave, Brooklyn NY  718-625-2100)
chicago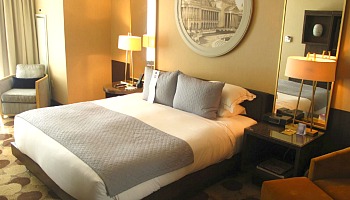 Room at the Hotel Palomar, Chicago IL
Palomar Hotel Chicago - pick a low season weekend and you can grab a getaway in this ultra-romantic downtown Chicago Kimpton hotel for around $170/night. Great location, evening wine receptions, and a heated pool await your weekend arrival! 2019 ERV Rating* for Affordable & Romantic Chicago Hotels: 94% of Couples Rate It Excellent/Very Good. (505 N. State St, Chicago IL  312-755-9703)
Dallas, tx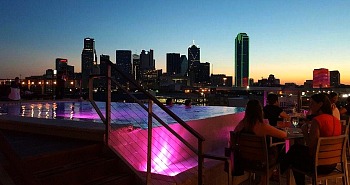 View of Dallas from the NYLO Hotel Rooftop
NYLO Dallas South Side -  luxury loft rooms and suites, rooftop pool & bar with gorgeous views of the city, and you can easily walk to theaters, restaurants and the Dallas Farmer's Market. Rates from $195/night. 2019 ERV Rating* for Romantic Dallas Texas Hotels: 84% of Couples Rate It Excellent/Very Good. (1325 S. Lamar St, Dallas TX  214-421-1080)
atlanta, ga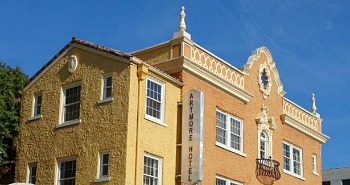 Inexpensive Artmore Hotel in Atlanta GA
Artmore Hotel - this romantic boutique hotel in Atlanta's Arts District is an ideal weekend escape. Budget-friendly room rates as low as $161/night, plus there's a cocktail bar and complimentary Wi-Fi. 2019 ERV Rating* for Cheap & Romantic Atlanta Hotels: 84% of Couples Rate It Excellent/Very Good. (1302 W. Peachtree St, Atlanta GA  404-876-6100)
Miami

Hotel Beaux Arts Miami - South Beach can be too expensive for some, so here's a romantic high-rise in downtown Miami with reasonable rates (for Miami!) starting at $215/night. On-site virtual bowling, plus complimentary breakfast, in-room Illy espresso, and a nice and late check out time of 12 Noon will add to your romantic Miami weekend nicely. 2019 ERV Rating* for Romantic Downtown Miami Hotels: 94% of Couples Rate It Excellent/Very Good. (301 St, Key West FL  800-779-2129)
---
5 More Cheap Romantic Vacation Ideas...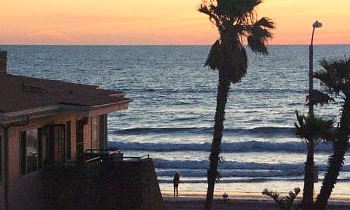 Oceanfront Vacation Rental, San Diego CA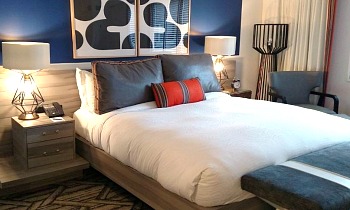 Kimpton Palomar Hotel, Washington DC
1. A romantic weekend in a vacation rental can be both affordable and comfortable! More and more vacation rental homes, condos, cottages and log cabins offer nightly rates, with no minimum stay required. Interested? Have a look at the accommodation available in these inexpensive holiday rental destinations: 

2. For a cheap winter vacation that's romantic too, consider the Auberge Lac-à-l'Eau-Claire in Quebec, Canada. They have very affordable 2 & 3 night romantic packages that include accommodation, buffet breakfasts, a dogsled ride and outdoor activities along with dining each night.
3. When everyone leaves Washington DC for the weekend, you can go the opposite way and check into the city for a romantic weekend that costs less. Next step: finding a hotel that's romantic but affordable too. Solution: the Kimpton Hotel Palomar, a mid-range boutique hotel in D.C. with a pool and evening wine hour, all for rates starting at $215/night.    
4. The King of Cheap (and tacky!): Las Vegas. Nothing drives prices lower than intense competition, and on Las Vegas Boulevard (aka The Strip) and the surrounding area, you'll come across some of the best deals going for accommodation, dining and entertainment for your romantic escape.

5. The best attractions really are free, and it's hard to imagine a better attraction than the Oregon Coast. After a day of beach walks and exploring small seaside towns, you can overnight for very affordable rates at the Holiday Inn Express in Astoria, OR.   

More Cheap Vacations on ERV:
Getaway hotels for every budget: 
New York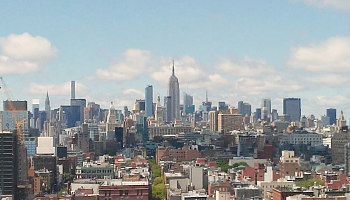 Chicago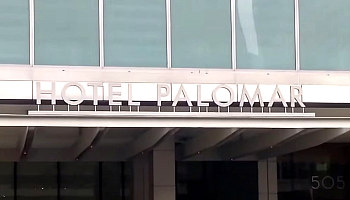 Los Angeles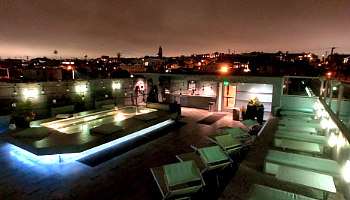 Washington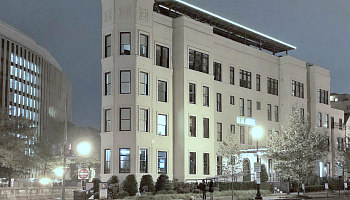 Dallas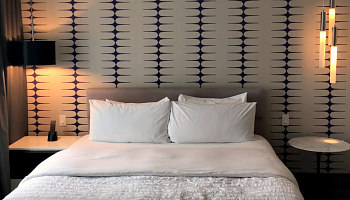 Atlanta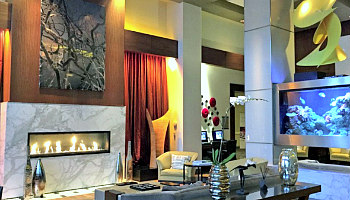 Houston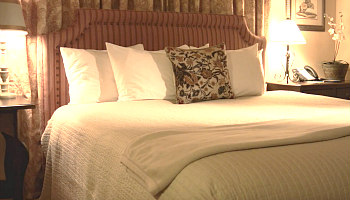 Boston
San Francisco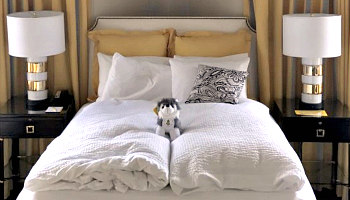 *ERV Rating: our unique, non-scientific ratings for romantic accommodation include:
Amenities: including Whirlpool bath or 

JACUZZI

®

Tub

,

scenic view, fireplace, lounge, etc
Location: proximity of hotel to restaurants, pubs, downtown, etc
Clientele: demographic the hotel attracts (couples, families, business travelers, etc)
Popularity: based on social media & crowd-sourced reviews 
Value: product offered compared to room rate 
Please Note: percentage ratings are not absolute but for comparative use only  
top hotels, getaways & packages on ERV
---