Romantic Orlando Vacation Ideas for Couples
Romantic Vacations Home › Florida › Orlando
Sunny Day on an Orlando Vacation: Walking Around Romantic Lake Eola
By Greg Mattson, ERV Editor - Updated: Jan 08, 2016
When most people think of an Orlando vacation, theme parks, strip malls and lots of kids may come to mind. But if you're interested in some quieter romantic weekends in Orlando Florida that don't involve souvenir hunting, have a look at these attractions we think you'll love both inside the Magic Kingdom and beyond.
Romantic Spots in Orlando
Lake Eola Park: Enjoy a picnic lunch, feed the swans or rent a paddle boat in this beautiful park, one of the most romantic locations in the Orlando, FL downtown area.
Ice Bar Orlando: looking for a cool way to get out of the Central Florida summer time heat and humidity? Try sipping a vodka while bundled up in a parka in this 22 degree mostly-made-of-ice lounge. (8967 International Dr, Orlando, FL)    
Orlando Dinner Shows: Pirate's Dinner Adventure, Capone's Dinner & Show and the Medieval Times Dinner & Tournament are 3 of the more popular dining and entertainment packages available in the Orlando/Kissimmee area. More are available inside Walt Disney World (WDW), just check listings when you arrive. 
Hot Air Balloon Rides Over Orlando - Central Florida can be a wonderfully romantic place when you get a bit of space away from others. If you really want to get away from the crowds, why not get above them - in a hot air balloon! You can book a ride for two for under $300, with stunning views of the Magic Kingdom and Orange groves unfolding below. 
Romantic Getaways near Orlando - Winter Park, FL
After a few days around the hustle and bustle of WDW, Universal and International Drive in Orlando, you may be ready for an escape! Try a half or full day excursion to nearby Winter Park, an attractive small community just 15 minutes drive northeast from Orlando.
Romantic Things to Do in Winter Park, FL:
Wine Tasting at the Wine Room on Park Ave - downtown Winter Park wine lounge houses a unique pay-as-you-go system with wine dispensers activated by a refillable debit card. You can sample from a selection of 150+ wines in a relaxed setting with no one standing in front of you expecting to buy the bottle! (270 South Park Ave, Winter Park, FL)
Visit Kraft Azalea Gardens - "Orlandoans" know this spot on Alabama Drive in Winter Park as one of the most romantic places in Winter Park. A scenic residential park with nice walking trails, and one of the best places in the Orlando area to watch the sunset. (1365 Alabama Dr, Winter Park, FL) 
Dine at a Romantic Winter Park Restaurant - we had a tasty Turkish lunch at Bosphorous (108 South Park Ave, Winter Park FL) For more traditional American fare, try Park Plaza Gardens (319 South Park Ave, Winter Park FL). After a meal, it's a short distance to Kilwins Winter Park (122 North Park Ave) for a delicious ice cream desert.
---
Romantic Orlando Vacation Resorts
Whirlpool Suite at the Hilton Grand Vacations Suites, Orlando FL
Hilton Grand Vacations at Tuscany Village - finding a romantic place to stay in a good location in Orlando doesn't have to mean an expensive and small hotel room in a theme park. This romantic Hilton resort just off International Drive offers large, comfortable suites that include a small kitchen, dining area, large King bed and an in-room jetted tub big enough for two. What Other Couples Said:

"Grand - the Name Says It"..."10 Minutes from Most Theme Parks"..."Comfortable Bed, Excellent Kitchenette, and a Spa Tub!" 

2017 Rating* for Romantic Orlando Resorts: 86%

of Couples Rate It Excellent/Very Good.

(8122 Arrezzo Way, Orlando, FL  407-465-2600) 
Boutique Luxury:
Grand Bohemian Hotel Orlando - What Other Couples Said:

 "Orlando's Best Hotel for Adults"..."Great Location, Great Hotel"..."Romantic Dining at Boheme Restaurant" 

2017 Rating* for Romantic Orlando Resorts: 85%

 of Couples Rate It Excellent/Very Good. 

(325 S. Orange Ave, Orlando FL  407-313-9000)
Budget Friendly & Top Rated:
Holiday Inn Express Hotel & Suites Orlando East - What Other Couples Said:

 "Very Comfortable King Suite"..."Excellent Breakfast, Amazing

Cinnamon

 Rolls"..."Beds So Comfortable" 

2017 Rating* for Romantic Orlando Hotels: 100%

 of Couples Rate It Excellent/Very Good. 

(12250 E. Colonial Dr, Orlando FL  407-203-8585)
---
Disney World for Two: 5 Romantic Tips
Walt Disney World in Orlando is considered to be the most popular honeymoon destination in the USA! But of course, crowds can make any romantic getaway in the Magic Kingdom a challenge. Here's a brief look at making your time at WDW bit more romantic...
1. Rent a Surrey Bike: Although they're available for hire along the Boardwalk Promenade, we suggest renting them at Port Orleans Riverside. It's less crowded over there, and the paths and trails around the resort are relaxing and scenic. Prepare to spend about $20 for a 30-minute rental of a Surrey bicycle for two.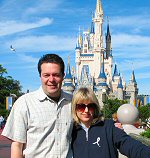 2. Go on a Horse-Drawn Carriage Ride: Take a romantic rise through the back country of the Magic kingdom! Available through Disney's Fort Wilderness Resort and Port Orleans Resort. Call 407-WDW-PLAY.
3. Don't Miss the Fireworks: Each night, fireworks light up the sky above the Magic kingdom and at EPCOT. Times can vary slightly (usually around 9 & 10 PM) and the shows are about 15 minutes in length. They're colorful, and a romantic end to the day.
A couple of the most romantic places to watch the fireworks would include:
California Grill - a window side table here while they dim the lights so you can enjoy a panoramic view of the show (a seat at the bar would do if the restaurant is full)
The Champagne and Fireworks cruises available from several resorts.
4. Explore Romantic Spots at WDW Resort Hotels: wandering through the grounds at the Disney Polynesian Resort can be very romantic. Tiki torches light the pathways (check and see if there's a torch lighting ceremony on the night you're there), and for after dinner fun, head to the beach area and enjoy the sunset while swinging together in a hammock between the palms. Or, stroll over to the Disney Grand Floridian for a look at their Wedding Pavilion. 
5. Splurge on a Romantic Dinner: don't settle for anything less than the most romantic dining spot in WDW: Victoria & Albert's (see below). 
More Romantic Vacation & Honeymoon Ideas in Florida on ERV:
Romantic Dining in Orlando, FL
The Melting Pot: Rated one of the most romantic restaurants in Orlando. Booth seating, candle-lit tables, delicious fondues and an extensive wine list. (7549 W. Sand Lake Rd, Orlando, FL 407-903-1100)
Victoria and Albert's: Not cheap, but a dining experience truly worth it. Excellent cuisine, attention to detail (individually tailored menus, soft harp music) flawless service and an elegant atmosphere. Romantic and memorable! Located at Disney's Grand Floridian Resort & Spa. (4401 Grand Floridian Way, Lake Buena Vista, FL 407-939-3463)
Restaurant Marrakesh: Our choice for most romantic restaurant in Epcot. Moroccan cuisine, music and belly dancing! You'll find it at EPCOT, tucked in behind the Morocco Pavilion. (407-939-3463)
*Based on TripAdvisor.com Ratings from Couples as of Jan 2017.
Excellent Romantic Vacations - Top Pages
---