Elope in Las Vegas with These Fun & Romantic Resort Packages
Las Vegas Elopements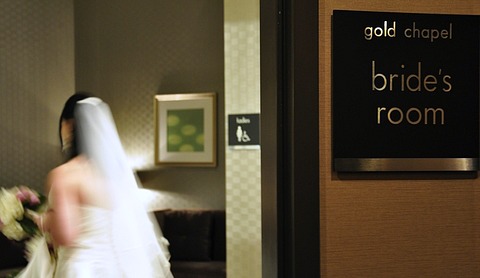 Our Guide to Wedding Elopement Packages & Resorts in Las Vegas, NV
FTC: This page uses affiliate links. More. 

By Maureen Mattson, ERV Staff Writer – Updated: Sep 30, 2017
By: Maureen Mattson, ERV Staff Writer - Updated: Sep 30, 2017   

If you've decided to elope to Las Vegas, you're not alone - each year more than 120,000 couples tie the knot here!
For a quick wedding in Las Vegas, you've got choices: a traditional "wedding chapel in Vegas" type elopement, a theme ceremony based on the character of the hotel/resort itself, or something out of the ordinary like Vegas' infamous "drive-through" wedding chapel!
What Elopement Packages in Las Vegas Cost: A quick and simple Las Vegas wedding starts around $300. Or, you can splurge several thousand dollars, depending on which resort showers you with it's luxuries!  (This page on how to  elope in Las Vegas is written as only a guide. Regulations, prices and options frequently change, so please: always double-check details and plan accordingly).
---
Where to Elope In Las Vegas
Venetian Hotel Weddings
Weddings at the Venetian Hotel

- e

lope on an Italian Gondola! Venetian wedding packages offers other romantic perks, including breakfast in bed, limo service and a bridal salon package. Wedding p

ackage prices

 (

Oct 2017) 

start at $1150 for the Ceremony on the Water (get married on a Gondola in the Grand Canal!), right on up to $6350 for a romantic wedding by the Palazoo Waterfall. The Wedding Chapel at the Venetian Hotel is just beautiful and overlooks the pool and exotic gardens. 

You can also get married on the Ponte al di Piazza" bridge or on one of the traditional Italian gondolas floating on the Grand Canal. Whatever you choose, you'll enjoy a memorable wedding in one of the most romantic places to get married in Las Vegas!
---
Getting Married at Paris Las Vegas
Paris Las Vegas Hotel Weddings

- r

un off to Paris and get married! No less than 10 packages to choose from: affordable wedding elopements for just $650, or the ultra-deluxe Rendezvous in Paris All-Inclusive Wedding & Honeymoon package for $8000.

Paris Las Vegas Wedding Chapels: Parisian Cathedral-style, with the Chapelle du Jardin perfect for small, intimate ceremonies.
Weddings at Treasure Island
Elope in Las Vegas at Treasure Island 

- s

everal different Treasure Island wedding packages, from the basics to getting married outside on the Treasure Island Song Ship! 2017 Rates start at $249 for a basic package up to $3805+ for Enchantment and Poolside ceremonies. 

Treasure Island Hotel Wedding Chapel: Classy champagne tones of peach and off-white, accented with floral arrangements and an elegant marble altar.
For Your Las Vegas Honeymoon:
Vegas Wedding Info:
Here's some important details about Marriage in Las Vegas:
1. No waiting period
2. No blood test
3. Minimum Age: 18 (photo ID required)
4. Fee: $60 for a Nevada State marriage license
Weddings at Mandalay Bay in Las Vegas - there's a simple but elegant I Do package that starts at $700 (Oct 2017 price). The Mandalay Bay chapels are on the shore of an exotic tropical lagoon, designed with chandeliers and French windows.
Elope at Bellagio, Las Vegas - like the hotel itself, the Bellagio has some very exquisite wedding packages. But if you would just like to elope in Las Vegas with something a bit more inexpensive, their elopement packages starts at $2000.
Unique & Fun Ways for Eloping in Las Vegas
Elvis Chapel Las Vegas - an Elvis Wedding in an Elvis Wedding Chapel in Vegas! For fans of the King, it doesn't get any better (or more "Vegas") than this! Packages start at just $195.
Excellent Romantic Vacations - Top Pages
---