Romantic Quebec City Hotels & Boutique Inns
FTC: This page uses affiliate links. More. 

Quebec City, QB
By: Greg Mattson, ERV Editor - Updated: Dec 4, 2018   

Quebec City is certainly one of the most romantic places for a getaway in Canada. We've compiled this report on some of the best places for to stay for a romantic vacation or honeymoon in Quebec City. Have a great time in the Old Town...  
1. Feature ERV Review: Hotel des Coutellier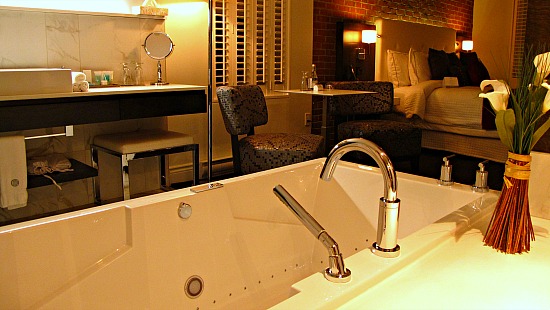 Our Whirlpool Suite at the Hotel des Coutellier
Hotel des Coutellier - a small romantic inn on the edge of the lower section of Quebec City's Old Town. If you're arriving by bus or train, this hotel is close. Romantic Touch: under the bubbles of the whirlpool tub in their Prestige Suite are multi-colored lights! 

Our Experience

-

 the deluxe hot tub suite here is one of the nicest we have ever seen in Canada - perfect for a honeymoon. You also get continental breakfast delivered to your room each morning, as well as WiFi, flat screen TV and a

Keurig

coffee machine. Next to the hotel across the street is

Le Varavin

, a small romantic restaurant.
Romantic Room at Hotel des Coutellier
What Other Couples Liked: $10/day parking nearby...Romantic 4th of July Weekend...Great Farmer's Market Across the Street. 2018 Rating* for Romantic Quebec City Hotels: 98% - Excellent. (253 rue St-Paul, Quebec City, QB  888-523-9696)
More Romantic Quebec City Hotels:
2. L'Hotel du Vieux-Quebec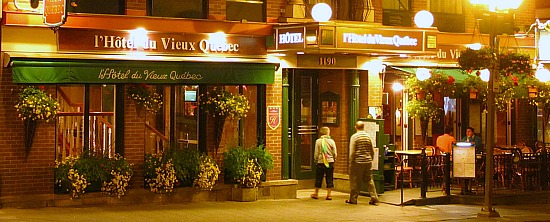 Evening at the L'Hotel du Vieux-Quebec
3. Maison du Fort
The Historic and Romantic Maison du Fort Hotel in Quebec City
Maison du Fort

-

a truly historic 1850's inn surrounded by Quebec City's most historic sights (like the Citadel and Dufferin Terrace). Charming rooms have A/C and private bath, and affordable rates include free Wi-Fi and continental breakfast. 

Romantic Touch: high ceilings, wooden floors, traditional windows and stairs will make you feel like you're holidaying in a small town or village in France. What Other Couples Liked:

 Charming, Clean & Quiet...Wonderful 3-Night Anniversary Retreat. 

2018 Rating* for Romantic Quebec City Inns: 97%

 - Excellent 

(21 ave Ste-Genevieve, Quebec City, QB  888-203-4375)
---
More Romantic Quebec City Accommodation:
 Up to 50% of Romantic Quebec City Hotels and B&B's 
---
4. Auberge Place d'Armes
Front of the Auberge Place d'Armes
Auberge Place de Armes

-

another superbly romantic small inn, this one with it's own sidewalk restaurant (

Pain Béni) on bustling pedestrian St. Anne Street. Bicycle rentals, complimentary à la carte breakfast, and several rooms offering rain showers with jets are some of the highlights of this 200+ year-old inn. Romantic Touch: several rooms on the high floors are loft-style, and the inn is right around the corner from Rue du Tresor, an narrow artist's alley that would be at home anywhere in Europe. What Other Couples Liked:

 Great Location & Character...Treated Guests Really Special". 

2018 Rating* for Romantic Quebec City B&B's: 94%

 - Excellent. 

(24 rue Ste-Anne, Quebec City, QB 866-333-9485)
5. Hotel Manoir Victoria
Hotel Manoir Victoria at Night
Hotel Manoir Victoria

-

"4 Stars in the Heart of Old Quebec" is how the Manoir Victoria refers to itself, and after a $8 million renovation in 2013, things are looking pretty good. If you prefer more of a resort-style hotel instead of a small inn, there's an indoor pool, spa services, and rooms with digital thermostats and TV's (including HD movies) waiting for your arrival.

Romantic Touch: honeymooners would fit right into their Deluxe Contemporary Suite: ambiance fireplace, heated floor and towel warmers (ideal for a romantic Winter getaway in Quebec's cold weather), glass-enclosed rain shower, Nespresso coffee machine and more. What Other Couples Liked:

 In the Heart of the Old Town...Freshly Updated Rooms with Quick WiFi...Valet Parking and Daily Breakfast. 

2018 Rating* for Romantic Quebec City Hotels:

 

83%

 - Very Good

(44 Cote du Palais, Quebec City, QB  800-463-6283)
6. Fairmont Le Chateau Frontenac
Fairmont Le Chateau Frontenac
Fairmont Le Chateau Frontenac - the grand old Frontenac is more than a hotel, it's one of Canada's National Historic Sites. It's been the location of countless weddings, anniversaries and romantic getaways in Quebec City, and some recent renovations have extended it's appeal once again. Romantic Touch: some of the most captivating panoramas of the St. Lawrence River can be had from the Frontenac's river view rooms. What Other Couples Liked: Perfect Wedding Experience...Spectacular Architecture. 2018 Rating* for Romantic Quebec City Hotels: 87% - Very Good (1 Rue des Carrieres, Quebec City, QB  800-257-7544)
---
7. Hotel Le Clos Saint-Louis
Hotel Le Clos Saint Louis
Hotel Le Clos Saint-Louis - it's romance all the way at the Clos Saint-Louis , and it's easy to see why: engagement, honeymoon and anniversary packages abound, as well as rooms with therapeutic bath and four-poster beds. This Victorian-style boutique hotel also gets top marks for it's gourmet breakfasts, friendly staff and relaxing atmosphere. Romantic Touch: if you're an expecting couple, but would like one last getaway before your population increases, consider their romantic babymoon package which includes a variety of meal choices and a maternity massage for the mom-to-be. What Other Couples Liked: Charming...The Best French Toast for Breakfast...Lovely Boutique Hotel. 2018 Rating* for Romantic Quebec City Hotels: 93% - Excellent (69 Rue St-Louis, Quebec City, Quebec  800-461-1311)
*ERV Rating: our unique, non-scientific ratings for romantic accommodation include:
Amenities: including Whirlpool bath or 

JACUZZI

®

Tub

,

scenic view, fireplace, lounge, etc
Location: proximity of hotel to restaurants, pubs, downtown, etc
Clientele: demographic the hotel attracts (couples, families, business travelers, etc)
Popularity: based on social media & crowd-sourced reviews 
Value: product offered compared to room rate 
Please Note: percentage ratings are not absolute but for comparative use only  
top hotels, getaways & packages on ERV
---