Super-Romantic Hotel Rooms with Jacuzzi

®

Suites & Hot Tubs
Find Your Next Getaway in These Hotel Rooms with Jacuzzi in the U.S., Canada & UK
Romantic Vacations Home › Jacuzzi® Suites & Whirlpool Tubs
You'll Discover Romantic Hotel Rooms with Jetted Tubs On Our Site, Like This Hilton Jacuzzi® Suite
By Greg Mattson, ERV Editor - Updated: July 14, 2017
One of the most popular inquiries we get here at Excellent Romantic Vacations.com is where to find hotel rooms with Jacuzzi® Suites and hot tubs. It's quite common when planning a honeymoon or getaway to spend hours searching the internet for resorts and hotels with an in-room whirlpool! So…
We've compiled this special section of our site just for hotel rooms with spa suites in the best honeymoon destinations in the USA, Canada and, new for 2016, the UK. Included here are hotels, resorts and even affordable inns and bed and breakfasts with in-room hot tubs. Everything from luxury inns to inexpensive vacation rentals and holiday cabins.

What Makes our Hotel Rooms with Jacuzzi® Suites Guide Different? It's not software compiled. Our room choices are hand-picked (we check out many each year ourselves), so you can be sure that they are romantic jetted tubs right in your hotel room, not a public hot tub by the pool.

(Disclaimer: The use of the Jacuzzi® trademark on this page is for informational purposes only. No co-promotion, connection or affiliation with the Jacuzzi® companies is inferred or suggested. As hotel rooms and amenities can change, please check with each individual accommodation property before making travel plans.)
---
Hotel Rooms with Jacuzzi in the USA by State: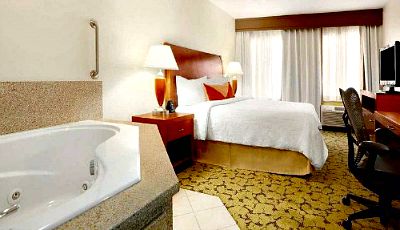 Featured Arizona Whirlpool Suite Hotel:
Hilton Garden Inn Scottsdale North - comfortable and romantic accommodation in Scottsdale, AZ with King Whirlpool Suites, Wi-Fi, Keurig coffee makers, and the Garden Grille & Bar serving both hot breakfast and dinners.
This Hilton Garden Inn is located close to Shopping (Kierlands Common), and you'll enjoy relaxing evenings here with their outdoor pool and fire pit. (480-515-4954)  
---
Featured California Jacuzzi® Hotel Room: 
Portofino Hotel & Marina - it's rare to find a romantic oceanfront hotel in the greater L.A. area that's affordable and has large suites with jetted spa tubs. But that's the Portofino Hotel & Marina in Redondo Beach!
In addition to their Jacuzzi® Suites (which have room for 2, and have partial views of the ocean), Portofino guests can enjoy private patio/balcony, outdoor pool and on-site dining at the top-rated Baleen Kitchen. (310-379-8481)
---
Featured Colorado Jetted Tub Suite:
Marriott Courtyard Colorado Springs - an inexpensive Marriott with an all-new feel to it, and one of the best Jacuzzi suites we've ever stayed in. The hotel has a great bistro and bar next to the lobby. (719-226-5006)  
Our guide to Colorado hot tub suites also includes hotels, inns and honeymoon cabins with jetted spa & Jacuzzi® tubs in Denver and the Rocky Mountains. 

---
Featured Connecticut Spa Tub Suite:
Holiday Inn Express, Mystic CT - one of the most romantic parts of the Connecticut coast is also home to this inexpensive Holiday Inn Express that's popular with couples.
Getaway to historic Mystic and then relax in one of these modern suites featuring a large in-room Whirlpool tub. This hotel is close to Mystic Seaport and Interstate 95. (860-572-9065)     
---
Featured Florida Whirlpool Suite:
Hilton Grand Vacations Suites on International Drive - a favorite with both families and couples visiting WDW and Orlando, this Hilton has spacious suites with in-room Whirlpool tubs for 2.
Other amenities in this Central Florida resort: 2 pools (including a separate kids pool), Italian dining, and over 30 acres of lush grounds and lakefront walks . 2014 Rates start at $134/night.
---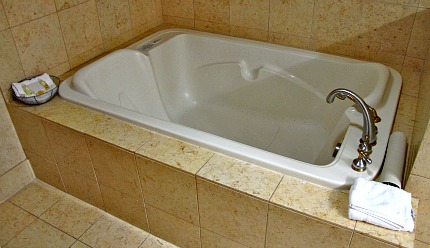 Featured Atlanta, GA Whirlpool Suite:
Wingate by Windham Atlanta Buckhead - romantic 2-person whirlpool tubs compliment these very spacious suites in Atlanta's attractive Buckhead neighborhood.
For your honeymoon, romance packages with champagne chocolates & limo service are available.  2014 prices in these suites start at $219/night. (404-869-1100)
---
Featured Hawaiian Islands Jetted Tub Suites:
Outrigger Waikiki Whirlpool Suites - give your holiday in Waikiki a few great nights in one of the Outrigger Waikiki or Outrigger Reef's honeymoon spa tub suites. (808-923-0711)
We'll also guide you to more romantic Jacuzzi and hot tub hotel rooms and resort suites on the islands of Maui, Kauai and the Big Island of Hawaii.
---
Featured Chicago, IL Jacuzzi® Suite:
Hotel Palomar Chicago - one of Chicago's best boutique hotels also happens to have some of the city's most romantic hotel rooms with Jacuzzi® suites, like their spacious King Spa Premier Room.
The hotel's close to downtown restaurants, the Magnificent Mile and Navy Pier, and they can organize romantic cycling packages for 2 complete with picnic lunch. (312-755-9703)
---
Romantic Indiana Jacuzzi & Whirlpool Suites - see our brand new guide to the best hot tub suites in the Hoosier state. Find romantic jetted tubs and Jacuzzi® suites in Indianapolis, plus more spa tub suites in Bloomington, South Bend, Ft. Wayne and Indiana Amish Country.  
---
Featured Las Vegas, Nevada Jacuzzi Suite:
Signature at MGM Grand 1 Bedroom Jacuzzi Suites - just a short walk from the Strip (Las Vegas Boulevard) is the Signature, comprising 3 towers of non-casino resort at the MGM Grand.
The beautiful rooms at this resort offer private balconies, and some include full kitchens and spacious Jacuzzi tubs in the main bathroom. (877-727-0007)    
---
Featured Maryland Hotel Whirlpool Suite:
Hilton Ocean City Oceanfront Suites - Maryland Coast getaways should be right on the coast, and you'll find this Hilton high-rise hotel on a beautiful piece of white sand beach.
Premium Whirlpool Suites here come with 2 flat-screen TV's and large balconies with splendid ocean views. (410-289-6444)
---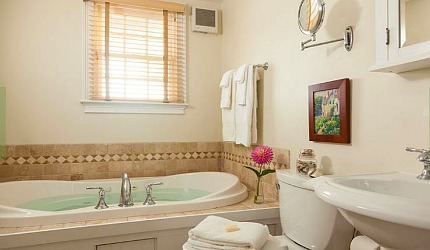 Featured Cape Cod Jacuzzi® Suite:
Provincetown Hotel at Gabriel's - combining the romance of an historic inn with the modern amenities of a boutique hotel, this favorite couples getaway in Cape Cod is ideally located in a secluded garden near the center of historic Provincetown, MA.
Luxury accommodations include romantic Jacuzzi® tubs, fireplaces and private balconies. (508-487-3232)
---
Featured Michigan Jetted Tub Suite:
Country Inn & Suites Marquette - spend a romantic and budget-friendly night or weekend getaway in Northwest Michigan in one of these hotel suites with in-room Whirlpool tub.
Even though it's an inexpensive, there's some nice amenities at this Country Inn, including free hot breakfast, complimentary hot beverages and cookies, fitness center and indoor pool. 
---
Featured Romantic Minnesota Whirlpool Suite:
Courtyard Rochester St Marys - close to downtown Rochester's shopping and restaurants, this Courtyard hotel has on-site dining as well as suites with in-room Whirlpool tub big enough for 2 people. (161 13 Ave SW, Rochester MN  507-536-0040)
Our newest guide to romantic Minnesota jetted tub suites includes rooms in Minneapolis, Duluth,   
---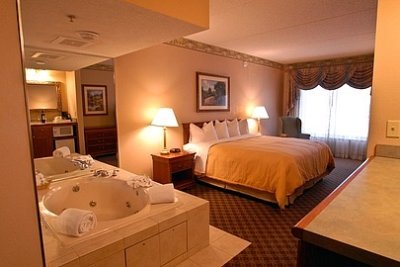 Featured NJ Whirlpool Suite:
Country Inn & Suites Newark International Airport - one of the nicest hotel rooms with jetted spa tubs in Northern New Jersey also happens to be very close the EWR airport!
Besides being a fine choice for your before or after trip night over, this Country Inn & Suites serves up a hot breakfast buffet each morning, and is located close to fine dining and outlet shopping. And you're only 30 minutes away by train from downtown NYC. Rates for these NJ spa suites: $159+. 
---
Featured NY Whirlpool Suite:
Fairfield Inn New York Long Island City/Manhattan View - not actually in Manhattan, but you're just minutes away when you book into one of the Fairfield's suites with in-room Whirlpool for 2.
There's free shuttle to the subway, spa suites with views of the NYC skyline, and free breakfast. Great location: just 3 miles from Midtown Manhattan, and 5 miles to La Guardia Airport. (718-389-7700)
---
Featured North Carolina Spa Tub Suite: 
Hampton Inn Charlotte Uptown - top choice for your Charlotte NC hotel with in-room Whirlpool tub. Heated pool and free breakfast (to stay or to go) are included. (704-373-0917)
Our NC guide also has romantic hotel suites with hot tubs in the best NC destinations, including Raleigh, Carolina Beach and the Smokey Mountains.

---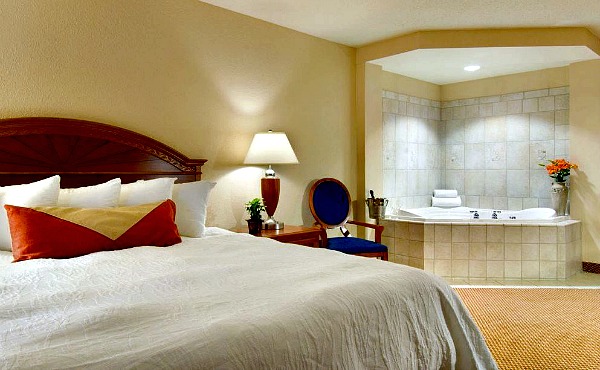 Featured Ohio Hot Tub Suite:
Hilton Garden Inn Columbus/Polaris - solid choice for your romantic vacation or honeymoon in the Columbus, OH area. 
The Whirlpool suites in this Central Ohio Hilton hotel feature a 2-person tub set into a romantic alcove. Stop by the lobby bar for a happy hour cocktail, or dinner at the Great American Grille. Romance packages are available for any anniversary or special getaway. (614-846-8884) 
---
Featured Oregon Hot Tub Suite: 
Courtyard by Marriott Portland Downtown - flat screens, luxury bedding and indoor pool are just a few of the amenities to expect when you check into this downtown Portland Marriott hotel, along with their romantic King suites with in-room Whirlpool tubs big enough for two. (503-234-3200) 
Plus: discover more Jacuzzi® suites & spa tubs in the best spots on the Oregon Coast, Wine Country, and close to the I-5.

---
Featured Pennsylvania Spa Tub Suite:
Inn at Bowman's Hill - awarded as one of TripAdvisor's Top Luxury B&B's, the Inn at Bowman Hill's English Manor has one of Pennsylvania's most romantic honeymoon suites, featuring a Whirlpool tub for 2 and a 2-person shower with 11 shower heads!
This secluded PA inn also has an outdoor pool and hot tub, gourmet English breakfast and in-house spa services. Anniversary, babymoon, engagement and wedding packages are available, all just 40 miles from Philadelphia. (215-862-8090) 
---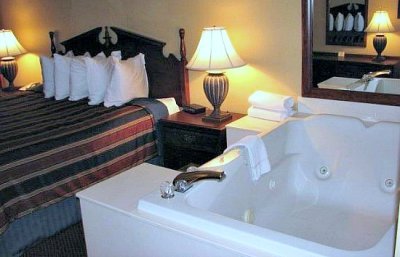 Featured Pigeon Forge, TN Whirlpool Suites:
Best Western Plaza Inn Pigeon Forge -  you'll find this Best Western easy on the budget, and close to loads of Pigeon Forge attractions, including being located just a 12 minute drive to Great Smoky Mountain National Park.
Beside their romantic suites with in-room whirlpool tubs for two, there's free continental breakfast, 3 pools (2 outdoor), hot tub and plenty of free parking. (865-453-5538)
---
Featured Texas Spa Tub Suite:
Holiday Inn Express Hotel & Suites Dallas Central Market - romantic and inexpensive hot tub rooms in Dallas for your weekend getaway or honeymoon. 2014 King Whirlpool Suite rates begin at only $157/night, including buffet breakfast, fitness facilities, pool, flat-screen TV's and WiFi. IHG Priority Club Rewards members can pay for your stay with points - the cheapest Dallas TX spa suite getaway! (214-905-1400)
---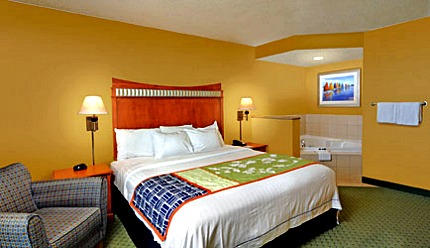 Featured Virginia Spa Tub Suite:
Fairfield Inn & Suites Virginia Beach Oceanfront - getaway or honeymoon in Virginia Beach? 2 Must-haves for your accommodation: 1) Oceanfront of course, and 2) an in-room hot tub. This Fairfield Inn by Marriott has both in their Jacuzzi® Suites which also offer private balcony.
Free breakfast is included, with 2014 Jacuzzi® Suite rates from $129/night. (757-422-4885)
---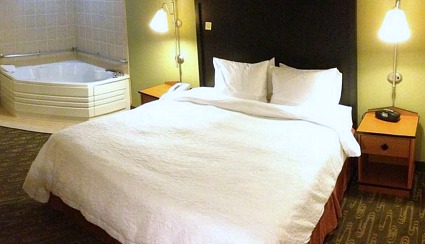 Featured Seattle, WA Whirlpool Suite:
Hampton Inn & Suites Seattle North-Lynnwood - popular pick for an affordable mid-range hotel in the Greater Seattle area with an in-room jetted tub. We were impressed not only with the hot tub suite, but the staff at check-in were always smiling and friendly. (425-771-1888) 
Seattle Jacuzzi Suites - see more spa suites in Seattle, SeaTac Airport, Tacoma, Everett & more. 

---
Romantic Jacuzzi® & Hot Tub Suites in Canada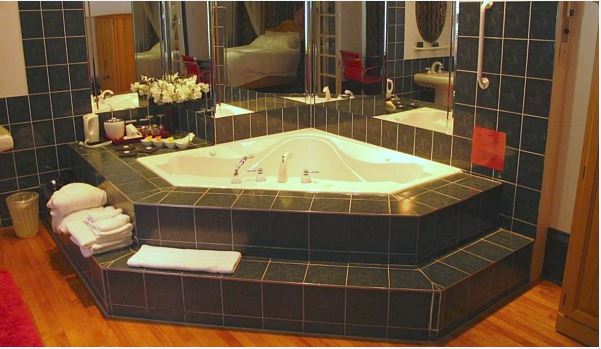 Ontario Jacuzzi® Suites - see and discover some super-romantic honeymoon suites with jetted tubs in Toronto, plus other great spots in Southern, Central & Northern Ontario, including Niagara Falls, Niagara-on-the-Lake, London, and the city of Ottawa. Pictured is the beautiful Jacuzzi Tub at the Swiss Hotel's Romantic Getaway Suite in Ottawa.
---
Vancouver Island Jacuzzi® Suites - spa tub suites in beautiful honeymoon destinations like Victoria, Parksville and Tofino, BC. Book a romantic hotel or resort room by the ocean with a jetted spa tub in the best spots for couples on Canada's Wild West Coast.
---
As you travel between Edmonton and Calgary, through the beautiful Rockies or in the Northern or Southern parts of the province, this guide will help you quickly locate romantic hotel rooms with hot tubs. 
---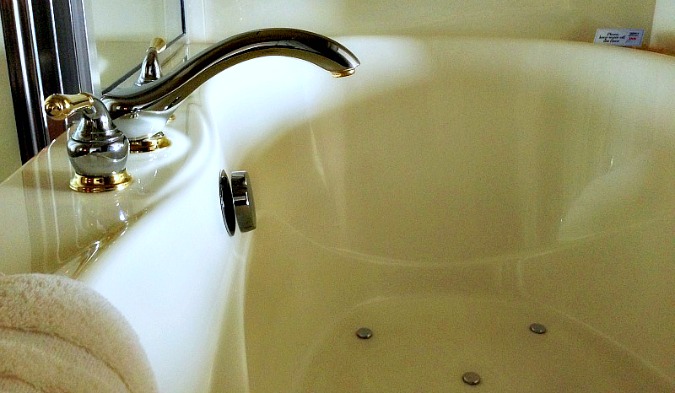 New for 2016: UK Jacuzzi Suites - The best and most romantic United Kingdom hotels and inns with en-suite Jacuzzi and Whirlpool tubs!
We've uncovered some splendid accommodation with jetted tubs in England, Wales and Scotland. And, you can be sure these suites all have hot tubs right in the room, for the most privacy.
---
Excellent Romantic Vacations - Top Pages
---