Vegan Hotels & Inns
vegan hotels & inns - enjoy a romantic plant-based getaway
FTC: This page uses affiliate links. More. 

---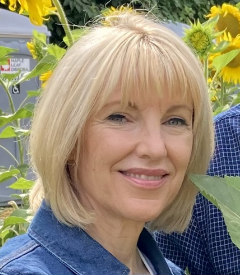 By: Maureen Mattson, ERV Asst Editor - Updated: Aug 10, 2020   

When planning a romantic getaway, what's a vegan to do? Fortunately a growing number of small inns and B&Bs in America are happy to cater to those with special "plant-based" diet requests.
Plan Your Plant-Based Getaway with Our Guide to Vegan Hotels and Inns All Across America
While the majority of these accommodations are not specifically vegan (for example, using only cruelty-free products in-house) they are "vegan friendly" and will provide non-meat and non-dairy options at breakfast and/or other times during your stay. 
As with any special request, it's always best to give the inn-keeper plenty of advance notice that you will require a modified meal. Note: All recommendations are as of July 2019 and may change without notice.

Disclaimer: JACUZZI® is a registered trademark owned by Jacuzzi Inc. The use of the JACUZZI® trademark on this website is for informational purposes only. There is no relationship, connection or affiliation between this website and Jacuzzi Inc. or its related companies. Rates shown are approximate only and subject to change. Hotel rooms, jetted tubs and amenities can change, and may not be exactly as shown, so please contact the hotel or inn before making travel plans.
---
Vegan Hotels - northeast
new york city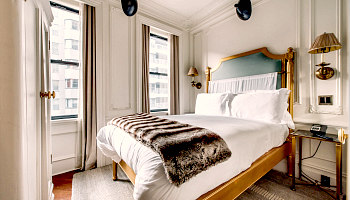 Hotel w/ Vegan Options in NYC - Marlton
The Marlton Hotel

- Calling itself "retro-romantic", the Marlton in Greenwich Village is a restored landmark building with former guests such as Julie Andrews and Jack Kerouac. The on-site French inspired Margaux Restaurant has plenty of vegan options for all your meals. 2019 ERV Rating* for NYC Hotels w/ Vegan Meals: 88% - Very Good. (

5W 8th St, New York NY  

212-321-0100)
New York state
Upstate NY - Inn at Taughannock
Inn at Taughannock - Situated on the Cayuga Lake Wine Trail, this Historic Victorian Inn's charming guest rooms and adjacent lakeside guest houses offer the perfect romantic Finger Lakes experience. Their restaurant offers a variety of vegan dishes, including a vegan breakfast. 2019 ERV Rating* for Upstate NY Hotels with Vegan Breakfasts: 80% - Very Good. (

20130 Gorge Rd, Trumansburg NY  

607-387-7711)
Niagara Falls
Hanover House B&B, Niagara Falls NY
Hanover House B&B

- Hanover House is a 100-year old historic home, located just a ten-minute walk from the falls and other attractions. Your stay includes a hot made-to-order breakfast and the hostess accommodates vegans with advance notice. Note: Several restaurants in the area also offer vegan-friendly dishes. 2019 ERV* Rating for Vegan-Friendly Niagara Falls Area Hotels: 92% - Excellent. (

610 Buffalo Ave, Niagara Falls NY 

716-278-1170)
New jersey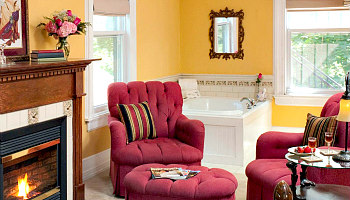 Whistling Swan Vegan-Friendly Inn, NJ
The Whistling Swan Inn

-  Vegan Couples looking for a romantic hot tub suite in NJ will be happy to know that each of the four suites here include a 2-person jetted tub. Fireplaces and fluffy robes are additional amenities, so get ready for some serious R&R. A buffet breakfast is served each morning and can be made to suit a vegan diet - just let the inn-keepers know when you make your reservation. 2019 ERV Rating* for New Jersey Inns with Vegan Meals: 94% - Excellent. (

110 Main St, Stanhope NJ  

973-347-6369)
maryland
Try a Vegan Breakfast at the Brampton Inn
The Brampton Inn

- A very romantic setting on 20 acres of Maryland's Eastern Shores; complete with gardens, great views, in-room whirlpool tubs, fireplaces and delicious breakfasts! Stay in a room or suite at the 1860s manor house, or choose one of the private cottages in the woods. With at least 24 hours notice, a full vegan breakfast can be delivered directly to your cottage door. 2019 ERV Rating* for Maryland Vegan Hotels: 98% - Excellent. (

25227 Chetertown Rd, Chestertown MD  

410-778-1860) 
More for NE getaways:
Romantic Brooklyn NY Hotel
---
new england inns w/vegan options
connecticut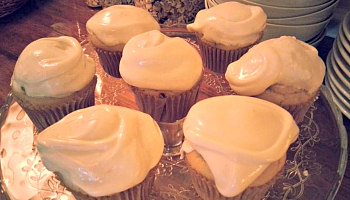 Vegan Cupcakes - Abbey's Lantern Hill Inn
Abbey's Lantern Hill Inn

- Romantic

 boutique Bed and Breakfast with six acres of woodlands for a quiet country getaway. Perfectly located for exploring Mystic Seaport, Stonington Borough and the Southeastern Connecticut and Rhode Island beaches. Rooms feature a wood-burning fireplace or jetted tub, and there's 

made-to-order cooked breakfasts using organic ingredients. Vegans are easily accommodated with advance notice. 

It's also "Connecticut Green Lodging Certified" for maintaining good environmental practices. 2019 ERV Rating* for Connecticut Vegan Inns: 94% - Excellent. (

780 Lantern Hill Rd, Ledyard CT  

860-572-0483)
Massachussetts
Romantic Brook Farm Inn, MA
Brook Farm Inn

- 

This Victorian home in the Berkshires of Western Massachusetts features 15 guest rooms, amazing views, and award-winning gardens. Cuddle in front of a fireplace in the winter or 

call upon the team of on-call massage therapists for a special spa treatment. In the summer, take a dip in the heated outdoor pool or relax in a hammock. Vegan breakfasts are available with advance request, and romantic extras like fresh flowers and chocolates can also be arranged. 2019 ERV Rating* for Vegan Hotels in New England: 92% - Excellent. (

15 Hawthorn St, Lenox MA  

800-285-7638)
new hampshire
Ash Street Inn

- an historic B&B in a lovely Manchester NH neighbourhood full of historic homes. Choose from 5 well-appointed guest rooms with gas fireplace, sleigh or four-poster beds, stained glass windows…even a turret. WiFi and parking are included as are baked goods and beverages throughout the day. Breakfast will not disappoint those with dietary restrictions! Plant-based scrambles and vegan pancakes are among the gourmet cooked-to-order breakfasts served here. 2020 ERV Rating* for New Hampshire Vegan Inns: 96% - Excellent. (118 Ash St, Manchester NH 603-668-9908)
---
vegan hotels - Western u.s.
Los Angeles, ca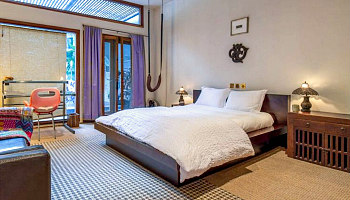 Treehouse Vegan Hotel, Los Angeles CA
The Treehouse

- Describing itself as "A Boho-Chic plant-based biodynamic hideaway" practicing zero waste procedures, the Treehouse is a 4-room boutique hotel perfect for the vegan traveller. Massages, cooking classes and overall relaxation add to the enjoyment. Fabulous vegan breakfasts can be taken on the sun terrace and don't be afraid to bring along a non-vegan partner. 2019 ERV Rating* for Los Angeles Vegan Hotels: 94% - Excellent. (

795 N. Beverley Glen Blvd, Los Angeles CA

424-402-8076) 
northern California
Vegan Salad, Stanford Inn By the Sea
The Stanford Inn By the Sea - Overlooking Mendocino Bay and the resort's farm, this eco-resort is everything a serious vegan could ask for. Raven's Restaurant is famous for its gourmet plant-based cuisine, made from organic ingredients grown locally. The resort is pet-friendly and offers cooking and gardening classes, Chinese medicine treatments, massage and facials, as well as exploration tours and walks. 2019 ERV Rating* for Northern California Vegan Hotels: 90% - Excellent. (

44850 Comptche Ukiah Rd, Mendocino CA  800-331-8884)
colorado
Briar Rose Inn

- The Briar Rose offers great organic breakfasts and will happily accommodate vegans. Whether you choose to eat on the sun porch, or  in the lush gardens surrounded by flowers, you'll be delighted with the fare. The Inn is completely meat-free, zero-waste and committed to using environmentally friendly products and recyclables. They are proud members of the Green Hotels Association. Hint: Be sure to check out their Honeymoon, Romance and Anniversary packages for a romantic, as well as kind vacation. 2019 ERV Rating* for Vegan B&B's in Colorado: 88% - Very Good. 

(

2151 Arapahoe Ave, Boulder CO 

888-786-8440)
---
Midwest Vegan inns
Chicago, il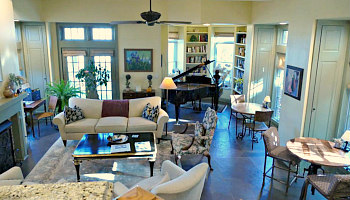 Chicago Vegan Getaway - Harvey House B&B
Harvey House B&B - 

Located in the beautiful Oak Park area of Chicago, Harvey House is also close to great restaurants, shopping, and the "EL" train which leaves for downtown Chicago every eight minutes. There are five luxurious rooms, free parking and wifi, and a lovely patio and garden in the back. Cozy and inviting common areas and access to a computer add to the convenience and charm. Vegan breakfast requests are accepted, but be sure to let them know well before you arrive. They'll even share recipes! 

The Garden Suite on the second floor has a 3-sided fireplace and oversized jetted tub, making it perfect for a romantic Chicago spa tub getaway. 2019 ERV Rating* for Chicago Vegan Hotels: 98% - Excellent. (

107 S Scoville Ave, Oak Park IL  

708-886-0220)
Galena, IL
Romantic Goldmoor Inn, Galena IL
Goldmoor Inn

- 

The Goldmoor is an elegant country inn made of up suites, cottages and cabins overlooking the Mississippi River. It's located just a few miles south of the historic little town of Galena, and surrounded by thick woods, green lawns and plenty of wildlife. 

Their Whirlpool suites, fireplaces and in-room complimentary breakfast combine for a fantastic romantic escape. Spa services and gourmet dining are also available. 

When making reservations, talk to the innkeepers about your vegan requirements and a special breakfast can be prepared to your specifications. At the Chef's Table restaurant, special requests are welcomed and memorable gourmet vegan meals can be cooked to please. 

Free electric vehicle plug-ins are supplied to guests. 2019 ERV Rating* for Illinois Vegan Hotels: 94% - Excellent. (

9001 W Sand Hill Rd, Galena IL  

815-777-3925)
Columbus, oh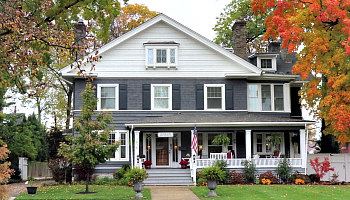 Hawthorne Park B&B, Columbus OH
Hawthorne Park B&B

- 

The property here is centrally located in Columbus and close to plenty of attractions. There are five romantic rooms, a parlour, dining room, sun room and spacious front porch. Parking and Wifi are free, and there are several romantic add-on packages available for your special getaway. 

Locally-sourced ingredients make for a great breakfast, and there's a vegan option on the menu (but be on the safe side and call ahead). 2019 ERV Rating* for Ohio Inns with Vegan Options: 98% - Excellent. (

1616 Hawthorn Park, Columbus OH 

614-372-5507)
Vegan Breakfast Choices - Bexley B&B
Bexley B&B Bexley OH - Close to Columbus and just one block from Capital University in Bexley, the Bexley B&B is a great option for your Ohio getaway. A bike trail, boutiques, theatres and shops are all a short walk away. The inn holds five unique guest rooms, each with a city theme. Breakfast is served in the sunny gathering room or on the front covered porch, and the owners are happy to accommodate vegan diets with advance notice. 2019 ERV Rating* for Columbus OH Vegan-Friendly B&B"s: 98% - Excellent. (519 South Drexel Ave, Bexley OH 614-203-7558) 
michigan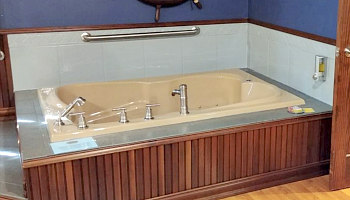 JACUZZI® Tub - Candlelite Inn
Candlelite Inn B&B

- 

How about a romantic getaway near Lake Michigan's beaches, parks, pier, lighthouses, and brew pubs?  The Candlelite offers a hot breakfast (by candlelight if you wish), and the inn-keeper will happily prepare vegan fare for you using fresh, local and organic products. 

There are seven Victorian-style themed rooms, and Vegan travelers in search of a jetted tub getaway in Michigan will love the Romantic Retreat Suite (with a JACUZZI® Tub). Check out their Great Room with fireplace, large terrace, and open kitchen with complimentary snacks and beverages. 2019 ERV Rating* for Michigan Hotels w/ Vegan Meals: 96% - Excellent. (

709 East Ludington Ave, Ludington Michigan  

231-845-8074) 
minnesota
AG Thomson House
AG Thomson House

- In the heart of Deluth's Mansion District, near Canal Park and Lake Superior, AG Thompson House offers seven guest rooms, two of which have jetted tubs for the ideal Minnesota Spa Tub Getaway. Relax in the gardens, verandah, or by their own waterfall! Babymoon, honeymoon  and Anniversary Getaway packages are available. Vegan breakfasts are gladly accommodated with advance notice and include things like blueberry muffins, vegan tofu scramble and baked French toast with lavender. 2019 ERV Rating* for Minnesota Inns with Vegan Meal Choices: 98% - Excellent. (

2617 E. 3rd St, Duluth MN 

877-807-8077)
---
inns with vegan meals - southern & Southwest U.S.
florida
Vegan & Beachfront! Deer Run Inn, Florida
Deer Run Vegan Inn - So much for a vegan to love! The Deer Run Inn is an adult-oriented bed and breakfast described as a "Caribbean-style eco-friendly home." It's a certified green lodge meaning all products are cruelty-free and not tested on animals. Located beachfront on the Atlantic Ocean, the Deer Run Inn's amenities include: bikes, kayaks, park pass, aqua bike, and snorkle equipment as well as use of the pool and hot tub. Guests are served a full vegan breakfast every morning on the veranda overlooking the ocean. Check back for updates on the Inn's status following damage from Hurricane Irma. 2019 ERV Rating* for Vegan Hotel Getaways in Florida: 94% - Excellent (

1997 Long Beach Dr, Big Pine Key FL 305 872 2015)
texas
Vegan Breakfast - Park Lane B&B, Texas
Park Lane Guest House - 

Calling itself "the greenest little hotel in Austin" and "an eco- oasis" the Park Lane has organic gardens, a natural pool, majestic oak trees and solar power. Chemical cleaners are not used, and all bath products are both organic and cruelty-free. 

A full organic vegetarian breakfast is included and can be served in your cottage on deck. Vegan breakfasts are also available and include things like rosemary buckwheat waffles with pineapple. 

And check out the antique claw-foot soaking tub in the Carriage House. 2019 ERV Rating* for Texas Hill Country B&B's with Vegan Options: 90% - Excellent. 

(221 Park Lane, Austin TX 

512-447-7460)
---
hawaii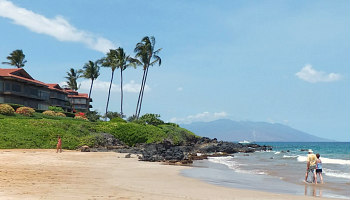 Fairmont Maui - Resort for Vegan Travelers
Fairmont Kea Lani Resort

- Whether it's a one-bedroom suite or luxury villa on Polo Beach, your stay at Kea Lani Resort will make your Hawaiian vacation dreams come true while suiting your vegan diet requirements. Take advantage of your private lanai and the Willow Stream Spa or cool off in the adults-only pool. Dine under the stars at Ko Restaurant and relax knowing that there are plenty of gourmet vegan options. The Alma Grill can also accommodate vegan travellers. 2019 ERV Rating* for Vegan-Friendly Hotels in Hawaii: 90% - Excellent. (

4100 Wailea Alanui Drive, Wailea, Maui Hawaii  

800 875 1200)
*ERV Rating: our unique, non-scientific ratings for romantic accommodation include:
Amenities: including Whirlpool bath or 

JACUZZI

®

Tub

,

scenic view, fireplace, lounge, etc
Location: proximity of hotel to restaurants, pubs, downtown, etc
Clientele: demographic the hotel attracts (couples, families, business travelers, etc)
Popularity: based on social media & crowd-sourced reviews 
Value: product offered compared to room rate 
Please Note: percentage ratings are not absolute but for comparative use only  
top hotels, getaways & packages on ERV
---