Romantic Getaways & Hotels in Los Angeles & Area
Los Angeles, CA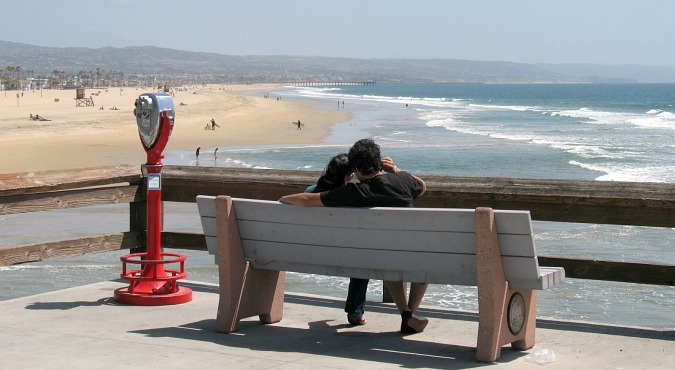 Couple Enjoying the View at the Newport Beach Pier, a Romantic Daytrip from Los Angeles, CA
FTC: This page uses affiliate links. More. 

By: Greg Mattson, ERV Editor - Updated: Mar 5, 2017

Thinking of a weekend getaway for two in Los Angeles, California? We've picked 5 romantic spots in LA, with romantic hotels and inns to check out, plus ideas for day trips and evenings out in great spots like Malibu, Venice Beach and Santa Monica.
The Best Time to Visit Los Angeles,CA - great all year long, but October and April would be our choice of the best time for exploring Los Angeles romantic attractions.
1. Venice Canals & Beach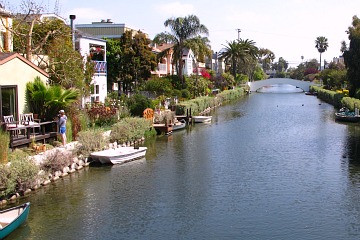 Homes, Boats and Waterways of Venice Canals, CA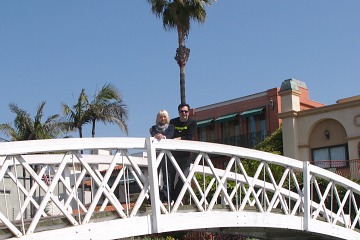 Palm Trees Can Grow Out of Your Head Here!
Venice Beach - let the epicenter of California beach culture and lifestyle come roller blading by you on Venice Beach. The 2 km Ocean Front Walk is a collage of palms, sand, tattoo shops, marijuana advocates and T-Shirt stands. One of LA's people-watching havens.
Venice Canals - arriving in Venice Beach, don't make the mistake that many couples vacationing in LA do and miss the Venice Canals. One stroll along the walkways and bridges of this most unique and beautiful of Los Angeles neighborhoods, and like us, you'll be wondering why they are so underrated.
In season (spring to autumn), the colors of the foliage, boats, bridges and blue sky are incredible. Highly recommended as one of LA's best free (and most romantic) attractions.
Walking directions from Venice Beach: find 25th Avenue and follow it Northeast for just a couple of short blocks (be very careful crossing Pacific Ave).

Romantic Hotel in Marina del Rey, CA:
---
2. Santa Monica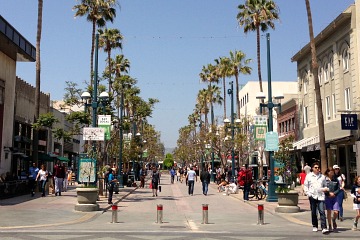 Shopping on 3rd Street Promenade, Santa Monica, CA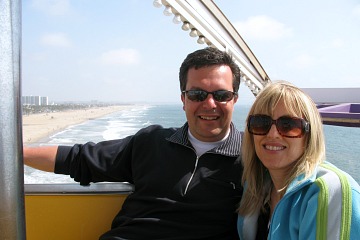 Ferris Wheel at the Santa Monica Pier
Take your pick of sand, sights or shopping when you arrive in Santa Monica. The pedestrian Third Street Promenade is a bustling place with restaurants, bars, shops, and street entertainment (check out the huge naturally lit Apple Store!)

Following the fresh sea breeze 2 blocks west, and you're at Santa Monica State Beach and Pier, with its famously retro seaside Amusement Park and Ferris wheel. As you swing in one of the cars at the top of the loop, soak up the views and savour the moment, as this is certainly one of the most romantic spots in all of Los Angeles! 
Romantic Santa Monica Inn:
The Channel Road Inn is an ideal Santa Monica bed and breakfast for couples located only 500 ft from the beach. It's got 7 rooms (more like a small inn), priced affordably, and includes 

all the things you love about a B&B/small inn here, like free evening wine and appetizers, fresh baked cookies, free parking & WiFi, and hot tub suites. We really like that they have separate tables for breakfast, so you can have a bit of privacy eating first thing in the morning without the pressure of being social with other guests. 

2017 Rating* for Romantic Santa Monica B&B's:

 

90%

 of Couples Rated it Excellent/Very Good 

(219 West Channel Rd, Santa Monica, CA  310-459-1920) 
---
3. Malibu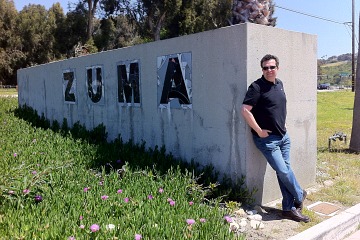 Entrance to Zuma Beach, Malibu, CA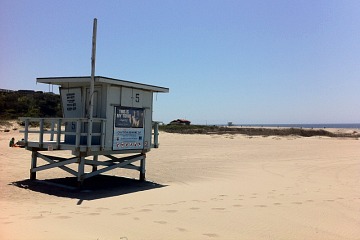 Secluded Spot on Zuma Beach, Malibu, CA
Long walks along the beach enjoying the salty air, sunsets and low tide make Malibu one of the more relaxing romantic getaways in Los Angeles. This is an excellent place to head to for quieter beaches and a little breather from LA traffic and congestion.  

There's lots of nice dining possibilities here as well, including several romantic Malibu oceanfront restaurants like Allegria Ristorante (22821 Pacific Coast Hwy, 310-456-3132) and Geoffrey's (27400 Pacific Coast Hwy, 310-457-1519). 
Malibu Romantic Oceanfront Hotel:
---
4. Naples Island

Gorgeous Homes and Canals of Naples Island, Long Beach, CA
Tucked away down in Long Beach, Naples Island is worth a visit, especially if you're already in the area visiting the Queen Mary or returning to LA from Huntington or Newport Beach. Snooping around this exclusive little enclave will make you think you're in Naples, Florida or Naples...Italy!
Two romantic attraction in this part of greater Los Angeles:
1. Naples Gondola Rides - get ready to be serenaded while floating through the canals of Naples in an authentic Italian gondola. You can even bring your own bottle of wine! Don't forget a blanket on cooler evenings. Reservations in advance are recommended. (562-433-9595  5437 E. Ocean Blvd, Long Beach, CA).
2. Hydro Bikes - if you'd rather find your own way out on the water at your own pace (and get a little exercise while you're at it), Long Beach Hydrobikes (110 N. Marina Dr, Long Beach, CA  562-546-2493) can set you up in a cool hydro bike for a self-peddling excursion through the canals. Especially romantic is their romantic Alamitos Bay Sunset Ride package. 
5. Mulholland Drive
Mulholland Drive itself is almost reason enough to upgrade to a convertible at the rental car counter! An early evening romantic drive along this winding road high up in the Santa Monica Mountains will bring back all sorts of memories of Hollywood films and shows you've seen over the years. And the various roadside look-outs offer some of the best views in Los Angeles.

After the cruise and the views, a quiet table for two at the romantic Four Oaks Restaurant (2181 N. Beverly Glen Blvd, 877-804-2788) would cap off the evening nicely.
---
More Places & Pics of Romantic Getaways in Los Angeles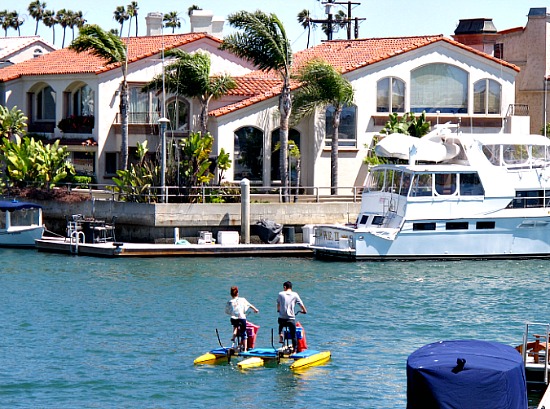 Couple "Hydrobiking" the Canals of Naples, near Long Beach, California
 Marina del Rey, CA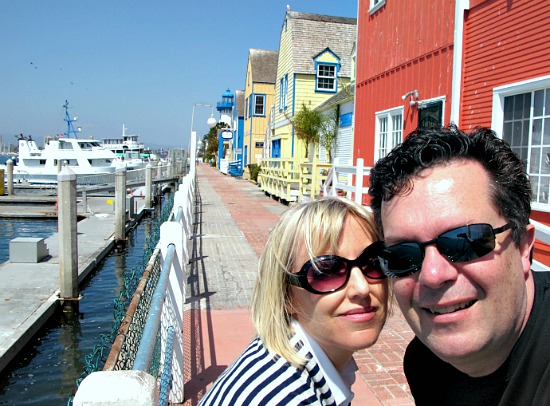 Along the Waterfront Shops and Restaurants at Fisherman's Village, Marina del Rey, CA
Redondo Beach, CA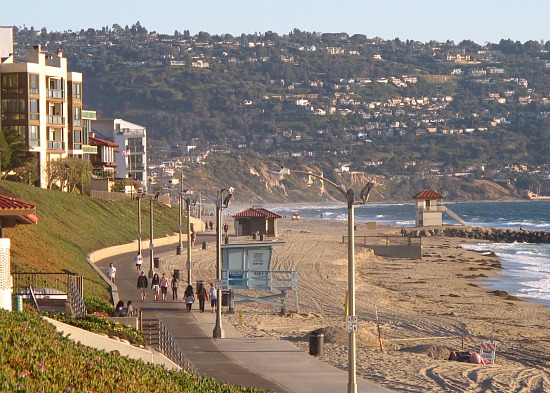 Evening Walk along Redondo Beach, CA with the Hills of Ranchos Palos Verdes in the Distance
*ERV Rating: our unique, non-scientific ratings for romantic accommodation include:
Amenities: including Whirlpool bath or 

JACUZZI

®

Tub

,

scenic view, fireplace, lounge, etc
Location: proximity of hotel to restaurants, pubs, downtown, etc
Clientele: demographic the hotel attracts (couples, families, business travelers, etc)
Popularity: based social media & crowd-sourced reviews 
Value: product offered compared to room rate 
Please Note: percentage ratings are not absolute but for comparative use only  
√ COVID Safety Plan: identifies hotels and inns that clearly indicate they are taking measures to prevent the spread of COVID-19.