Los Angeles, CA
Romantic Getaways in Los Angeles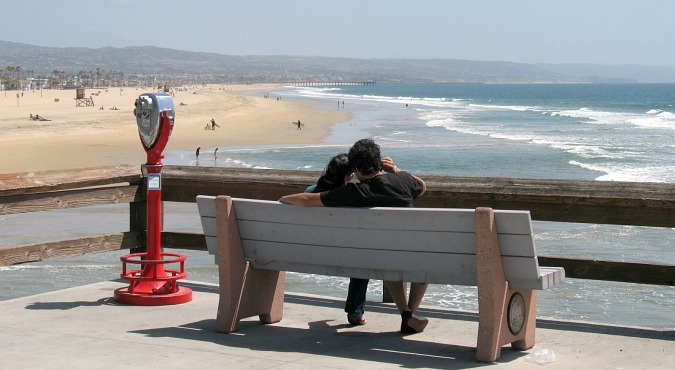 Couple Enjoying the View at the Newport Beach Pier, a Romantic Daytrip from Los Angeles, CA
FTC: This page uses affiliate links. More.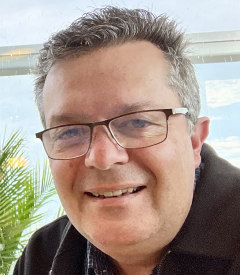 By: Greg Mattson, ERV Editor - Updated: Mar 13, 2023

---
Thinking of a weekend getaway for two in Los Angeles, California? We've picked some great spots for 2 in LA County, with romantic hotels and inns to check out, plus ideas for day trips and evenings out in great spots like Malibu, Santa Monica, plus Beach communities like Hermosa and Manhattan Beach.
The Best Time to Visit Los Angeles - great all year long, but October and April would be our choice of the best time for exploring Los Angeles romantic attractions.
on this page - romantic getaways in:
romantic hollywood getaways
dream hollywood
Rooftop Pool - Dream Hollywood ©TripAdvisor
King Room, Dream Hollywood ©TripAdvisor
Dream Hollywood - Nestled in the famous Hollywood Hills, this hotel has amazing views and luxurious amenities. (like complimentary Lincoln car service!) There's a rooftop pool with chaises and cabanas, and a bar and grill restaurant. Some rooms feature floor-to-ceiling windows, balconies and in-room iPads. Glass-encased bathrooms allow you to take in the sweeping LA views while soaking in an oversized tub. A 6-minute walk takes you to the Hollywood Walk of Fame. What Other Guests Liked: A friendly robot called Alfred will make deliveries to your room. That'll be 2 Glasses of Champagne please... 2023 ERV Rating*: 92% - Excellent. Room Prices: From $287/night. (6417 Selma Ave, Los Angeles CA 323-844-6417)
romantic things to do in hollywood
Walk of Fame - Stroll the 15 blocks that make up the Walk of Fame along Hollywood Blvd. 
Hollywood Sign - You can't touch the famous Hollywood sign as this is a restricted area. However, fabulous views of the city are available just behind it. Try hiking one of the trails through Griffith Park. Alternatively, find a great spot for a photo of the famous sign, such as certain areas of Canyon Lake Drive. 
Off Vine - After a morning of seeing the 5-pointed stars on the Hollywood Walk of fame, take a short walk to this quiet oasis and enjoy an outdoor lunch for two. (6263 Leland Way, Los Angeles, CA) 
---
beverly hills
mosaic Hotel
Evening Poolside at the Mosaic Hotel
Romantic King Room, Mosaic Hotel
Mosaic Hotel

- About a half mile from the shops on Rodeo Drive, this upscale boutique hotel features plantation shutters, luxury bed linens, body pillows, and rainfall shower heads. There's a courtyard pool and garden, exercise room and restaurant where you can enjoy al fresco dining by the garden. What Other Guests Liked: Bose stereo systems in rooms, free morning coffee, heaters in the courtyard for winter dining. 2023 ERV Rating*: 86% - Very Good. Room Prices: From $223/night. (125 S Spalding Drive, Beverly Hills CA 310-278-0303)
sixty beverly hills
Rooftop Pool at the SIXTY Hotel in Beverly Hills, CA
SIXTY Beverly Hills

- Bustling Wilshire Boulevard is home to this sophisticated hotel just 5 blocks from Rodeo Drive. Rooms and suites feature balconies, hardwood floors, iPod docks and minibars. Full kitchens and/or jetted tubs are available in some suites. Morning coffee service, and Wi-Fi are complimentary, and there's a fitness center, Ella Restaurant, and rooftop cocktail bar and pool. What Other Guest Liked: Amazing 360 degree views of LA from the rooftop. Private cabanas at the pool. 2023 ERV Rating*: 80% - Very Good. Room/Suite Prices: From $284/night. (9360 Wilshire Blvd, Beverly Hills CA 310-273-1400)
beverly hills honeymoon hotel: Le Ermitage
Honeymoon Suite at L'Ermitage ©TripAdvisor
L'Ermitage Master Bath Spa Tub ©TripAdvisor
L'Ermitage Beverly Hills

- Splurge on a luxury 5-star hotel when you chose Beverly Hills for your special anniversary or honeymoon getaway. The Ermitage's residential-style experience is rich in personal touches and "Euro-Asian ambience." It features a health club, spa, and outdoor rooftop pool, as well as a fine-dining restaurant. You might even spot an A-lister star at the onsite bar. Private balconies overlook a tree-lined street, and you'll find marble bathrooms with soaking tubs and rainfall shower heads. What Other Honeymooner's Liked: A BMW with chauffeur is available for local trips. Romance Package available. 2023 ERV Rating*: 94% - Excellent. Room/Suite Prices: From $695/night. (9291 Burton Way, Beverly Hills CA 310-278-3344)
romantic Things To do in beverly hills
Mullholland Drive - iconic drive never seems to lose it's appeal. An early evening romantic drive along this winding road high up in the Santa Monica Mountains offers some of the best views in Los Angeles.
Rodeo Drive - Check out the shops and drool over the gems at Tiffany and Co. 
The Rooftop By JG - dining on the top of the Waldorf Astoria, with sweeping views from 12 stories up. (9850 Wilshire Blvd, Beverly Hills CA)
Greystone Mansion - Do a self-guided tour of the grounds and book a guided tour of the inside. (905 Loma Vista Dr, Beverly Hills CA)
The Polo Lounge - inside the Beverly Hills hotel, and a good place to spot a celebrity or two. (

9641 Sunset Boulevard, Beverly Hills CA)
---
venice beach romantic getaways
hotel erwin
Beach View Balconies, Hotel Erwin
King Room at Hotel Erwin
Hotel Erwin

- With a great location overlooking the Venice Beach Boardwalk and close to the cool shops on Abbot Kinney Blvd, this trendy hotel is perfect for a romantic getaway in the Venice Beach area. Rooms offer king beds, HDTV, and some include private balconies and ocean views. Kitchens are available in suites. Book an in-room spa treatment, visit the rooftop lounge, or grab some pizza in the lobby restaurant. Plus, there's complimentary bikes, beach towels, chairs and umbrellas. What Other Guests Liked: Welcome cocktails on arrival, robes and slippers for guest use. 2023 ERV Rating: 88% - Very Good. Room/Suite Prices: From $300/night. (1697 Pacific Ave Venice, Los Angeles CA 310-452-1111)
things to see & d0 in venice beach:
Shops and Wall Mural in Venice Beach
Venice Beach

 - let the epicenter of California beach culture and lifestyle come roller blading by you on Venice Beach. The 2 km Ocean Front Walk is a collage of palms, sand, tattoo shops, marijuana advocates and T-Shirt stands. One of LA's people-watching havens.
Venice Canals is the Perfect Spot for a Romantic Stroll in Los Angeles
Venice Canals - arriving in Venice Beach, don't miss the Venice Canals. 

In season (spring to autumn), the colors of the foliage, boats, bridges and blue sky are incredible. Highly recommended as one of LA's best free (and most romantic) attractions. Walking directions from Venice Beach: find 25th Avenue and follow it Northeast for just a couple of short blocks (be extra careful crossing Pacific Ave).
marina del rey
Romantic Hotel in Marina del Rey, CA:
Romantic Jamaica Bay Inn, Marina del Rey
Pool & Palms at the Jamaica Bay Inn
Jamaica Bay Inn

- Perfectly situated on Mother's Beach, and less than a mile from Venice Beach, the Jamaica Bay Inn has rooms with water views, patios or balconies, and all include high-end bath products, premium bedding, coffee makers, and free Wi-Fi. Complimentary fresh fruit and coffee/tea are served in the lobby, and there's a fitness center, outdoor pool, and casual dining room with patio. What Other Guests Liked: The pool overlooks the marina. Beach and restaurants within walking distance from the hotel. 2023 ERV Rating*: 86% - Very Good. Room/Suite Price: From $249/night. (4175 Admiralty Way, Marina del Rey, CA  888-823-5333) 
more romantic nights in LA:
Whirlpool Hotel Suites in Los Angeles

 - book a romantic stay in one of these hotels with a jetted tub right in the suite. Includes hotels in downtown LA, near LAX, plus Santa Monica, Redondo Beach, Manhattan Beach and more.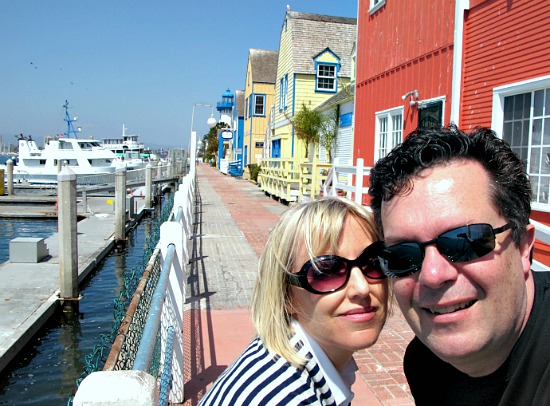 Fisherman's Village, Marina del Rey, CA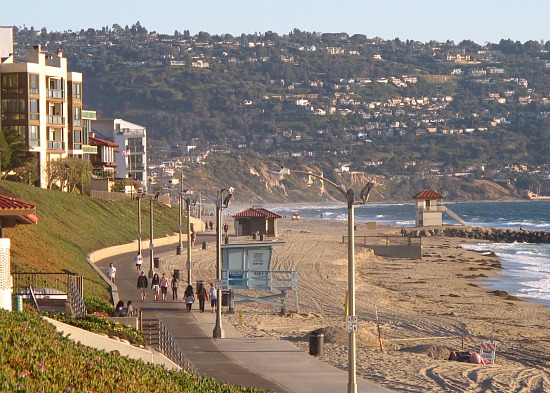 Evening Walk along Redondo Beach
---
deals on Los Angeles flights & more:
Find a Cheap Flight to LAX for as Little as $49 One Way
---
Santa Monica Romantic Hotels & Inns
channel road inn
Channel Road Inn Private Balcony
Romantic Room - Channel Road Inn
Channel Road Inn - The Channel Road Inn is an award-winning B&B located just 500 feet from the beach. This restored Colonial Revival home was first built in 1910 and retains much of its charming architecture. With just 7 rooms, many with fireplaces and balconies, this little boutique inn offers a free evening wine and cheese, fresh baked cookies, breakfast (delivered to you), free Wi-Fi and complimentary parking. What Other Guests Liked: Borrow a bike to explore the coast. 2023 ERV Rating*: 94% - Excellent. Room Prices: From $235/night. (219 West Channel Rd, Santa Monica CA  310-459-1920)
shore hotel
Shore Hotel Colorful Room
The Shore Hotel Pool Area at Sunset
Shore Hotel

- Just opposite the Santa Monica Pier and less than half a mile from the shops and restaurants of 3rd Street Promenade, this little gem has rooms with unobstructed ocean views from private balconies. High-speed Wi-Fi, rainfall showers, iHome docks and HDTVs are also included. You'll get a welcome glass of champagne, and use of the fitness center, heated pool and hot tub, beach towels, and shore bikes. There's also a casual Mexican restaurant onsite. What Other Guests Liked: Spacious and modern lobby. 2023 ERV Rating*: 90% - Excellent. Room Prices: From $214/night. (1515 Ocean Ave, Santa Monica CA 310-458-1515)
le merigot santa monica
Le Merigot Pool
King Room, Le Merigot Santa Monica
Le Merigot Santa Monica

- Upscale accommodations at a beachfront hotel. Rooms feature marble bathrooms, luxury bedding and private balconies overlooking the city or ocean. It's a short walk to Santa Monica Beach, the Pier, or the 3rd Street Promenade. There's a sparkling pool, high-end onsite restaurant with amazing views, a terrace lounge and a fitness center. Beach gear and bike cruisers are available for guest use. What Other Guests Liked: Excellent staff. 2023 ERV Rating*: 80% - Very Good. Room Prices: From $308/night. (1740 Ocean Avenue, Santa Monica CA 310-395-9700)
oceana santa monica: Honeymoon getaway
Oceana Hotel in Santa Monica, Perfect for LA Honeymoon and Anniversary Getaways
Oceana Santa Monica

- This splurge-worthy beach hotel is right across the street from Palisades Park, a mile from the Santa Monica Pier, and a 14-minute walk to shops and dining on the 3rd Street Promenade. You can expect a glass of Prosecco at check-in, daily exercise classes, beach cruiser bike rentals, and weekend surfing lessons (covered by your resort fee). You'll also have access to the gym, full-service spa, outdoor pool, juice bar, and guest-only restaurant. What Other Guests Liked: Great honeymoon hotel in LA, Peloton treadmills, daily bottled water, beach towels, and coffee/tea selection. 2023 ERV Rating*: 92% - Excellent. Room Price: From $791/night. (849 Ocean Ave, Santa Monica CA 800-777-0758)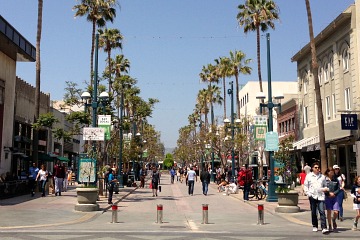 3rd Street Promenade, Santa Monica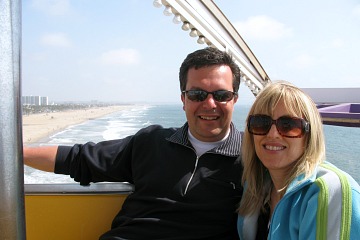 Ferris Wheel at the Santa Monica Pier
Santa Monica - Take your pick of sand, sights or shopping when you arrive in Santa Monica. The pedestrian Third Street Promenade is a bustling place with restaurants, bars, shops, and street entertainment. Following the fresh sea breeze 2 blocks west, and you're at Santa Monica State Beach and Pier, with its famously retro seaside Amusement Park and Ferris wheel.
---
Malibu romantic escapes
malibu inn
Ocean Breeze and Crashing Waves From Your Private Balcony at the Malibu Inn
Malibu Beach Inn

- A luxury beachfront boutique hotel on Carbon Beach. It's located on the Pacific Coast Highway, just a 5-minute walk from the Malibu Pier, and a short drive from Santa Monica. No need for a pool here as you can spend the day in a lounger on the beach and order all the food and drinks you desire. There's a restaurant with terrace, bar and lounge, and full-service spa. Rooms have private balconies, free Wi-Fi, and an in-room California wine selection. What Other Guests Liked: Some rooms have fireplaces. Romance Package available. 2023 ERV Rating*: 86% - Very Good. Room/Suite Price: From $625/night. (22878 Pacific Coast Hwy, Malibu CA  310-651-7777) 
surfrider hotel
Room at the Surfrider Hotel
Surfrider Rooftop Lounge in Malibu
The Surfrider Hotel

- Located directly across the street from famous Surfrider Beach, this boutique hotel dates back to 1953. Comprised of 18 rooms and two suites, a library, and rooftop deck and restaurant, this accommodation is a 3-minute walk from the shops and restaurants of Malibu Pier. All rooms have terraces or balconies, free Wi-Fi, minibars, and rainfall showers. Be sure to ask for one with an ocean view. What Other Guests Liked: Beach chairs, towels and a tote are provided for guest use, surf lessons, picnics, in-room massage, and horse riding are all available on request. 2023 ERV Rating*: 96% - Excellent. Room/Suite Prices: From $329/night. (23033 Pacific Coast Hwy, Malibu CA 310-526-6158)
calamigos guest ranch & Beach Club
Ready for R&R - The Calamigos Guest Ranch & Beach Club Pool
Calamigos Guest Ranch and Beach Club

- Like the name implies, this one is both a Ranch and beachfront Beach Club - a total R&R getaway from the city! You can choose from rooms, suites, bungalows and cottages for your stay. The property includes 3 pools, fitness centres, and a spa. Take the free shuttle to a private 5.5 acre beach estate for several dining options, beach bar service, and amazing coastal views. Cottages have outdoor showers, and suites feature fireplaces and soaking tubs. Activities include pizza-making classes, horseback riding, guided nature hikes, and local wine tasting tours. What Other Guests Liked: Trails are well marked and maintained. 2023 ERV Rating*: 88% - Very Good. Accommodation Prices: From $720/night. (327 Latigo Canyon Rd, Malibu CA 818-575-4400)
The Malibu Beach Pier at Sunset
Malibu - Long walks along the pier or beach enjoying the salty air, sunsets and low tide make Malibu one of the more relaxing romantic getaways in Los Angeles. This is an excellent place to head to for quieter beaches and a little breather from LA traffic and congestion. There's lots of nice dining possibilities here as well, including several romantic Malibu oceanfront restaurants like Geoffrey's (27400 Pacific Coast Hwy, 310-457-1519) or the much more relaxed Paradise Cove Beach Cafe (28128 Pacific Coast Highway, Malibu CA 310-457-2503). 
---
Redondo Beach
shade hotel
Romantic Room, Shade Hotel Redondo Beach
Water Views from the Shade Hotel Rooftop
Shade Hotel

- Enjoy panoramic views of the coastline when you stay at this boutique hotel in the heart of the South Bay. Located next to a marina, the hotel is a short walk from Hermosa Beach, and just 3 miles from the aquarium. Rooms have small refrigerators, coffee makers and private balconies (some with deep soaker tubs!) Make use of the fitness center or loaner bikes, and indulge in the complimentary breakfast buffet. There's also a restaurant and bar with terrace and fire pits. Spa treatments are available, and the rooftop pool is not to be missed. What Other Guests Liked: Sparkling wine and snacks upon arrival, in-room spin bikes available on request. 2023 ERV Rating*: 92% - Excellent. Room Price: From $242/night. (655 N Harbor Dr, Redondo Beach CA 310-921-8940)
portofino hotel
Portofino Hotel in Redondo Beach
Great Room at the Portofino Hotel
Portofino Hotel and Marina

- Fine waterfront accommodation for a romantic retreat. Portofino Hotel is set just over a mile from the Redondo Beach Pier, and 7 miles from the South Coast Botanic Gardens. Other nearby activities include water sports, cycling, golf and shopping. Ocean or marina views make rooms extra special, and some include private balconies, Whirlpool tubs and plasma TVs. Suites feature fireplaces, romantic 4-poster beds and clawfoot tubs. There's a restaurant and bar, lobby lounge, pool and fitness center for guest use as well. What We Liked: Nautical-themed decor. Gorgeous Great Room. Listen to the sea lions at night from your suite! 2023 ERV Rating*: 76% - Good. Room/Suite Prices: From $279/night. (260 Portofino Way, Redondo Beach CA 310-421-4195)
hermosa beach
beach house hotel
The Beach House is a Romantic Hotel Near the Ocean in Hermosa Beach, CA
Beach House Hotel

- One of our favorite beach hotels in the greater LA area, with studio suites here designed to take advantage of ocean views and sunsets. Each one has a fireplace, mini fridge, microwave, and patio/balcony. Amenities include free breakfast in the dining room, a gym, hot tub and spa treatment room. Miles of white sandy beach are right there, and there is a paved bike trail fronting the hotel. A two-minute walk takes you to Redondo Beach pier. What We Liked: Suites bright and comfortable, convenience store and Starbucks half a block away, restaurants close too. 2023 ERV Rating*: 90% - Excellent. Suite Price: From $309/night. (1300 The Strand, Hermosa Beach CA 310-374-3001)
romantic things to do in hermosa beach
Hermosa Cyclery

- Rent a tandem bike or sand cruiser and ride the Strand, a spectacular beachside bike path.
Paddle Boarding on Hermosa City Beach. You get a free lesson with rental at Paddle House (164 International Boardwalk Redondo Beach)
Beach Eats - Pick up some classic or playfully creative sushi rolls from Oki Doki Sushi (442 CA-1, Hermosa Beach CA 310-798-8289) and have a sunset picnic on the beach. 
---
manhattan beach
shade hotel
Deluxe Spa Room - Shade Hotel, Manhattan Beach
Shade Hotel

- We loved this boutique hotel just 2 blocks from the beach. Our oversized, in-room Whirlpool tub was just what the doctor ordered after a long day of sight-seeing, and the color therapy lights were fun to experiment with. Most rooms have balconies, and some feature fireplaces for romantic evenings in cooler weather. There's a small rooftop pool with bar service, and loaner bikes are available for those so inclined. Buffet breakfast was complimentary, and the friendly and efficient service at the restaurant/lounge was icing on the cake. What Other Guests Liked: Can walk to shopping and restaurants. Great small plate dining options at the lounge. 2023 ERV Rating*: 80% - Very Good. Room Prices: From $349/night. (1221 N Valley Dr, Manhattan Beach CA 310-546-4995)
manhattan beach romantic spots:
Manhattan Beach Pier - Take a walk along this terrific pier and check out the small (and free!) aquarium at the end. Watch the surfers do their thing, and just take in the beauty. 
One Wave Surf School - Take a surf lesson together at One Wave Surf School. They provide everything you need in the 1-1/2 hour tutorial. (Manhattan Beach, CA)
Strand House Restaurant - Try the weekend brunch along with their great ocean views! (117 Manhattan Beach Blvd, Manhattan Beach)
Manhattan Beach Creamery - Grab an ice cream or other sweet option here with 28 different flavours, freshly churned. (1120 Manhattan Ave, Manhattan Beach) 
*ERV Rating: our unique, non-scientific ratings for romantic accommodation include:
Amenities: including Whirlpool bath or 

JACUZZI

®

Tub

,

scenic view, fireplace, lounge, etc
Location: proximity of hotel to restaurants, pubs, downtown, etc
Clientele: demographic the hotel attracts (couples, families, business travelers, etc)
Popularity: based on social media & crowd-sourced reviews 
Value: product offered compared to room rate 
Please Note: percentage ratings are not absolute but for comparative use only  
top hotels, getaways & packages on ERV
---