10 Unique Romantic Hotels & Inns for a One-of-a-Kind Getaway
FTC: This page uses affiliate links. More. 

Unique Hotels & Inns
By: Greg Mattson, ERV Editor - Posted: Mar 12, 2015  

Want you next romantic getaway with a twist? Here are 10 suggestions for some unusual and unique romantic hotels and places to stay suitable for couples travel in several different romantic destinations in the U.S.

1. Riverboat Romance
The Delta King - a Unique & Romantic Hotel in Old Sacramento, CA
Delta King Hotel - Water view? You can't get a better view of the river than being on the river! 

Why settle for a romantic riverboat ride when you can spend your entire night on one? The

Delta King

is docked on a great spot next to downtown in historic Old Sacramento. The compact rooms are spotless and full of character, and  on board you'll find romantic dining at the Pilothouse restaurant. 

There's wedding packages and special events like murder mystery nights and live music that are also offered on the Delta King, one of California's most unusual romantic hotels . 

For even more romance, book one of the boat's Riverside Rooms for the best view. 

2015 ERV Rating* for Unique Romantic Sacramento Hotels: 81%

 - Very Good.

(

1000 Front St, 

Old Sacramento CA  

916-444-5464)
2. Put the "Ice" in Nice Hotel
Hotel de Glace

- 

How many couples do you know that have stayed in an ice hotel? 

Quebec's

Hotel de Glace

will have you romantically huddled together in one of their Ice Hotel's rooms or theme suites. But don't worry, you won't freeze at all inside your arctic sleeping bags, with access to heated bathrooms, and in their premium suites, a fireplace and hot tub. 

Essential: January to March are usually the only dates you can book this hotel before the ice begins to melt! 

2015 ERV Rating* for Romantic Ice Hotels: 83%

 - Very Good.

(

9530 rue de la Faune, Québec QB  

877-505-0423

)
3. Tree Houses for Grown-Ups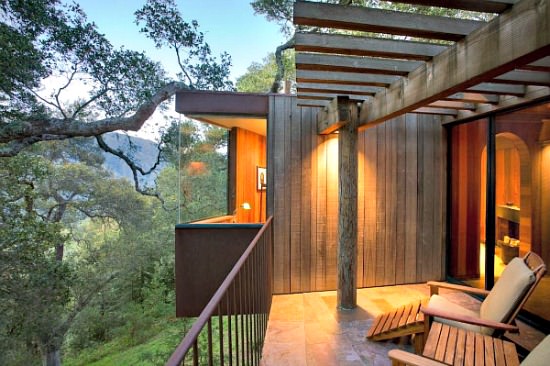 Tree House Room at the Post Ranch Inn - Photography by Kodiak Greenwood
Post Ranch Inn - Here's one of the very few opportunities you'll have in North America to "sleep in the trees" - in luxury! 

Big Sur, California's

Post Ranch Inn

is known far and wide as one of America's top romantic inns. Everything about this spectacular place breathes romance, from the clifftop Infinity Pool to the endless views out over the Pacific (the sunsets are something else too). 

But not many couples realize that they in addition to their standard rooms and guest houses, the Post Ranch has accommodation in several tree house units, each with their own fireplace and skylight for stargazing at night! 

Rates at the Post Ranch are more in the "splurge" category (starting at $675/night), so save up for it and enjoy it on a very special romantic Northern California getaway, honeymoon or 25th anniversary. 2015 ERV Rating* for Unique Romantic Hotels in California: 92%

 - Excellent.

(

47900 Hwy 1, Big Sur CA  

800-527-2200)

 

 
Spend A Night By a Romantic Waterfall:
4. Be a Caveman (or Woman) for a Night
Beckham Creek Cave - 

You'll never look better crawling out of a cave as you will from the

Beckham Creek Cave Lodge

, a romantic underground inn deep in the Arkansas Ozark Country. The walls might be stone, but in between you'll be spoilt with luxury bedding, Jacuzzi tubs, and even a bidet! 

For more romance, after your wedding, check into their honeymoon suite with it's own private den. (Please note: Lodge is currently undergoing renovations, but planning on re-opening in Spring of 2015). 

2015 ERV Rating* for Unique Arkansas Inns: N/A

.

(Parthenon, AR  870-446-6043)
5. All Aboard...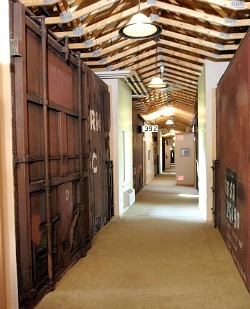 Inside the Northern Rail Traincar Inn
Northern Rail Traincar Inn

- 

If you're stuck for someplace new to go for your Minnesota weekend away, have a look at

Northern Rail Traincar Inn

, a collection of renovated train cars less than 30 minutes north of Duluth, MN. Their King & Queen Conductor suites come with an electric fireplace, plus they've got little extras to add to your weekend getaway, like summertime campfires and snowshoes for rent in the winter. These romantic rooms on rails also happen to be one of the most inexpensive

 unique romantic hotels on this page, with 2015 

rates in the off-season starting at just $87/night. 

Why it's Romantic

: you're very close to a range of outdoor activities on the Lake Superior shoreline, and good dining options in Duluth. 

2015 ERV Rating* for Unique Romantic Hotels in Minnesota: 93%

 - Excellent.

(1730 Hwy 3, Two Harbors MN  877-834-0955)
6. Bring Your Dog, Stay in a Dog
Dog Bark Park Inn - From Cottonwood Idaho (the state that's the on-screen home for Napoleon Dynamite), comes the Dog Bark Park Inn. Need we say why it's unique?  It's a guesthouse inside the world's biggest beagle. A couple of local chainsaw artists have made decorative one-of-a-kind furnishings in keeping with the dog theme. To be really unusual, go up to the loft room in the head of the dog and spend time in the cozy alcove in the muzzle! A homemade granola breakfast is included with your accommodation. 

Open from April to the end of October, the Dog Bark Park Inn is romantic because dog people love their animals with a passion, and often love to travel with Fido in tow.  (Dogs with "well behaved humans" are welcome here) With no phones or TV in the room, you will have to either concentrate on each other or take your dog for a long walk! And you will have a fascinating story to tell your friends at your next dinner party! 

Romantic Tip:

Consider booking a Hell's Canyon jet boat tour from nearby Whitebird Idaho. Or for the slightly less adventurous, there's one of the few remaining drive-in theaters at Grangeville's Sunset Autoview. 

2015 ERVG Rating* for Unusual Idaho Romantic Hotels:

 

96%

 - Excellent.

(

2421 Business Loop Hwy 95, 

Cottonwood ID  

208 962-3647)
7. Heaven for Foodies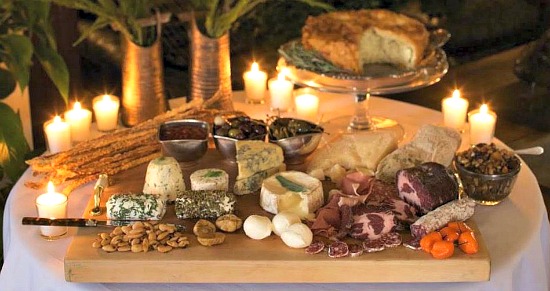 Gourmet Appetizers at the Romantic Wickwood Inn, Saugatuck, MI
Wickwood Inn  - This romantic B&B in Saugatuck MI is unusual only in the sense that is is highly unlikely that you'll come across an absolute culinary delight such as this in any inn or hotel anywhere else.  Afterall, the owner has authored several cookbooks! Travel and Leisure

Magazine has called The Wickwood Inn "one of the world's most romantic inns" and although it's not just for foodies, the culinary delights at this inn might just inspire you to become one!  With themed guest rooms called "Piccasso" and "Summer in Santorini" and suites like The Kyoto, you are sure to find something that delights your romantic side. And from the farm-to-table breakfast to afternoon sweets, to evening small plates, it seems like there is gourmet food and drink at almost every turn. The way to his or her heart…..

2015 ERV Rating* for Unique Romantic Saugatuck MI Inns: 74%

 - Good.

(510 Butler St, Saugatuck MI  269-857-1465 or toll-free 800-385-1174)
More Unique Romantic Hotels on Excellent Romantic Vacations:
Hotels, Motels & Inns with Theme Rooms- from the romantic to the racy to the really, really different, check out our guide to theme rooms in 22 different states in the U.S. and 3 destinations in Canada.   
Vegan Hotel Getaways - new for 2019, check out our collection of hotels, inns and B&B's across America that have 2 things in common: they're romantic places to stay, and they've got something on the menu for Vegan travelers!
8. A Tipi for Two
WigWam Motel (San Bernadino CA) 

and 

WigWam Arizona - 

If you love exploring unusual & romantic places to stay and are fascinated by America's Route 66 culture, check into the

WigWam Motel

, in your choice of 2 locations: San Bernadino, California, and 

Holbrook Arizona

. 

In Holbrook, AZ, fifteen 28-foot tall tipis (wigwam is a bit of a misnomer, actually) form a semi-circle around the central office, part of which is now a museum. There's hand-made hickory furniture inside, along with full bathroom and shower facilities.  Take a look at some of the classic cars parked outside and use it as a jumping off point for exploring this portion of Americana. 

The Wigwam Motel in California has a pool and barbecue pits as well as free WiFi, but both are part of a bygone era that is worth rediscovering. 

2015 ERV Rating* for Unique Romantic Motels: 84%

 - Very Good (San Bernadino, CA) and

76%

 - Good (Holbrook, AZ).

(2728 W. Foothills Blvd, San Bernadino CA  909-875-3005, 300 E. Wigwam Blvd, Litchfield Park, AZ  629-935-3811)
9. Romantic Bookworms Only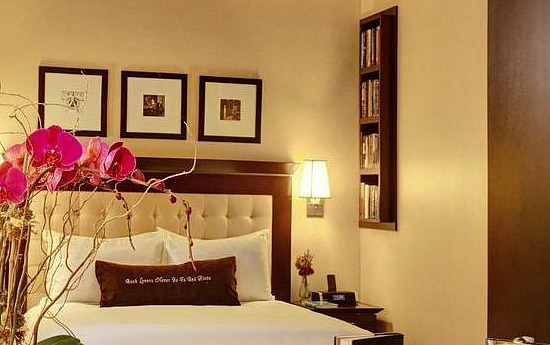 The Library Hotel, one of the Most Unique Romantic Hotels in New York City
Library Hotel - Imagine a luxury boutique small hotel that's built around a total Library theme. That's New York City's Library Hotel. There are over 6000 books organized by the good old Dewy Decimal System. That means 10 floors with 10 distinct categories of books. From social sciences on the third floor to religion on the 12th, there is something that will interest each couple. 

Why it's romantic: Check out the Reading Room on the second floor as you sip cappuccinos and watch the people on Madison Ave. Or, go up to the 14th floor rooftop writer's den to discuss the Romantic Poets. 

2015 ERV Rating* for Unique Romantic Hotels in NYC: 97%

 - Excellent.

(

299 Madison Ave, 

New York City NY  

212-983-4500)

 
10. Pick a Theme, Any Theme... 
Winvian

- 

Most unique romantic hotels we've reported on here are fixed on a certain theme.

Winvian, in 

Connecticut's

 charming Litchfield Hills, offers luxury cottages in no less than 19 different themes. 

They call it "113 acres of heaven on earth": everything from a night in a tree house, to a musical conservatory, to a fully restored 1968 helicopter. Grab a bike and explore or indulge in the luxury spa treatments. Simple pleasures are what it's all about. 

2015 ERV Rating* for Unique Romantic Cottages in Connecticut: 83%

 - Very Good.

(

155 Alain White Rd, 

Morris CT  

860-567-9600)
*ERV Rating: our unique, non-scientific ratings for romantic accommodation include:
Amenities: including Whirlpool bath or 

JACUZZI

®

Tub

,

scenic view, fireplace, lounge, etc
Location: proximity of hotel to restaurants, pubs, downtown, etc
Clientele: demographic the hotel attracts (couples, families, business travelers, etc)
Popularity: based social media & crowd-sourced reviews 
Value: product offered compared to room rate 
Please Note: percentage ratings are not absolute but for comparative use only  
√ COVID Safety Plan: identifies hotels and inns that clearly indicate they are taking measures to prevent the spread of COVID-19.
Excellent Romantic Vacations - Top Pages
---