Vancouver Romantic Getaways - Weekends for 2 in BC's Lower Mainland
FTC: This page uses affiliate links. More. 

Vancouver, BC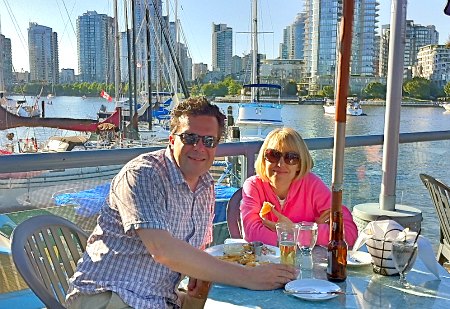 By: Greg Mattson, ERV Editor - Updated: Mar 23, 2018

Vancouver's a great destination for a romantic getaway on Canada's West Coast. It's as beautiful as you've heard, and after travelling to different places around the globe, we always love coming back here to our home.
Best Time of the Year to Visit Vancouver - if we had to pick the 2 best months of the year to come to Vancouver, we'd say August and September. We've had some fantastic weather in September in the last few years, and with many of the tourists gone and kids back in school, it' s a great time to see the city at your own pace. 
Our 15 Favorite Most Romantic Spots in Vancouver
1. Deep Cove, North Vancouver - just a gorgeous little village and harbor nestled in the quiet eastern corner of North Vancouver (you'll think you're on the set of Dawson's Creek). You can rent a canoe or kayak here, and grab some sushi or fish & chips after to enjoy as you sprawl out on the grass.
2. English Bay - nothing beats relaxing by the water here on a warm summer evening, watching all the buskers and performers, grabbing an ice cream cone nearby, and dipping your toes in the Pacific (warning: colder than California!) 
3. Horseshoe Bay - watch the ferries, feed the seagulls and soak up the fjord-like views of the Howe Sound Mountains crashing into the Pacific. If the pull of the water is too strong to resist, rent a boat for an hour or two at Sewell's Marina and see even more of the beauty up-close. 
The Fantastic Beauty of Horseshoe Bay, near West Vancouver, BC
4. Stanley Park - most of the tour buses make a stop at the Totem Poles and Prospect Point before chugging on, so spend some time in what we think is the best spot: the great stroll along the seawall between the Vancouver Rowing Club and the Brockton Point Lighthouse.
5. Landmark Hotel - it's worth overpaying for a margarita at the revolving lounge at the top of this Robson St hotel. On a clear night, you can see the lights of Nanaimo and Victoria on Vancouver Island!
6. Kits Beach - another excellent spot to enjoy the sand and sea, and Kitsilano is generally not as crowded as the downtown (Cheap & Tasty Lunch Tip: about 5 blocks from Kits Beach is Patissiere Le Beau, 1728 W. 2nd Ave, with the best Belgian waffles and deserts we've ever tasted outside of Belgium. Go early around 11:30 or after 1:00 PM to avoid the lunch rush).
Sunshine, Shade & Superb Scenery - Kits Beach, Vancouver
7. More Beaches - if you really want some quiet alone time by the water, travel a bit further afield to either Spanish Banks or across the inlet to Ambelside on the West Vancouver waterfront.
8. Vancouver Public Library – what, romantic? Well, libraries aren't normally, but Vancouver's is truly a sight to see (think Coliseum in Rome…)
9. Explore the Seawall - you actually don't had to venture all the way into Stanley Park to enjoy this wonderful seaside path. Another very scenic Vancouver walk is along Beach Ave between the Burrard St Bridge and the Stanley Park Zoological Gardens.
Couple Enjoying a Romantic Spot by the Seawall, Vancouver, BC
10. Robson St Shopping & People Watching - boutique stores, high-end clothing, and one-of-a-kind shops. Don't miss the corner of Robson & Thurlow streets: 2 Starbucks kitty corner from each other!
11. Granville Island - buskers, art galleries, specialty bakeries, and an a-w-e-s-o-m-e public market make this island in the city a terrific spot for grabbing a cappuccino and relaxing by the boats. Great city and harbor views too.
12. Canada Place - this is one of our favorite places for a romantic walk in Vancouver, around the sails of the Convention Center to the north tip for the gorgeous view of the North Shore Mountains. You can see mountains, ocean, city, float planes, and between May to October, Alaska cruise ships docked at the terminal here.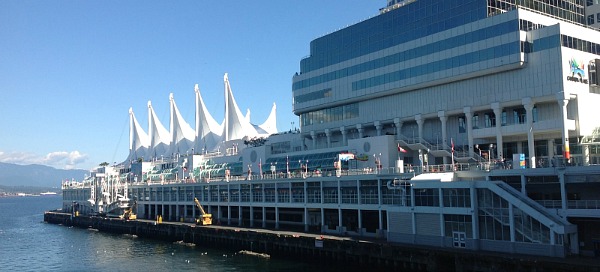 The Sails of Canada Place, Downtown Vancouver
13. Steveston - head south to Richmond and this attractive fishing village-turned cafe & enclave by the water. Feel like fish & chips? Dave's is famous, or if your in the mood to takeaway and stroll the village, descend the planks among the fishing fleet to Pajos. And don't miss Gary Point Park, just west another 5 minute walk.
14. Lighthouse Park - a memorable walk thru the deep woods down to this waterfront lighthouse is a rewarding excursion anytime of year. If you don't get out into the wilds of British Columbia on your vacation, this is the next best thing. 
15. Deer Lake, Burnaby - if the idea of getting out on the ocean scares you a bit, try the romantic and calm waters of Deer Lake Park in Burnaby. We rented a 2-person pedal boat here in autumn of 2013, and spent a fun 90 minutes taking in the views and relaxing with the ducks.    
Out on the Water in a Pedal Boat, Deer Lake, Burnaby
---
Vancouver's Romantic B&B's
West End Guest House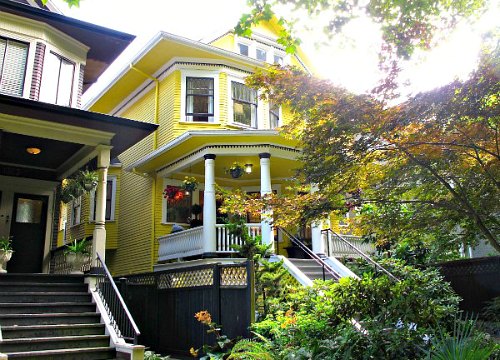 Barclay House B&B
The Corkscrew Inn
These 3 romantic Vancouver B&B's are located in the city's West End and in nearby Kitsilano, offering a character and personal touch you don't find in standard hotel rooms:

West End Guest House - excellent location, with Denman Street restaurants an easy walk away, as are the ocean views and beach at English Bay, and the Stanley Park Seawall. 

Perfect for a honeymoon in Vancouver: the Grand Queen Room on the top floor, with a queen sleigh bed, claw foot tub and luxury bath products. 

2017 ERV Rating* for Couples - Romantic Vancouver Guest Houses: 99% - Excellent. (

1362 Haro St, Vancouver, BC (888) 546-3327

) 
Barclay House Romantic Vancouver B&B - 

it's rare to find a B&B with a whirlpool suite this close to downtown Vancouver! The Barclay House's super-romantic "Haidaway" Suite includes a hot tub for 2, private entry and exquisite First nations artwork throughout, making it a honeymooner's first choice. 

2017 ERV Rating* for Couples - Romantic Vancouver Inns: 95% - Excellent. (1351 Barclay St, Vancouver, BC  800-971-1351)
hot tub heaven:
---
...and 5 Romantic Day Trips from Vancouver BC
Romantic Sunset at Harrison Lake, 93 km East of Vancouver, BC
1. Victoria (on Vancouver Island) - almost everyone who books a Vancouver vacation asks how to get to Victoria on Vancouver Island. It's not only an extremely popular day trip, but a perfect 1 or 2 night weekend away: See more on Romantic Honeymoon Suites with Jetted Tubs in Victoria & Vancouver Island here.  
2. Whistler - here's an awesome idea if you always wanted a honeymoon in the Canadian Rockies but never made it: take a float plane to Whistler. Harbour Air operates an Alpine Lake Landing Tour that gives you unbelievable views of the coastal mountains, and a spectacular landing on a glacier lake with an optional "lunch on the beach".
3. Bowen Island - grab a seat on the ferry among the commuters to this funky little island just 7 KM's from Horseshoe Bay. Kayaking around the coves and coast is pretty cool (rentals available easily near the dock), and the Bowen Island Pub is the most appropriate place to finish everything off with a pint.
4. White Rock, BC - 45 KM's south of the city is White Rock, an upscale strip of restaurant patios, fish and chip stands and ice cream parlors just across the road from Boundary Bay. On a hot sunny afternoon, you'll almost feel like you're in a California seaside town! If you have a car, check out nearby Crescent Beach.
5. Harrison Hot Springs - swim in a mountain lake! Harrison is just over 90 KM's east of downtown Vancouver, but it feels like you're holidaying at an alpine resort high up in the Rockies. If you get the urge to stay and overnight, the Harrison Beach Hotel is a small, romantic hotel at Harrison Lake.
Romantic Places to Eat in Vancouver
View of Downtown Vancouver from a Table at Seasons in the Park Restaurant
Vancouver has some world-class dining, but our emphasis here is not on the length of the wine list or attention to detail. Instead, these are restaurants that we feel offer a nice combination of romantic dining and exposure to the natural attractions you came to see - the mountains and the ocean... 
The Observatory Restaurant at Grouse Mountain - speaking of views, this one is so fantastic you need a gondola ride to get to it! Grouse Mountain is a great special occasion (anniversary, etc) place to visit and dine, but again you must reserve ahead for window seats for two here. Grouse is also widely regraded as one of Vancouver's best places to get engaged. (6400 Nancy Greene Way, North Vancouver, 604-980-9311)
Seasons in the Park - funny, but you don't hear a lot about this dining spot nestled in among the evergreens of Queen Elizabeth Park. We found their steelhead salmon very nice, as was the tasting board with wine. The setting and the view are just dripping with romance so make sure to reserve in advance and book a table by the window, because the view is one of the best you'll find in any restaurant in the city of Vancouver. (West 33 Ave & Cambie St, 604-874-8008)
*ERV Rating: our unique, non-scientific ratings for romantic accommodation include:
Amenities: including Whirlpool bath or 

JACUZZI

®

Tub

,

scenic view, fireplace, lounge, etc
Location: proximity of hotel to restaurants, pubs, downtown, etc
Clientele: demographic the hotel attracts (couples, families, business travelers, etc)
Popularity: based on social media & crowd-sourced reviews 
Value: product offered compared to room rate 
Please Note: percentage ratings are not absolute but for comparative use only  
top hotels, getaways & packages on ERV
---