Romantic Calgary Getaways for 2 
FTC: This page uses affiliate links. More. 

Calgary, AB
By: Greg Mattson, ERV Editor - Updated: July 22, 2021

Calgary, Alberta is a young, dynamic city geared towards all season entertainment and activities indoors and out. Despite COVID-19 and trouble in the oil patch, the city has a robust spirit and continues to attract travelers from everywhere.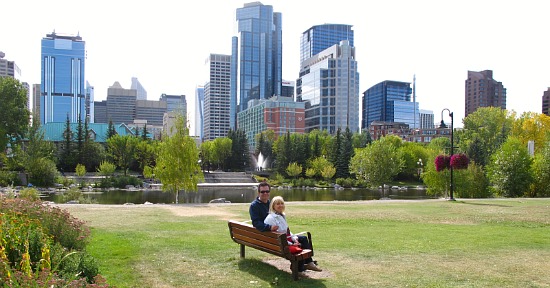 Calgary's Beautiful Princes Island Park is one of Several Romantic Spots in the City
Calgary is world famous of course for it's Stampede Rodeo, held each summer in July. But away from all the crowds, there are many more attractions in Calgary that deserve checking out. And only 110 Km's west (70 miles) are the Canadian Rockies, including Banff and fabulous Lake Louise, AB. 
Romantic Places in Calgary
| | |
| --- | --- |
| Stephen Ave in Calgary | Calgary Tower |
Some of our favorite romantic spots in Calgary & things to do include...
Stephen Ave - most of downtown Calgary is cars and office buildings, which is what makes Stephen Avenue somewhat special. It's the city's only pedestrian mall, a mix of medium/high-end shopping, buskers, sidewalk art, cafes and restaurants with outdoor seating (great in the summer and early autumn).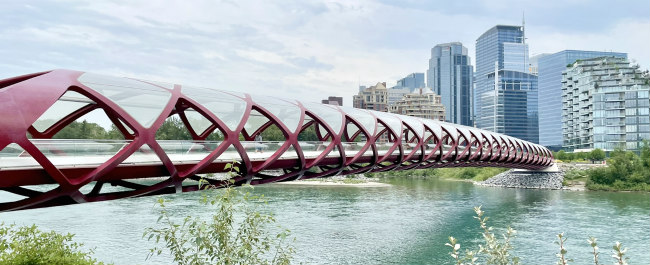 Peace Bridge Across the Bow River, Calgary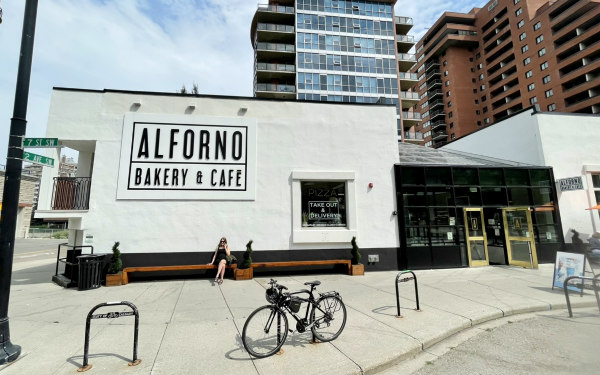 Alforno Cafe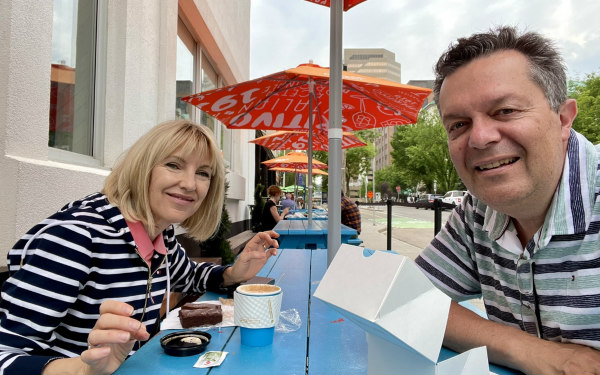 Coffee & Chocolate!
Peace Bridge - Calgary's unique pedestrian bridge connects the Bow River Pathway with Eau Claire Park and the Downtown. If you're walking into the City, a worthwhile stop for a couple of cappuccinos and a brownie is just a short distance away at Alforno Bakery & Cafe (222 7 St SW, Calgary AB)
Calgary Tower - not the best looking tower you'll find, but the 360-degree views of the downtown and Rocky Mountains to the west are worth the $15 cost. At the top you'll also find Sky360, the only revolving restaurant in Calgary. The Tower is popular as a wedding location, and as a place to propose in Calgary. (101 9th Ave SW)
Kensington Village - the hub of Calgary's "counter-culture", a cool look at the un-cowboy side of the city. But what we mostly enjoyed here was eating, and we can heartily recommend Pulcinella (1147 Kensington Cres NW  403-283-1166) for their outstanding pizza and nice comfortable seating outside on the 2nd floor balcony.   

Beautiful Autumn Colors along the Bow Valley in one of Calgary's Parks
Heritage Park Historical Village - step back to Western Canada and romantic Calgary in the late 1800's. In the summer, the SS Moyie paddle wheeler offers cruises around the reservoir where you can see the city and Rockies to the west from a different perspective. (1900 Heritage Drive SW)
Devonian Gardens - especially enjoyable on a winter getaway to Calgary, as you can wander through the indoor gardens of waterfalls, flowers, and marine life. (317 7th Ave SW)

Views of Saddledome & Downtown Calgary from Scotsman's Hill
Scotsman's Hill - small open park area in a residential part of town with nice scenic views of the entire downtown core of Calgary.
More Calgary Attractions for Couples - for fun entertainment, shopping and eating, try the Eau Caire Festival Markets on Barclay Parade SW. Or, if you'd rather see more of Calgary higher up, Sundance Balloons (403-203-9310) offer special anniversary rides & romantic Calgary honeymoon packages.
Romantic Calgary Hotels & Inns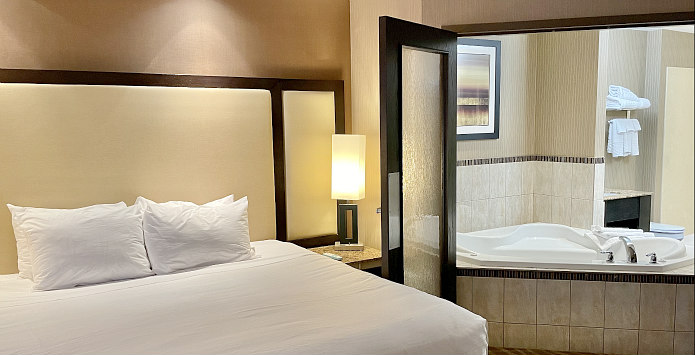 Whirlpool Suite - BW Premier Freeport Inn, Calgary
Best Western Premier Freeport Inn Calgary Airport - in the mood for a romantic and  budget-friendly Calgary hotel suite with your own private jetted tub? We loved this Best Western in NE Calgary, with on-site dining, indoor pool, lots of free parking, and comfortable King rooms with jetted hot tubs for 2. 2021 ERV Rating*: 92% - Excellent. (86 Freeport Blvd NE, Calgary AB 403-264-9650)
| | |
| --- | --- |
| Romantic Room - Hotel Arts Kensington | Calgary's Hotel Arts Kensington |
Calgary's Most Romantic Hotels & Inns - see our photos, HD Video and reviews of luxurious places to stay in Calgary for a romantic weekend, honeymoon or anniversary (like the Hotel Arts Kensington and the Hotel Le Germain). Plus, details on romance packages, theme rooms and more.  
Romantic Dining in Calgary
CHARCUTT

- mentioned above as part of the Hotel Le Germain, consistently tops the romantic Calgary dining lists. Don't usually think of burgers in a dining room like this, but their Charcutt Style with Parmesan fries is awesome. (101-899 Centre St, Calgary  403-984-2180) 
Sultans Tent - in the Kensington Village, you come to expect the unusual, and this Moroccan diner doesn't disappoint. The Casablancan booths add a fair bit of romance to the evening as well. (4 - 14th St NW, Calgary  403-244-2333)
Escoba Bistro & Wine Bar - popular for it's Mediterranean/Californian fusion menu, and offers an intimate, secluded atmosphere just right for romantic Calgary dining. (513 - 8th Ave SW, Calgary, AB 403-543-8911)
Getaways Near Calgary
| | |
| --- | --- |
| Banff Upper Hot Springs | Afternoon Tea, Banff Springs Hotel |
Banff - the distance from Calgary to the Canadian Rockies is only 1 hour by car, so this is a natural spot for daytrips and weekend getaways from Calgary.  
Soak in the soothing mineral waters of Banff Upper Hot Springs.
Afternoon Tea at the Banff Springs Hotel. If you haven't the time (or money!) to spend a night here at what is probably the most romantic Mountain Lodge in the world, splurge for their wonderful Afternoon Tea in the Rundle Lounge (make sure to come early for a window table...) 
Waterton Lakes National Park is a fabulously scenic spot, and includes fabulous Waterton Lake and the Rocky Mountains in Glacier National Park. 

There are several 

romantic Wateron Lakes lodges and inns

 which would make a fine base for an Alberta honeymoon that's peaceful, secluded, and close to Canadian Rockies hiking and wildlife (we saw a black bear catching fish in a stream!). It's a scenic drive of just 160 miles (265 km) south of Calgary.
Weekend Getaway in Canmore, AB - The Georgetown Inn is one of the most romantic small inns between Calgary and Banff. They can arrange all sorts of romantic excursions for couples, including a scenic mountain picnic, hot springs packages and "Secret Spots" adventures off the beaten path.
A Romantic Ranch in Southern Alberta - just 38 miles (60 km's) east of Calgary is Strathmore, AB and the Rocking R Guest Ranch. The B&B Cabins have fireplaces and WiFi, and they can arrange romantic outings on horseback, proposal packages, high tea and more.
---
Travelling to Calgary, Alberta
The distance from Calgary Airport to downtown Calgary is about 20 km (12 miles). A taxi ride will cost about $40.
Calgary is only about 90 km (55 miles) from Canada's Rocky Mountains. The best way to travel from Calgary to the Rockies is by car. The highway is a wide, 4-lane divided freeway that is easy to drive on. Occasional winter snow storms can cause delays.
Distances From Calgary to:
Banff : 80 miles (130 km)

Edmonton:

185 miles (300 km)
Vancouver: 610 miles ( 975 km)
Kelowna: 375 miles (600 km)
Denver: 1155 miles (1850 km)
Salt Lake 920 miles (1475 km)
Seattle 795 miles (1270 km)
top hotels, getaways & packages on ERV
---