A Romantic Getaway on Vancouver Island to Remember
FTC: This page uses affiliate links. More. 

Vancouver Island
By: Greg Mattson, ERV Editor - Updated: Jul 4, 2014

One of the most romantic places in Canada? We say Vancouver Island! Many travelers limit their British Columbia visit to just Vancouver. But for those that jump on the ferry to this enchanting island, it's one of the great outdoor experiences in North America.
Vancouver / Victoria / Vancouver Island - What's the Difference? In case you're wondering: Vancouver is a city on the west coast of British Columbia, the most westerly province in Canada. Victoria, the capital city of British Columbia (but smaller than Vancouver), is located on the southern tip of Vancouver Island.

For details on how to get from Vancouver to Victoria, see below. Now, let's discover some of the most romantic spots on Vancouver Island... 
Romantic Hotels & Resorts on Vancouver Island
West Coast Right on the Ocean:
Wickaninnish Inn - What Other Couples Said: "Spectacular Sunsets and Views Of Secret Cove"..."Beautiful Scenery, Fireplace at Night, So Romantic"..."Storm Watching in the Winter Here is Just Magical". 2017 Rating* for Vancouver Island Oceanfront Resorts: 92% of Couples Rate it Excellent/Very Good. (500 Osprey Lane, Tofino BC 250-725-3100) 
Long Beach Lodge - 

What Other Couples liked: "Bottle of Wine and a Cozy Fireplace for Our Anniversary"..."Great Room with Lavish Ocean Views"..."The Cottages are Perfect for Extended Stays". 2017 Rating* for Romantic Vancouver Island Lodges: 94% of Couples Rate it Excellent/Very Good. (1441 Pacific Rim Hwy, Tofino BC 250-725-2442) 
Vancouver Island Hot Tub Honeymoon Suites - photos, videos and reviews of romantic spa tub suites in Vancouver Island Resorts & hotels.

Sooke, BC
West of Victoria, BC on the trans Canada highway, you'll find the small town of Sooke, BC. Many couples leaving Victoria for honeymoons and weekend getaways stay here in cozy cabins, cottages, bed and breakfasts and vacation rentals. Hiking, biking and whale watching tours are favorite daytime activities.
One of the most romantic places to stay on Vancouver Island is here - the Sooke Harbor House. It's a romantic oceanfront inn with space to unwind and enjoy some quiet time with the birdlife, otters and seals nearby. Theme rooms feature local art and jetted soaker-tubs, and the dining room sits above one of the best wine collections in Canada. 2014 Rating* for Romantic Vancouver Island Resorts: 79%
The Southern Gulf Islands
A short drive and ferry ride from Victoria will put you in the B.C. Gulf Islands, a small group of islands between Vancouver Island and the mainland. As you check the map, look for Galiano, North and South Pender, Mayne and Saltspring Islands.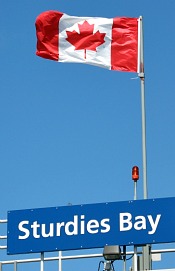 They're quiet, slow-paced sleepy little places that are home to retirees, artists and nature-lovers. Secluded beaches and coves, cute little villages and funky off-beat shops and stands make the Gulf Islands a perfect weekend getaway or retreat for a few days.
Saltspring Island - We're particularly fond of Saltspring with it's colorful Saturday Market, and the lovely meadows and valleys. One of the best scenic views anywhere on the Gulf Islands can be had with just a short drive & hike up Mt.Maxwell ( pick a sunny spring day to enjoy it the most!)
Galiano Island - if you're already in the Vancouver area, a short getaway to relaxing and peaceful Galiano Island is very handy: just 55 minutes on a direct sailing from the Tsawwassen Ferry terminal to Sturdies Bay.
Romantic Inn: The Galiano Inn & Spa can set you up in one of their beautiful oceanfront spa or villa suites. Their patio with fireplace, bbq and hot tub gets rave reviews, and they offer Gulf Islands packages for honeymoons, elopements and spa treatments.
2014 Rating* for Romantic Gulf Island Inns: 84% of couples rate it Excellent/Very Good.
Parksville and Qualicum Beach
Some of the best beaches on Vancouver Island's east coast are found around Parksville and Qualicum Beach. Lots of romantic things to do on Vancouver Island here, including:
Englishman River Falls Provincial Park is fun for exploring the sandy beaches and hikes.
Golf in any of the 5 championship courses which are open year-round.
Little Qualicum Falls Park is a beautiful spot in the summer where you can even go for a dip in Little Qualicum River.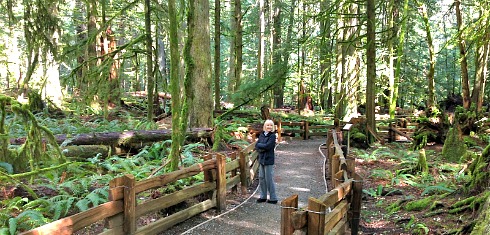 Magnificent Douglas Fir Trees at Cathedral Grove on Vancouver Island
Cathedral Grove is one of the most awe-inspiring places on Vancouver Island. 800 year-old Douglas Fir, some 200 ft high and over 20 ft thick! The canopy of old growth forest is so dense above you that in some spots you're in semi-darkness even at high noon!
Cathedral Grove is located just off highway 4 between Parksville and Port Alberni.
Cheap & Romantic Vancouver Island Vacation Packages - Victoria, Tofino & more 
Romantic Tofino & Long Beach, BC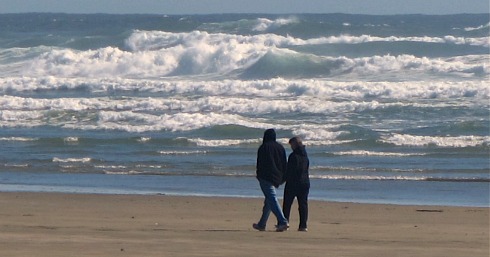 Couple Enjoying a Long Romantic Stroll by the Waves at Long Beach, BC.
An amazing place for a romantic getaway on Vancouver Island! The wild west coast of Canada is at it's best here.
Maureen and I both think Long Beach is the best beach in Canada. You can explore the rain forest, walk for miles beach combing with hardly another person in sight, and spend your evenings by the fireplace listening to the crashing Pacific ocean during a winter storm. 
Vancouver Island Spa Resorts
Vancouver Island and the Southern B.C. Gulf Islands have some very attractive luxury spa resorts that you could add on easily to any Vancouver or British Columbia romantic getaway.
We've put together some listings, plus new photos and videos on our Vancouver Island Spa Resorts page, so check it out soon.
Travel to Vancouver Island
Best Time to Visit Vancouver Island: Vancouver Island weather is mild year-round. It does rain quite a bit in the winter, with snow on the mountain passes and higher elevation. Victoria is busy with visitors from June till September.
Is Vancouver Island difficult to reach? Not really. Getting on one of the BC Ferries to Vancouver Island is easy, and there are frequent sailings 7 days a week throughout the year. For 2012 prices, expect to pay about $50 for your vehicle and about $15 for each adult passenger one-way.
Vancouver Island Ferry: Ferries to Victoria, B.C. depart from Tsawwassen, B.C., which is 31 km (19 miles) south of downtown Vancouver. Car, taxi or bus is the best way to get there. Sailing time from Tsawwassen to Swartz Bay (the ferry port for Victoria) is about 1.5 hours.
Or, you can sail from Horseshoe Bay in West Vancouver to Nanaimo on Vancouver Island (Nanaimo is 113 km/70 miles north of Victoria). Fares and sailing times are very similar. 
Seattle to Vancouver Island: High-speed catamarans can take you to downtown Victoria in about 2.5 hrs. Price is approx. $120/return.
*ERV Rating: our unique, non-scientific ratings for romantic accommodation include:
Amenities: including Whirlpool bath or 

JACUZZI

®

Tub

,

scenic view, fireplace, lounge, etc
Location: proximity of hotel to restaurants, pubs, downtown, etc
Clientele: demographic the hotel attracts (couples, families, business travelers, etc)
Popularity: based on social media & crowd-sourced reviews 
Value: product offered compared to room rate 
Please Note: percentage ratings are not absolute but for comparative use only  
top hotels, getaways & packages on ERV
---