July Vacation ideas for 2023 - find warm & quiet spots, beaches & more
July
FTC: This page uses affiliate links. More. 

By: Maureen Mattson, ERV Asst Editor - Updated: Aug 2, 2022
We've scoured the country and found some romantic July vacation destinations that are worth considering for the summer 2023. Several of these spots are particularly attractive while COVID-19 is still around, as they are generally not over-run on school holidays with crowds of people.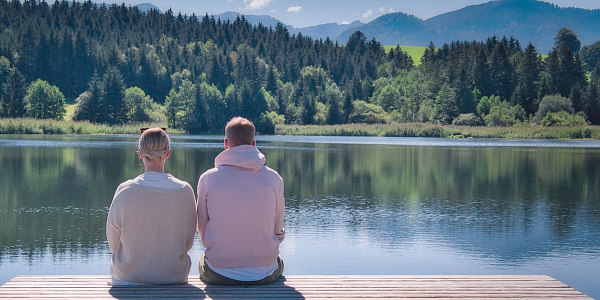 Find a Warm July Vacation Away from the Crowds this Summer
"Northern Hemisphereans" wait patiently all year for the balmy months of summer, so from coast to coast, we've got you covered with these July getaway ideas. 

---
ORegon coast in july
Sunny July Afternoon on the Beach, Yachats OR
The Oregon Coast

  - appealing any time of year, the temperate climate and stunning beauty in this part of Oregon make it perfect for a July vacation. While Seaside and Cannon Beach can get busy with tourists in summer, the quaint and laidback town of Yachats is a quiet escape on a breath-taking coastal stretch of highway. It's nicknamed "The Gem of the Oregon Coast" for good reason: great hiking trails and rocky beaches, in addition to galleries, historic lighthouses and museums to explore. 

More Romantic Spots in Oregon & the Coast 
The Overleaf Lodge in Oregon is a Wonderful Getaway Spot In July
Overleaf Lodge & Spa

- 

The Overleaf is an award-winning "earth conscious" oceanfront property consisting of suites and cottage rentals. Each has an oceanfront view and some feature jetted tubs and 369 degree views. Fresh, hot breakfast, WiFi, and DVD check-out are included, and you'll receive drinks and popcorn upon check-in. The grounds are beautiful, and the Picnic By The Sea program lets you pack snacks and beverages to enjoy along the way. Top off your holiday in July with a great massage! 

2022 ERV Rating*: 96% - Excellent. (280 Overleaf Lodge Ln, Yachats OR 541-547-4880)
5 Cheap July vacation destinations in the u.s.
If you can take some heat and humidity, there's some pretty good hotel and resort deals to be found at these places in July:
---
Carmel, CA in july
Oceanside Stroll on a July Evening Near Carmel, CA
You might think you've arrived in a small European village, but Carmel-by-the-Sea is actually a top 10-rated destination on the Monterey Peninsula in Northern California. Sitting above a white-sand stretch of beach, the town has plenty of charming shops, art galleries, and restaurants, all within walking distance. Swimming, sunbathing, surfing, picnicking, wine tasting, or taking a sunset stroll along Scenic Bluff Path, are some of the activities to be savoured in July. 

Tickle Pink Inn

- 

A luxury ocean-front hotel with sweeping views from your private balcony, homemade breakfast and an evening wine and cheese reception. Other complimentary amenities include a bottle of champagne, cozy robes and slippers, in-room coffee service, movie rentals and more. The terrace features an outdoor hot tub and pergola. Ocean-view, Cove-view, and rooms with fireplaces are available, or upgrade to a suite or cottage for a private whirlpool experience. 

2022 ERV Rating*: 92% - Excellent. (155 Highland Drive, Carmel CA 831-624-1244)
---
JUly Sunniest Spots in the USA:
---
escalante, UTah
July is a Fine Time to Explore Utah
The awe-inspiring Arches, Canyonlands and Zion National Parks of Southern Utah are popular tourist spots in Utah. But nearby Grand Staircase-Escalante National Monument is every bit as spectacular and has way fewer visitors. Scenic drives and hiking trails lead to some amazing and unique sights. Summertime is the perfect season for canyoneering that involves wading through cool pools, and the tiny town of Escalante provides places to stay and organized tours of the area. 

Canyon Country Lodge

- 

Canyon Country Lodge is an independently-owned, modern hotel with wonderful views of the canyon in all directions. Wi-Fi, breakfast, and parking are included, and each room is equipped with air conditioning and a refrigerator. Relax and unwind at the indoor pool and hot tub, or make use of the fitness centre and guest laundry. Several great attractions are within walking distance, and 

three state parks are within a 30-minute drive. 

2022 ERV Rating*: 86% - Very Good. (760 E Utah State Hwy 12, Escalante, UT 435-826-4545)
---
Block Island, RI
Sun-kissed Block Island, just south of Mainland Rhode Island is at it's best in the summer season. Think historic brick lighthouses, dramatic cliffs and bluffs, sandy beaches, nature trails and plenty of wildlife. It's the perfect Island getaway, with just a fraction of the tourists of neighbouring Nantucket or Martha's Vineyard. Explore the boutiques, bike or moped to some great restaurants, or stroll the 17-miles of beachfront together. 
Block Island Beach House - 

Overlooking beautiful Crescent Beach,The Beach House is full of quirky decor and vintage-inspired rooms. You get direct access to the beach (with complimentary loungers and umbrellas), and a cool bar, plus a waterfront deck and charming front porch.  A variety or rooms offer balconies overlooking the sea or village views that are great for people-watching. All kinds of onsite eating options are available, and since it's located right in the center of town, you are steps away from anything you want to see or do. 

2022 ERV Rating*: 70% - Good. (32 Dodge St, New Shoreham, Block Island RI 401-246-8580/401-601-5100)
Avonlea, Jewel of the Sea

- 

This recently renovated adults-only retreat is directly on the beach and a short walk from the ferry. Each of the 10 rooms has amazing views of either the ocean or the garden, and includes breakfast, evening wine service, and yummy afternoon cookies. Ask about the Amethyst Suite which boasts an aquatic serenity air tub plus shower, and a quaint ocean-view balcony. Relax on the tranquil wrap-around porch and savour the serenity. 

2022 ERV Rating*: 92% - Excellent. (597 Corn Neck Road P.O. Box 488, New Shoreham, Block Island, RI 401-466-5891)
5 Uncrowded July vacation spots:
---
Ann Arbor, MI
Summertime Outdoor Dining in Downtown Ann Arbor, MI
Little Ann Arbor, home to the University of Michigan, is perfect for a culture-filled vacation for two. Museums, galleries, a pedestrian-friendly and character-filled downtown, make July a great time to visit. The annual Street Art Fair with musical performances and outdoor dining happens every summer, and the town is also known as a foodie's dream due to its many independent cafes and restaurants. 
Hilton Garden Inn Ann Arbor

- 

Comfortable hotel with complimentary WiFi and an onsite restaurant and bar. Fitness centre and pool are nice extras, and it's all close to shopping and local attractions you'll want to see while in Ann Arbor. Great choice for a budget-friendly getaway in July.  

2022 ERV Rating*: 92% - Excellent. (1401 Briarwood Cir, Ann Arbor, MI 885-618-4697)
---
Portland, ME
Maine's largest city might also be its most charming in July. The revitalized historic Old Port Charles District with its cobblestone streets, is fascinating to explore, and there are many museums, award-winning restaurants and local boutiques to peruse. Sunbathe on secluded beaches, visit 100-year old lighthouses or take a brewery tour. Scenic Peaks Island is just a 15-minute ferry ride away and is great for biking, walking or kayaking.

The Francis

- 

This 1881 mansion has been beautifully renovated to a boutique hotel with 15 unique rooms, plus newly-built suites and a small spa. Outdoor terraces, mini-bars and separate sitting/living areas are among the room options. Located in the charming Bramhall neighbourhood, and and just a few steps from downtown, The Francis is close to galleries, theatres, skating rinks, craft breweries and other attractions. Wi-Fi is free and couples rate the romance factor as high. 

2022 ERV Rating*: 92% - Excellent. (747 Congress St, Portland ME 207-407-5755/ 207-772-7485)
Portland Harbor Hotel

- 

Located in the Old Port area, the Portland Harbour Hotel includes a 4-star restaurant and bar, spa and fitness centre, and complimentary touchscreen Starbucks coffee machines on each floor. All guest rooms and newly renovated and feature elegant nautical themes. Be sure to ask about the Whirlpool Spa Suite overlooking a garden courtyard or the two Honeymoon Suites with jetted tubs, fireplaces and amazing views. 

2022 ERV Rating*: 86% - Very Good. (468 Fore St, Portland, ME 207-230-6420)
Coolest usa cities in the summer:
Temperature-wise that is...
---
Boston, MA
You'll want great weather for exploring Boston's many outdoor attractions, and July is the month to do it. The Freedom Trail, a 2-1/2 mile path through downtown, encompasses 16 historic locations. Take a duck boat or harbour tour, and sample the food at Faneuil Hall and Quincy Market. (Baked beans and Boston Cream Pie, anyone?) For a truly romantic evening, visit the Skywalk Observatory at sunset. 

The Verb Hotel

- 

A celebration of great music and iconic bands, the Verb Hotel has been part of Boston's Fenway neighbourhood scene for over half a century. With 93 rooms this hotel encourages guests to "drop by, check in, and tune out." Music from the 60s and 70s is featured in their retro-chic decor, and they've also got an outdoor pool, an extensive vinyl library,  and in-room record players! Ask about the "All You Need is Love" package. 

2022 ERV Rating*: 96% - Excellent. (1271 Boylston Street, Boston, MA 617-566-4500)
Courtyard Boston Downtown/North Station

- 

A great downtown location and 220 rooms over 14 floors makes this Courtyard a convenient choice for your trip to Boston. Breakfast, dinner and a full bar are available and major transportation hubs are in close proximity. Popular tourist attractions such as The Freedom Trail, Quincy Market, Boston Common and The Charles River Bike Path are all within walking distance. 

2022 ERV Rating*: 96% - Excellent. (107 Beverly St, Boston, MA 617-725-0003)
---
Ithaca, NY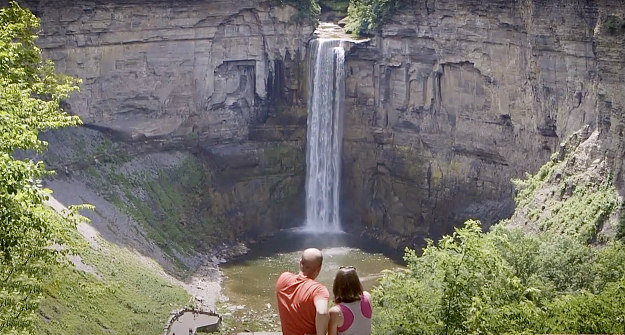 Ithaca & Finger Lakes - A Great July Getaway
The Finger Lakes region of New York State comes alive in July. Ithaca is a charming and pedestrian-friendly college town that works well as a home base for seeing this amazing area. Check out the famous Moosewood Restaurant, sail or canoe on Cayuga Lake, hike along the famous gorges, and marvel at the waterfalls. (There are 150 of them within 10 miles of town!) Summer is the only time it's possible see the spectacular views, hike the trails, or brave the cold swimming holes at Treman State Park. 

La Tourelle Hotel

- 

A very romantic French Chateau-style building with 54 deluxe rooms nestled on 70 tranquil acres of lawns and forest.  Stroll the property's lawns, woods, gazebos and pond. Then return for some pampering at the August Moon Spa. Nightly wine tasting and complimentary steam and sauna sessions are great. For a unique stay, ask about the round Upper Tower Room with its conical ceiling, skylight and spiral staircase, or the Deluxe Fireplace King Sunrise View suite with jetted tub. 

2022 ERV Rating*: 88% - Very Good. (1150 Danby Rd Route 96B, Ithaca, NY 607-275-5754)
---
Baltimore, MD
It's not just about baseball! Baltimore is vibrant in the summer season. The trendy shops of Hampden, the food of Little Italy, the cobblestone streets and charming brick storefronts of Fell's Point, the giant urban park that is Druid Hill….they all await. July is the month for "Flicks on the Hill" and "Films on the Pier," both great opportunities to see movies outdoors. The inner harbour is home to the National Aquarium as well as a floating museum, and historic ships. Take a water taxi, cruise, or paddle boat for more fun on the water.  

Hotel Revival

- 

Revival is a "boutique art hotel" in the centre of Baltimore's historic Mount Vernon neighbourhood. The 14-storey accommodation, which was once a residential building in the 1920s, has a rooftop bar and stunning Washington Monument and city views. Fitness centre, and wifi are included in your stay, and mini refrigerators along with handheld personal steamers are included in rooms. Private karaoke rooms are a lot of fun too! 

2022 ERV Rating*: 84% - Very Good. (101 W Monument St, Baltimore, MD 410-701-2291)
Inn at Henderson's Wharf

- 

A waterfront hotel in the historic neighbourhood of Fells Point, the Inn at Henderson's Wharf is on a secluded cobblestone street and just a short walk from the boutique shops, great restaurants and other attractions of Baltimore's Inner Harbour. Once a tobacco factory, the charmingly renovated building with exposed brick walls is modern and comfortable. Nightly "Wine-Down" service includes select vintages and imported cheese and free "nightcap" options are available in the lobby. 

2022 ERV Rating*: 96% - Excellent. (1000 Fell St, Baltimore, MD 443-938-9509)
---
Chicago, IL
Buckingham Fountains, Chicago IL
Sunny weather, great beaches, music festivals and a diverse food scene make "The Windy City" in July a superb idea. Everyone needs to see their reflection in Cloud Gate, one of the largest permanent art installations, commonly known as "The Bean." The Skydeck in Willis Tower or Observation Deck in the John Hancock Building are fun and romantic, as are the ferris wheel and historic carousel in Navy Pier Park. And don't forget the Magnificent Mile, a famous shopping district on beautiful Michigan Avenue.
Virgin Hotels Chicago

- 

A boutique hotel in the Chicago Loop! 26 storeys and 250-rooms, all with "two-chamber room concept". That means the bedroom is separated by a set of sliding privacy doors, creating separate living and sleeping spaces. There are 5 unique dining options in-house, including a rooftop bar, as well as a free Social Hour at the Commons Club. Make use of the extensive gym on the 25th floor, or walk a few blocks to the beaches at Lake Michigan. 

2022 ERV Rating*: 92% - Excellent.

 (

203 N Wabash Ave, Chicago, IL  312-940-4400)
The Sono Chicago

- 

"Sono" means "Rest" in Portuguese, and this newly built boutique bed and breakfast is designed for guests to get plenty of it. Located in the historic Old Town District of Chicago, the walkable, tree-lined neighbourhood is close to a variety of restaurants and shops, and walking distance to North Avenue Beach. Savour the view of the Chicago skyline from the rooftop deck (and fire pit) and get a good start to the day with a fresh continental breakfast. 

2022 ERV Rating*: 96% - Very Good.

 (

1428 N Cleveland Ave, Chicago, IL 312-784-9437)
*ERV Rating: our unique, non-scientific ratings for romantic accommodation include:
Amenities: including Whirlpool bath or 

JACUZZI

®

Tub

,

scenic view, fireplace, lounge, etc
Location: proximity of hotel to restaurants, pubs, downtown, etc
Clientele: demographic the hotel attracts (couples, families, business travelers, etc)
Popularity: based on social media & crowd-sourced reviews 
Value: product offered compared to room rate 
Please Note: percentage ratings are not absolute but for comparative use only  
top hotels, getaways & packages on ERV
---