A Warm Vacation in December 2022 - Find Your Romantic Winter Getaway
December
FTC: This page uses affiliate links. More. 

By: Greg Mattson, ERV Editor - Updated: Aug 2, 2022  

Want to get out of the winter cold and warm up your toes by the beach or the pool? Or looking for a unique romantic December Honeymoon destination?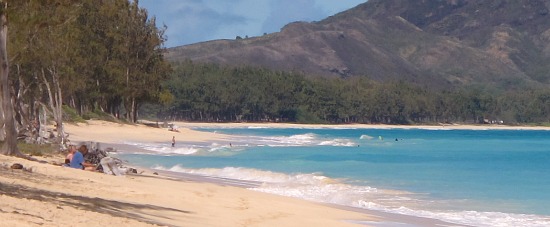 The Beach is a Destination Most Couples Want for Their December Vacation
Here are some warm vacation spots for December 2022 (both in the USA and beyond), as well as where to find travel deals and package sell-offs. We hope this info plus some of the weather details on this page can supply you with a few ideas on your romantic vacation (including where not to go!)

Warm Vacation Spots in December
The Caribbean
The Caribbean is a great spot to holiday year-round, but for romantic travel from North America and the UK, it is easily the place for a warm beach vacation in December. Best December Weather and Climate in the Caribbean: Barbados is a great spot to visit this month. Daytime high temps in Bridgetown average around 84 F, and best of all, there is usually very little rain during the month.
Other Caribbean island destinations with a combination of warm weather and not much rain in December include Kingston, Jamaica (87 F), St. Kitts (85 F) and Nassau, Bahamas (79 F).  
USA
In the continental US, the warmest vacation weather in December is most often Florida. Try sinking your toes in the warm, soft white sand of Naples and Sarasota, two of our favorite romantic Florida Gulf Coast winter holiday locations.
If you don't need a hot December vacation, but just warm, sunny and dependably dry, try Arizona or Palm Springs, California.
warm December Hotel getaways
Key Largo, FL
Beachfront, Coconut Palm Inn
Coconut Palm Inn

- heat-seekers will love this romantic and hidden gem tucked away in a lovely lagoon overlooking Florida Bay. Private porches are ideal for sunsets or enjoying your morning coffee. Check out the heated outdoor pool, hammocks, free kayak rentals and much more. 2022 ERV Rating* for Florida Beachfront Romantic Inns: 94% - Excellent. (198 Harborview Dr, Tavernier FL 305-852-3017)
Newport Beach, CA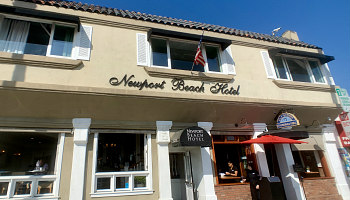 Newport Beach Hotel
Newport Beach Hotel

- greet the first days of winter at this wonderful boutique hotel next to Newport Beach. Enjoy the ocean breeze with the free beach chair rentals, and walk to nearby restaurants and pubs. 2022 ERV Rating* for California Beachfront Hotels: 80% - Very Good. (2306 W. Oceanfront, Newport Beach CA 949-673-7030)
Palm Springs, CA
Rowan Hotel in Sunny Palm Springs CA
Kimpton Rowan Hotel

- sippin' wine in the warm California sun is a suitable substitute for shovelling snow, and this Kimpton is the way to do it, with their evening wine reception, rooftop pool deck, and location in downtown Palm Springs. 2022 ERV Rating* for Southern California Winter Escapes: 90% - Excellent. (100 W Tahquitz Canyon Way, Palm Springs CA  760-904-5015) 
scottsdale, AZ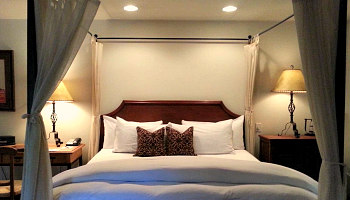 Room at the Hermosa Inn
Hermosa Inn

- one of the Southwest's Most Romantic Inns, with private patios and on-site dining, all bathed in dependably warm Arizona weather year-round. 2022 ERV Rating* for December Getaways in Arizona: 88% - Very Good. (5532 N. Palo Cristi Rd, Paradise Valley AZ 844-423-3981)
Warm & Romantic All-Inclusive December Vacations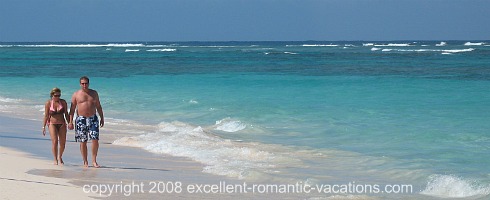 Sun, Sand & Heat - A Dominican Republic Beach Getaway in the Winter
Dominican Republic - Punta Cana Vacations

 - 

looking to book an affordable Caribbean vacation package in December? Although the Caribbean can be expensive in the high season winter months, your best bet for a cheap December vacation resort might be an all-inclusive in 

Punta Cana, Dominican Republic

. T

he "D.R." offers some of the best combinations of romantic resorts, gorgeous beaches and sell-off deals at all-inclusives. December Temperatures in Punta Cana, DR:

Average highs of 83 F. 
December Vacation Weather in the U.S. & Canada:
December Weather in Las Vegas: cool daytime highs of 58 F, colder at night, with occasional wind.
Weather in New York City in December: gets down to freezing at night, with a daytime average temperature of about 45 F. Oh, and always the possibility of snow!
Winter weather in Los Angeles: very pleasant, with average highs of 68 during mostly sunny days.
December temperatures for Dallas/Ft. Worth TX: Average highs of 58 F, usually quite pleasant for the first 1/2 of the month.
Climate for Atlanta, GA in December: one of the coldest months of the year in the Peach State, with average highs of 54 F and cloudy skies about 50% of the time.
Climate for December in Vancouver: lots of precipitation - usually rain, sometimes snow later in the month. Temps in the cold 36 F to 45 F range.
December Vacation Package Specials & Cruises
When shopping for an affordable holiday, you'll notice that cheap December vacation specials are usually available in many destinations from December 1 to around December 15 or 16. After that, Christmas holiday crowds mean full resorts and higher prices. One site with consistently low prices for December travel packages is Priceline.com.
Christmas Cruise Vacation in December - get a deal with Cruise Compete on a 2022 Christmas cruise to romantic ports in the Eastern and Southern Caribbean. Compare quotes on the best prices for last minute Christmas cruise deals to the Panama Canal, Mexico and more.

 

 
December in Laguna Beach, California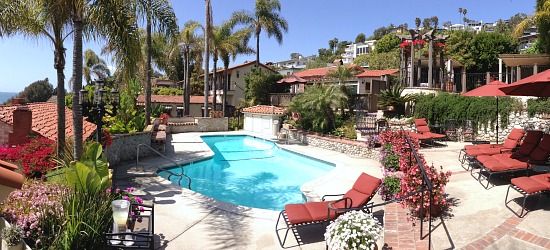 The Gorgeous Casa Laguna Inn, Laguna Beach - A Fine Spot for Your December Getaway
While most of the rest of the country can be downright miserable in December with cold and snow, Southern California can be enjoying lots of sunshine and some very nice temperatures. Of course, as you get close to the lead up days and week before Christmas, the crowds and traffic can become a real hassle in the greater L.A. area. Which is why we suggest you drive just a few miles south to Laguna Beach for your Southern California vacation in December. 
The communities of Laguna Beach and San Clemente get plenty of sun and average daytime highs of 67 F in January, which is excellent for exploring all the shops and galleries of these attractive communities, and having lunch on an outdoor patio or deck overlooking the ocean.
Accommodation in Laguna Beach for a Vacation in December: we highly recommend you check out the low season rates at the Casa Laguna Inn, one of Laguna Beach's most romantic inns. 
Romantic Ski Vacation in December
You've probably seen other lists like this, but here's our favorites in what we consider are the top 5 most romantic ski resorts in North America:
Whistler, BC

Aspen, CO
Heavenly Valley, Lake Tahoe
Mont Temblant, Que
Stowe, Vermont
more winter getaway ideas on erv:
Romantic Honeymoon Ideas for December
A December honeymoon can be very romantic, and unlike other seasons, you can choose between a hot or cold weather vacation! Both can be equally memorable…
Warm Weather: Kauai. Simply put, the most romantic island in Hawaii. For a hot honeymoon vacation in December 2021, splurge a bit on a romantic resort like the Grand Hyatt Kauai Resort and Spa , which is in Poipu on the sunny southern coast of Kauai.
Cold Weather: For romance and snow, one of the best places to travel in December on your honeymoon would have to be Quebec City. Pick a cozy honeymoon B&B, cozy up in front of the fireplace, and ride in a horse-drawn sleigh. Or, make it unforgettable in one of the most romantic hotels in Canada, the Fairmont Le Château Frontenac.
*ERV Rating: our unique, non-scientific ratings for romantic accommodation include:
Amenities: including Whirlpool bath or 

JACUZZI

®

Tub

,

scenic view, fireplace, lounge, etc
Location: proximity of hotel to restaurants, pubs, downtown, etc
Clientele: demographic the hotel attracts (couples, families, business travelers, etc)
Popularity: based on social media & crowd-sourced reviews 
Value: product offered compared to room rate 
Please Note: percentage ratings are not absolute but for comparative use only  
√ COVID Safety Plan: identifies hotels and inns that clearly indicate they are taking measures to prevent the spread of COVID-19.
top hotels, getaways & packages on ERV
---