January
Where to Vacation in January 2024 for a Romantic Winter Getaway
FTC: This page uses affiliate links. More. 

---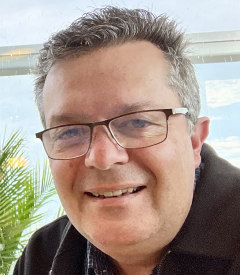 By: Greg Mattson, ERV Editor - Updated: Aug 15, 2023   

Wondering where to find heat & sunshine on your vacation in January 2024?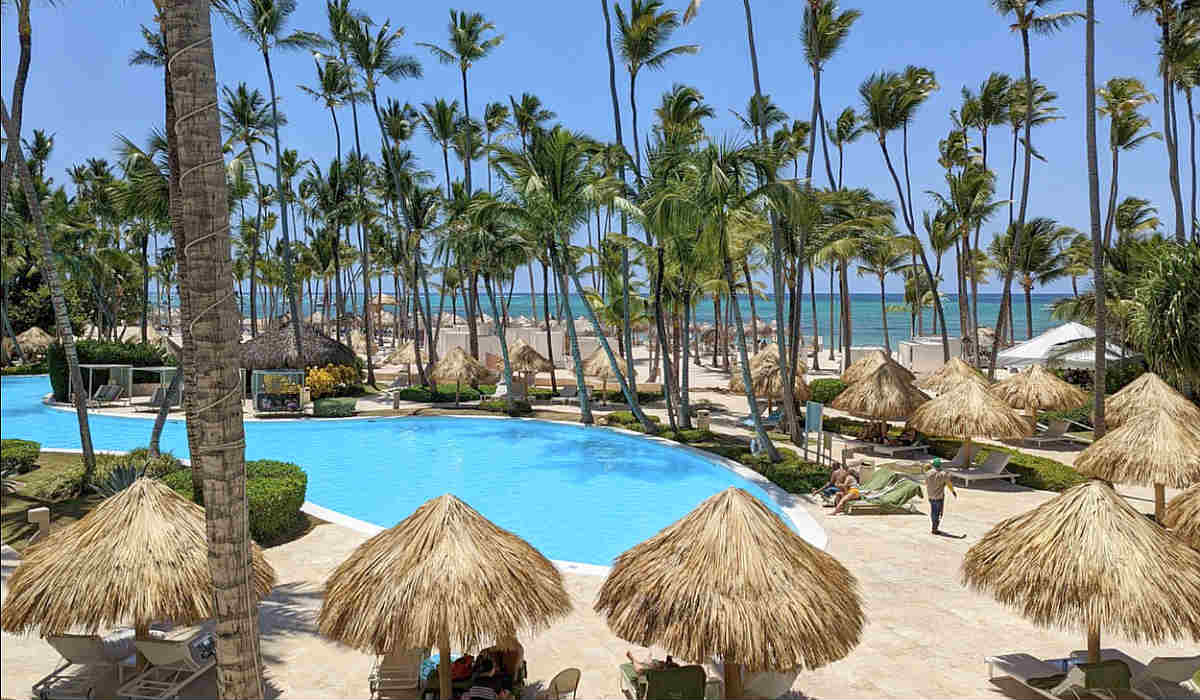 The Caribbean is a Top Choice for a Warm Beach Vacation in January
Our list of the best January vacation spots includes one of our favorite cities in the Southwest, and some of the warmest Caribbean islands you can visit in the winter. We've also found the best beach getaways for budgets of under $1500 and $2500... 
Disclaimer: JACUZZI® is a registered trademark owned by Jacuzzi Inc. The use of the JACUZZI® trademark on this website is for informational purposes only. There is no relationship, connection or affiliation between this website and Jacuzzi Inc. or its related companies. Rates shown are approximate only and subject to change. Hotel rooms, jetted tubs and amenities can change, and may not be exactly as shown, so please contact the hotel or inn before making travel plans.
A Dominican Republic Vacation in January
"The DR" boasts fantastic soft-sand (especially Punta Cana) and is easily one of the best beach vacations in January. And of course, January weather in the Dominican Republic is full of sun and heat...

Warn January Evening by the Pool at Dreams Punta Cana
Dreams Royal Beach Punta Cana

- This romantic resort in Punta Cana is renown for it's outstanding cleanliness, excellent restaurants, and wonderful beach with very soft sand. Book early as January reservations fill up quickly. 2023 ERV Rating* for Punta Cana January Vacations: 94% - Excellent.
more january getaways on warm beaches
top-rated Adults-Only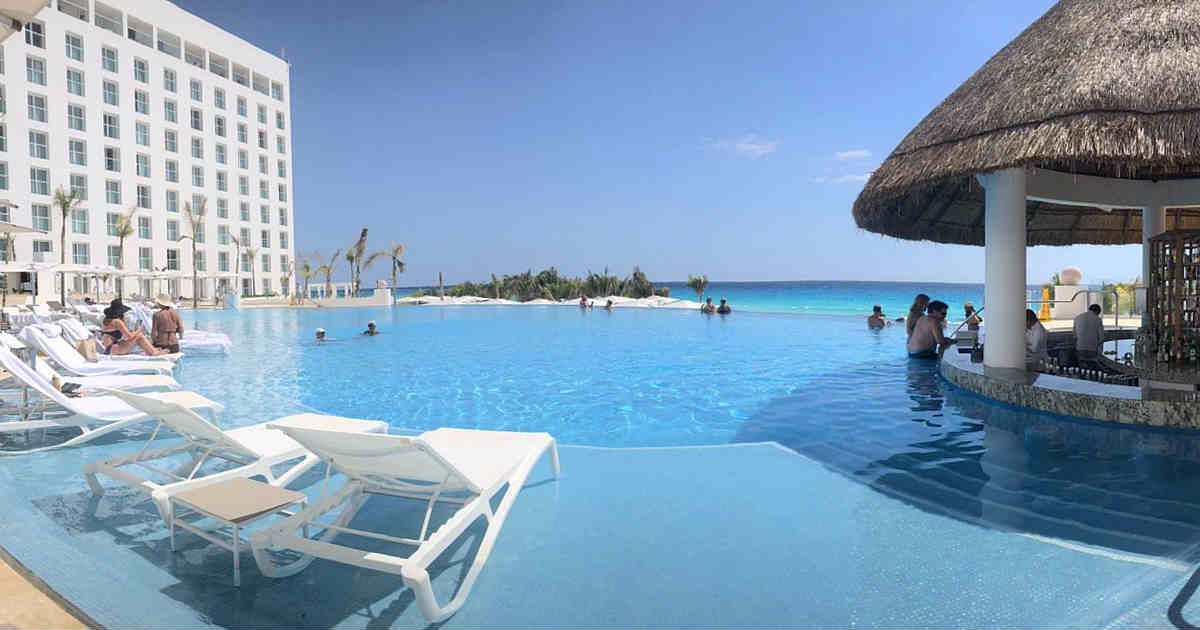 The Le Blanc in Cancun: a Fabulous Adults-Only January Holiday
Le Blanc Spa Resort Cancun

- Infinity pool with ocean views and swim-up bar? You get the picture. And the Le Blanc can arrange a romantic dinner on the beach for any honeymoon or anniversary. 2023 ERV Rating* for Romantic January All-Inclusive Vacations: 96% - Excellent.
great value
Beautiful & Budget-Friendly Villa Del Palmar Resort, Puerto Vallarta
Villa Del Palmar Beach Resort

-   goes easy on the budget, yet still gives you amenities like a quiet pool, restaurants, deli, market and live entertainment nightly. Great location in PV's Hotel Zone close to downtown, with numerous local restaurants a short Uber ride away. 2023 ERV Rating* for Affordable January Beach Getaways: 88% - Very Good.
warmest caribbean islands
Feel the January Heat in Beautiful St. Lucia
From North America and Europe, the Caribbean is pretty much a guaranteed January vacation hot spot. The warmest Caribbean islands in January will generally be those in the southeast, like:
Travel Weather in January
Here's a look at January weather and temperatures in several destinations:
Bahamas - dry, with highs of about 78 F.
Los Angeles, CA - the "rainy season", meaning the occasional day of rain or a winter storm, but otherwise pleasant with highs in the mid 60's.
Las Vegas, NV - mild days (highs of 57F), colder nights where it gets down to freezing.
Miami, FL - South Florida weather in January is usually quite nice, with some clouds and temps in the high 60's F.
New Orleans, LA - quite pleasant daytime highs of 61 F with some clouds is the average for January in this part of coastal Louisiana.
Orlando, FL - expect temps to be in the low 70's, mostly sunny skies with a healthy dose of humidity (it is Florida after all!).
Mexico Beach resorts & temps in January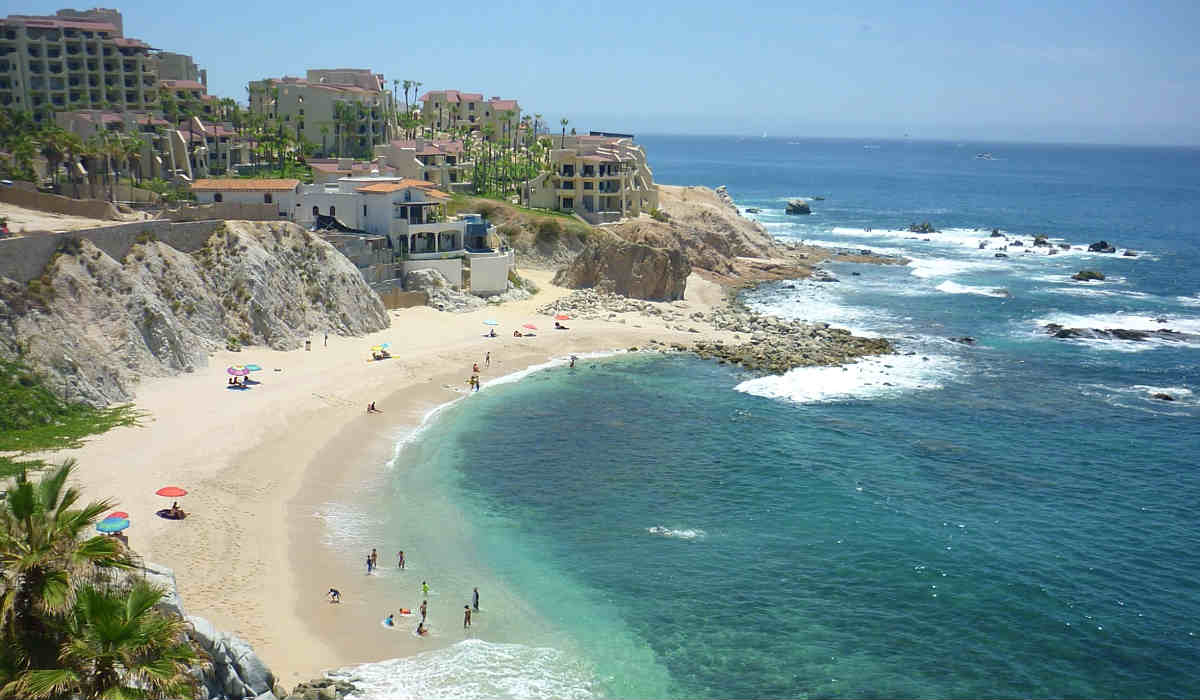 Beach Lovers in Cabo San Lucas on a Sunny Winter Day
Cabo San Lucas

 - Average daytime high temp: 73 F. Cabo can be busy in January, although February at the resorts is usually more packed with people. 
Cancun & Mayan Riviera - Average daytime high temp: 81 F. Good time to be in the Yucatan and Cozumel. Feb to April is busier with Spring break crowds, etc. 
Mazatlan - Daytime highs around 81 F. Crowds lately have not been a problem here as tourism seems to be in somewhat of a low point.
Puerto Vallarta - High temps during the day average 84 F. Mid-January tends to be a little less crowded than earlier or later in the month.
Best january getaways under $1500
Getaway for Less than $1500 at the Blue Bay Grand Esmeralda in Mexico
Getaways For Less Than $1500 to the Caribbean

- to stay in your holiday budget of less than $1500, check out these 3 night packages with hotels & flights to all-inclusive resorts like the BlueBay Grand Esmeralda in Playa Del Carmen and Viva Wyndham Maya in Cancun. 
january vacations Less than $2500
Orbitz Last Minute Deals

- Huge discounts on flights, packages and vacation rentals when you book within the next 14 days.
Florida in January 2024
On the Beach in January, Near Fort Myers, FL
Thinking of the USA this January, but looking for sand and warmth? Let's face it: in the middle of winter, a warm beach vacation in January in the U.S. is not guaranteed. Even the hottest places can be fickle weather-wise, and in January we felt the wrath of a Northern cold front that sent cold temperatures as far south as Orlando, FL! But, having said that...
Florida remains our no.1 choice for a warm January beach getaway in America. And we have 3 recommendations for exactly where to holiday in the first 31 days of the year:
Key West, FL. Any further south than this, and you'll need a cruise ship or flight to the Caribbean!
Kiwah Island, South Carolina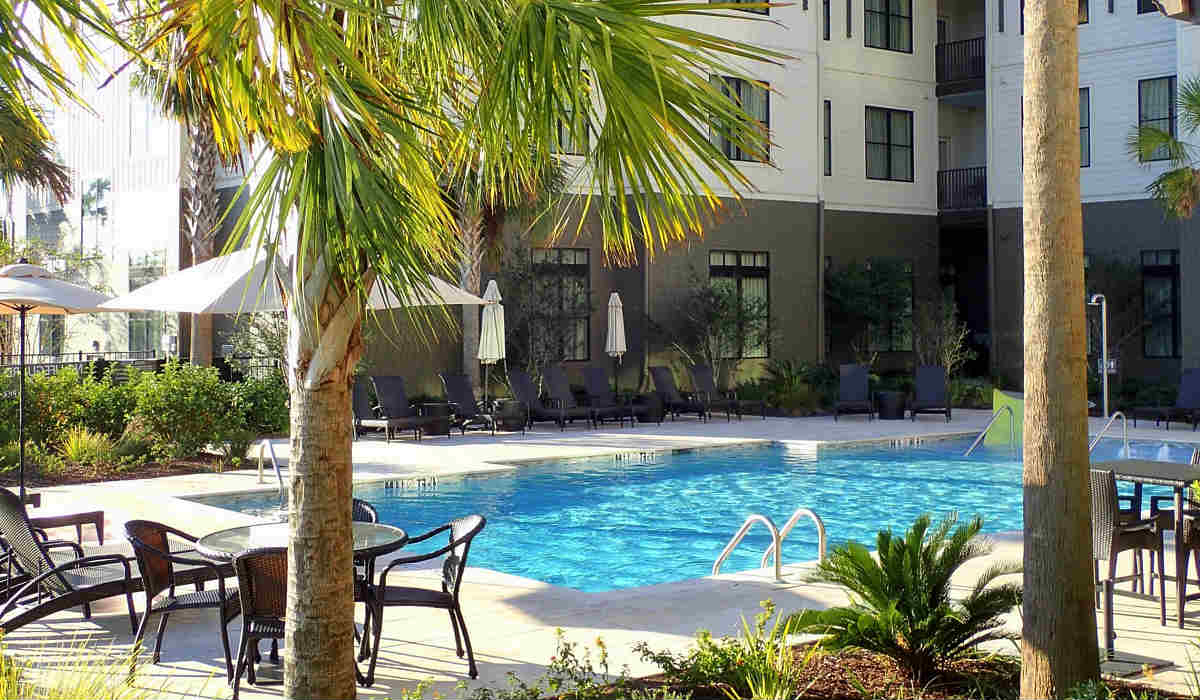 Pleasant Winter Day by the Pool, Andell Inn
Andell Inn - just up the Atlantic coast into SC, enjoy some quiet romantic evenings at this boutique inn with villa-style suites. You won't be splashing and frolicking in the ocean, but January is a wonderful time to explore this nice little slice of South Carolina's Barrier Islands. This time of the winter means far fewer crowds and relaxed walks along the beach. 2023 ERV Rating* for South Carolina January Destinations: 92% - Excellent. (300 Farm Lake View Rd, Kiawah Island SC 843-793-6050) 
More Romantic Vacation ideas for Winter & Spring
Austin, Texas winter getaways
January is one of the Cheapest Months to Vacation in Austin TX
Austin TX

- Central Texas gets some very pleasant weather in January, with cool nights, warm days and little rain. It's perfect for exploring all the charms of the state capital, Austin. The city has a nice mix of history, hiking trails, nightlife, and boutique hotels. 

Some favorite things to do in Austin, Texas for 2: romantic dining in a Tex Mex restaurant, checking out some country music, and window shopping along South Congress Ave. Overall, Austin is a fun winter destination, and for those on a budget, an affordable January vacation.
*ERV Rating: our unique, non-scientific ratings for romantic accommodation include:
Amenities: including Whirlpool bath or 

JACUZZI

®

Tub

,

scenic view, fireplace, lounge, etc
Location: proximity of hotel to restaurants, pubs, downtown, etc
Clientele: demographic the hotel attracts (couples, families, business travelers, etc)
Popularity: based on social media & crowd-sourced reviews 
Value: product offered compared to room rate 
Please Note: percentage ratings are not absolute but for comparative use only  
top hotels, getaways & packages on ERV
---