November Vacation Ideas for the Best Fall Escapes
November
Want to get away in November 2022? We certainly don't blame you. For much of Canada and the Northern USA in November, late fall has arrived and it's cold, wet, dark and dreary. So where can you travel to for some warmth, fun, sun and adventure?

Kauai in the Hawaiian Islands is a Good Destination for a Warm & Romantic November Vacation
FTC: This page uses affiliate links. More. 

By Greg Mattson, ERV Editor - Updated Aug 2, 2022
Actually, November is a great time to holiday for several reasons. Besides the above weather-related reasons, it's also low-season in many romantic destinations, so while it may not be summertime hot, the weather can still be very mild, kids are still in school, and prices can be very reasonable.

Peak November 2022 Travel Periods to Be Aware of: Expect more crowds and higher prices between Thursday Nov 24 to Monday Nov 28 (See our Important Travel Dates section below). 

Let's have a look at 5 destinations in the U.S. for your romantic November vacation…
Kauai
It's easy to grow a little bit tired of the hustle and bustle of Honolulu and Waikiki, so if that's how you feel, we recommend booking your Hawaiian November getaway in Kauai, specifically Poipu Beach.
Why Poipu? Because in November, you want a destination with sunshine, and the south coast of Kauai gets a good amount of that (the North Shore, while extremely beautiful, gets more rain). You can easily spend a wonderfully warm week here on the beach, as well as day trips to check out Waimea Canyon, Allerton Garden, and even the Na Pali Coast.
Koa Kea Hotel & Resort - highly recommended for a luxury November getaway or honeymoon in Kauai. "Beautifully romantic place with awesome food" says one couple. 2022 ERV Rating* for Romantic Kauai Resorts: 92% - Excellent. (2251 Poipu Road, Poipu, Kauai HI  808-828-8888

)

 
Romantic November Vacation in Kauai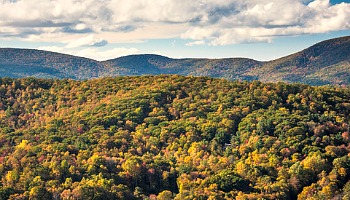 Gorgeous Late Autumn Colors in Virginia
Virginia
If you don't mind trading in the beach for some fresh autumn air in November, Virginia is a fabulous place to visit and tour. While the foliage may have already peaked in the Western part of the state, Eastern and Coastal areas may still have patches of beautiful colors, especially in early November. Besides scenic drives through the foliage, there's picture-perfect small towns and plenty of wineries where you can sample some of the region's Sauvignon Blanc.
White Moose Inn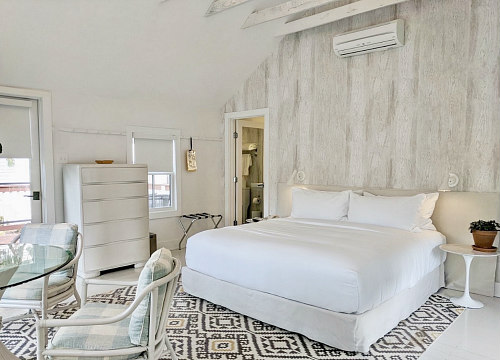 Room at the White Moose Inn
White Moose Inn

 – this very boutique-ish inn just might be the most stylish and romantic Virginia B&B you'll find near the Shenandoah Mountains. King Beds, luxury bath amenities, complimentary happy hour and country breakfast await. 2022 ERV Rating* for Romantic Virginia B&B's: 96% - Excellent. (291 Main St, Washington VA  540-675-3207)

Best Autumn Foliage states in November:
warm Late-Autumn Hotel getaways:
hollywood, fl
Casa Pellegrino Boutique 

Hotel

- Italian style, affordable luxury, steps to the beach. 2022 ERV Rating* for November Hotel Getaways: 96% - Excellent. (2007 North Ocean Dr, Hollywood FL 954-367-6084)
San Diego, ca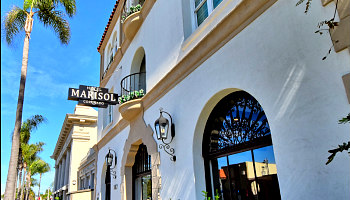 Hotel Marisol Coronado

- Romantic 15-room inn on a quiet street, walk to the beach, free bike rentals. 2022 ERV Rating* for Autumn Getaways in San Diego: 94% - Excellent. (1017 Park Pl, Coronado CA 619-365-4677)
Warmest November Vacation Spots in the U.S.
Florida Keys - one of the very few spots where you most likely can ocean swim in November! Temps usually reach a high of 78 or 79 F, and the chances of hurricanes or tropical storms is quite low. 
Hawaii - No surprise here, expect daytime highs in the low 80's on all the islands, with nice beach days and ocean swimming.
Palm Springs, CA - you can count on plenty of sunshine and reasonably warm and dry temperatures (average highs of 78 F) for Palm Springs, Palm Desert and the rest of the communities in the Coachella Valley. 
South Padre Island, Texas
Even though it's the off-season, don't worry, South Padre Island is open year round. November is a nice quieter month to visit with daytime high temps solidly in the mid 70's with some nice ocean breeze on many days. This part of the coast is well suited for stays in a romantic South Padre Island Vacation Rental.

La Jolla, CA
This Southern California seaside community in the northern part of San Diego will make you forget your November blahs quickly. The SoCal coast is renowned for having some of the best weather in the U.S., just right for seaside dinners on the patio, and scenic cliff walks. A luxury resort like the Hotel LaJolla is just one nice option for a La Jolla honeymoon hotel.  

Oregon Coast

November on the Oregon Coast - Few People, Low Prices & Exciting Ocean Walks
While November is not the height of storm watching season, a few nights on the Oregon Coast this time of year can be a great a romantic getaway by the ocean. Mid to late fall bring invigorating walks and beach combing, low season prices, and first pick of a wide range of accommodation.
The best place to stay is a cabin or small inn along the coast, and you really shouldn't be without a fireplace and hot tub this time of year. See our sections on Romantic Oregon Getaways and Oregon Hotels & Inns with Hot Tub Suites for some ideas on where to stay in November.  

Average Temps at November Destinations
New York City - highs of 54 F, not much chance of snow, but cool evenings.
Chicago - only daytime highs of 48 F, and rains falls about 1/2 of the days in the month.

Miami - nice warm highs of 78 F, and good amounts of sunshine.

Phoenix, AZ - nice and dry highs of 76 F, and the usual amounts of sun.
Denver, CO - chilly temps are here, with highs of 52 F, and a slight chance of some snowfall.

Toronto, ON - highs of just 46 F, with freezing temps at night common towards the latter part of the month.

Houston, TX - pleasant high temperatures of 72 F, with just over 4 inches of precipitation during the month.

Las Vegas - 67 F for the usual high during the day, with very little chance of precipitation
Best Canadian Destinations in November
November is not a great month to travel to and see Canada. Many places don't yet have snow, but cold weather has set in pretty much everywhere, and the trees are bare in many provinces. Shorter days mean less daylight hours to sight see, and of course, you won't be anywhere near a beach in this part of the year.
But...we do have one unique suggestion for a romantic Canadian getaway in November: Victoria BC, which is also the warmest place in Canada in November, with a average high of 51 F (10 C). Even though it's rainy season, there is much to see and do here that is not weather dependent, and you're never far away from an English-style pub or afternoon tea house.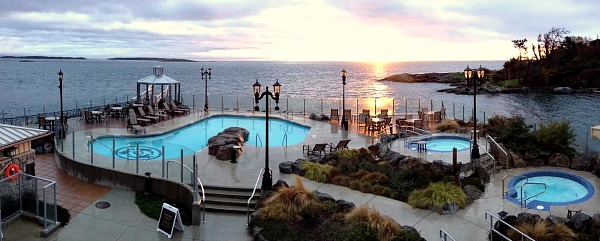 November Morning - Boathouse Spa & Baths, Oak Bay Beach Hotel in Victoria, BC
Oak Bay Beach Hotel - a truly wonderful oceanfront hotel on the southern tip of Vancouver Island, and just a few minutes drive from downtown Victoria. What sets this hotel apart is their Boathouse Spa & Baths with the seaside pools. They maintain a temperature of over 90 F year round, so you can swim outdoors here even in November! Away from the pools, the resort has dining on site, afternoon tea, the cozy Snug Pub, and rooms with deep soaker tubs and ocean views. 2022 ERV Rating* for Romantic Victoria BC Hotels: 94% - Excellent. (1175 Beach Dr, Victoria BC 800-668-7758) 
See Excellent Romantic Vacations' Review and Photos of the Oak Bay Beach Hotel here.
St. Simons, GA
Florida and California are not the only places to go for warm getaways in November. Georgia's St. Simons Island is an ideal low-season vacation spot, and weather wise, you're in for highs in the high 60's and low 70's in the first half of November, with things cooling a bit as the end of the month approaches. Still very nice weather for a walk on the Fishing Pier, checking out the Lighthouse Museum, or renting a bike and exploring this charming community.
Ocean Lodge - this luxurious ocean front lodge gets rave reviews by couples ("a gem", "a marvelous adult getaway, quiet and relaxing" ), and you're going to love the European-style feel of the rooms and the rooftop restaurant with ocean views. 2022 ERV Rating* for Romantic St. Simons GA Hotels: 94% - Excellent. (935 Beachview Drive, Demere Park GA  912-291-4300)   
More Late Fall & Winter Travel Ideas on ERV:
Important November 2022 Travel dates:
Having in mind the following dates when planning your November vacation can help you avoid busy travel dates, crowds at airports and higher prices. It can also give you heads-up regarding possible online travel deals...  
Veterans Day: Friday Nov 11, 2022
Remembrance Day (Canada): Friday Nov 11, 2022
Thanksgiving Day: Thursday Nov 24, 2022
Black Friday: Friday Nov 25, 2022
Cyber Monday: Monday Nov 28, 2022
*ERV Rating: our unique, non-scientific ratings for romantic accommodation include:
Amenities: including Whirlpool bath or 

JACUZZI

®

Tub

,

scenic view, fireplace, lounge, etc
Location: proximity of hotel to restaurants, pubs, downtown, etc
Clientele: demographic the hotel attracts (couples, families, business travelers, etc)
Popularity: based on social media & crowd-sourced reviews 
Value: product offered compared to room rate 
Please Note: percentage ratings are not absolute but for comparative use only  
√ COVID Safety Plan: identifies hotels and inns that clearly indicate they are taking measures to prevent the spread of COVID-19.
top hotels, getaways & packages on ERV
---