May
May 2023 Vacations & Honeymoon Ideas for Couples
FTC: This page uses affiliate links. More. 

---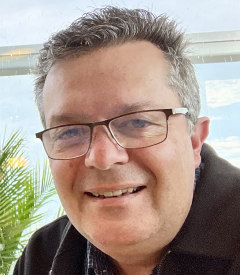 By: Greg Mattson, ERV Editor - Updated: Aug 2, 2022 

Spring is here (in the Northern hemisphere anyway) and the travel bug is giving you itchy feet! Time to get away...but where are the best May vacations?
Here's some food for thought on the best romantic travel destinations and vacations in both early and late May 2023 for getaways and honeymoons.
Best U.S Beach Vacations in May

Galveston, TX - A Nice Spot to Enjoy Your May Beach Vacation Getaway
Texas Gulf Coast - before the heat and humidity (and hurricanes) set in, early May is an especially great time for couples to holiday in South Padre Island, Corpus Christi or Galveston, TX. College kids on Spring Break have gone home, and it's a nice quiet time before the summer rush begins.
Carmel, CA - great spot for couples, with a nice long, sandy beach, and all sorts of romantic B&B's and small inns close to the coast. May is also a very good time weather-wise to be along this stretch of the Central California coast, 
Destination Temperatures in May
San Francisco - 64 F, expect very little rain.
New York City - 71 F, and usually the wettest month!
Miami - nice and warm 84 F highs, and ocean temps are a very comfortable 81 F.
Atlanta - highs of about 80 F, expect a few thunderstorms.
Seattle - 65 F highs during the time, a few spring showers.
Las Vegas - warming up rapidly as the month progresses with 88 F highs, very little rain if any.
3 Romantic Big-City hotel Getaways in May:
New York, Chicago and LA are diverse destinations, but they all have something in common: they're great places to visit in the month of May. Here's 3 ideas for a "unique boutique" hotel getaway in late spring...  
New York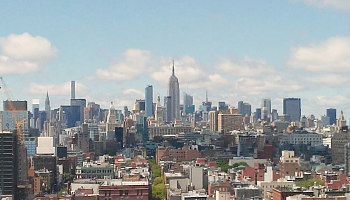 Chicago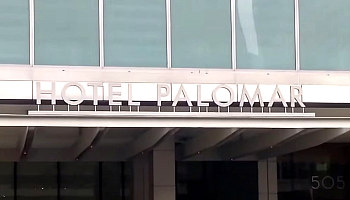 Los Angeles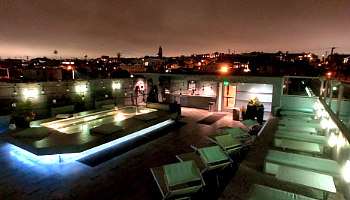 May 2023 Long Weekend - Best Romantic Getaway
Let's face it, Memorial Day long weekend (May 26-29, 2023) vacations in the U.S. are tough. Just about everywhere is crowded, and prices for hotels and flights are not cheap. So, we have this suggestion:
Slip Across the Border North for a May Long Weekend Vacation in Canada - Canada doesn't observe the American holiday, so it's just another weekend in Canada - minus the crowds! May Vacations in Vancouver can be very nice, with better weather and less rainfall than March or April. Or if you're in the east and don't want to travel too far, Quebec City is a great place to be in late May.
May Romantic Vacations in Chicago and Illinois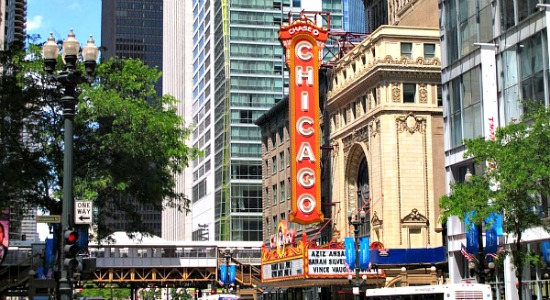 Visit Chicago in the Spring and Expect Warmth & Sunshine
The Hotel Palomar has boutique rooms, including some of the nicest Whirlpool Suites in Chicago. There's also a nice top floor pool, and an ideal location in the downtown close to romantic restaurants. 2022 ERV Rating* for Romantic Chicago Hotels:

 

94%

 - Excellent.

 (505 North State Street, Chicago, IL  877-731-0505) 
As you may have heard or experienced, Chicago gets brutally cold in the winter. And, it can get very hot and humid in the summer. Which makes "shoulder" seasons like the month of May particularly good times to visit Chicago and the surrounding areas of the state of Illinois.

We spent a week in Chicago & Galena, Illinois during a mid-May getaway, and except for 1 slightly chilly day, had very nice weather for a mini-vacation. You can expect high temps of around 69 F, and you'll notice other couples starting to make their way to shore of Lake Michigan for the beginning of summer. 
Anniversaries: Celebrating Your 1st in May? 10TH? 25th?
10 Year Anniversary Getaways & Vacation Ideas - our new guide to destinations and tips for a vacation to help you celebrate a decade together! Beach destinations, cheap getaways with and without kids, all-inclusives and much more.
Amsterdam in May
If your planning a trip to Europe, May is one of the best months of the year. And late Spring is a fine time to be in Holland for a romantic Amsterdam Vacation. The tulips are in full bloom, the weather is warming up nicely, and lots of displays and cultural shows are kicking into gear.
While Amsterdam is not cheap by North American standards, it is probably one of Europe's more affordable cities. And a May vacation in Amsterdam is good for another reason - the summer rush doesn't come for another month yet.
Alaska
Alaska Cruise Ship in Port in Skagway, AK in May
May is one of the best months to go on an Alaska cruise. The season is just starting up, and many of the ports of call will be enjoying their last few minutes of peacefulness before the summer rush.
If you're wondering what to expect for weather on an Alaska cruise in May, it should be sunny and dry with daytime highs of about 55 F. If you prefer visiting Alaska without a ship, check out our selections for Alaska Hotels & Lodges with Hot Tub Suites, and our guide to the best Alaska Honeymoon Spots.
Best Cruise Deals for May Vacations:
Mother's Day Cruises - deep discounts on May cruises to the Mediterranean, South Pacific and Caribbean.
More Spring Getaway Ideas on Excellent Romantic Vacations:
May Vacations in Bermuda
The month of May is one of the best times to visit Bermuda. Expect weather that is warm (avg high of 75F or 24C), and relatively dry (May has the least amount of rainfall). You can golf and shop in comfort, and enjoy the famous pink sand beaches.
This romantic island in the Atlantic is also a fine choice for a honeymoon in May for couples looking for relaxation after the big day. There's plenty of romantic Bermuda resorts , great dining, and travel to Bermuda is a simple 2 hour flight from the east coast of the USA.
Best May Golf Vacations - for some couples, a romantic vacation in May could mean shopping and the pool for her, and hitting the fairway for him (or just the opposite!). Some of the best destinations in May for golf along with good weather for other activities are:
Myrtle Beach, SC
Scottsdale, AZ
Las Vegas, NV
Palm Springs, CA
Bermuda
Toronto
May is a Great Month to Explore Toronto, ON
Toronto is one of North America's most diverse cities, and has much to offer for vacations and romantic getaways. There's sights like the CN Tower, a world-class selection of fine dining and ethnic restaurants, a harbor just waiting to be explored, and day trips to Niagara Falls and Niagara-on-the-Lake.
One of the keys to enjoying the city is hitting the right weather, and May is one of your best opportunities. The frigid, damp cold winter winds have passed, and the city enjoys mild spring weather before the hot and sticky days of summer settle in.
Toronto Hotel Discounts, Package Deals and Travellers Reviews Here
*ERV Rating: our unique, non-scientific ratings for romantic accommodation include:
Amenities: including Whirlpool bath or 

JACUZZI

®

Tub

,

scenic view, fireplace, lounge, etc
Location: proximity of hotel to restaurants, pubs, downtown, etc
Clientele: demographic the hotel attracts (couples, families, business travelers, etc)
Popularity: based on social media & crowd-sourced reviews 
Value: product offered compared to room rate 
Please Note: percentage ratings are not absolute but for comparative use only  
√ COVID Safety Plan: identifies hotels and inns that clearly indicate they are taking measures to prevent the spread of COVID-19.
top hotels, getaways & packages on ERV
---